Best 10 Ball Gags in 2023
1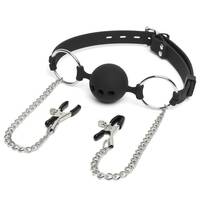 Ball Gag with Nipple Clamps
Fastening: Buckle
Length: 24.5 inches
Material: Silicone
2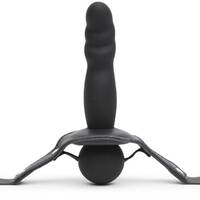 2
Large Silicone Ball Gag with Dildo
Fastening: Buckle
Length: 21.5 inches
Material: Silicone
3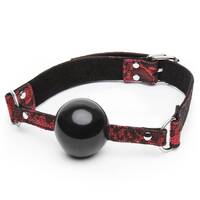 2
Bondage Silicone Ball Gag
Fastening: Buckle
Material: Silicone
4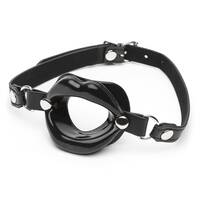 Fastening: Buckle
Material: Silicone
5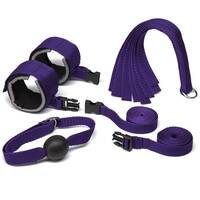 Fastening: Velcro
Allergens: Latex-Free
Length: 57 inches
Fabric: Nylon
6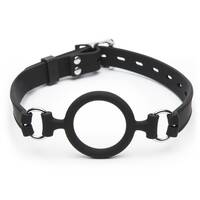 2
Fastening: Buckle
Length: 22.5 inches
Material: Silicone
7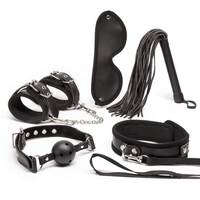 Special Bondage Kit (5 Piece)
Fastening: Clip
Material: Faux Leather
8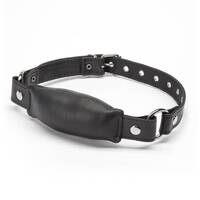 2
Fastening: Buckle
Length: 24.5 inches
Material: Leather
9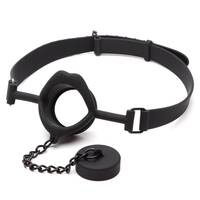 2
Scandal Stopper O-Ring Gag
Fastening: Buckle
Length: 26.5 inches
Material: Silicone
10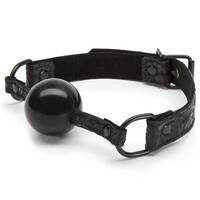 2
Fastening: Buckle
Length: 22.5 inches
Material: Silicone
We have more
Ball Gags
View All
As seen on
What Is a Ball Gag?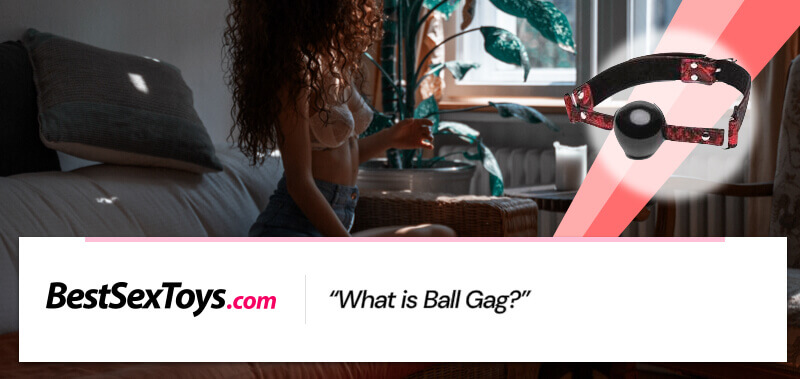 As a newbie to bondage and discipline, domination and submission, sadism and masochism, also known as BDSM, you might have seen persons being tied up with gags of different kinds in their mouth in movies (if you can't remember anyone, think of the models in the video for The Weeknd's song titled Earned it).
Some people get scared when they think of BDSM, and it is absolutely fine if you feel that way. Your search for knowledge before you dabble into the world of BDSM & using gags has led you here, and by the end of this piece, I am sure you would have made up your mind to delve into the world of kinks.
One thing you should know is that although some people think that BDSM is 'kinky', in some cases, it doesn't have to involve sex at all – the mental connotations of some acts are more of a turn-on than the prelude of a particular act leading to sex.
In plain terms, a gag is a device worn over the mouth that prevents the wearer from speaking. A ball gag is a gag made from rubber or silicone. The ball is then attached to a strap that wraps around the wearer's head. A ball gag is a device used during sexual bondage roleplay.
They are associated with roleplays involving BDSM. The person wearing the ball gag is called a submissive (or Sub) partner, while the other partner (not wearing) is regarded as the dominant one. When in the mouth, the ball sits behind the teeth.
Visually, gags are stimulating, and they are emotionally vulnerable, which adds to the dominant/submissive experience. While the wearer can still be heard, they can't speak with the ball gag in place; they can simply grunt and make noises, and typically, the wearer will drool if they attempt to talk too much. The belt or strap can be both locking and non-locking, leaving you with the freedom of choice.
The balls can be breathable and non-breathable. It is highly recommended for beginners to use the breathable ones because it takes a bit of time to get used to wearing one. Advanced users or experts tend to go for non-breathable ones as they make the whole roleplay a bit more intense and satisfying. As a newbie, finding a gag that fits your partner's mouth perfectly may take some time, but this shouldn't dissuade you.
How to Use a Ball Gag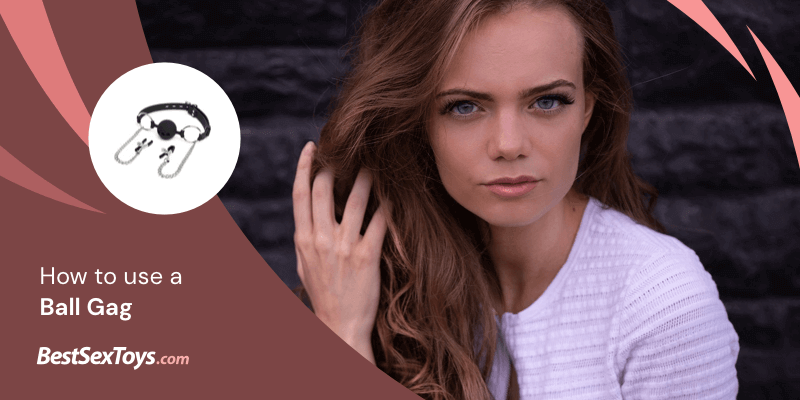 Using a ball gag the first time can be a handful for newbies, which is why you need to know how to use a ball gag for the first time. Below are necessary steps to be followed when using a ball gag for the first time.
1. Clean Your Ball Gag.
As always, cleaning your toy before use is important to the whole experience; therefore, clean it.
2. Pick the Right Size and Material.
All ball gags are made from either plastic, silicone, or rubber (there might be some very special ball gags out there made from other materials). Choosing a size that works for yourself and your partner is important (especially for the submissive one in your relationship).
It is also better to go for a rubber or plastic ball gag when shopping for one as long as the submissive isn't allergic to rubber. Ball gags made from rubber or silicone offer a better sexual experience as they are easy on the mouth and can be bitten during play for more visual pleasure.
As a newbie using the ball gag, you should be able to breathe easily with the gag on and make sounds. You should consider getting a body-safe gag with a silicone ball. It is smooth, soft, and easy to clean.
Size matters when it comes to a ball gag. Too small, and someone would still be able to talk a little. Too big, and someone can experience pain in the jaws or lips. Furthermore, when choosing a ball gag, pay attention to how the belt sits in the corners of the mouth.
The corners of the mouth are very sensitive, and when the belt is too sharp or too big in these places, it can start to hurt. That's a shame because now you need to take out that ball gag again and get the lip balm. Some ball gags do not even have a belt at the corners of the mouth, but instead, they have a rubber band. This is much more comfortable for the corners of the mouth.
3. Establish a Safe Word.
After deciding on what gag to use, you and your partner need to choose a safe word. You should discuss communication with your partner before anything begins. That way, you would easily notice when your partner is in distress or has had enough.
Furthermore, make sure the submissive doesn't have any sickness or illness that will cause a runny or stuffy nose, further preventing breathing while playing. Talking with a ball gag in your mouth can be very difficult and tricky. Therefore, your safeword should be some form of signal that would necessitate the removal of the ball gag.
Also, it is always important to keep scissors at hand in case something goes wrong. Your Sub may have a panic reaction to what you are doing and can't show the safe signal you set before. In that case, use the scissors to break them free of the gag.
Furthermore, don't forget that for those who are new to ball gag bondage, starting with a 10 to 20-minute time limit is a better course of action. This helps the submissive (or the person being gagged) become used to the feeling of being gagged. Don't ruin your experience by trying too much too soon, as this could lead to pain in the jaw, panic, or anxiety.
4. Adjust the Ball Gag.
Before delving right into bondage play, the submissive partner should hold the gag to their mouth as the dominant adjusts the straps behind the sub's head to determine a perfect strap. The dominant should strap the gag on while communicating with the submissive about tightness and secure-ness.
A bit of a loose strap is fine for first-time users, but be careful as you don't want your gag to fall off during a scene. It may take some time to get a ball gag securely into the submissive's mouth, depending on size. Also, ball gags sit right behind the teeth. Therefore, the submissive will have to apply some pressure to force the ball behind their teeth for it to be strapped in place.
5. Start Playing.
Once the ball gag is strapped-on the submissive, the dominant should start asking questions. Note that the submissive can't speak. That'll help elevate the heat in the BDSM game.
If you're the dominant, remember always to pay close attention to signals that the submissive is comfortable and is not fatigued during the BDSM play.
6. Position the Ball Gag Correctly.
This is another important thing to note when using ball gags. When using a gag, the best positions are when you are in an upright position from at least the torso up. Another that works rather well is having your face pointing down in some fashion.
This allows for any saliva build-up to move in a way that isn't back down the throat. This can sometimes lead to more gagging than intended. But again, find what works for you and your partner during play.
Finally, you should know that ball gags will interfere with breathing. You never want to leave a gagged play partner unattended for longer than a few moments. Vented ball gags made with Wiffle balls can be much safer than solid balls. Though they can be harder to clean and sanitize due to getting saliva on the ball itself.
The gag reflex at times is triggered, depending on how the gag may sit in the mouth. In this situation, it is wise to remove the gag immediately. If the sub is still gagged when vomiting, it could be fatal.
How to Clean a Ball Gag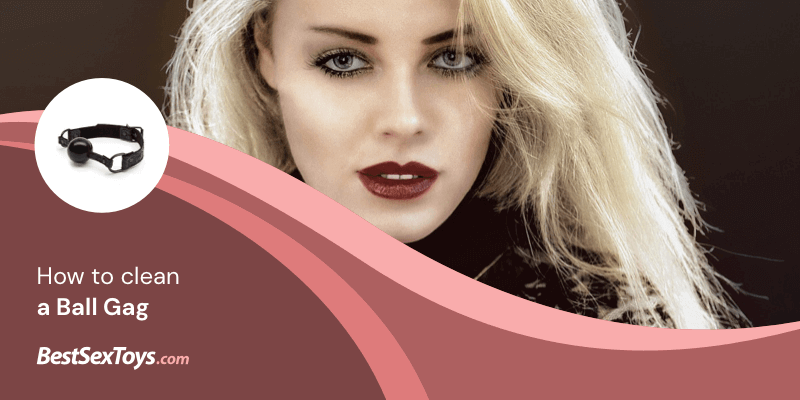 Subject to your ball gag's material, cleaning a ball gag is pretty much the same thing across the board. Below are some ways you can try when cleaning your ball gag;
You can try using water and soap to clean your gag after use, or if you like, you can use an antibacterial soap just to be on the safe side.
You should also be careful around holes, rips, ridges, or any difficult to clean areas and pay special attention to those difficult areas so you don't leave any part dirty.
Dry your ball gag and then store it in a silk bag, clean box, or a proper storage container.
It's very recommended that you try to disinfect your ball gag once in a while. You can use hot water to do that.
How Much Does a Ball Gag Cost?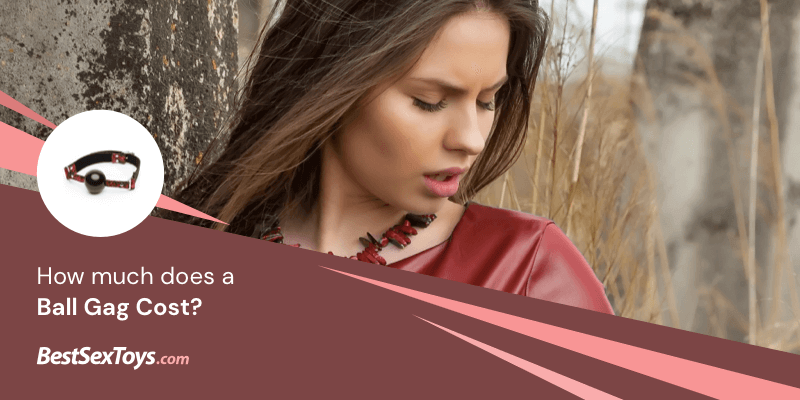 The price of a ball gag is subject to the material from which it was made and the ball gag's design. However, to serve as pointers, below are kinds of ball gags and their prices:
Silicone ball gag with chained nipple clamps ($12.99)
You can choose between 5 available color combinations with this ball gag — the ball itself comes in red, pink, or black color. Also, the strap comes in black or black with hearts, and the best thing is that you can choose between two sizes of balls: 1.67″ or 2″.
Locking lace ball gag ($26.99)
This ball gag is made of silicone, and unlike other ball gags, the strap of the ball game has a feature that allows the dominant to lock the strap with a padlock. This ball gag creates total control over the sub, which in turn heightens the sensation to be felt by the dominant. The ball gag also comes in variant colors.
Tantus beginner ball gag ($45.00)
This is a perfect choice for beginners when choosing a playful yet very sexy and sensual ball gag. It looks like a pacifier and is made from a comfortable, flexible silicone that's quite easy to clean. The ball is tapered and is only 1.6-inches at its widest point, which is a great size to start with. As a beginner, you could also forgo the strap and simply have the sub hold the pacifier shape in their mouth."
Pipedream silicone breathable ball gag ($19.62)
This is a great beginner's ball gag, which is a small size and has holes for easier breathing. Its straps and the gag are made from ultra-hygienic medical-grade silicone.
Calexotics scandal ball gag ($17.65)
This ball gag is elegant, and the ball is of medium size. It's easy to adjust the strap since it's made from fabric.
Who Uses a Ball Gag?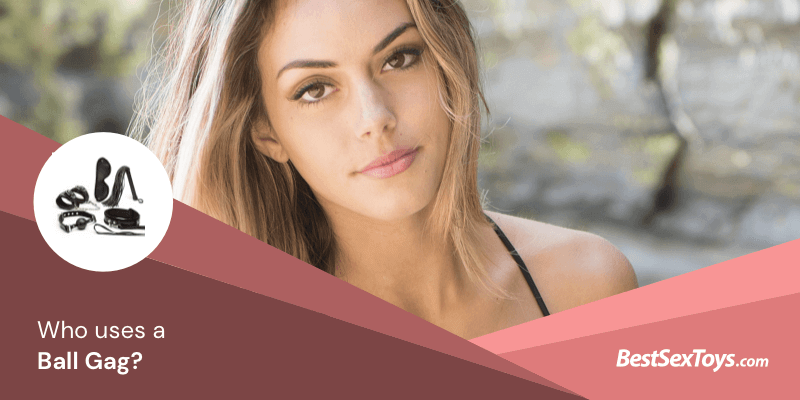 People use ball gags for different reasons. However, a major reason ball gags are used in sexual bondage role-playing is that they derive erotic pleasure from gag use either as the dominant or the submissive.
Other kinds of restraints are used in the bondage role-play, the submissive's helplessness is a turn on for the dominant while the dominant's commandeering nature is a turn on for the submissive. Also, the wearing of a ball gag can be seen as an act of punishment and humiliation.
Their needing to be restrained and punished by their dominant partner adds to the BDSM scene of discipline and dominance. For others, wearing such a physical object blocking their mouth can trigger pain arousal, which is all part of their fetish behavior.
All the sex toys for



Subscribe to our Newsletter
Newest Deals
Discounted Prices
Free Products
Giveaways
Promo Codes
Table of Contents
Ball Gags
Check the
Best 10 Ball Gags
Find the best 10 Ball Gags we've gathered after reviewing dozens!
Check Now