Sexy Lingerie Sets
Didn't find what you are looking for?
View All
Best 10 Sexy Lingerie Sets in 2023
1
Great Deal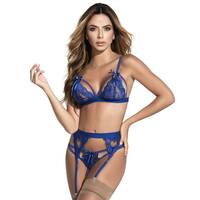 2
Mapale Sweetheart Royal Blue
Fastening: Hook and eye
Fabric: Lace
2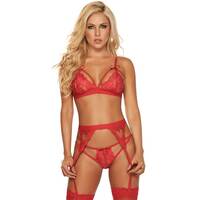 2
Mapale Sweetheart Red Lace Bra Set
Fastening: Hook and eye
Fabric: Lace
3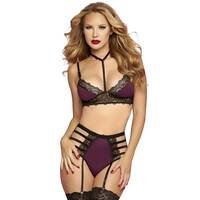 2
Seven 'til Midnight Cage Bra
4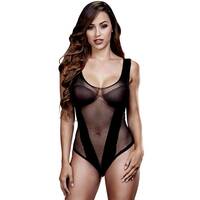 2
Baci Lingerie V Plunge Fishnet Teddy
5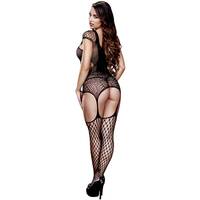 2
Baci Lingerie Corset Front Fishnet
6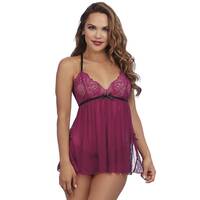 2
Dreamgirl Pink Lace Babydoll Set
Fastening: Hook and eye
Fabric: Lace
7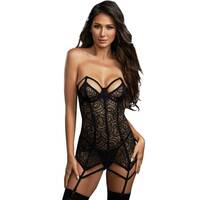 2
Fastening: Hook and eye
Fabric: Lace
8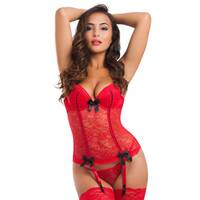 2
LoveHoney Red Lace Push-Up Basque Set
Fastening: Hook and eye
Fabric: Lace
9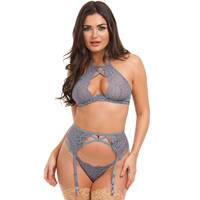 2
Shimmering Underwired Bra Set
Fastening: Tie-up
Fabric: Lace
10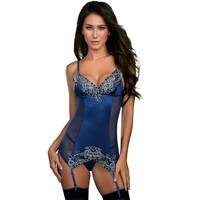 2
Fastening: Hook and eye
Fabric: Satin
We have more
Sexy Lingerie Sets
View All
As seen on
What Makes Up a Sexy Lingerie Set?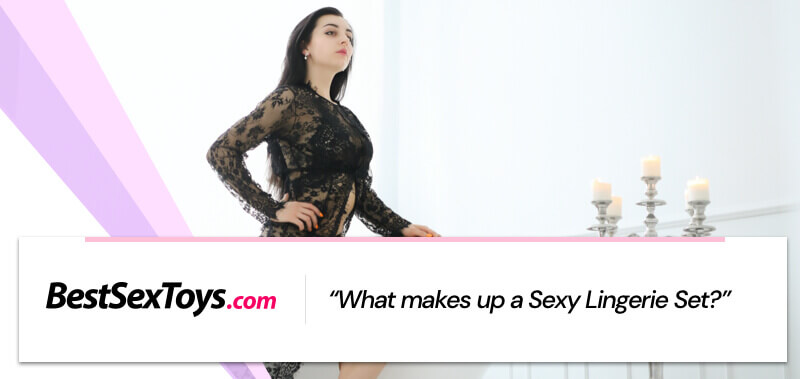 A sexy lingerie set consists of several pieces of sexy women's underwear, nightclothes, and intimate apparel. By formal definition, these are pieces of ladies' undergarments and sleepwear that are specifically fashioned to be strikingly and sexually alluring. They are usually made of silk, lace, chiffon, Lycra, satin, and other sheer or lightweight fabric materials.
Way back in 1922, lingerie is an English term that primarily refers to female underwear and bras. At present, lingerie is also a term that describes bedroom outfits that are meant to make a woman feel sexy, desirable, and attractive in their partner's presence. Some lingerie sets are also useful in enhancing a woman's figure, such as corsets, push-up bras, and garter belts or waist cincher.
Modern variations of lingerie sets usually consist of a brassiere, sexy panties, and a sheer cover-up, which can either be a lacy dress (babydoll) or a lightweight robe. Other delicate pieces usually add up to their sexiness and visual appeal, such as lacy bodice, bodystocking, negligee, hosiery, and leg suspenders, among others.
Despite the notion that women should cover up and wear lingerie specifically under their clothes, the encouraging truth is that lingerie sets can be intentionally worn to make any woman every inch a "woman". In fact, some fashionable sexy lingerie sets are also meant to be visible for aesthetic purposes and to enhance an outfit.
Examples of these are camisoles that peek through the neckline, brassiere, and some types of hosiery.
The Most Popular Lingerie Sets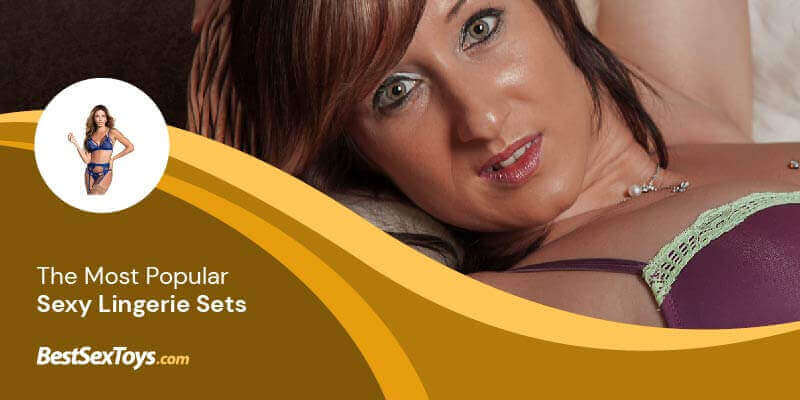 There is always something special about the idea of wearing bra sets matching a bra and panty or a well-coordinated nightwear. For every woman, seeing herself in front of the mirror in a complementing set of intimate wear is empowering in a lot ways. It contributes to self-confidence and self-love.
Another good thing about buying lingerie sets is that you can go for any design, color, and print that you like. If you want to impress your partner, you can even go for something daring and more delicate to make his imagination run wild and set him on fire at first glance.
And whether you're single or in a relationship, you deserve to have at least one or two sets of lingerie to feel stylish and well-poised in the bedroom every time your self worth needs a quick boost.
For starters, here are the most popular lingerie sets;
Babydoll Sets: This set consists of a nightgown made of satin, silk, or lace and a pair of sexy underwear. The most popular style has spaghetti straps, empire waist cut, and revealing neckline. Babydolls are meant to hang loosely around the body with elaborate details around the bust line.
Chemise and Robe Set: This set consists of a one-piece hanging dress that fits the hips closely. It's more shapely and flattering than a babydoll dress. For an element of surprise, it is best worn with a silky or lacy robe that flows freely with every move.
Classic Lingerie Set: A classic lingerie set consists of a brassiere and a pair of underwear. The brassiere supports the breasts through the underwire and pushes them up to create a fuller effect. The underwear could be an iconic bikini cut, G-string, thongs, or tangas, among other cuts and designs.
Bra and Garter Set: This set consists of a brassiere, panties, and garter belt (or suspender belt) that keeps the stockings up. Some sets also come with a bustier, a tight garment that gently pushes up the breasts and shapes the waist to make it look slimmer; and hosiery, which are elastic garments covering the legs and feet like stockings.
Teddy Sets: A Teddy is an innerwear that looks like a one-piece bathing suit. It is usually made of lace or satin in combination with other light and elastic fabric materials. The most common designs are sleeveless, strapless, and spaghetti straps. The set usually comes with a suspender belt, hosiery, and a sheer robe.
Corset and Suspender Belt: This set consists of a tight corset meant to shape the torso, garter belts to keep the stockings up, and hosiery.
Bustier Set: A bustier set is one of the most iconic lingerie sets often seen in Victoria's Secret fashion shows. It comes with a bustier, which is a tight and form-fitting undergarment that shapes the waist and makes the breasts look fuller; a G-string underwear, garter belts, and hosiery.
Reasons Why Women Buy Sexy Lingerie Sets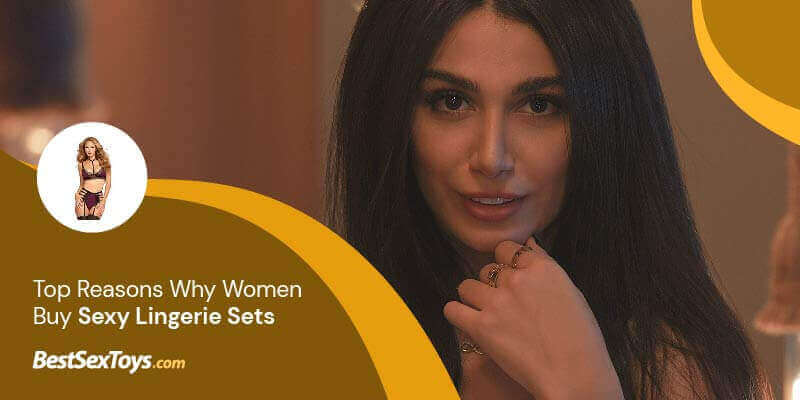 Here's the scenario, a woman buys sets of lingerie with one thing in mind – to elicit a sexually suggestive sight when planning a romantic evening with her lover. Wearing a sexy and alluring set of lingerie to tease and arouse her man is a formula for an intimate moment on the bed.
Moreover, the feel of the silky soft material against bare skin serves as an effective tactile stimulus that calls for sex. However, this is not the end of it.
There are many other reasons why women buy sexy lingerie sets aside from anticipating hot sex and seducing a man. Even though you might have heard of the saying that; "buying a set of lingerie when you're horny is like buying groceries when you're hungry", this is not always the case. Lingerie sets are useful in every woman's lifestyle – with or without sex.
Let's dig into the top reasons why women buy sexy lingerie sets.
1. To Promote Self-Love.
As a woman, you tend to work hard to achieve a sense of fulfillment – it could be by being a hardworking employee or businesswoman, ideal mother, and wife, partner, or a friend. As a result, you tend to overlook your personal needs.
Always keep in mind that you need to practice self-love by rewarding yourself for your hard work and accomplishments. And the best way to do this is by treating yourself to something nice that's exclusively for your own personal use – like a luxurious lingerie set that accentuates your physical beauty.
2. To Feel Sexy and Desirable.
Sexy lingerie sets are not just for supermodels and curvy women. All women, regardless of their body shape and size, should feel sexy and desirable in a nice lingerie set. The secret is in finding what fits comfortably, what feels right, and what you personally prefer. This means that you can be sexy in just about anything as long as you're willing to explore a little beyond your comfort zone.
The same goes for lingerie sets. If you can rock a pair of panties and an oversized shirt, the more that you can nail sexy teddies, babydolls, chemises, negligees, and other lingerie sets that you want to try. What's more important is for you to determine and pick what feels right for you.
3. For Empowerment.
Female empowerment is all about making women feel good about "being a woman". Therefore, wearing beautiful and quality lingerie sets allow every woman to feel unquestionably feminine because a set of sexy lingerie doesn't have to be for a man or for anyone else other than your own self.
So why would you reserve your sexy lingerie set for a special night or occasion when you can celebrate being beautiful every day?
Reserving your beautiful undergarments for certain occasions is equivalent to saying that you deserve to feel special only on those days. Keep in mind that wearing your pretty lingerie set is not all about men but rather about embracing your femininity as much as you can.
4. To Supplement Daily Outfits.
It is crucial for your undergarments to have the perfect fit. You know how frustrating it is when your underwear doesn't look good from under your clothes and shows of unsightly bumps, lines, and creases.
Cheap lingerie, ill-fitting brassiere, and poor quality undergarments can all ruin a rather nice outfit. However, good quality and beautifully crafted lingerie sets can serve as the perfect base for your clothes. They can fit perfectly on your body and create flattering effects to supplement your clothes and make them look gorgeous on you.
5. As a Thoughtful Present.
Lingerie sets are thoughtful and special presents for a friend, sister, girlfriend, or partner. They are also perfect for many occasions like weddings, anniversaries, bridal showers, Valentine's, birthdays, Christmas, or any other special event. In a lot of ways, lingerie sets are gorgeous and empowering gifts to women of all ages.
Therefore, buying your sister or best friend with a sexy lingerie set is one way of encouraging her to love herself and appreciate her body. It is one way of uplifting her spirit and reminds her that she is a woman of worth and substance, and she deserves to wear the finest clothes such as luxurious lingerie sets.
Here's a tip from BestSexToys; if you're planning to buy a lingerie set for someone else as a gift, make sure to know the correct size and measurements to pick the right choice. If you're quite unsure about the specifications, there are other safe choices of lingerie sets aside from brassieres and panties you can consider, such as chemise sets, negligee with robe, camisole tops, and babydoll sets.
6. For an Exclusive Girl's Party.
Also known as lingerie showers and bachelorette parties, an exclusive girl's party is an event wherein guests shower the bride with lingerie as gifts. And because all the guests are primarily females, everyone has to wear something sexy such as a lingerie set with naughty details.
A lingerie shower party is sexier than the usual bridal shower. It is typically held in a private location and consists only of a small number of people to make it an intimate gathering.
So if you're throwing a bachelorette party for a friend, sister, or relative, you can conceptualize the party in such a way that everyone has to wear lingerie set and offer various types of lingerie as presents for the bride-to-be. Needless to say, this party offers the perfect opportunity to flaunt your beautiful lingerie set and encourage other female guests to do the same.
7. To Spoil Yourself.
There is something comforting about the pieces of clothing that we wear nearest our skin and intimate areas. And we all deserve to drift off to a peaceful slumber wearing something beautiful and elegant. Let's face the fact that a huge percentage of our existence is well spent on treating ourselves to a much-deserved rest.
Therefore, spoiling ourselves with extravagant sleepwear has its own emotional and physical impact. And besides, who can possibly wake up feeling down wearing a silky soft negligee that gently caresses the skin?
Let's view it this way. We pay attention to our health and vitality through proper diet and exercise. How can we nurture our souls and emotional wellness? It's by surrounding ourselves with the finest things that bring us joy every day, and one of them is by spoiling ourselves from time to time with simple luxuries that we deserve like classy lingerie sets.
8. For a Special Night.
Whether it's your honeymoon, anniversary, or first night with your boyfriend, wearing something seductive in the bedroom can create an air of romance and intense passion. This is perhaps the most popular connotation about sexy lingerie sets. They are meant to tease and seduce your male partners for an intimate time together.
By wearing sexy lingerie sets, you're one step ahead in turning your partner on and getting him in the mood for romance. And whether you prefer a teddy set, babydoll set, or chemise set, make sure to pick the perfect lingerie set that complements your body and amplifies your self-confidence to look and feel at your best.
Where to Buy Lingerie Sets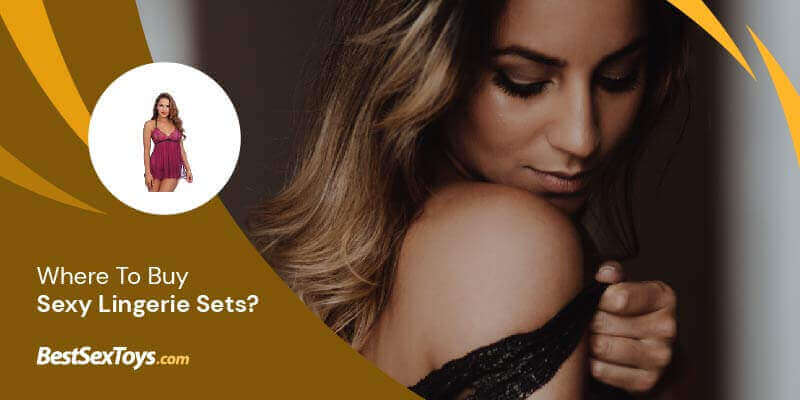 When was the last time you spoiled yourself by investing in attractive and quality lingerie sets? If your recent purchases were on the practical and budget-friendly side, perhaps now is the perfect time to indulge and try out something more luxurious and extravagant.
Wearing a beautiful set of lingerie can transform how you see and feel about yourself, and can do great wonders to your sexual relationship. Here are some ideas on where to buy your lingerie sets.
Online Lingerie Shops
The internet holds a multitude of resources if you're looking for a sexy and daring lingerie set. You may browse through hundreds to thousands of choices in various online selling platforms and exclusively branded online shops.
But if you're looking for high quality and an excellent line up of lingerie sets that most women love, BestSexToys.com can offer you amazing products. Aside from adult sex toys for women and men, BestSexToys.com also features quality apparel to bring out the bombshell beauty in you.
Local Department Stores
What kind of woman would miss the lingerie section of local department stores? We can all agree that push up bras and sexy underwear, corsets, camisoles, and hosiery are absolute essentials for women.
So if you'll dig deeper into your local department store's intimate apparel, you might just chance at the perfect lingerie set that can make you feel every inch sexy and beautiful.
One of the advantages of personal shopping for lingerie sets in department stores is that you can conveniently browse through different brands, styles, colors, and materials.
You may also use your creativity to mix and match different pieces to come up with your own unique set, such as a lace negligee with a silky floral robe, a satin camisole paired with lacy boyleg underwear, or complementing garter suspenders, brassiere, and G-sting underwear.
Lingerie Boutiques and Retail Stores
If you have a fixation for a particular brand of intimate apparel, you may visit their local retail store to check out their lingerie sets.
Most brands offer coordinating sets of female undergarments (brassiere and underwear), sexy nightwear (babydoll with robe), sexy Teddies (teddies and garter belts), and bustier (bustier, underwear, and hosiery) among other choices.
Some of the most famous brands for lingerie sets in the U.S. are Victoria's Secret, Calvin Klein Underwear, Natori, Addition Elle, and Coco De Mer.
Why Sexy Lingerie Sets Are Important for Women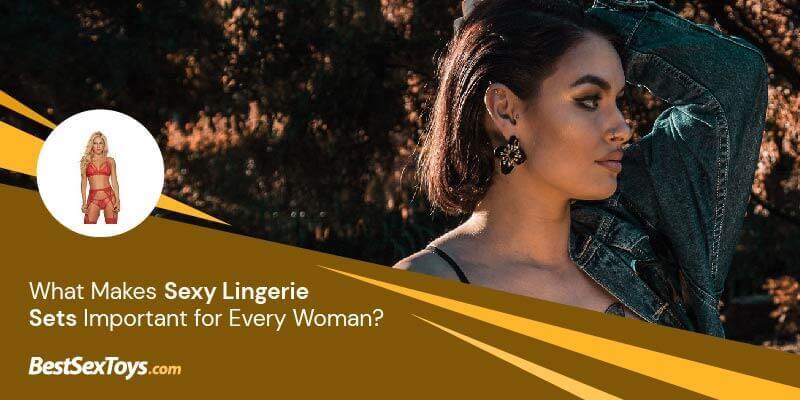 Lingerie sets are essential for every woman because they are functional and transformative. Besides providing that much needed critical support, lingerie sets also help amplify a woman's allure and vibrancy sense.
It should be noted that women have different preferences when it comes to lingerie sets. Some might even go for comfort and practicality over how seductive a certain style looks. And this is totally acceptable! Every woman has the prerogative to pick whatever feels right for them as long as they can rock it confidently.
Here are the top 3 reasons why lingerie sets are important for every woman;
1. Wearing Lingerie Sets Help Eliminate Body Hate.
In many ways, wearing pretty lingerie sets helps boost body acceptance and eliminates "body hate". As we all know, body insecurity is very common among women nowadays. This is due to the pressure brought about by media advertising and the fashion industry that have partiality for skinny women on their campaigns.
Sadly, this perception of beauty and sexiness keeps a lot of women from appreciating their own bodies and physical appearance – especially if they don't have that supermodel figure. The good news is that, modern and quality lingerie sets that are available nowadays can flatter almost every body type.
And whether you're voluptuous, medium-framed, or bony, there's a specific set of lingerie that can highlight your body's best features and magnify your curves, so you can start appreciating your own body instead of hating it.
2. Lingerie Sets Are Basic Necessities for All Women.
As a woman, it makes perfect sense to invest in lingerie sets that necessitate your personal needs and lifestyle, whether you're a housewife, mom, career woman, frequent traveler, or an athlete.
Brassieres, underwear, and intimates are perhaps the most important wardrobe investment any woman can make. And the reason is obvious – you can wear them everyday. In fact, certain undergarments can also make a huge difference with how your daily clothes and work clothes fit on your body.
Examples of these are; corsets, bustier, garter belts, girdles, push up brassieres, and T-shirt bras, which are suitably designed to make you feel and look good even as you go through your daily grind.
3. Lingerie Sets Are Glamorous and Chic.
Wouldn't it be nice to get on the bed after a busy day in a nice silky lingerie set? Women love the feeling of glam and sophistication, which makes lingerie sets essential even while lounging at home after a long day. Apparently, wearing feminine lingerie sets is not only to impress and seduce a man, but also to feel elegant and special in your own way.
Lingerie sets can add excitement to your most ordinary days, and they serve as a constant reminder that you deserve fancy things in life. So if you want to be glamorous and chic, you have to dress up like one even if you're spending your days and nights alone.
How Much Does a Sexy Lingerie Set Cost?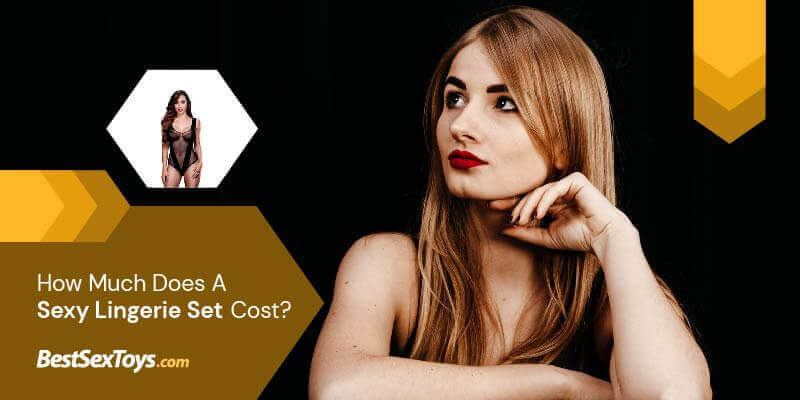 Every woman's taste in lingerie sets is different – and the same thing goes for the price tag. The good thing is that there are loads of options out there, regardless of what your preferences are. So if you're quite hesitant about buying lingerie sets, think again. Consider buying at least two sets that you can wear regularly, and then see how they affect your mood, confidence, and self-worth.
Here's a price list of the most common lingerie sets every woman should have;
Bra and Underwear Set: $20.00 to $40.00
Babydoll Set: $30.00 to $40.00
Garter Belt and Hosiery Set: $20.00 to $30.00
Teddy Lingerie Set: Price Starts at $20.00
Harness Corset with Leg Suspenders: $40.00 to $60.00
Bustier Set with Hosiery: Price Starts at $50.00
Chemise and Silk Robe Set: Price Starts at $30.00
Negligee Set: Price Starts at $30.00
Corselet (Brassiere and Girdle) Set: $Price Starts at $30.00
Cage Bra and Underwear Set with Details: $30.00 to $50.00
Strappy Ring Bustier Set: $30.00 to $50.00
Lace Bustier with Garters: $40.00 to $60.00
Bridal Lingerie Set: Price Starts at $40.00
Camisole Set: Price Starts at $30.00
More Sexy Lingerie
All Sexy Lingerie
All the sex toys for



Subscribe to our Newsletter
Newest Deals
Discounted Prices
Free Products
Giveaways
Promo Codes
Table of Contents
Sexy Lingerie Sets
Check the
Best 10 Sexy Lingerie Sets
Find the best 10 Sexy Lingerie Sets we've gathered after reviewing dozens!
Check Now