Clit Pumps
Didn't find what you are looking for?
View All
Best 8 Clit Pumps in 2023
1
Great Deal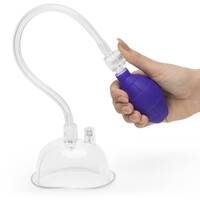 2
LoveHoney Supreme Sensation Pussy Pump
Length: 19 inches
Material: Hard Plastic
Waterproof: Submersible
Allergens: Latex-Free
2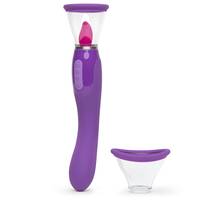 Pussy Pump and Tongue Vibrator Kit
Circumference: 4.25 inches
Insertable Length: 5 inches
Flexibility: Firm
Material: Silicone
Power Type: Rechargeable
Vibration speed: Speeds and patterns
Waterproof: Submersible
Allergens: Phthalate-Free
3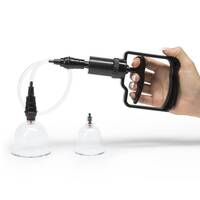 2
Dominix Deluxe Cupping Set
Length: 27 inches
Material: Hard Plastic
Allergens: Latex-Free
4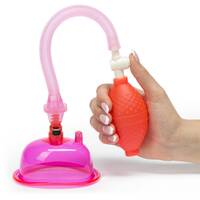 2
Circumference: 9.75 inches
Length: 4 inches
Flexibility: Rigid
Material: Hard Plastic
Waterproof: No
Allergens: Latex-Free
5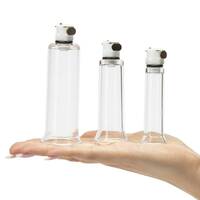 2
Clitoris Pump Excitement System
Battery Info: 3 x LR44 batteries
Power Type: Batteries (included)
Vibration speed: Multiple speeds
Circumference: 5 inches
Length: 33.5 inches
Flexibility: Rigid
Material: Hard Plastic
Waterproof: Splashproof
Allergens: Phthalate-Free
6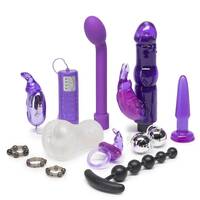 2
Mega Couple's Sex Toy Kit
Battery Info: 6 x AA batteries
7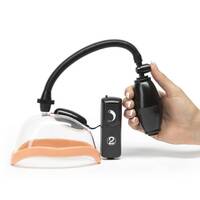 2
Battery Info: 2 x AA batteries
Vibration speed: Multiple speeds
Flexibility: Rigid
Material: Hard Plastic
Length: 5.5 inches
Waterproof: No
Allergens: Phthalate-Free
8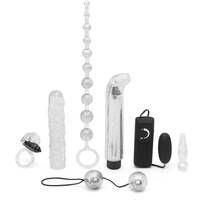 2
Crystal Kink Couple's Sex Toy Kit
Flexibility: Flexible
Material: Soft Plastic
Vibration speed: Multiple speeds
Waterproof: No
Allergens: Phthalate-Free
We have more
Clit Pumps
View All
As seen on
What Is a Clit Pump?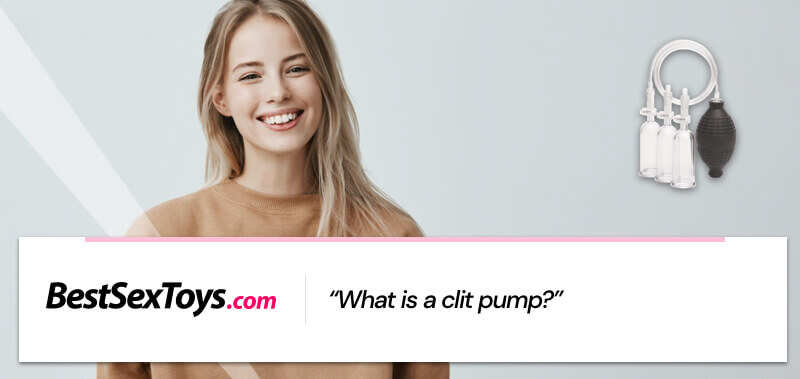 A clit pump is a pleasure-enhancing suction device for females meant to increase the blood flow to the clitoris, clitoral hood, and other parts of the female external genitalia.
This female sex toy increases sexual responses by drawing more blood supply directly on the area where it is locally applied, increasing the sensitivity and engorgement. Aside from the suction effect, modern variations of clit pumps also deliver other modes of stimulation.
The use of a clit pump or clitoral pump is not limited to sexual pleasure alone. Some use this sex device to achieve a bigger and more prominent clitoris to turn their partner on and for body aesthetics.
On the clinical aspect, medical experts recommend certain types and models of clit pumps to patients that are suffering from lack of sex drive, dry spells, and inability to achieve sexual arousal. Studies reveal that improving the blood circulation to the genitals contributes to increased libido and better orgasms.
Basic Components and Materials
The most common types of clit pumps consist of a suction cup, a hand-held squeeze bulb, and a rubber tube that connects the two main components. The suction device may be in the form of an elongated cylinder or round and oval cup-like designs in various sizes.
They are usually made of soft and pliable materials like silicone, rubber, or plastic gel-like components. The hand-held pump (or squeeze bulb) and hollow tubing are typically made of rubber.
Uses and Variations
Clit pumps are specifically designed to increase blood circulation to the clitoris for precise clitoral stimulation and trigger sexual arousal. Some variations of suction cups can cover larger areas to include the labia and entire external female genital.
Small suction cups are more suitable in creating a sucking effect exclusively to the clitoris and clitoral hood. Other types may also be useful in stimulating the nipples. The suction creates a heightened level of sensitivity to the local area during masturbation, foreplay, and sex.
Modern variations of clit pumps incorporate different textures for additional stimulation, vibrating elements that trigger an orgasm, and other features that mimic oral sex.
Prototype
The classic clit pump is originally patterned from its male counterpart, which is the penis pump. Both sex toys are set out to deliver sexual enhancement and pleasure and help many adult users overcome a variety of sexual difficulties and challenges.
Apparently, clit pumps are beneficial to women dealing with various sexual concerns such as lack of libido and inability to achieve orgasm; in the same way, that penis pumps are beneficial to men who are suffering from erectile dysfunction.
Relevance as a Sex toy
Female sex toys such as clit pumps have become popular over the past decade due to the constant evolution of new and modern pleasure toys specifically designed for couple play and solo masturbation. Whether you're single or in a relationship, introducing a fun and functional sex toy in the bedroom can add an interesting twist and a whole lot of excitement to your sexual wellness and relationship.
It is also worth noting that people who use pleasure toys during masturbation experience a stronger connection with their bodies and erotic desires. They develop better sexual habits that eventually lead to more rewarding experiences.
Benefits of Using a Clit Pump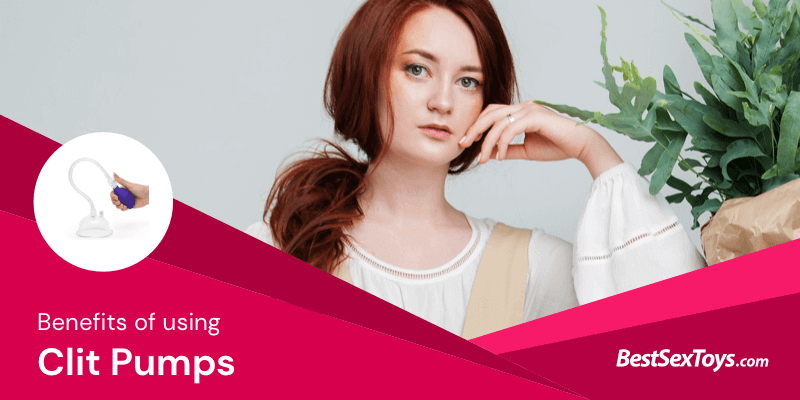 Clitoral Pumps are more than just pleasure toys. They also serve as sex aids and clinical solutions to a variety of sex-related problems among women. The following are the most important benefits of clit pumps for women;
Allow significant clitoral and genital engorgement
Improves the sexual response and sensitivity of the clitoris
Promotes better vaginal lubrication
Enhances a woman's ability to achieve sexual arousal and orgasm
Contributes to sexual wellness by improving libido and sex drive
Results to sexual satisfaction
How to Use a Clit Pump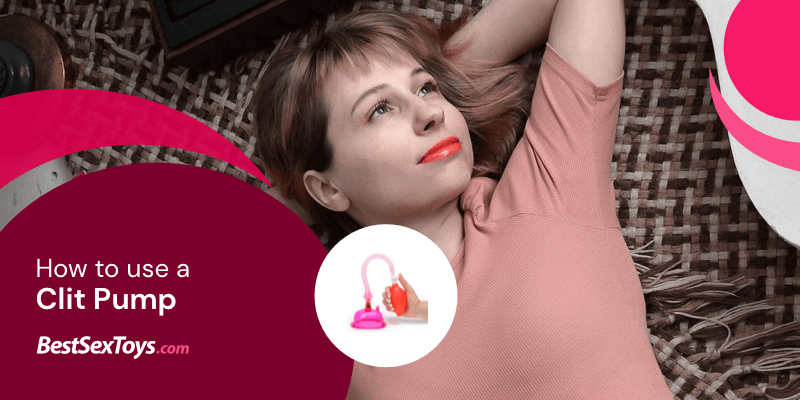 If you want to join the bandwagon of women enjoying the benefits of clit pumps, you must first acquaint yourself with the basics of proper use and application. For starters, it should be well-understood that clitoral pumps are non-penetrative sex toys and are meant only for external body use.
Here's a complete guide on how to use a clit pump for sexual pleasure and enhancement.
1. Position the Suction Cup Over the Clitoris.
To start using the device, position the suction cup, or cylinder firmly over the clitoris. Hold to secure it in place. If you're using a clit pump with rubber tubing and hand pump, make sure that the tube has no distortions and folds along its length to ensure efficiency once you start pumping or squeezing the hand bulb.
2. Squeeze the Bulb.
Slowly squeeze the bulb to start suctioning the air. This creates a vacuum pressure between the clitoris (external genital) and the device. The sucking action and skin tension cause the clitoris to throb as more blood is drawn in. The hand pump enables you to control the pressure to your desired level.
3. Adjust the Intensity of Clitoral Suction.
The hand pump has a quick-release valve, which you can use to adjust the clitoral suction intensity. In any case that the vacuum is causing discomfort, you can stop at any time by releasing the valve. Depending on the clit pump model you're using, you may also slide the release button up and down to adjust the intensity of clitoral suction until you reach a comfortable suction level.
4. Turn on the Vibrations or Additional Features.
Once you've achieved your desired level of clitoral suction, turn on the vibrating components of your clit pump to achieve maximum stimulation. If your clit pump comes with special features that imitate oral sex, this is the time to turn them on to achieve a powerful clit orgasm that goes beyond your imagination. The most common clitoral stimulations are sustained pulsations, sucking, and licking motions.
5. Increase the Suction Level Gradually.
Get more adventurous by increasing the suction level gradually. Gently squeeze on the hand valve to create more vacuum pressure. This would further increase the blood flow to the area, causing the clitoris and clitoral hood to become engorged. More blood supply to the genital area, particularly to the clitoris, results in increased sensitivity, vaginal lubrication, and sexual excitement that lead to a momentous orgasm.
Safety Precaution: A clit pump is meant exclusively for external stimulation of the clitoris, clitoral hood, and labia, and in some cases, the nipples. It is not suitable for use on the vaginal opening or to stimulate the vagina. Moreover, do not attempt to use it for vaginal or anal penetration. It's not an anal toy, is purely for the clitoris, and it may cause soft tissue injuries and irritation.
Types of Clit Pumps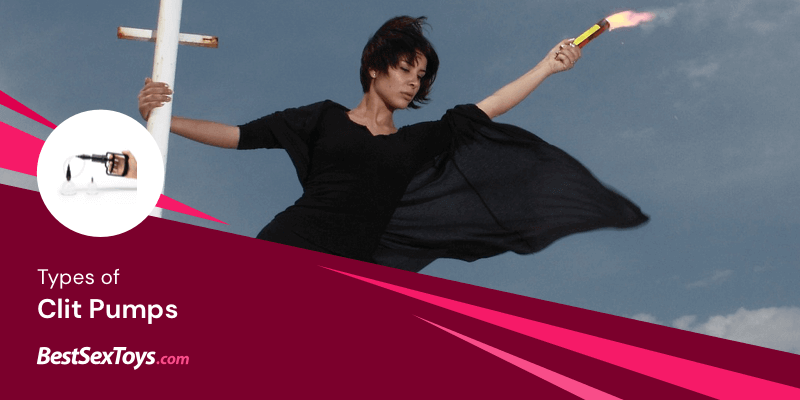 Just like most sex toys, clit pumps have their own share of developments throughout the years. From the classic model consisting of a suction cup, rubber tubing, and hand bulb, modern variations with sophisticated features are now available to incorporate different sensations, textures, and stimulation levels.
Moreover, with the development of motorized clit pumps that deliver gentle suction with a click of a button, it has become easier for women of all ages to engage in solo masturbation to boost sex drive and spark up their libido.
Let's explore the different types of clit pumps available in the market.
Basic Clit Pumps
A basic clit pump consists of three essential elements, a suction cup or cylinder cup, a hand-held bulb, and a tube that connects these two components.
It is usually made of soft, pliable materials like gel-like plastic, silicone, and rubber; and has a safety valve to release the vacuum pressure. It creates a vacuum effect on the clitoris by squeezing the hand bulb to your desired level of pressure.
Despite the availability of more advanced models, this classic design managed to stay on top of the game because it's easy to use and has basic features. Needless to say, a basic clit pump serves its purpose well, and this significantly contributed to its longevity in the market.
Vibrating Clit Pump
A vibrating clit pump is a female suction toy with vibrating components. The vibrations, which are adjustable to different levels, accompany the sucking mechanism. This sex toy delivers powerful stimulation to the clitoris and surrounding areas as it promotes increased blood circulation, sensitivity, and sexual responses with a click of a button.
This type of clit pump is suitable for women suffering from lack of sex drive and decreased libido due to hormonal changes, emotional stress, and busy lifestyle.
There are two variations for vibrating clit pumps, which are battery-operated and rechargeable. Modern types also feature additional modes of stimulation through various textures and tongue-like protrusions.
Battery-Operated Clit Pump
A battery-operated clit pump is a motorized sex toy that creates a vacuum between the clitoris and sex device with a click of a button. It comes in a sleek and compact design and doesn't have attachments for the rubber tube and hand bulb.
The sophisticated design, which mainly consists of a wand and a suction cup attachment, allows careful handling and storing. Additionally, battery-operated clit pumps usually have additional elements such as a vibrating component, clit massager, or interchangeable suction cups and cylinders in different sizes.
Clit Pump With Tongue Stimulator
A clit pump with a tongue stimulator is a clit and pussy-sucking sex toy for women that deliver a suction effect accompanied by sensations that mimic true-to-life oral sex. These include sucking, licking, and clit massage.
It has a sleek design that resembles a wand with a suction cup and tongue-like protrusion in the middle meant for clit stimulation.
This multi-functional sex toy and clit pump offers powerful suction and deflate features with different levels of vibrations for enjoyable solo play.
It is also useful in teasing the nipples, vulva, and perineum because the suction cup is detachable to maximize the tongue element's use. Modern variations are USB rechargeable and waterproof.
EROS Clitoral Therapy Device
The EROS Clitoral Therapy Device is a prescription sex aid for women suffering from lack of sex drive due to dry spells caused by hormonal changes and psychological factors, including stress and anxiety.
This is a small and hand-held sexual health device that enhances clitoral sensitivity and response to stimulation by increasing the area's blood flow.
It consists of a soft plastic cup that fits on the clitoris and is battery-operated. When the device is on, it creates a gentle vacuum that draws more blood supply to the genitals that cause the clitoris to swell.
This sex health device also promotes vaginal lubrication and enables orgasm, and is useful in treating various female sexual dysfunctions. It also has an FDA clearance, thus making it one of the most highly-prescribed female sex toys in the clinical setting.
Calexotics Clit Pumps
The calexotics clit pump is a branded female suction sex toy that is made of soft silicone material. It consists of a hand-held suction cup with internal texture, soft rubber tubing, and a soft-squeeze bulb.
The textured suction cup is securely fixed on the wand and provides additional stimulation to the clitoris aside from the suction mechanism. This basic yet modern clitoral stimulator is well-characterized by its small suction cup that specifically targets and stimulates the clitoris and clitoral hood.
How to Clean a Clit Pump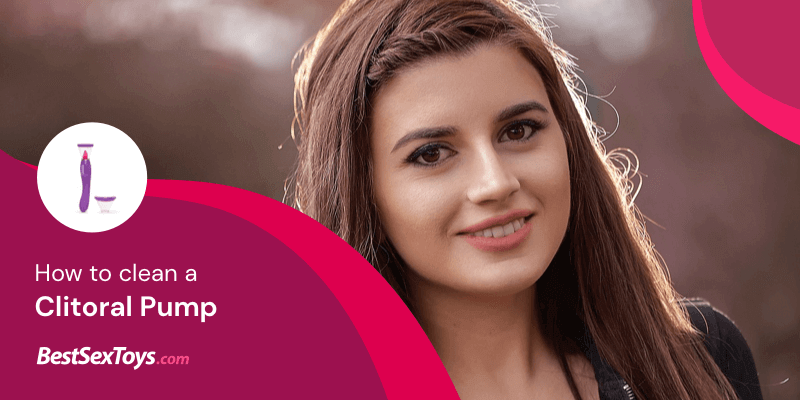 Like any other female sex toy, clit pumps require specialized cleaning and sanitation before and after use. Anything that you use on your body for sexual purposes should be hygienic because it gets in direct contact with body fluids and discharges.
Cleaning and maintenance depend primarily on the material and type of clit pump you have. For accurate information, check the packaging or user manual of your sex toy for proper cleaning instructions according to the manufacturer.
For your reference, here are the standard ways of cleaning a clit pump;
Basic and Non-Motorized Clit Pumps
To clean basic clit pumps without motor components, you may use a mild disinfecting soap and water. Avoid using hot water because this may damage the soft rubber materials, especially the rubber tubing. Check if the suction cups are detachable from the tube. Most models have detachable and interchangeable suction cups that allow efficient cleaning and sanitation.
Soak the suction cups in soapy water solution, rub them using a sponge, and rinse thoroughly under running water. Wipe them with a dry microfiber cloth and allow to air dry to avoid moisture build-up, which may cause stickiness to the materials. If you notice any stickiness, apply some talcum powder to regain the smooth texture.
Battery-Operated Clit Pumps
To clean your battery-operated clit pump, remove the batteries from the battery compartment. Wipe all components using a damp cloth with soap and water solution. Repeat the procedure until there's no more soap residue left.
If the suction cups are detachable from the motorized body, clean them separately by washing them with antimicrobial soap and water. Rinse under running water and wipe with a dry towel, then air dry completely for a few more minutes. Do not put the batteries immediately after cleaning the motorized element.
Do not submerge suction cups made of rubber and soft plastic in hot water. This may damage the material and cause them to easily break down. Only suction cups made of clinical-grade silicone can be sterilized with hot water.
Rechargeable Clit Pumps
A rechargeable clit pump is usually waterproof and is submersible in water. In any case that your clit pump is not waterproof, cover the charging pins with cotton before cleaning to avoid damaging the vibrating components.
Use a damp cloth with disinfecting soap and water solution to clean the wand and other elements. Repeat the procedure until it's completely clean and free from soap residue.
Check if the suction cup is detachable from the wand and wash it separately. Rub it gently using a sponge with soap and water, then pat dry with a towel. Do not attach it right away to the wand after cleaning to make sure that it's thoroughly dry. Do not charge your clit pump right away after cleaning to allow ample time to dry up and rest.
Waterproof Clit Pumps
Waterproof clit pumps are easy to clean and sterilize because you can rub them with disinfecting soap and submerge them in water. Make sure to give them a good rub and pay attention to the components that get in direct contact with the clitoris and vaginal discharge.
After cleaning, you may also sterilize a silicone clit pump by submerging it in hot water for a couple of minutes before drying up. Do not microwave or load in the dishwasher to avoid exposure to extremely hot temperatures, which can permanently damage the sex toy.
It is worth noting that hot water is not suitable for premium models made of soft plastic and other synthetic materials. Use tap water instead, and allow to air dry completely. To get rid of the stickiness, powder application is necessary to regain the smooth and clean texture.
How Much Does a Clit Pump Cost?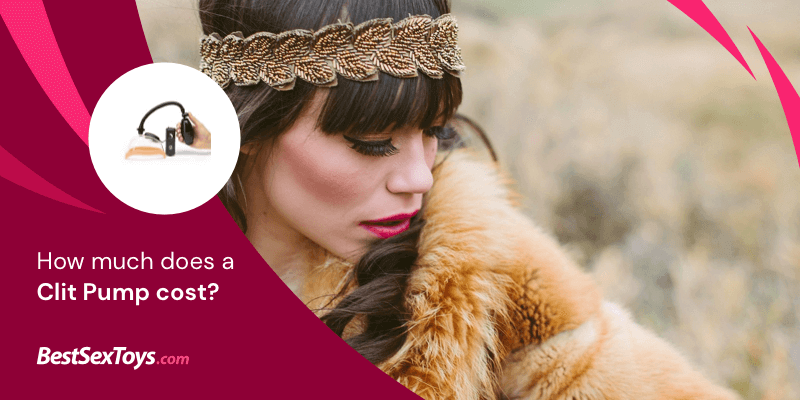 The price range of clit pumps varies depending on the type, material, and model you prefer. Modern types with multiple functions and accessories have premium price tags compared to basic types with manual features.
However, it helps to know that clit pumps are generally affordable sex toys that fit almost any budget. With a variety of exciting models and accessories to choose from, you'll surely find your ultimate eye candy amidst the stream of choices.
Here's a list of different clit pump models and prices for your reference.
Basic Clit Pump made of Hard Plastic Material: Price starts at $30.00
Basic Clit Pump made of Soft Plastic Material: Price starts at $30.00
Clit Pump with Soft Silicone Suction Cups: Price starts at $40.00
Basic Clit Pump with Suction Cup Accessories: $30.00 to $50.00
Vibrating Clit Pump with Cylinder Cup Accessories: Price starts at $100.00
Clit Pump Kit with Interchangeable Suction Cups: $50.00 to $70.00
Clit Pump with Tongue Vibrator: $130.00 to $170.00
Couple's Sex Toys Kit with Clit Pump: $80.00 to $150.00
EROS Clitoral Therapy Device (Prescription): $325.00
Suction and Oral Licking Sex Toy: Price starts at $80.00
Waterproof Clit Pump with Clit Massager: Price starts at $80.00
Multi-Speed Clit Pump with Licking Vibrator: Price starts at $35.00
More Sex Toys For Women
All Sex Toys For Women
All the sex toys for



Subscribe to our Newsletter
Newest Deals
Discounted Prices
Free Products
Giveaways
Promo Codes
Check the
Best 8 Clit Pumps
Find the best 8 Clit Pumps we've gathered after reviewing dozens!
Check Now