Breast Pumps
Didn't find what you are looking for?
View All
Best 7 Breast Pumps in 2023
1
Sell Fast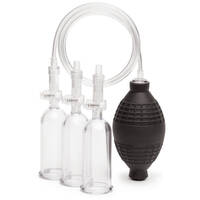 2
Swell Time Clitoris and Nipple Pump
Circumference: 3 inches
Length: 28 inches
Material: PVC
Allergens: Phthalate-Free
2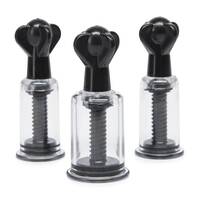 2
Nipple and Clit Triple Sucker Set
Fastening: Adjustable screw
Allergens: Latex-Free
Length: 4.5 inches
Material: Hard Plastic
3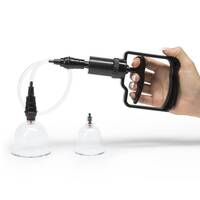 2
Dominix Deluxe Cupping Set
Length: 27 inches
Material: Hard Plastic
Allergens: Latex-Free
4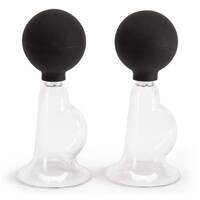 2
Size Matters Honkers Nipple Pumps
Length: 5.5 inches
Material: Hard Plastic
5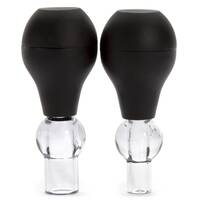 2
Nipple Pump Set (6 Piece)
Length: 3.5 inches
Material: Soft Plastic
Allergens: Latex-Free
6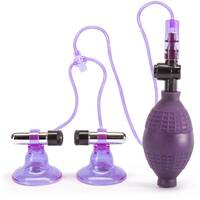 2
Hi-Beam Vibrating Nipple Pumps
Battery Info: 6 x LR44 batteries
Power Type: Batteries (included)
Material: Soft Plastic
Waterproof: Splashproof
Allergen Warning: Contains Latex
7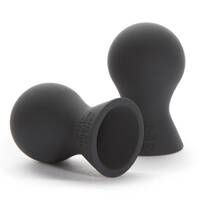 2
Length: 2 inches
Material: Silicone
Allergens: Latex-Free
We have more
Breast Pumps
View All
As seen on
What Is a Breast Pump?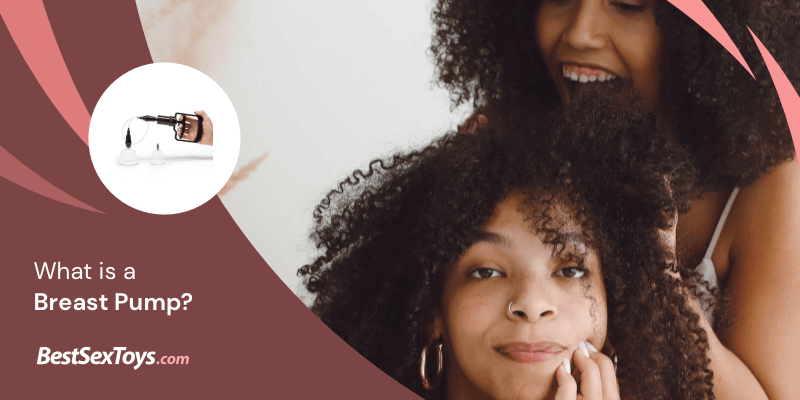 Breast pumps are devices that create suction designed for the most sensitive areas on the breast, the nipples. They have a suction cup to place over the nipple and areola to securely provide gentle suction on the breast to express milk. A funnel directs the breast milk that is suctioned out of a lactating breast into a bottle.
There are different kinds of breast pumps, from mechanically operated to manually operated ones. Both the concept and technology used for breast pumps have been used to create a range of other devices used for sexual pleasure too.
These do not include a funnel or a container for breast milk as they are purely for stimulation, both visually and physically, while teasing and pleasing sexually. Regular breast pumps may also be used for sexual stimulation in some cases.
Kinds of Breast Pumps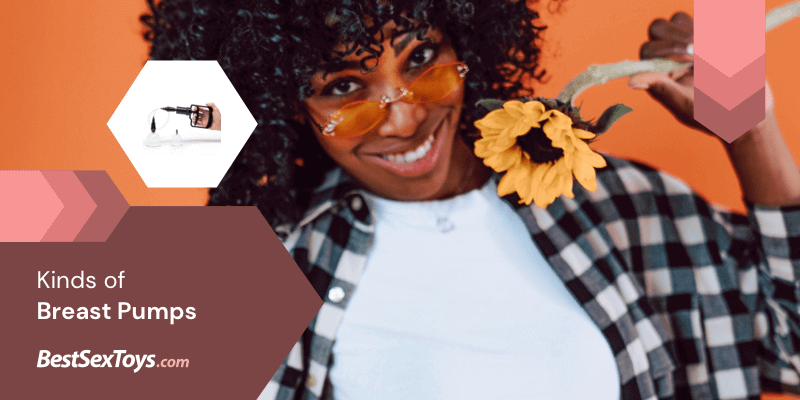 The three main kinds of breast pumps are manual, electrical, and hospital-grade. They each have advantages such as manual pumps being quiet and small, electrical pumps are efficient and leave your hands free while hospital-grade ensures the best hygiene and milk production level possible.
Manual Breast Pumps
Manual breast pumps require constant physical effort to create suction. Manual pumps have different mechanisms for creating the suction needed to simulate the suckling of a baby that would naturally express milk from the breast.
There are silicone manual pumps that are one complete molded structure that can be cupped onto the breast and squeezed to create suction and capture the milk expressed at the same time. There are other models that require two hands; one to hold the pump and cup it against the breast and the other to raise and lower the handle that creates suction in the pump.
Manual breast pumps are easy to clean and store in a handbag. Because they don't make any noise, they are also easy to use in public spaces where they may feel uncomfortable using a noisy device. The cost of manual breast pumps is also considerably lower than the others.
Electrical Breast Pumps
Electrical breast pumps are efficient in creating consistent suction and allowing the mother to place the suction cups on her breasts and pump breast milk for later use while continuing with other tasks.
These devices include suction cups for the breasts, funnels, and bottles to catch the milk, but some cords must be attached to the mechanical pump to create suction. These electrical pumps would also need to be plugged into a source of power, so the flexibility of using this device is somewhat limited.
Modern electrical breast pumps are now being developed to use chargeable power banks to aid in the convenience of using an electrical breast pump. The largest drawback is that the noise; the mechanical device that creates suction is not silent. Different models make less noise, but they are not completely silent.
Hospital-grade Breast Pumps
Hospital-grade breast pumps are a closed system with added protection to ensure the hygiene of the expressed breast milk. The main purpose of hospital-grade pumps is to simulate the feeding that would naturally occur with a baby.
This is important because the baby's feeding causes the development of the right amount of breast milk. A hospital-grade breast pump will allow a mother struggling to develop enough breast milk to reach the needed amount. It will also aid mothers whose babies are in the hospital and unable to feed to maintain milk production levels.
The settings act as programs that stimulate milk production to ensure that the required amount of milk is being produced to meet the baby's needs currently and in the future.
How to Use a Breast Pump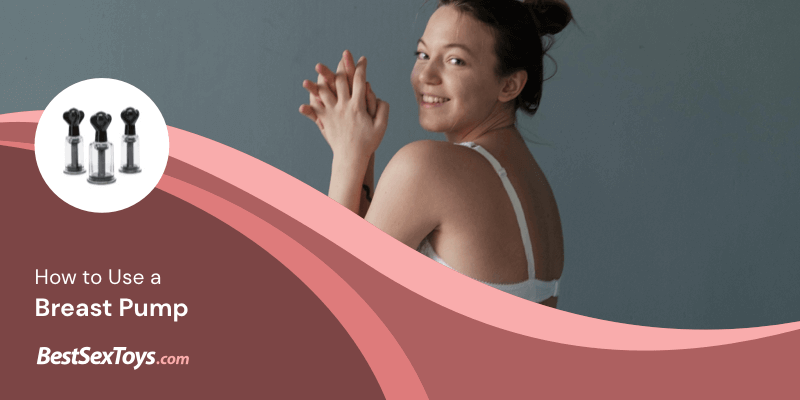 As with many different items, there are different ways to benefit from breast pumps. Below we will take a look at how to use a breast pump while lactating and when exploring the pleasures of suction.
How to Use a Breast Pump When Lactating
Read the instructions as each manufacturer will have special requirements for the care of their product.
Wash and dry your hands before using the pump.
Hold the suction cups to be placed over the breasts and make sure the nipples are at the center of these suction cups.
Once centered, place the suction cups gently on the breasts.
Start slowly and very gently to create suction, especially if this is the first time you are doing this, and you are lactating. Breasts can become very sensitive, and if they are not carefully expressed, they can become uncomfortable or even painful.
Continue at a low speed with low suction for the most productive pumping session. Try to mimic the natural speed and strength of a baby suckling, as that is the optimal speed and strength to extract milk. Simply trying to pump at the highest speed and suction is typically ineffective. This also ensures that the supply of milk is properly stimulated and therefore constant.
Pump for as long as there is enough milk being extracted or for 7 minutes.
Always consult a health professional if you have additional concerns about your baby's health and the amount or quality of lactation.
When to Pump
When lactating, the times that the baby will feed need to be considered when choosing the right time to express breast milk using a breast pump. The first time in a day would be after the first breastfeeding of the baby.
First Pump
After the child has had milk from both breasts, take the breast pump and place it over the nipple and breast. The cup should gently hold the breast so that no air can easily get through. If this is a manual breast pump, depending on the model, it will need to be manually squeezed or pressured into creating suction and expressing milk from the breast.
If there is only one breast pump, alternate between both breasts to extract all the milk that is still available after the first morning feeding.
Later in the Day
The next time to choose to express milk should be when the child would naturally need to feed. If the mother has returned to work, it is ideal to express milk when the child would have fed and kept that milk in a fridge or freezer until needed.
If pumping is required with a mechanical breast pump, there should be a place provided at the workplace that is quiet and allows the mother some privacy while she is using the breast pump. In some workplaces, mothers can use the breast pump while they are at their desk, but this is something that needs to be discussed with their managers first.
Just as with a manual breast pump, the suction cups should be gently placed over the breast and nipple. Once they are in place on both breasts, the machine can be turned on, and a setting chosen for the duration and strength of suction the mother feels is best.
How to Use a Breast Pump for Sexual Play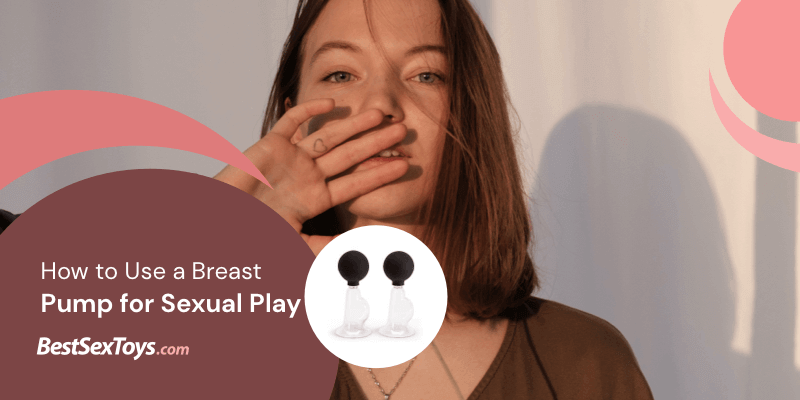 Suction can be an amazing feeling, so people have observed breast pumps' ability to be more than just practical tools to help mothers and babies. The suction created by a breast pump can be highly pleasurable on erogenous zones such as the nipples and clitoris.
Some people find it highly erotic to engage in breast milk fetishism which incorporates lactation into sex. This is sometimes called an adult breastfeeding relationship (ABR) or an adult nursing relationship (ANR).
These relationships are not only based on sexual play with breast milk, as some people have engaged in adult breast milk consumption for health reasons or platonic emotional ones.
To engage in adult breast milk consumption, the initiation of lactation can be stimulated with a breast pump. By mimicking a baby's feeding times by using a breast pump regularly, it is possible to stimulate lactation.
For those looking for much stronger suction, there are BDSM options with suction toys that mimic the pumping action of a breast pump but with a much stronger, more focused level of suction and cups that can be placed on more parts of the body than just the breast. The glans, testicles, clitoris, and any other sensitive areas can have even more heightened sensation with some suction engorging the area.
Remember to never use suction on areas of skin that have been broken. Make sure to read the manual of whichever tool or toy you get so that it can be used in a healthy, hygienic manner.
How to Clean a Breast Pump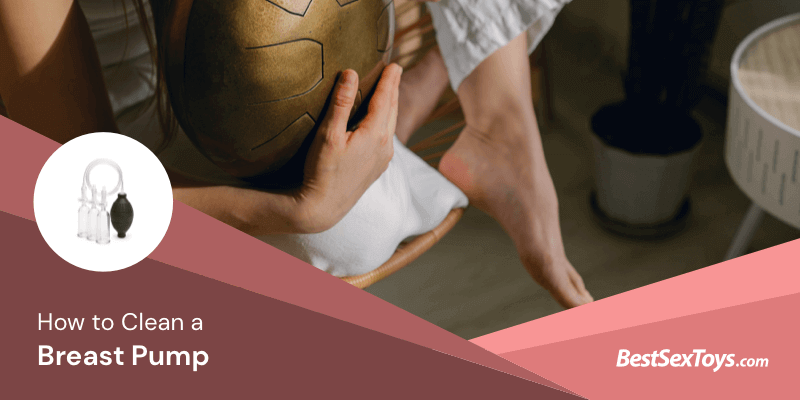 When using a breast pump to express milk and feed a baby, it is essential to maintain the highest hygiene level. Check the instruction manual to make sure which parts must be washed and the best method for this.
Typically the parts that come in contact with skin and milk, such as the suction cups, funnels, and collection bottles, are all made of plastic or silicone that is resistant to heat, so they can be placed in boiling water if the parts need to be made sterile.
Before cleaning the breast pump, be sure to wash your hands.
Make sure to rinse the pump parts that come into contact with the breast milk immediately with cool water before washing in hot water.
Rinse in fresh, clean water to remove any soap.
Another key point is to make sure that the breast pump parts are washed in a hygienic space—not just the kitchen sink.
If possible, wash each part separately and then leave them to air dry. The parts should be allowed to air dry as anything inserted to dry them will leave behind lint and potentially bacteria.
Once the pump's parts have air-dried, reassemble it. Don't touch the inside of the pump that comes into contact with the breast milk while assembling it, as this will leave traces of bacteria in the container.
If you have a mechanical pump, make sure you do not get it, or the cables that are attached to it wet as water in the cables can lead to developing bacteria, and water on an electronic system almost always means irreparable failure.
What to Consider When Buying a Breast Pump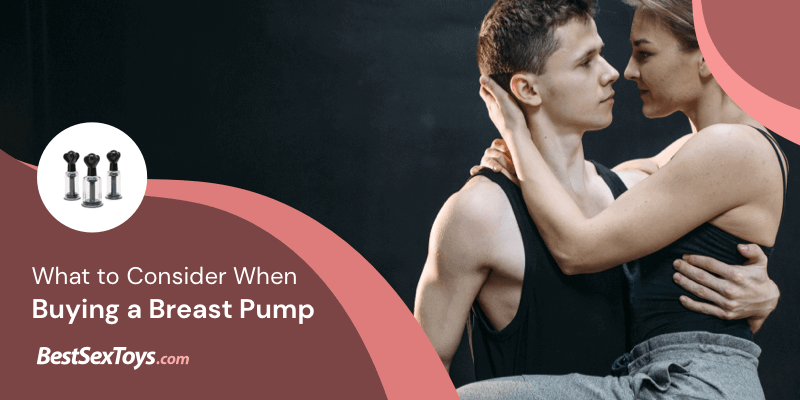 The first thing to be sure of is the breast pump's purpose, as the price of breast pumps can vary considerably. If you are an expecting mother, be sure to check what provisions your health insurance provider makes for free breast pumps, even if you already plan on buying a particular model, as having a spare can be a lifesaver due to the high level of cleaning needed.
If the breast pump is for sexual purposes to directly stimulate the body in erogenous zones such as the breasts and nipples, consider a manual breast pump. This can make flirty foreplay all the more intimate and fun without the odd humming of an electronic breast pump.
If there have been complications regarding the development of lactation for a newly born child, investigating hospital-grade breast pumps is the prudent course of action. Whatever your desires, there is a suitable breast pump for you.
More Sex Toys For Women
All Sex Toys For Women
All the sex toys for



Subscribe to our Newsletter
Newest Deals
Discounted Prices
Free Products
Giveaways
Promo Codes
Table of Contents
Breast Pumps
Check the
Best 7 Breast Pumps
Find the best 7 Breast Pumps we've gathered after reviewing dozens!
Check Now