Nipple Jewelry
Didn't find what you are looking for?
View All
Best 10 Nipple Jewelry in 2023
1
Sell Fast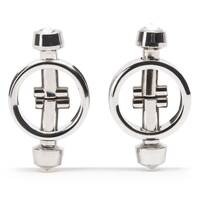 2
Crystal Tip Nipple Clamps
Length: 2 inches
Material: Metal
Allergens: Latex-Free
2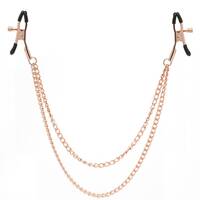 2
Length: 16 inches
Material: Metal
Allergens: Latex-Free
3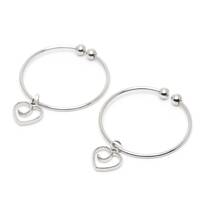 Nipple Clamps with Heart Charms
Fastening: Clip
Allergens: Latex-Free
Length: 1.5 inches
Material: Metal
4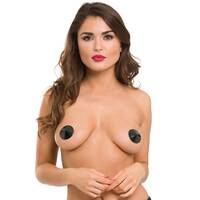 5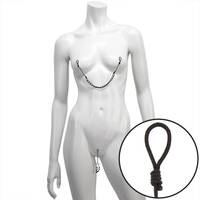 2
Nipple and Clit Jewelry Set
Length: 15.5 inches
Material: Metal
Allergens: Latex-Free
6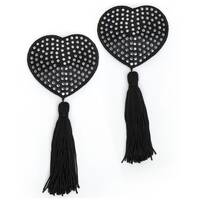 Heart-Shaped Diamante Nipple
7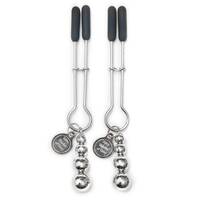 2
Pinch Adjustable Nipple Clamps
Length: 3.5 inches
Material: Metal
8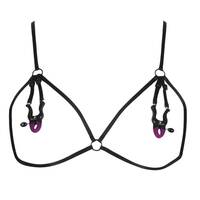 2
Fastening: Hook and eye
Allergens: Latex-Free
Fabric: Nylon
9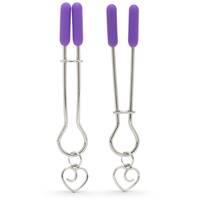 Fastening: Clip
Allergens: Latex-Free
Length: 3 inches
Material: Silicone
10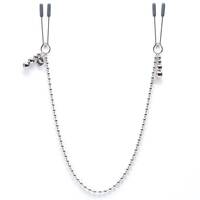 2
Mercy Chained Nipple Clamps
Length: 19 inches
Material: Silicone
Allergens: Latex-Free
We have more
Nipple Jewelry
View All
As seen on
What Is Nipple Jewelry?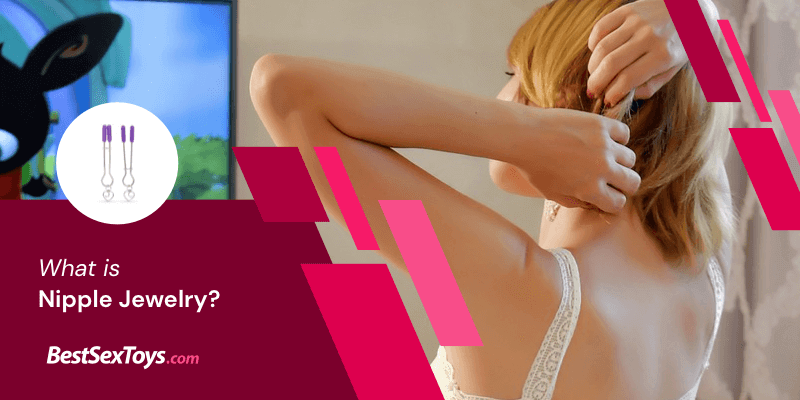 Nipple jewelry is a type of body accessory that is either attached to or pierced into your nipple. When pierced, they're typically done horizontally but can realistically go in every direction around the nipple. Non-pierced jewelry can be attached either by Nipple Clamps or a decorative adhesive that goes over or around the nipple.
Having nipple jewelry not only looks great but can even lead to a little extra spark in the bedroom. Nipple jewelry increases the sensitivity of your nipple area. This has been a common reason many men and women choose to get nipple piercings or invest in decorative nipple jewelry.
People who don't have sensitive nipples get nipple piercings to make them more sensitive and easily stimulated during sex. There have been many people that have reported having an orgasm just from nipple play alone.
Types of Nipple Jewelry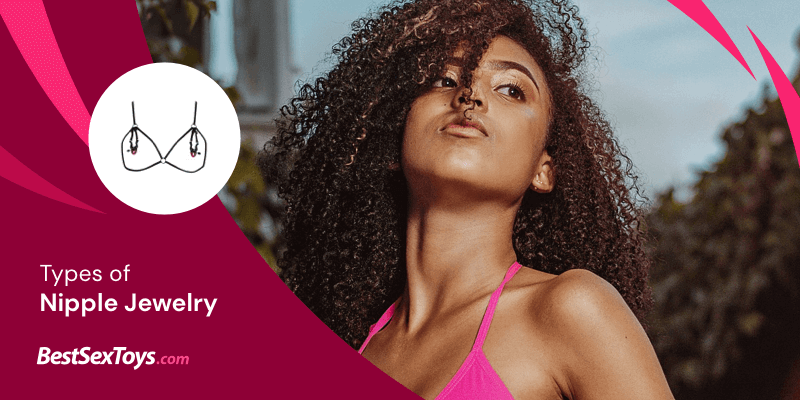 Fake Nipple Jewelry
Fake nipple jewelry can be applied like Nipple Clamps, typically snapping onto your nipple. However, adhesive or suction jewelry has clear bases to make the jewelry seem as if it's attached directly to your nipple.
Nipple Rings
Nipple rings are circular. For horseshoe barbells, there are two balls at the end. One can is unscrewed to thread the partial circle through your nipple piercing. A captive bead ring (CBR) is a full circle with one ball in the middle pops out to thread through the pierced hole.
Segment or seamless rings are simple rings without balls – these can be bent to pop in or, like CBRs, have a section that pops in and out. For nipple clickers, there is a small section that pops open that's threaded through the hole.
Nipple Shields
Nipple shields fully or partially cover the areola and nipple. They can be attached either by suction, friction, or adhesive. They're highly decorative and are made to lift and highlight the nipple area. The smaller versions are simple barbells that go through the pierced hole with decorative rings that go around the nipple.
Larger ones that are attached by suction or adhesive typically have a hole for the nipple to go through and a decorative sticker for the areola.
Barbell Nipple Jewelry
Barbells are a wide variety of pierced nipple jewelry that go straight through the pierced hole and have removal balls at each end of the bar. The ends can be screwed off to insert the jewelry into the pierced hole. They can be straight, curved, or a "twisted spiral barbell". The latter looks like a coil that is threaded through the pierced hold and twisted until evenly through.
Hypoallergenic Nipple Jewelry
Hypoallergenic nipple jewelry is made out of "inert metals" like silver or platinum and is less likely to trigger an allergic reaction. The two most common hypoallergenic metals used are titanium and surgical stainless steel. You may be interested in this type of jewelry if you have sensitive skin or are just looking for a piece of more durable jewelry.
Men's Nipple Jewelry
Two reasons men's nipple jewelry is considered a different section are personal preference and different nipple diameters. For men with smaller or less pronounced nipples, a smaller bar may be used. However, the same kind of variation can be found when it comes to variation and shape.
How to Get Your Nipples Pierced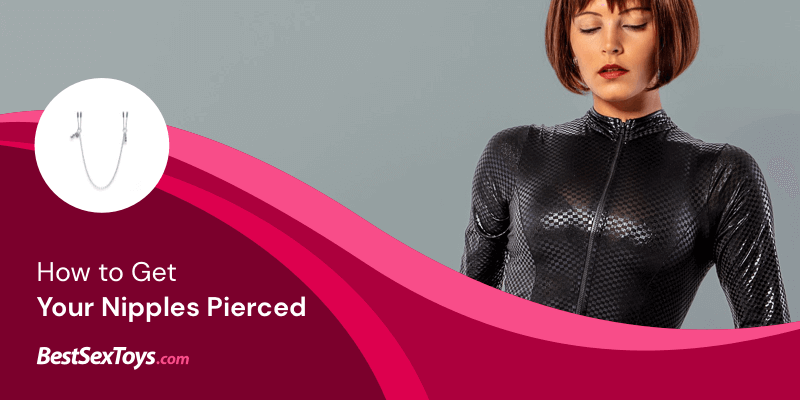 1. Preparation
You can get your nipples pierced at a local tattoo or piercing shop. Piercing professionals aren't a rare commodity and go through specific training to become a licensed professional. Their spaces are also checked regularly to verify they follow safety regulations and are clean and sterilized spaces. The whole process, the piercing and jewelry set, can cost between $30 – $60.
For a brand-new piercing, your piercer is likely to suggest a straight, 14-gauge barbell. These are less likely to get caught or pull against anything, reducing discomfort. Because the nipple will mostly likely swell while healing, a longer barbell will give the nipple room to expand without engulfing the piercing.
2. Cleaning
The piercer will have you sit up straight or stand to ensure the nipples are in an even and natural position. After cleaning the area with alcohol, they'll mark the sides of the nipple right above the areola – this should be at the base of your nipple, not near the tip.
3. Piercing
They'll then pierce the area with a hollow needle. These needles are about 3 inches in length, and the diameter will depend on the gauge being inserted. The nipple jewelry gets put in the base of the needle. After the hollow needle is quickly removed, the jewelry will be the only thing left in the newly pierced hole. The other end of the barbell is then screwed on.
4. Aftercare
If you're nervous or stressed, a dull pain may linger. Be sure to take an over-the-counter painkiller to ease any discomfort and listen to the professional's instructions on the next few months of aftercare.
When to Change Nipple Piercing Jewelry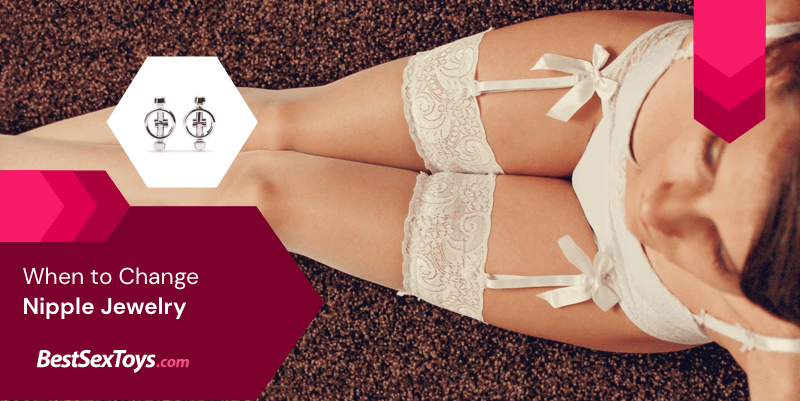 For pierced nipples, the recommended time to keep the piercings in can be anywhere from three to six months, depending on how quickly your body heals and how strictly you stick to your piercer's advice. After this time, you'll be able to change the nipple piercing jewelry.
Once the piercing is healed, you can leave your nipple piercings in for months at a time as long as you're careful to keep the area clean. The material for nipple piercings are almost always designed to be waterproof, so cleaning your chest in the shower with soap is a great way to keep the area healthy and prevent infection or bacteria growth.
You should not leave nipple piercing jewelry out for too long. For newer piercings that have just healed, the hole can close within minutes. Even if you've had your nipples pierced for a few years, the area can close or shrink after a week.
How to Put in a Nipple Jewelry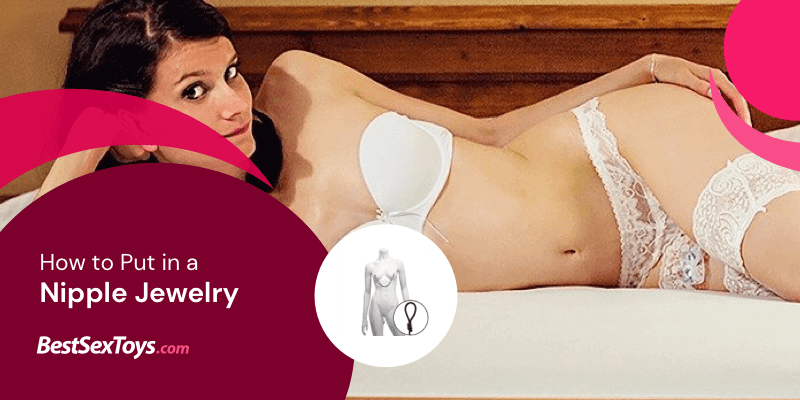 A nipple piercing is commonly just a straight hole through the nipple. Depending on the type of jewelry you have, a section will either screw off or pop out, giving you room to push the jewelry through the pierced hole. After you've pushed the jewelry through, screw on or pop the removed piece back into place. If left off, you have a higher chance of losing the jewelry.
For jewelry that has threaded ends (typically a ball that you can screw on and off), make sure they're securely tightened. Otherwise, they can rub against fabric from a shirt or dress and unscrew, causing them to fall out. Similar cautiousness should be taken with jewelry that has sections that pop in and out of place.
It's good practice to keep an additional set of nipple piercing jewelry if a piece is lost or misplaced. This will help you ensure the hole doesn't close up prematurely.
Does It Hurt to Wear Nipple Jewelry?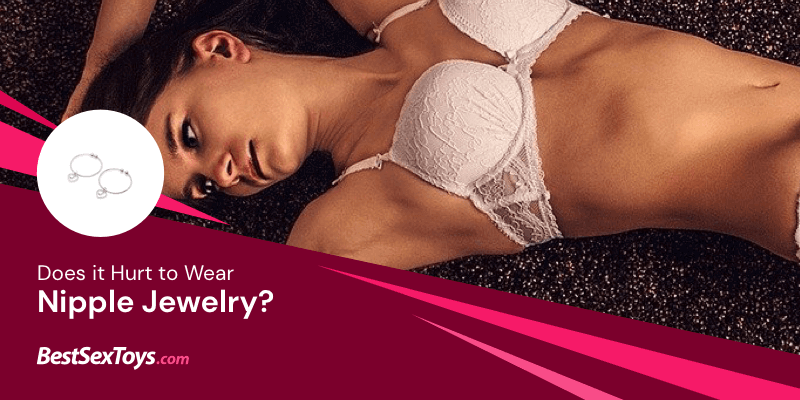 Piercings
It shouldn't hurt to wear a nipple piercing. It may be uncomfortable for the first month because of the different sensations, but the most pain you may feel will be when the jewelry is initially pierced. While it ultimately depends on your pain tolerance, it's considered a mid-range for piercing pain.
It's also referred to as a "short-lived pain" – the most painful part is the piercing itself, which feels like a harsh pinch on your nipple. The jewelry is quickly slid through, and the general sting afterward is a bearable discomfort at most.
If you feel any unusual discomfort, sharp pain, or see red streaks across your nipple, consult your piercing professional immediately. Your body can reject a piercing for many reasons – instead of developing a scar, discuss with the piercer immediately. They can help you carefully take care of the wound and advise if and when you can get the area re-pierced.
Adhesives
When it comes to adhesive nipple jewelry, like nipple pasties and nipple shields, it's important to apply it correctly to the area to reduce discomfort during removal. There will either be a hole in the middle of the nipple shield or a small spot in the middle of the jewelry where your nipple will go.
Putting adhesive directly on your nipple can be dangerous, as it could cause irritation and affect the area if not treated carefully.
Be aware of the type of adhesive that is used on the nipple jewelry. Quality products will have information on the safety and materials used, along with thorough instructions on how to properly use the jewelry. If you have sensitive skin or are allergic to any adhesives, carefully examine the product details when selecting your nipple jewelry.
When to Clean Nipple Jewelry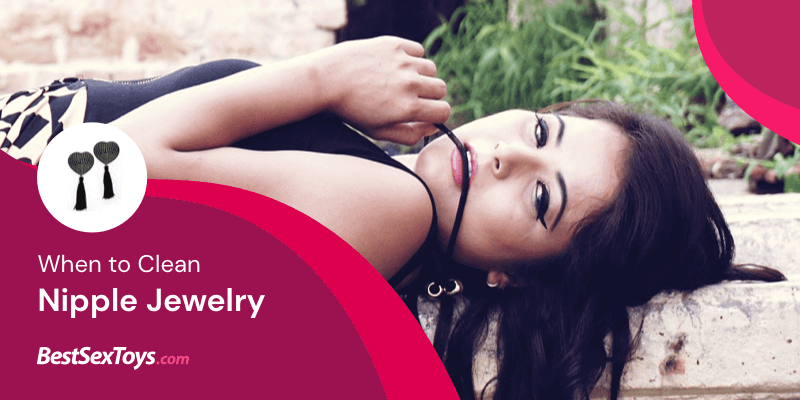 When you get your nipples pierced, your body will make a natural crust to protect the open wound. Keep the wound and jewelry clean with a saline solution that your piercer will provide.
A cleaning solution is also easily available for purchase online or in local stores – just be sure the product information ensures it's useful for all piercing types.
Never use things like contact solution – even though it's marked as "saline solution" – essential oils or anesthetics to clean the wound or jewelry. These can dry out the skin, damage the jewelry material or even infect the area.
You only need to clean the area once or twice a day. You can risk over cleaning the wound and jewelry. When it comes to cleaning the jewelry, after the area has healed, you can take them out, quickly wipe them down with warm water and soap, and then put them back in after you've patted them dry.
Always consult your piercer or a piercing professional on whether or not to rotate the jewelry in a new piercing. Some professionals may tell you to regularly twist the piercing to keep the wound from scarring incorrectly.
However, this depends on your body and the type of piercing you have. On some occasions, this can cause the wound to take longer to heal and lead to a higher risk of infection.
Where to Buy Nipple Jewelry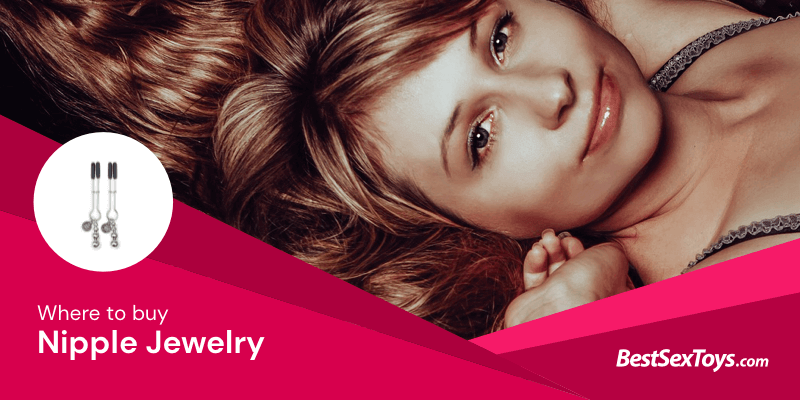 Shopping In-Store
If you're new to nipple piercings, it's best to shop in-store where you can ask advice from a piercing expert. They'll be able to help you find the right material if you have sensitive skin, answer any health concerns you might have, and more.
When looking for other nipple jewelry, a local store is a great place to find a large variety. Your local sex shops especially have a range of nipple piercing jewelry, nipple shields, and other adhesive options. Your local sex shop will commonly have an area that has intricately designed body jewelry.
Shopping Online
Once you know what you're looking for, either for piercings or adhesive jewelry, shopping online opens a wider variety of options. Decoration, size, and material are all features you can sort through or customize on many different websites.
When shopping online, it's important to always check for product information – especially for an object that's going to be in or on your body. If you have an allergy or sensitive skin, many quality products will have details concerning their materials and whether they're hypoallergenic.
Reviews and product feedback will give you a better understanding of the product's realistic look, feel, and quality. Some sites will allow product pictures so you can see how the jewelry fits on a person's nipple. When they don't allow pictures attached to reviews, manufacturers should provide images on a model or realistic mannequin.
How Much Does a Nipple Piercing Jewelry Cost?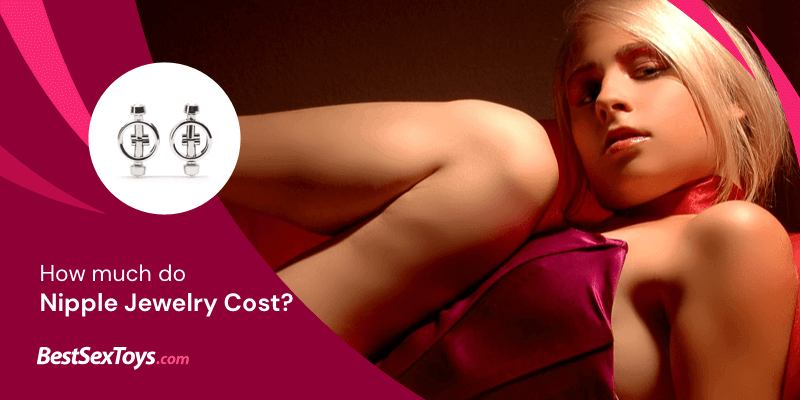 Nipple piercing jewelry generally starts at about $15. For more decorative pieces, hypoallergenic jewelry, or larger products, they can range from $50 to over $100 – these can have jewels inset or decorations made from more precious metals.
Nipple shields and other adhesive or suction jewelry typically start as low as $5. "Pasties", stickers that go over your nipples, can be found online or in-store in low-priced sets. For jewelry with more features, like large decorative stickers, jewels, and more, the price can exceed $30.
More Sex Toys For Women
All Sex Toys For Women
All the sex toys for



Subscribe to our Newsletter
Newest Deals
Discounted Prices
Free Products
Giveaways
Promo Codes
Table of Contents
Nipple Jewelry
Check the
Best 10 Nipple Jewelry
Find the best 10 Nipple Jewelry we've gathered after reviewing dozens!
Check Now