Sexy Bra Sets
Didn't find what you are looking for?
View All
Best 10 Sexy Bra Sets in 2023
1
Sell Fast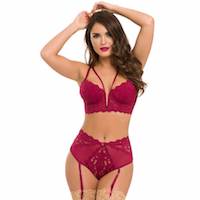 2
Fabric: Lace
Fastening: Hook and eye
2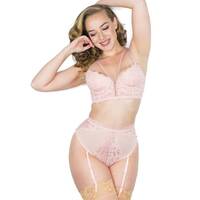 2
Bra and Crotchless Thong Set
Fastening: Hook and eye
Fabric: Lace
3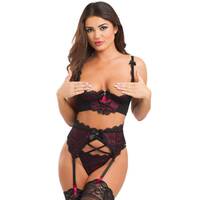 2
Belle Cherry Quarter Cup Bra Set
Fastening: Hook and eye
Fabric: Lace
4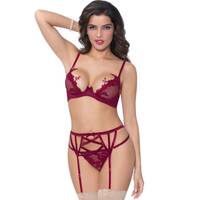 2
Fastening: Hook and eye
Fabric: Fishnet
5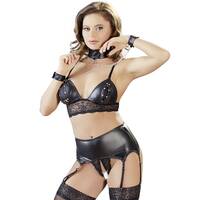 2
Garter Set with Handcuffs
Fastening: Hook and eye
Fabric: Wet Look
6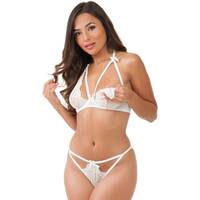 3
Lace Underwired Triangle Bra Set
Fastening: Tie-up
Fabric: Lace
7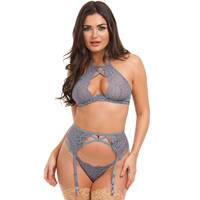 2
Shimmering Underwired Bra Set
Fastening: Tie-up
Fabric: Lace
8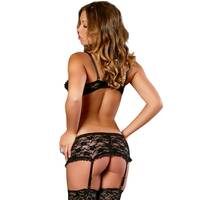 2
Exposed Luv 1/2 Cup Bra, Garter and G-String Set
Fastening: Hook and eye
Fabric: Lace
9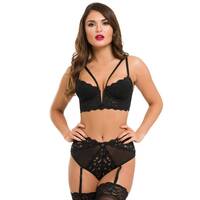 2
Bra and Crotchless Thong Set
Fastening: Hook and eye
Fabric: Lace
10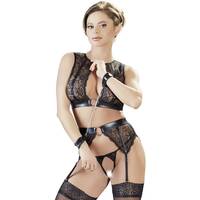 2
Lace Bra Set with Handcuffs
We have more
Sexy Bra Sets
View All
As seen on
What Is a Bra Set?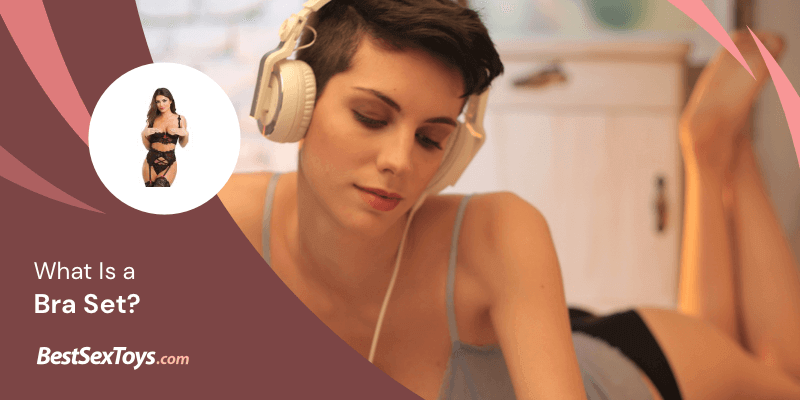 Don't get the idea of a "bra set" as a three-pack you can pick up at your local supermarket. A sexy bra set is a lingerie package centered around the design of the sexy bra piece. It can be a full set that comes with panties, a garter belt, stockings, and more, or it can just be a bra and one other decorative lingerie piece.
These aren't your typical pretty push-up bras – sexy bra sets are designed to accentuate your natural curves and give your body some boost. Sexy bra sets are made from lace, mesh, ribbon, and other soft and decorative materials that have vibrant, eye-catching colors and patterns.
If you're looking to add some sexy additions to your wardrobe while keeping a low profile out or on a date, sexy bra sets are the right choice.
Whether it's for the excitement of your partner or just to give yourself a boost of confidence, your evening outfit will bring out your subtly sexy side. You won't have to worry about your bra and panties matching the next time you're expecting to go home with someone – a sexy bra set has you covered.
What to Look for When Buying Sexy Bra Sets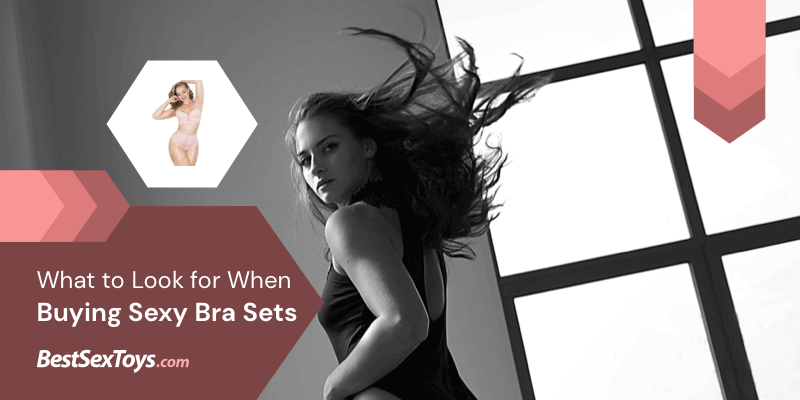 Before you go looking for your new favorite undergarments, be sure you've got an idea of what to look for. Color and style are all well and good, but what about its durability? Do you want it to be comfortable enough to wear regularly? Does the store cater to your size range?
Don't forget to take a look at the variety of designs available to you. You don't want to have your excitement dashed by missing one of these key considerations.
1. Quality.
Bra sets can get expensive, depending on the materials, style, and pieces included. You don't want that money down the drain because of a broken strap or hole in your lace.
Customer reviews and product details are an excellent place to look for quality assurance when shopping online. When taking a look at bra sets in-store, you can talk to one of the employees about durability and material details to better understand how long the piece will last.
2. Comfort.
Just because you're covered in lace and mesh doesn't mean you should suffer uncomfortable undies. There's a stigma around lingerie that it's made to be put on for five minutes before getting thrown off. Nowadays, lingerie and sexy bra sets are made to be more comfortable so they can even slip into your everyday outfits.
3. Design.
Deciding what kind of design you'd like to purchase can be daunting – there's a lot to choose from. First, consider what kind of styles you think are sexy and appealing. Then, whether you're browsing online or taking a look through your local lingerie shop, you're a little more prepared for your decision.
Consider getting your partner's input on this one! After all, it is a garment designed to please everyone involved. If you're hoping to keep it a surprise, drop some subtle hints. Find their favorite color, ask them how they feel about lace and bows, or maybe even browse through Pinterest and get their input on a few brands. Taking the time to get their feedback can reward you with their reaction once it's in front of them.
How to Buy a Sexy Bra Set Online That Fits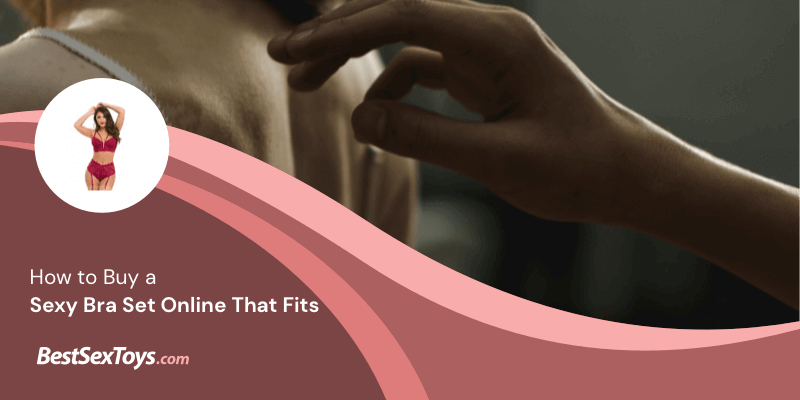 Before logging into your favorite online boutique or browning through a lingerie website, there are a few steps to finding your measurements and purchasing the correct bra set size. You'll need to have a cloth measuring tape (or some string and a ruler), a way to track your measurements, and a few minutes to go looking through different sets and options.
Measure Yourself: Take a cloth measuring tape. Wrap this around your bust, waist, hips, and any other area the size chart requests. If you don't have a cloth measuring tape, you can take a string and lay the length out next to a metal tape measure instead after wrapping it around yourself.
Find Their Size Chart: Reputable manufacturers will have a size chart near their bra set selections to give you a guide on their sizes. Unfortunately, sizes aren't widely regulated, and even across countries, there are different sizing measurements. For example, a US size 6 is generally the same as a Euro size 38. Even sellers on the discount store Wish will have a picture including their size chart.
Compare Measurements to Sizes: You'll then take your measurement numbers and compare them to the chart sizes. These will tell you whether you're a medium or a large, or they'll give you the numerical size that corresponds with your measurements. If you're on the cusp between two sizes (like one inch off from a medium or large), look into the product details to see if you should go for that bump in size to stay comfortable.
Look for Options: If your bra set doesn't give you the option to choose different sizes for each of the features included, shop around! But if you really have your heart set on that particular style from that brand, try to find the closest measurements and consider where you'd be willing to have some wiggle room. Would larger panties for a larger bra set be ok? Maybe a tighter garter belt for bigger waists but smaller breasts. And of course, check out the reviews and suggestions on the website itself.
Returns & Refunds: If, for some reason, the bra set doesn't end up fitting, or you're just not entirely happy with your purchase, be sure to look for their return and refund policies. Many sites will give you the parameters you need to meet for them to accept your return – tags on or included in the return package, rarely worn, and within a time limit are your most common needs to be met.
What Is the Purpose of Using Sexy Bra Sets?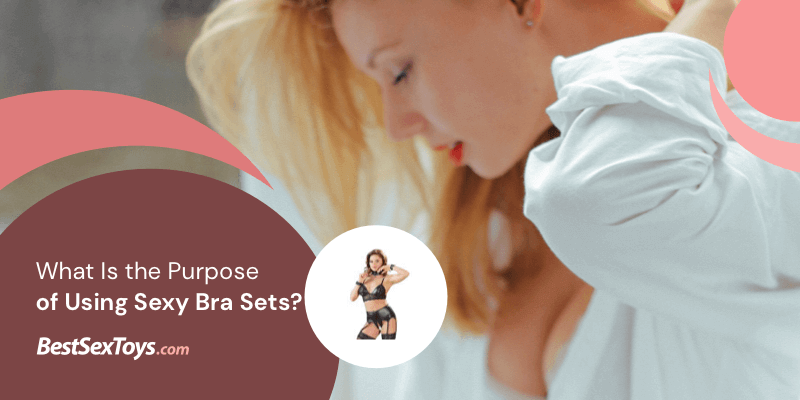 1. Excitement.
New, memorable, and enticing, your partner is going to get a big hint for what you'd like to do tonight. If you're looking to make your night more special and impressive, slip into your sexy bra set before going out. Once you get home and start getting ready for bed, watch their reaction.
Introducing something new, especially if they got it as a gift for you, is a guaranteed way to get them interested.
2. Confidence.
Wearing sexy bra sets doesn't just heighten your partner's excitement. Wearing vinyl, satin, lace, or other sexy materials is known to increase arousal for the one dolled-up, as well. When you know what you're wearing is appealing and comfortable, that affects how you act.
The addition of something that brings you confidence is bound to show in your walk, talk, and attitude.
3. Nights Out.
These sexy bra sets are designed to bring your outfit together. If you're going for a bold look tonight, don't leave out the most important part.
Even if you're the only one that knows what you've got on underneath, that's half the fun. You know what you're hiding, and it's in your control to show it off later if you feel like it.
4. Photoshoots.
One popular boost of confidence more women have been taking advantage of is boudoir shots. A boudoir shoot is an intimate and sensual photo shoot that shows off your inner desires. With the quality of phone cameras nowadays, these don't even have to be professionally done.
But whether you're going to an expert or taking some scandalous pics at home, a bra set is what ties the vision together.
What Does a Sexy Bra Set Include?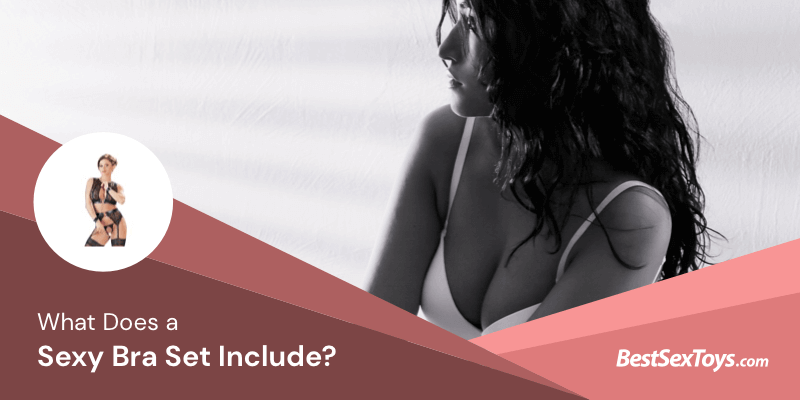 Your bra set will include a special, decorative bra and one or more pieces of lingerie that will match its style. Think of an abundance of lace, ribbons, bows, and more all designed to bring together a ravishing set for you and your partner to obsess over.
The set will almost always be made out of the same material, have the same decorations and features, and even come with a few different set options to switch out for more variety.
Bras
Obviously, a bra set starts out with a bra. The styles can range from push-ups to underwire to vintage and more. You'll have your pick of materials, so be sure to find something you like looking at. With these types of sexy lingerie becoming more popular each year, they're also made to be comfortable and easy to wear for longer than five minutes.
Panties
Panties are the most commonly paired item in sexy bra sets. For some bra sets you can even customize what kind of sexy panties you want with your set – thong, boyshorts, etc. Their main priority is matching the style to fit perfectly with your decorative bra while also staying comfortable and durable.
Garter Belts
Garter belts are also a common addition to bra sets, most often when paired with panties. Garter belts are designed to help keep stockings up by connecting strings called garters from the top of the stocking to the end of the garter belt.
They also have the bonus of accentuating your hips and waistline a bit. While they're not constricting as corsets, they still help you achieve a bit more of an hourglass shape most of the time.
Harnesses
A harness added to a bra set typically looks similar to something close to a spider's web. These can go across your chest, waist, or even down from your hips.
Often a more daring look, these bold crosses across your skin will heat any room and can even be a great addition to your wardrobe in general. If you're looking to have a spicy look on the dance floor this weekend, wearing these over a bodice under a sheer shirt is a go-to combo.
Advantages of Buying Bra Sets Instead of Individual Bras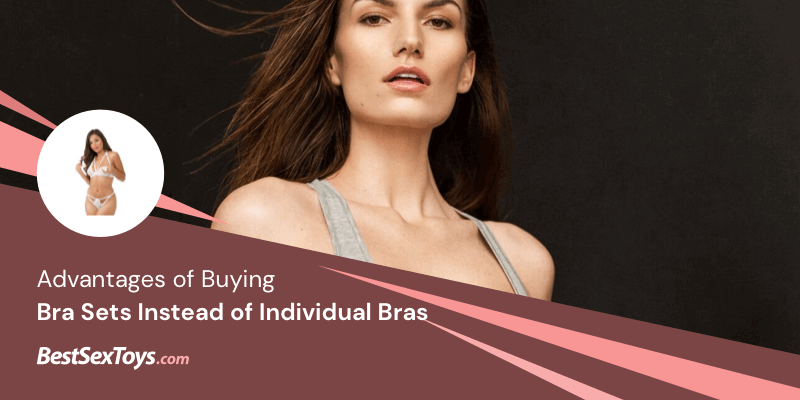 Price
The pieces included in a bra set would be more expensive if you bought them individually. For example, let's say you buy a sexy bra set with a bra, panties, and garter belt. You'll not only have pieces that are all in the same style, material, and color palette, but they'll be cheaper than buying each of these pieces by themselves. This is considered a "bundle deal".
Consistency
Have you ever tried to find a matching bra and panties set individually? You can run into the issue of one being out of stock, the materials not matching, or even having the colors slightly off. If you're trying to pull off "The Right Look" for a photo shoot or just trying to put some spice into your date night, a bra set gives you the convenience of consistency.
The same materials, designs, and even additional features will be used throughout the whole set to accentuate your sexy bra.
Where to Buy Sexy Bra Sets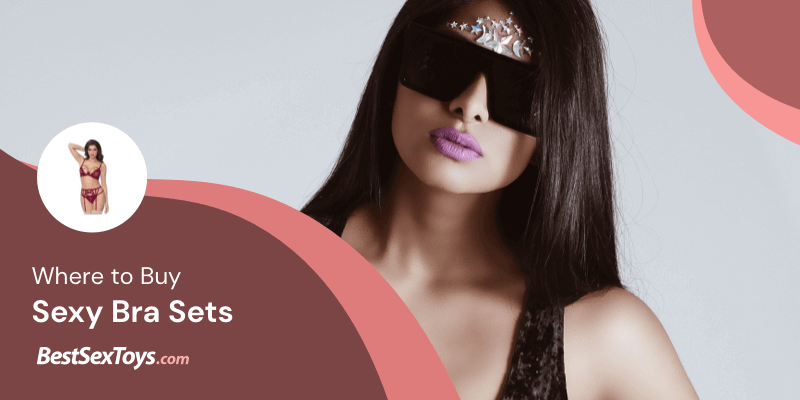 When looking to purchase sexy bra sets in-store, you have your choice between a lingerie store and your local sex shop if you're looking for a variety.
Around Valentine's Day, your local supermarket may have a larger selection in their women's bra and panties section, but you can't beat the detail of a store designed for sex. Not only will you have more colors, materials, and styles to choose from, you'll be more likely to find a size that fits you.
You'll ultimately have an easier time finding what you want online, though. You don't need to be restricted to a local boutique or even to a lingerie shop in your country.
When looking through characteristics, you can more easily take into account any allergies you may have to certain material or preference on style for your body type. The product information listed on the manufacturer's website should have everything you need to know.
Don't forget to scroll through a few comments and product reviews to get an idea of just how accurate the information and promises are.
More Sexy Lingerie
All Sexy Lingerie
All the sex toys for



Subscribe to our Newsletter
Newest Deals
Discounted Prices
Free Products
Giveaways
Promo Codes
Table of Contents
Sexy Bra Sets
Check the
Best 10 Sexy Bra Sets
Find the best 10 Sexy Bra Sets we've gathered after reviewing dozens!
Check Now