Egg Vibrators
Didn't find what you are looking for?
View All
Best 10 Egg Vibrators in 2023
1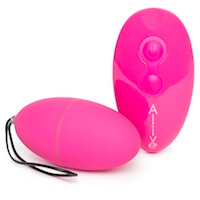 2
Material: Hard Plastic
Flexibility: Rigid
Circumference: 4.5 inches
Insertable Length: 3.5 inches
Length: 6.5 inches
Power Type: Batteries
Vibration speed: Multiple
Allergens: Latex-Free
Waterproof: Submersible
2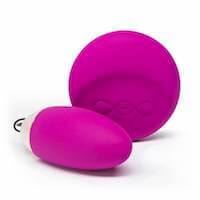 2
Material: Silicone
Flexibility: Rigid
Circumference: 4.25 inches
Insertable Length: 3.5 inches
Length: 3.5 inches
Run Time: 120 minutes
Power Type: Rechargeable
Vibration speed: multiple
Allergens: Phthalate-Free
Waterproof: Submersible
3
Great Deal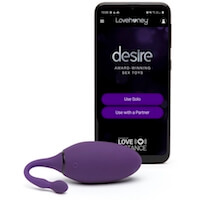 2
Material: Material
Flexibility: Firm
Circumference: 4.25 inches
Insertable Length: 3 inches
Length: 6 inches
Run Time: 60 minutes
Power Type: Rechargeable
Vibration speed: multiple
Allergens: Latex-Free
Waterproof: Submersible
4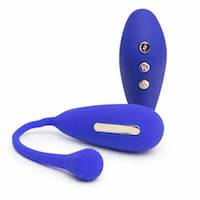 2
Material: Silicone
Flexibility: Firm
Circumference: 4 inches
Insertable Length: 3 inches
Length: 7.5 inches
Power Type: Rechargeable
Vibration speed: Multiple
Allergens: Phthalate-Free
Waterproof: Splash-proof
5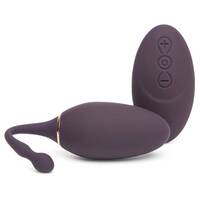 Circumference: 4.5 inches
Insertable Length: 3.5 inches
Length: 6 inches
Material: Silicone
Power Type: Rechargeable
Vibration speed: Speeds and patterns
Waterproof: Submersible
6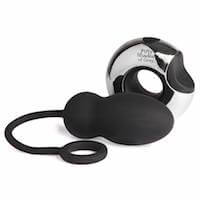 2
Material: Silicone
Flexibility: Firm
Circumference: 4 inches
Insertable Length: 3 inches
Length: 8 inches
Power Type: Rechargeable
Vibration speed: Multiple
Allergens: Phthalate-Free
Waterproof: Submersible
7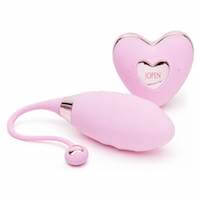 3
Material: Silicone
Flexibility: Firm
Circumference: 4.25 inches
Insertable Length: 3 inches
Length: 7.5 inches
Power Type: Rechargeable
Vibration speed: Multiple
Allergens: Phthalate-Free
Waterproof: Submersible
8
Selling Fast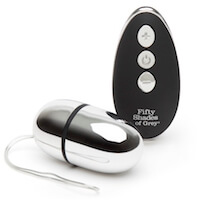 3
Material: Hard Plastic
Flexibility: Rigid
Circumference: 4.25 inches
Insertable Length: 3.5 inches
Length: 6.5 inches
Battery Info: 1 x CR2032 battery
Run Time: 60 minutes
Power Type: Rechargeable
Vibration speed: Multiple
Allergens: Phthalate-Free
Waterproof: Submersible
9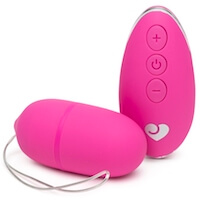 2
Material: Hard Plastic
Flexibility: Rigid
Circumference: 4.25 inches
lnsertable Length: 3 inches
Length: 3 inches
Battery Info: 2xAAA batteries
Vibration speed: Multiple
Allergens: Latex-Free
Waterproof: Submersible
10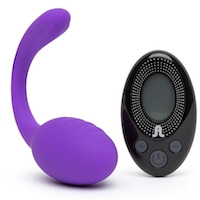 3
Material: Silicone
Flexibility: Firm
Circumference: 4.5 inches
Insertable Length: 3 inches
Length: 4.5 inches
Power Type: Rechargeable
Vibration speed: Multiple
Allergens: Phthalate-Free
Waterproof: Splash-proof
We have more
Egg Vibrators
View All
As seen on
What Is an Egg Vibrator?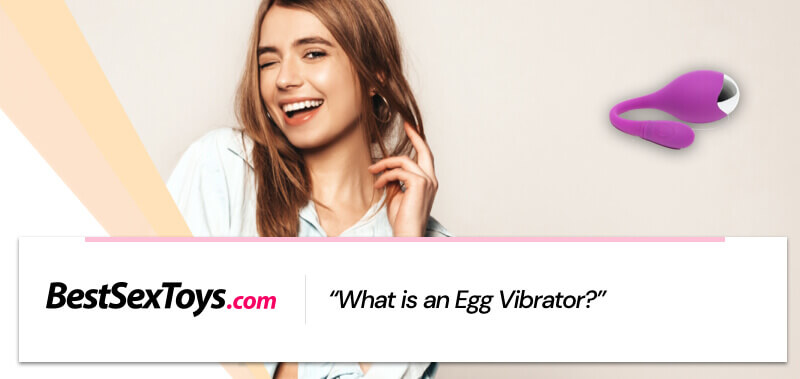 An Egg Vibrator is a female sex toy that resembles the shape of an egg, bullet, or teardrop. Like typical vibrators, it is primarily useful in stimulating various erogenous zones in the body like the clitoris, clitoral hood, nipples, and vulva. Sex toy experts refer to an Egg Vibrator as "Love Egg" and it falls under the category of discreet and small vibrators.
Some sex toy users consider an Egg Vibrator as a variation of Bullet Vibrator. While this comparison makes a lot of sense, a Bullet Vibrator is basically bullet-shaped and slightly elongated. On the other hand, an Egg Vibrator is bulkier and rounder in appearance.
Still, regardless of these minor differences, both effectively deliver pleasure right where you need it. They also prove that great things indeed come in small packages.
Egg Vibrators measure between 2 and 3 inches in height and ¾ to 1 inch in width. Despite being small, these sex toys for women continue to gain popularity because you can carry and use them anywhere. They deliver optimum performance, just like their chunkier versions.
Some models are also useful in stimulating the G-spot through shallow vaginal insertion. This function serves as a bonus.
The latest innovations in modern Egg Vibrators include wireless features, remote control, app-controlled connectivity, multiple vibration speeds, and aesthetically pleasing designs that any woman would love to have in their vanity kit.
For the best part, most egg vibrators available nowadays have quiet motors that reach a sound level of 30 to 40 decibels. This adds up to their overall appeal since they are fully loaded with all the sex toy features that every woman and couple can dream of.
How to Use an Egg Vibrator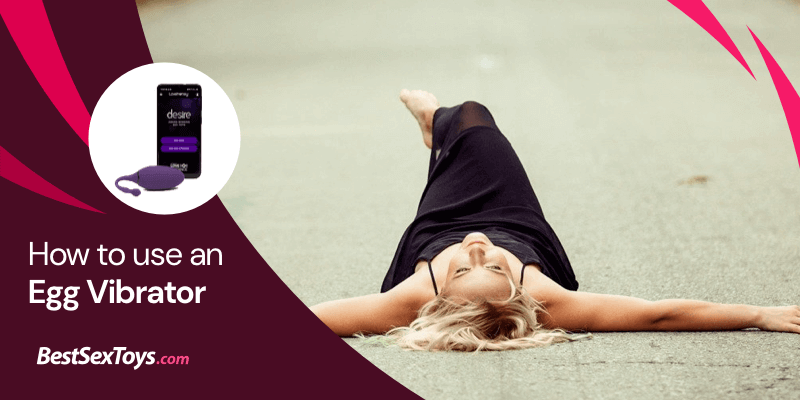 An Egg Vibrator is a sex toy that delivers pleasure anytime and anywhere due to its small size that's easy to carry around and its powerful features that complete the job. It's something that you can slip in your underwear so you can get off whenever you feel the urge to – in the car, office, cinema, or right at the dinner table. Just make sure to adjust its position to hit the right spot. Tempting, isn't it?
So if you feel that an Egg Vibrator is the right sex toy for you, we couldn't agree more because it's indeed the perfect entry-level sex toy for beginners. Just the same, it's also an excellent addition to your sex toy collection if you're a vibrator fanatic.
At BestSexToys, we keep our clients well-informed about the proper use of various pleasure toys. Hence we are giving you an outline on how to use an Egg Vibrator for your sexual satisfaction.
1. Test and Clean Your Egg Vibrator.
Give your product a good test run before using it. Depending on what type of egg vibrator you have, follow the initial charging instructions or use the right batteries to optimize its performance. Wipe it with disinfecting wipes before using it to eliminate dirt, dust, and factory residue.
2. Tease Your Sensitive Spots.
It's exciting to use your egg vibrator down there and get a quick fix through clitoral stimulation in a snap. However, wouldn't it be more satisfying to play a little by running the love egg on various pleasure zones such as your nipples and neck? If you want to imagine and play a little, you may gently run the egg vibrator behind your ears and nape for a sensual experience.
3. Start With Clit Stimulation.
Position the Egg Vibrator against your clitoris and let the vibrations do their job. If your love egg has different vibration intensities, adjust it to your desired level. Experiment by changing the speed or intensity of the vibrations.
4. Proceed to Vaginal and G-Spot Stimulation.
Advanced Egg Vibrators are suitably shaped and designed for shallow vaginal insertion. These models usually have a string-like protrusion that helps pull out the sex toy from the vagina. To use, gently insert the egg vibrator in the vagina. The maximum depth of penetration for most egg vibrators is 3 inches. For ease of insertion, you may use a water-based lubricant.
Turn on the vibrations and drift into your blissful fantasies. Change the speed of the vibrations as you please to experience different levels of pleasure.
5. Use It for Partner Play.
Once you're familiar with how the Egg Vibrator works and affects your body, you may incorporate it into your sexual routine. You may use it in the shower for wet play, in the bedroom to boost foreplay and orgasm, or put it in your underwear for a dose of fun and excitement through public play.
Your egg vibrator is more versatile than you can imagine. You may use it to tease your partner's nape, nipples, inner thighs, and perineum to amplify his arousal during your lovemaking session. You may also run the egg vibrator across your chest, nipples, clitoris, and clitoral hood during vaginal sex to intensify orgasm.
6. Clean and Sanitize Your Egg Vibrator.
All sex toys require cleaning and sanitation after use, and egg vibrators are no exception to this rule. After pleasuring yourself with your egg vibrator, clean it thoroughly using disinfecting wipes and antibacterial spray. If your love egg is submersible, you may soak it in water with soap, rub its surface, rinse, and pat dry. Store your egg vibrator in a clean and dry space until next use.
Types of Egg Vibrators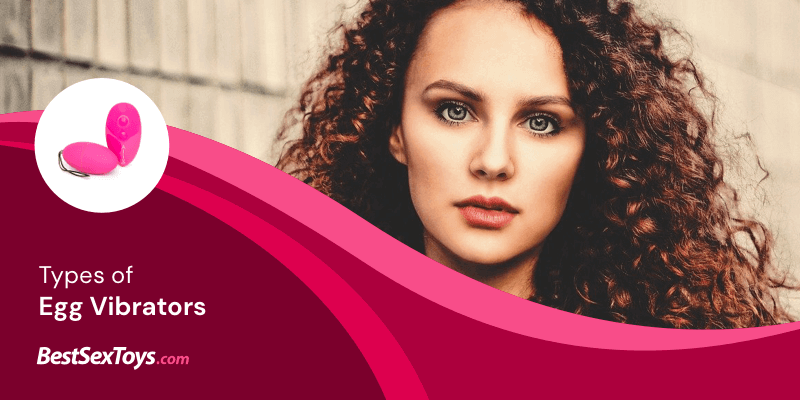 Egg Vibrators are perhaps a trendier and more appealing choice among women who are always on the go because they are small, quiet, and discreet. Some models are stylish enough to flaunt around and show off to your friends. More importantly, they deliver strong and powerful vibrations comparable to the bigger vibrators in the market, such as the iconic wand.
If you find these love eggs convincing enough at this point, we're introducing to you the different types of egg vibrators you can consider;
Remote Control Egg Vibrator
A Remote Control Egg Vibrator is useful for female masturbation because you can switch between different vibration levels with a click of a button.
Likewise, it is suitable during your naughty time with your partner because you can simply put the egg vibrator in your underwear, insert it in your vagina, and let your partner do the rest by letting him take control of the remote. You can incorporate this in the bedroom and experiment within public places during an intimate date.
The latest models of Remote Control Egg Vibrators are made of body-safe silicone that's smooth to touch and has a quiet motor that hardly makes buzzing sounds. With a variety of colors, designs, and pulsations to choose from, love eggs are absolute eye candies that can guarantee you a whole load of pleasure and orgasmic experience.
App-Controlled Egg Vibrator
An App-Controlled Egg Vibrator makes use of Bluetooth technology. And through internet connectivity, both you and your partner can control the vibrations and pulsations using the smartphone app. It is the hottest sex toy that you can use in the bedroom alone or with your partner, and from anywhere across the world.
It is a highly recommended sex toy for couples in a long-distance relationship to keep their intimacy alive and burning. Just wear the egg vibrator and let your partner send you waves of vibration by controlling the sex toy app through his smartphone.
It's a sure-fire way to take every sexual relationship to the next level regardless of distance. For the best part, you can also use an App-Controlled Egg Vibrator for your solo play sessions anytime and anywhere you can think of.
Wired Egg Vibrator
The classics never go out of style, as they say. So if you prefer something more affordable and conventional, a Wired Egg Vibrator is a practical choice. It consists of a small egg-shaped or teardrop-shaped vibrator and a wire connector that attaches to the remote control. It works similarly with its wireless counterpart except for the thin cable that connects the two major components.
Wired Egg Vibrators are the standard models that started the hype over small and discreet vibrators. They are useful for both masturbation and partner play. One way to enjoy an egg vibrator is to lie down on your back, slip it in your vagina (use lubricant if necessary), and hand the remote control to your partner.
Let him send you waves of vibrations during foreplay or while giving you an oral sex. Intensify the experience by incorporating bondage and dominance (BDSM) to this routine.
The only downside of wired egg vibrators is that you cannot use them creatively on the bed since the wire cable can easily get in the way as you and your partner shift your positions.
Double Egg Vibrator
A Double Egg Vibrator consists of two egg vibrators and remote control. Yes, double love eggs mean double pleasure. Use one egg vibrator to stimulate your clitoris and use the other one to stimulate your G-Spot.
That's hitting two pleasure spots simultaneously to experience an electrifying sensation that will surely drive you to the edge. Another way to use the double eggs is by positioning one over the clitoris and the other one on the nipple.
If you're going for this type of egg vibrator, you won't have an issue with its quiet vibrations and discreet appearance, but your suppressed screams and moans of delight are another story to deal with.
Egg Vibrator With Clit and Nipple Sucker
This type consists of a vibrating egg and a separate clit and nipple sucker. There are two variations.
The first variation is a bendable sex toy with two ends: vaginal insertion and the other for clit stimulation with a sucking effect.
The second variation is a long and flexible double-ended vibrator that serves a variety of purposes among couples. One end has a vibrating egg that is suitable for both vaginal and anal penetration while the other end has a sucking and/or licking mechanism that's useful in teasing the clitoris, vagina, and nipples.
An Egg Vibrator with Clit and Nipple Sucker is suitable for masturbation and couple sex. Its versatility makes it beneficial among heterosexual and same-sex couples.
What to Consider When Buying an Egg Vibrator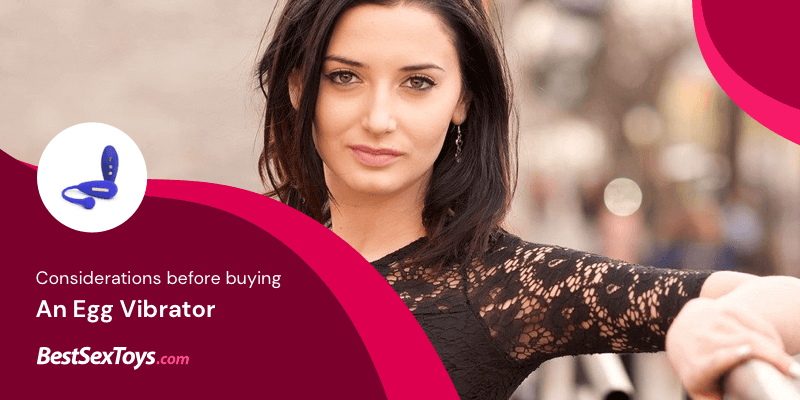 If you're buying an Egg Vibrator, the chances are that you'll come across hundreds of different varieties. It's natural to feel a little confused with the overwhelming number of choices available in the market. Like dildos, wand vibrators, and anal sex toys, egg vibrators also come in a variety of tempting and visually pleasing designs.
When buying one, it's important to start by narrowing down your choices. Ask yourself; what particular features are most important to me? How much money can I afford to spend on it? To walk you through your decision, here are some of the most important factors to consider when purchasing an egg vibrator;
1. Material.
What sex toy materials are you comfortable to use? Most Egg Vibrators available in most sex toy shops are made of clinical-grade silicone, metal, body-safe plastic, and other synthetic materials.
Pick a material that suits your personal taste, because the material in which your egg vibrator is made of contributes to the quality of its performance. This varies from person to person, depending on what you find more pleasurable.
2. Wired or Wireless.
How do you intend to use your egg vibrator? Wired models are suitable for solo use and bedroom masturbation, while wireless models are advisable for couples who want to take pleasure everywhere.
Wired models are just as innovative and powerful as their wireless counterparts.
The only downside is that that cable wire can easily get in the way during sex with your partner and may get tangled up as you change positions. Still, it is worth mentioning that you have an option to choose between a wired and wireless model, depending on how and where you intend to use your egg vibrator.
3. App-Controlled.
Do you want an egg vibrator that you or your partner can control from anywhere in the world through a smartphone app? If this is so, then perhaps it's worth investing in an app-controlled egg vibrator. This premium vibrating egg uses the technology of Bluetooth and internet.
It's suitable for long-distance couples who want to stay sexually connected and couples who want to take their sexual relationship to a whole new level of passion.
4. Rechargeable or Battery-Operated.
What type of Egg Vibrator suits your lifestyle? If you want something more economical and doesn't require routine battery change, buying a rechargeable egg vibrator makes perfect sense.
However, if you want to evade constant charging and prefer something that you can use right away and while on the go, a battery-operated egg vibrator is a wise choice, just make sure to stock up on batteries.
Both rechargeable and battery-operated models are functional and deliver optimum performance with proper charging and regular battery changes. What is more important is to pick the type that meets and satisfies your personal lifestyle.
5. Color.
How important are visual aesthetics for you? If you prefer an egg vibrator that's visually attractive with a classy appearance, pick a color that makes you happy and satisfies your taste.
Egg Vibrators made of silicone, TPE, and non-toxic plastic are available in various colors such as elegant black and other neutral colors; and different shades of pink, teal, purple, and blue, among many others. Choose a shade that satisfies your penchant for nice things.
6. Waterproof.
Do you plan on taking pleasure in the shower or bathtub with you? If you love engaging in solo play or sex while your body is fully submerged in water, choose a waterproof egg vibrator. This is a worthy investment because wet masturbation is something that you should try.
It's a healthy way to spend some quiet and quality self-care routine – with something extra on the side. Waterproof egg vibrators are also the easiest to clean and sanitize because they're fully submersible.
How to Clean an Egg Vibrator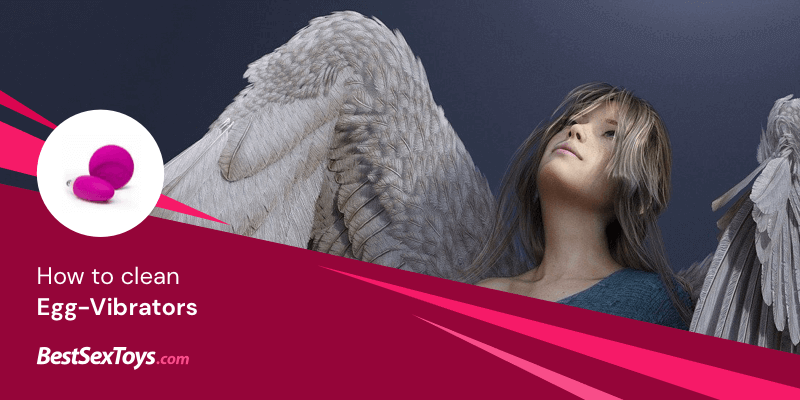 Proper cleaning and disinfection of your egg vibrator is an important aspect of having a sex toy. Make sure to clean it before and after use, especially if you're inserting it in your vagina. For efficient cleaning, follow the manufacturer's instructions in the user manual.
If you no longer have it, here's a general guideline on ensuring that your egg vibrator is safe and sanitary to use anytime.
Cleaning Battery-Operated Egg Vibrators
Remove the batteries before cleaning and cover the battery compartment to prevent water from seeping in. Use a damp sponge or towel with soap to clean the exterior surface of your egg vibrator. Wipe the surface with gentle rubbing motions.
Repeat the procedure using water to remove soap residue. Dry off with a towel and allow to air dry for a few minutes. Spray with disinfecting water and alcohol solution (a mixture of 1 portion of alcohol and 3 portions of water).
Cleaning Rechargeable Egg Vibrators
Cover the charging pins of your rechargeable egg vibrator before cleaning. Use a damp sponge or microfiber towel dipped in soapy water solution to clean your sex toy's surface. Rub gently and repeat the procedure using water to remove excess soap.
Wipe with a towel and allow it to dry completely. To add a layer of protection, use disinfecting wipes or spray with a mild disinfectant solution.
Cleaning Waterproof Egg Vibrators
Cleaning and sanitation are easy and hassle-free with Waterproof Egg Vibrators. Just clean your sex toy with an antibacterial soap, give it a good rub in all areas, and rinse thoroughly under running water.
To sterilize, submerge your waterproof egg vibrator in hot (not boiling) water for 3 to 5 minutes. Pat dry using a towel and allow a few more minutes to air dry before storing it.
Egg Vibrator Precautions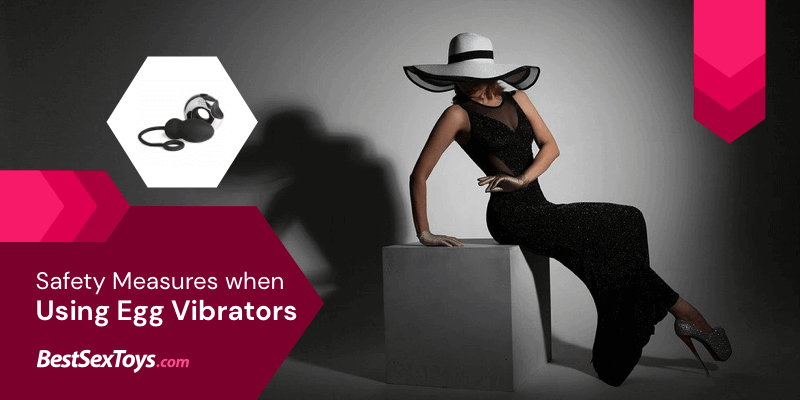 Egg Vibrators are generally safe to use and are properly tested by the manufacturers before releasing them. Still, it doesn't hurt to always be on the safe side by keeping track of some precautionary procedures.
For sex toy beginners, here are the most important safety measures you have to observe when using an egg vibrator or any other sex toy for that matter;
1. Test the Product Before Initial Use.
Always make it a habit to test your sex toy before first use. This can give you an idea on how it works, what to expect, and how strong the vibrations are.
Feeling its texture and the different pulsations levels before actually using a sex toy is a good way to get acquainted with its features. Additionally, testing your product is one way of checking any damages or malfunctions worth noting to the seller.
2. Follow the Initial Charging Instructions.
To optimize the performance of your egg vibrator, follow the initial charging procedure. Efficient charging can help you appreciate its strength, features, and different modes. Always follow the recommended charging duration and frequency to make your egg vibrator last for a long time.
3. Remove the Batteries Before Storing.
If you don't plan on using your egg vibrator for an extended period of time, remove the batteries before storing it. This can help prevent corrosion and battery draining, which might affect your sex toy's performance in the long run.
4. Don't Use When Plugged-In.
This is a common mistake among sex toy users – using the vibrator while it's charging. No matter how strong your urge is to get off right away, never use your egg vibrator while it's charging. Remember that being horny is one thing, but being safe means everything. Make it a point to charge your egg vibrator in advance to have it ready for use whenever you need it.
All the sex toys for



Subscribe to our Newsletter
Newest Deals
Discounted Prices
Free Products
Giveaways
Promo Codes
Check the
Best 10 Egg Vibrators
Find the best 10 Egg Vibrators we've gathered after reviewing dozens!
Check Now