Flavored Lubes
Didn't find what you are looking for?
View All
Best 10 Flavored Lubes in 2023
1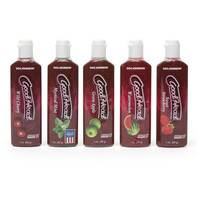 Good Head Flavored Lubricant
Bottle type: Squeeze
Lubricant Type: Water-based
Pack size: 5
Volume: 140 ml
Lubricant Features: Suitable for Vegetarians
2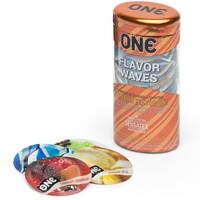 Condom Size: Regular
Condom Thickness: 75 microns
Length: 7.5 inches
Pack size: 12
Condom Features: Flavored
3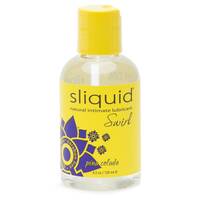 Sliquid Swirl Pina Colada
Bottle type: Squeeze
Lubricant Type: Water-based
Volume: 125 ml
4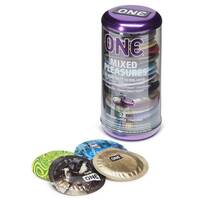 ONE-Mixed Pleasures Condoms
Condom Size: Regular
Condom Thickness: 75 microns
Length: 7.5 inches
Pack size: 24
Condom Features: Mixed
5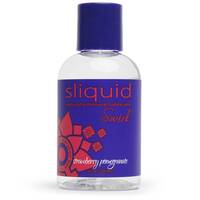 Sliquid Swirl Strawberry Pomegranate
Lubricant Type: Water-based
Volume: 125 ml
6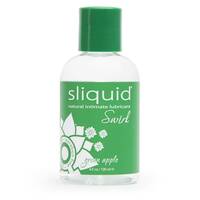 Sliquid Swirl Green Apple
Bottle type: Squeeze
Lubricant Type: Water-based
Volume: 125 ml
Flavours: Fruity
Lubricant Features: Condom-safe
Aspartame-Free: No
7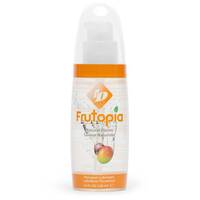 ID Frutopia Natural Mango
Bottle type: Pump
Lubricant Type: Water-based
Volume: 100 ml
Flavours: Fruity
Lubricant Features: Flavored
8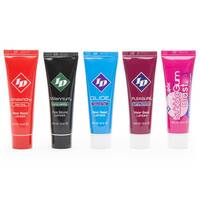 ID Lubricants Travel Pack
Lubricant Type: Water-based
9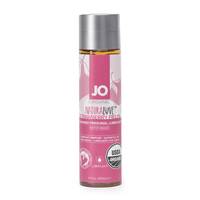 System JO Organic Strawberry
Bottle type: Squeeze
Lubricant Type: Water-based
Volume: 120 ml
Flavours: Fruity
Lubricant Features: Flavored
10
Sell Fast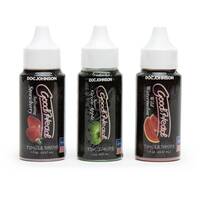 Flavored Lube Tingle Drops
Lubricant Type: Water-based
Pack size: 3
Volume: 84 ml
Lubricant Features: Tingling
We have more
Flavored Lubes
View All
As seen on
What Is a Flavored Lube?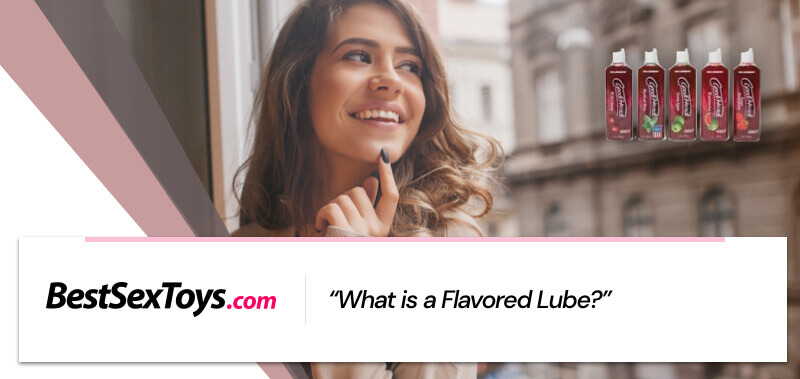 If you are looking to spice up your sex life, then using a flavored lube might be for you! Lubricant is crucial to a painless sex life and comes as a water base, silicone base, or oil base. Each base has its own properties and has to be picked carefully to make sure it does not interfere with any other products you may be using, such as condoms.
Flavored lube will enhance the intimacy between partners by giving a refreshed taste to any part of the body. You can place flavored lube on the penis or vagina, even anus, before giving oral, or you can even use it as a foreplay tool. Placing a drop of flavored lube on other sensitive parts of the body, such as your neck, thighs, nipples, or ears, will make your partner go crazy with ecstasy while using their mouth on you.
Lube was invented, surprisingly, during 600 BC and was made out of seaweed, olive oil, or even smashed up yams. Over the years, food was a milestone in the lube industry, and it was only in the 1800s that Vaseline was brought into play. Not to anyone's surprise, there were many complaints about using Vaseline as lube because it was such a thick substance.
However, this was the basis of creating what we now know as KY Jelly. KY Jelly was first intended for surgical use but is now the most common original lubricant.
Fast forward to the 2000s, we now have specialty lubricants, and people are no longer afraid to speak up about their sex life. Fantastic people have created tingling, cooling, warming, and flavored lubricants to make sex much more enjoyable and creative.
Types of Flavored Lubes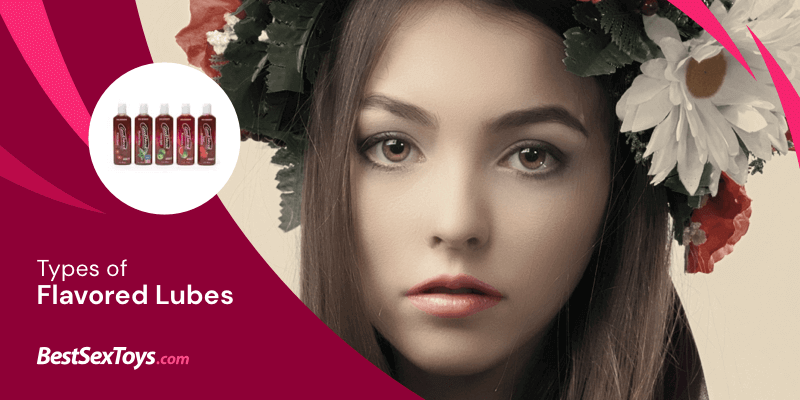 When it comes to our taste buds, everyone has different tastes that appeal to them. This is why it is so important to have a broad range of flavors on the market for lubricants. Some people like it sweet, rich and sultry, or even salty. There are hundreds of flavors on the market from different brands, but they all share the same purpose; to make your sex life better.
Fruity Flavored Lubricants
If you are looking for a fruity, sweet lubricant, they have options such as strawberry, blueberry, green apple, pomegranate, pina colada, mango, watermelon, raspberry, banana, strawberry kiwi, and cherry vanilla. If you like candy sweetness, they have red licorice, cotton candy, rock candy, and even peppermint stix.
Again, these are just a few options for fruity flavored lubricants, and they are coming out with new flavors all of the time!
Richy Flavored Lubricants
Are you more of a rich and sultry person? Maybe straight up Tahitian vanilla is appealing to you. Other options are rich mint lubricant, honey, mocha java, crème brulee, toasted macadamia nut, cinnamon bun, red velvet cake, chocolate, or caramel ice cream.
Again, new flavors are always being worked on, and this gives a pretty solid base for trying new things. If you do not like one, try the next one!
Salty Flavored Lubricants
Salty flavoring is always another go-to. Do you find yourself always going for salty chips or other salty snacks? Maybe having your partner's body taste salty will take your sex life to the next step! Some salty flavored lubricant options are salted caramel, squirting cum (yes, you read that right), and even bacon. Yes, bacon, which is a great pick me up for morning sex!
Weed Flavored Lubricants
Want to try some odd flavors that do not quite fit in a category? How about weed? They have a weed-flavored lubricant for those who are feeling a little bit more adventurous. They even have a whiskey-flavored lube, root beer, or even bubblegum.
How Much Do Flavored Lubes Cost?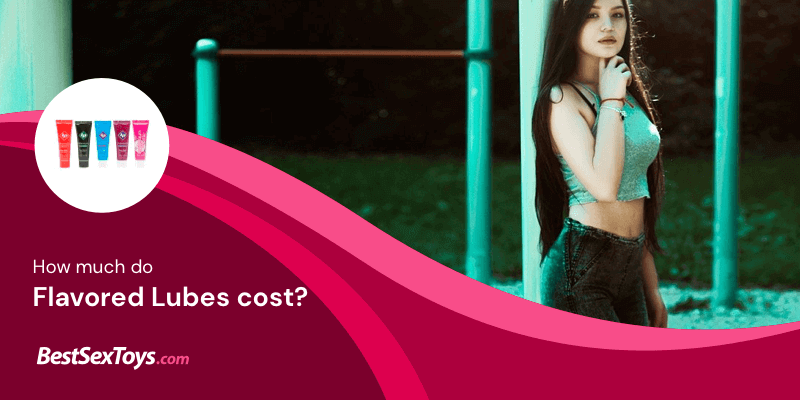 With how much fun they can be, you would think that flavored lubricants would be a bit more expensive. However, they are not. You have to think about value. While a small bottle may cost $40, this is fairly inexpensive for the amount of lube you will actually get.
Remember, a little goes a long way! Also, the cost varies on the type of flavored lubricant you are buying. Again, lubricants come with different bases such as water-based, silicone-based, and oil-based.
Water-Based Flavored Lubes Cost
Water-based flavored lubricant is the least expensive and is great for any type of sex. A water-based lubricant is great for sensitive skin, and it can be used with all condoms and toys. The only problem with flavored water-based lubricant is that it is made mostly of water. Ironic? Not really. If you are looking to have a steamy shower sex oral session, this is not the right lubricant for you.
Since it is made out of water, it will not withstand being near water and can be sticky. A water-based flavored lubricant is also recommended for anal sex because a condom can be used with it.
Flavored Silicone-Based Lubes Cost
A flavored silicone-based lubricant is a tad more expensive than water-based lube, but it is well worth it. Silicone does last longer than the water-based lubes and is great for shower sex or sex toy play. Also, since it is more expensive, this type of lubricant does not need to be applied to the area, which often leaves more time for fun.
The only problem with silicone is that you can not use a silicone lubricant with a silicone sex toy, as the lube will deteriorate the toy. Also, as opposed to the water-based lube, silicone does not wash out as easily. Therefore, if you are about to have a great oral sex session, you may want to put a towel down so you are not left with stains.
Oil Based Lubes Cost
The most expensive flavored lubricant has an oil base. Oil-based lubricants are much more slippery than the other options, which also means that it is great if you want to use a flavored lube for a massage for your partner while using your mouth for sultry kisses.
You can also use a flavored oil-based lube in water for great shower sex! The downside to an oil-based lube is you can not use it with a latex condom. The oil will deteriorate the condom, and it will no longer be effective.
Are Flavored Lubes Good for Sex?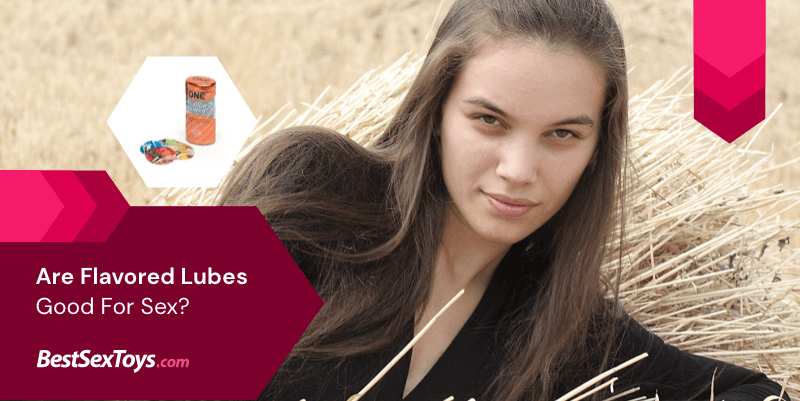 The making of flavored lubricants was a pivotal moment in the sex industry. We always knew that regular lubricant enhanced our sex lives because it gave everything a bit more wetness for easier penetration, especially for anal sex. Flavored lubricant, though, is a game-changer! Think about: the more senses you use in the bedroom, the better your sexual experience is. Taste is a great sense to have!
Also, let's face it. No matter how clean someone can be, sometimes they just don't taste good! Thus, you may not want to go down on your partner, which can cause some serious lack of intimacy, especially if they love having oral performed on them. Flavored lube will remove these issues, so you and your partner will be more satisfied and have a great tasting sex session!
Despite what men sometimes think about a woman, sometimes no matter how turned on we are, we simply cannot get wet! Flavored lubricant is also great for this. Some women experience vaginal dryness due to new medications, changes in hormone levels, menopause, pain, or they simply just do not produce enough wetness themselves. Again, lubricant fixes all of these problems.
While flavored lubricant is great; they are some side effects that may come with it. These include allergic reactions, skin irritation, yeast infections, and fertility problems. All flavored lubricants contain glycerin, which should be avoided by women who are sensitive or are prone to yeast infections.
However, keep in mind that different brands have a different amount of these products within them. So, if one does not work well for you, keep the faith, and try another!
Where to Buy Flavored Lubes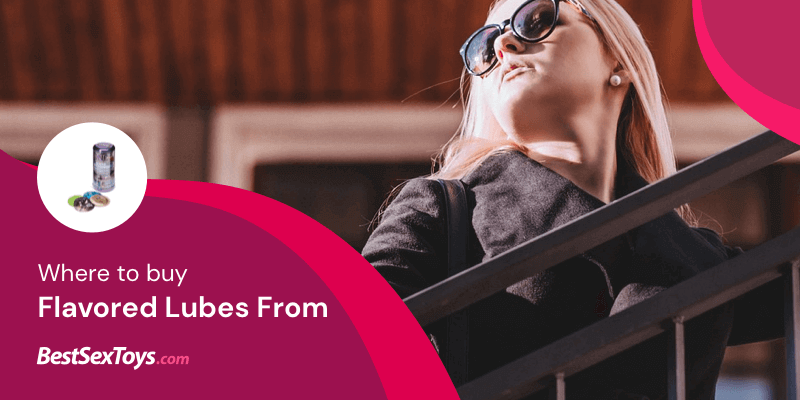 In today's world, you can find flavored lube just about anywhere. It all depends on what you are looking for. If you go to a local drugstore or larger store, such as CVS, or Walmart; you can find the basics. This includes flavored water-based lubricants.
However, from what I have found, the majority of these stores only carry strawberry. So, if you are looking for a quick, spontaneous fix to your need and love strawberries, then this might be for you.
On the contrary, if you are looking for different flavors, then an online store may be your best bet! If you are lucky enough to have a local sex toy store around, then even better! Make sure you do your research before purchasing a flavored lube because again you want to make sure you use what will work best for you and your partner. Keep in mind what type of toys you will be using and what kind of sex you intend to have.
Another option is your friends. Yes, you read that right! Nowadays, many people are looking for some sort of side income and like to sell different items. One of these items is sex toys and products. Sex sells! If you know someone who is selling these types of products, than you may want to purchase from them! The benefit of this is you are improving the income of a friend or acquaintance instead of a larger store.
However, the downside is it may be more expensive than online counterparts. Many of them also have sex toy parties, so you can also take a peek at sex-toys while you are looking at flavored-lube. Completely your choice!
8 of the Best Flavored Lubes
Good Head Flavored Lubricant. This lubricant comes in a package of 5 and is water-based. Perfect for those who want to try different flavors and don't want to commit to just one! $36.99.
Sliquid Swirl Pina Colada. Looking for a sex session that will leave you feeling like you are in the tropics? This water-based lube is for you! $36.99.
Sliquid Swirl Green Apple. Interested in a sweet but sour lube? Green Apple may be for you if you are looking for a great water-based lubricant! $36.99.
Sliquid Swirl Strawberry Pomegranate. Like fruity flavors? Try this water-based lubricant for great oral sex! $36.99.
ID Frutopia Natural Mango. This water-based lubricant is great if you love the taste of mango! It comes in a large pump and is a bigger bottle for a great price! $32.99.
ID Lubricants Travel Pack. Going on vacation and want to spice up your sex life? Try this pack of 5 water-based lubes with different flavors to see what you like! $34.99.
System JO Organic Strawberry. Already know you love the taste of strawberries? Try this big bottle of flavored lube to enhance your sex life! $36.99.
Flavored Lube Tingle Drops. Not only is this lube set flavored, but it is also tingling! This is great for people who want to try both types of lubricants in one with different flavors! $32.99.
All in all, flavored lube is definitely a game-changer in the sex industry. It can boost self-confidence when it comes to oral sex because you do not have to worry about any funky smells or tastes, and it uses more of your senses in the bedroom. The more senses, the better!
You can also create memories that will last a lifetime, and whenever you taste a certain flavor, it will always bring you back! Make sure you try different flavors, and if both partners like different flavors, you will have to make sure they go together! For instance, strawberries and chocolate would go great together, or caramel and apple.
However, if you use flavorings such as weed and blueberries, you may get a bad taste, and your experience will be ruined. Experimentation is everything, and, in this case, make sure you bring an appetite to the bedroom!
More Sex Lubes
All Sex Lubes
All the sex toys for



Subscribe to our Newsletter
Newest Deals
Discounted Prices
Free Products
Giveaways
Promo Codes
Table of Contents
Flavored Lubes
Check the
Best 10 Flavored Lubes
Find the best 10 Flavored Lubes we've gathered after reviewing dozens!
Check Now