Nipple Clamps
Didn't find what you are looking for?
View All
Best 10 Nipple Clamps in 2023
1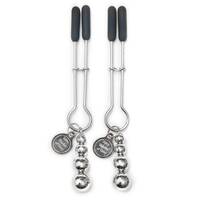 2
Pinch Adjustable Nipple Clamps
Length: 3.5 inches
Material: Metal
2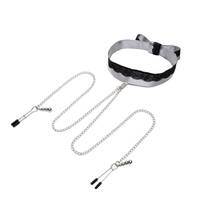 Fifty Shades of Grey Play Nice Satin and Lace Coll
Allergens: Latex-Free , Phthalate-Free
Fastening: Clip
Material: Silicone
3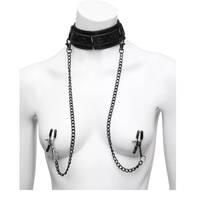 Bondage Boutique Black Rose Collar with Nipple Cla
Fastening: Buckle
Material: Faux Leather
4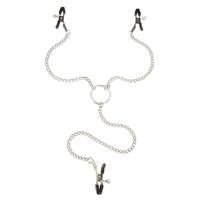 Nipple Clamps and Clit Clamp
Length: 26.5 inches
Material: Metal
5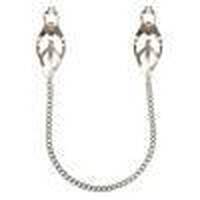 Length: 20 inches
Material: Metal
6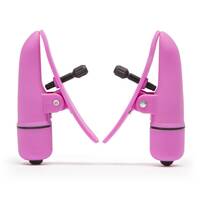 2
Nipplettes Vibrating Nipple Clamps
Battery Info: 6 x LR44 batteries
Power Type: Batteries (included)
Length: 3 inches
Material: Hard Plastic
Allergens: Latex-Free
7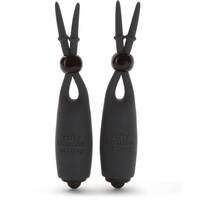 2
Tease Vibrating Nipple Clamps
Battery Info: 3 x LR41 batteries
Power Type: Batteries (included)
Length: 4.5 inches
Material: Silicone
Allergens: Latex-Free
8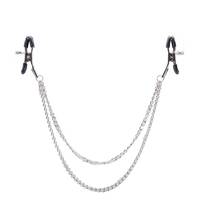 Bondage Boutique Adjustable Nipple Clamps with Dou
Allergens: Latex-Free
Fastening: Adjustable screw
Length: 16.5 inches
Material: Metal
9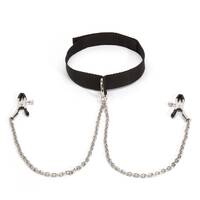 2
Collar with Nipple Clamps
Fastening: Clip
Length: 23 inches
Material: Metal
10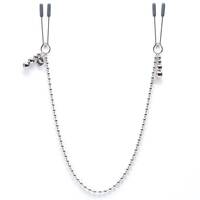 2
Mercy Chained Nipple Clamps
Length: 19 inches
Material: Silicone
Allergens: Latex-Free
We have more
Nipple Clamps
View All
As seen on
What Is a Nipple Clamp?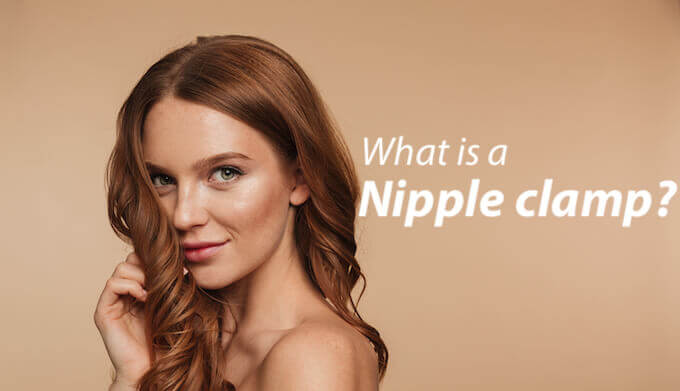 A nipple clamp is a simple sex toy that unleashes an intense pinching feeling on one's nipples that causes both pain and pleasure. While the name, nipple clamp, may make you think of large painful items dangling from your nipples, it is actually quite the contrary. Nipple clamps are small and work by applying pressure to the nipple while restricting blood flow.
Although nipple clamps are often thought of solely to be a BDSM item, it is simply not true. Nipples are a part of an erogenous zone and can lead to intense orgasms for both males and females. Erogenous zones are areas of the body that awaken sexual feelings when touched and make you want more.
These are commonly the breasts, inner thighs, butt, neck, lips, or even the ears. Nipple clamps are the perfect tool to turn a person on with their breasts, and it also allows you to free up your hands to stimulate other parts of the body at the same time.
How to Use a Nipple Clamp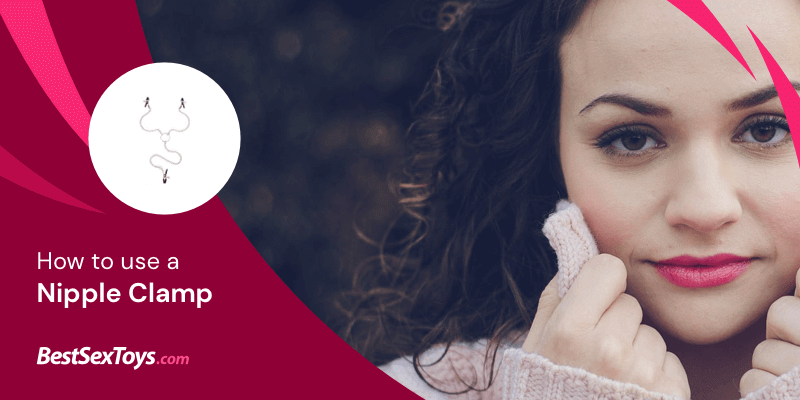 Using a nipple clamp is very easy, even for people who are new to using sex toys. You take each end of the nipple clamps and place one on each nipple. Some nipple clamps are adjustable, perfect for newbies because it allows you to see how much pressure you like. After trying this, you can always move on to a non-adjustable set of nipple clamps.
If you are new to using nipple clamps, a lighter chain is recommended. This is because the chain adds to the pulling sensation and can cause too much pain if you are new to using them. It is a good idea to experiment with items around the house before purchasing your new set of nipple clamps.
A popular item you could use is a set of clothespins! Using clothespins will let you see if you would actually like the clamps. As you get used to a lighter chain, you can increase the pressure using a thicker chain or a non-adjustable set of nipple clamps.
Always start slow, as with any sex toy, and it is recommended that you have a safe word when experimenting with nipple clamps. Again, start by using adjustable clamps and then work your way up.
They now even have magnetic clamps, but if you start feeling pain higher than you can tolerate, or if your nipples start turning blue, make sure you use that safeword.
Removing the nipple clamps are also painful, as intended to be. Again, the nipple clamps stop the blood flow from going to the nipples. You will feel slight pain, but then your nipples will start to go numb. Keep in mind that even though you can no longer feel the clamps, they are still there.
When you take off the clamp, it needs to be done slowly, so the blood does not rush to the nipple all at once. Think of when you were hanging upside down on the jungle gym when you were a kid. All of the blood rushed to your head, and it started to hurt.
Same thing with nipple clamps! If you take them off too soon, you can alleviate the pain by using your fingers where the clamps were and slowly pinching them.
As with almost all sex toys, nipple clamps are not just for partner play. Nipple clamps can be used during masturbation as well, and it is actually a good idea to start off this way! Masturbation with nipple clamps will allow you to see your pain tolerance without any pressure from a partner.
I know I sometimes hate experimenting in front of a partner because it can be embarrassing! To each their own, but always remember to be safe about it.
What Is the Purpose of Nipple Clamps?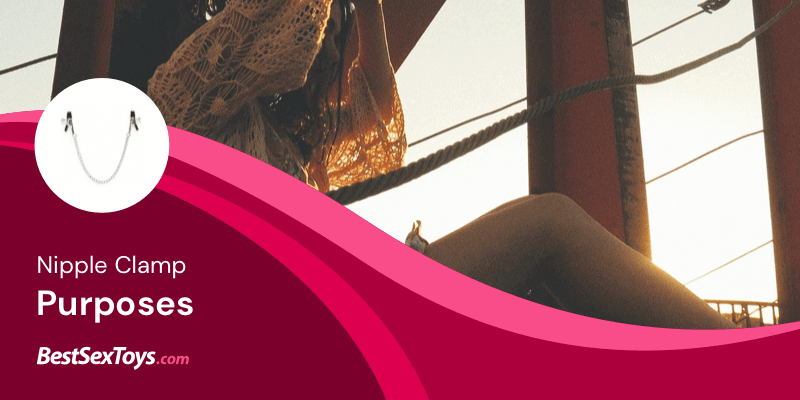 The purpose of the nipple clamp is to bring pleasure to a woman or man's erogenous zone by applying pressure and a little bit of pain to the nipples. Let us face it; everyone loves to be felt up. Now just imagine constant pressure on your nipples.
I absolutely love them because it feels like someone is biting or playing with my nipples, but the clamps free up your hands to play with other parts of the body as well.
Nipple clamps are commonly associated with BDSM because they are associated with pain and pleasure, but you can also do several other things with them! If you are into BDSM, then you may want to get a heavy chain set of nipple clamps, which will bring more weight to the clamps.
You can also whip the breasts with the nipple clamps on.
If you are not into the BDSM world and just want to experiment, that is okay too! Again, nipple clamps are meant to bring pleasure in whichever way you are comfortable with.
If you want more action than just a slight pull, try a vibrator! Vibrators are not just for vaginas and butts! If you have metal clamps on your nipples, you can tease the nipples by applying slight pressure with a vibrator! This is a fun thing to do if you can have an orgasm through your nipples. Yes, it is possible!
How to Take Care of Your Nipple Clamps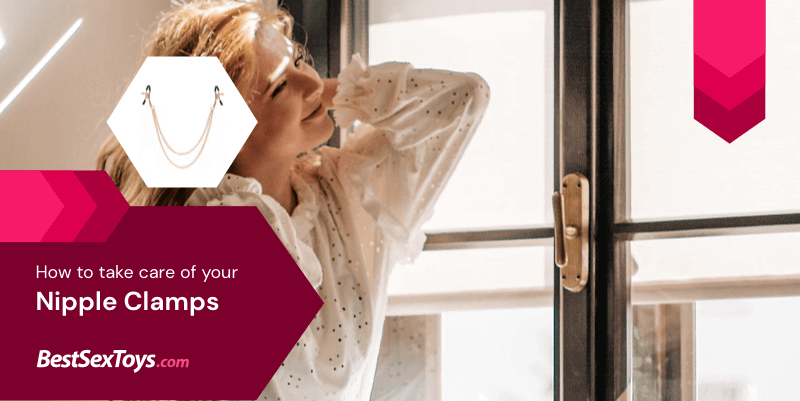 As with anything, you can be very careful during sex but still end up with injuries. The aftercare of using nipple clamps is very important if you do have some bumps and bruises. Taking care of wounds after sex with your partner can also be an intimate experience.
After using nipple clamps, always check your nipples to see if there is any damage. This includes any cuts, severe swelling, or discharge. If you have any severe pinching cuts, wash the area with an antibacterial soap thoroughly, pat dry, and place an antibiotic ointment on the area.
If you do not have an antibiotic ointment, you can just wash the area and place hydrogen peroxide to kill any germs.
If you happen to have severe swelling of the nipples, you can place an ice cube on the nipples to bring the swelling down. You can also take an over-the-counter medication such as Ibuprofen or Naproxen.
There are not only physical components to nipple clamp care but mental care as well. If you are using nipple clamps as a part of BDSM, then you need to make sure what happens in the bedroom stays in the bedroom.
This is because while you and your partner may be playing roles of dominant and submissive in the bedroom, it is imperative that the roles do not continue in real life. This can cause mental issues and many emotions that should not be there, such as co-dependence.
How Much Do Nipple Clamps Cost?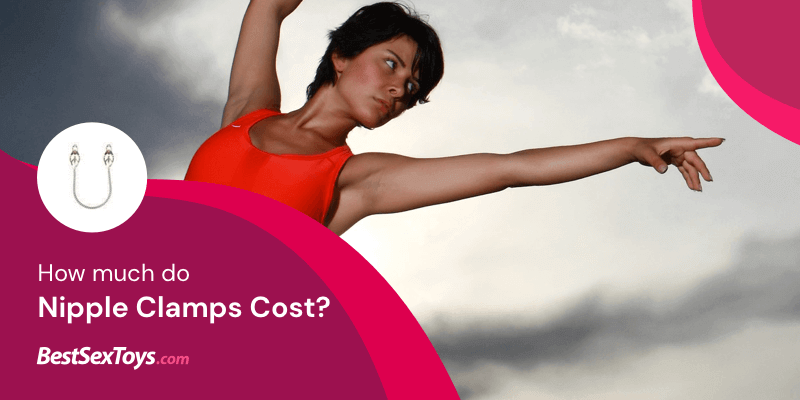 Thankfully, nipple clamps are a pretty cheap sex toy to have! Most are around $40 for a basic set of metal nipple clamps, while some are a bit more expensive but are vibrating. Keep in mind that if the clamps are more expensive, they are most likely made of heavier, sturdier metal.
Cost also seems to match quality, as with any products that we buy. You want your nipple clamps to last as long as possible, so the better quality you buy, the longer life they will have.
How to Clean Nipple Clamps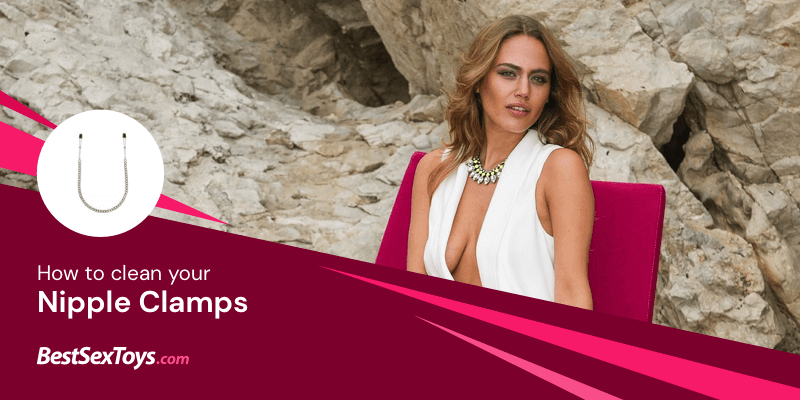 Almost all nipple clamps are either made of metal. Metal can be washed by a solution of antibacterial soap and water to be disinfected, specifically, if there happens to be blood from any pulling. You can also use rubbing alcohol or a sex toy cleaning spray.
The key here is to make sure that the metal is completely dry before putting the nipple clamps away to make sure the item does not get rusted.
If you are using nipple suckers, you can again use soap and water. Ensure that the inside of the device is cleansed and thoroughly dried out to make sure that mold does not drow inside.
Types of Nipple Clamps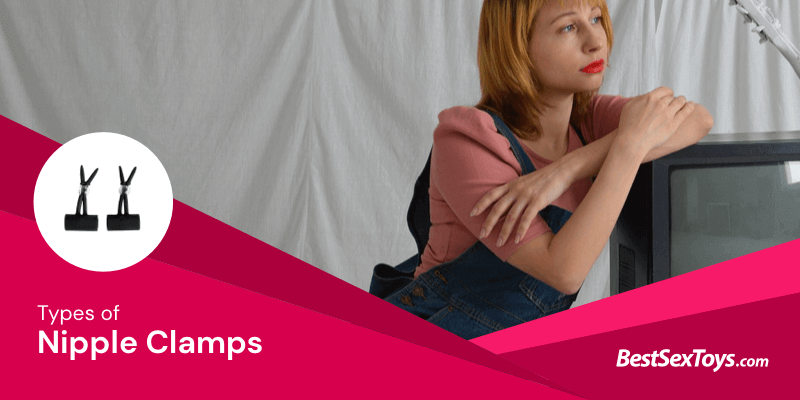 Alligator Nipple Clamps
Alligator nipple clamps are the most common and usually first come to mind when thinking nipple clamps. They have a rubber coating on the clamps themselves, and if moved around on the nipple, they will give different pressure. They are recommended for beginners because the screws can also be adjusted on each clamp for a lighter or harder pinching.
Tweezer Nipple Clamps
Tweezer nipple clamps are another great option for beginners. They are shaped like a set of tweezers, which overall put less pressure and pain on the nipples. Around each clamp is a small metal ring, that when slid up or down, will change the pressure as well.
Vibrating Nipple Clamps
The feeling of regular nipple clamps can tend to get old after a while, and vibrating nipple clamps are a great option to spice things up. There are many different styles of vibrating nipple clamps, but the basics remain the same.
Since they have a motor, they tend to be a bit heavier than the rest, which means more pressure just with that. Some are powered by batteries, while some are rechargeable as well. This is a great option if you are just looking to get more stimulation on your nipples.
Magnetic Nipple Clamps
While other clamps may be bulkier or just be in the way of other things, magnetic nipple clamps are the opposite. Instead of using two ends like a clothespin, the magnetic nipple clamps have two very small but very powerful magnets placed on each side of the nipple.
The biggest downfall to magnetic nipple clamps is that they can not be adjusted. Therefore, make sure you have some experience with other nipple clamps before purchasing to ensure you are comfortable.
Clover Nipple Clamps
Clover nipple clamps are very common amongst the BDSM community and for a good reason. Once you put the clover nipple clamp on, the only way to change the pressure is to increase it. You can never decrease the pressure unless you completely take them off.
The other thing about these nipple clamps is that if you pull on the chain that attaches the clamps, the amount of pressure will increase and continue to do so.
String Nipple Clamps
While many of us think of all nipple clamps as metal, this is not the case. String nipple clamps are a softer option and are great for beginners. The string is very lightweight so you will only feel a slight pull, as opposed to the metal counterpart.
Instead of a full-on clamp, you put the string around the nipple and pull up on a small bead for a slight intensity and to make them stay in place. They are similar to a pull-tie bracelet that many of us had as kids.
Nipple Suckers
While nipple suckers are not clamping in particular, they are in the same family and are preferred by many. They are made of rubber and usually are circular. They are directly placed on the nipple, and there will be an airtight seal.
You can increase or decrease the air with a small screw. Again, instead of clamping, nipple suckers give the feeling as if someone were actually sucking on your nipple.
Nipple and Clit Clamps
While nipple clamps and clit clamps are two different things, these devices can be combined into one with a small (or large) metal chain. As you move around with the device on you, either the nipples or clit will be pulled.
Make sure that all clamps are adjusted to your specific pain tolerance so you do not get harmed, and it becomes unpleasurable.
Nipple clamps are a great way to spice up your sex life and are loved by many women and men. Make sure to start slow to find out what your pain tolerance is and always listen to your partner's. Using nipple clamps will give you a fantastic sensation and should be tried by everyone.
All the sex toys for



Subscribe to our Newsletter
Newest Deals
Discounted Prices
Free Products
Giveaways
Promo Codes
Table of Contents
Nipple Clamps
Check the
Best 10 Nipple Clamps
Find the best 10 Nipple Clamps we've gathered after reviewing dozens!
Check Now