1-Year Warranty
Discounted Prices
Free Shipping
Worldwide Shipping
Discreet Billing and Shipping
Users' Favorite
Sex Lubes
What Is a Sex Lube?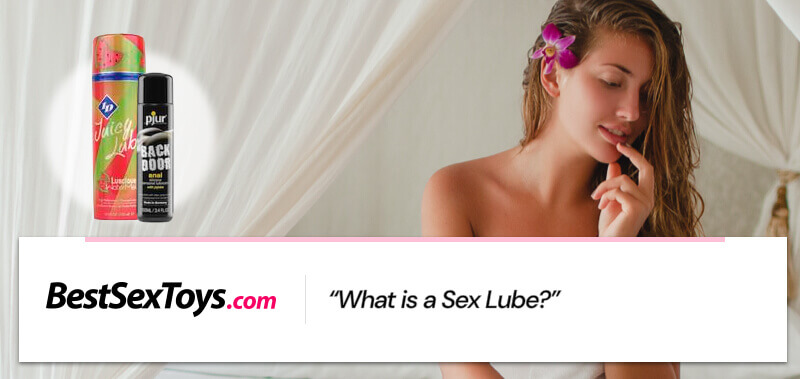 A Sex Lube refers to a liquid or gel-like substance that prevents (or reduces) friction, discomfort, and irritation during sexual activity.
Personal lubricants are useful in most types of sex and sexually-related activities such as vaginal sex, anal sex, foreplay, genital stimulation, masturbation, and the use of various sex toys.
Sex Lubes are primarily useful in enhancing one's sexual experience with their smooth and slippery texture. While most people, especially women, can produce their own natural lubrication, there are instances wherein it is not enough.
Factors such as stress, hormonal issues, and aging can affect the body's ability to secrete natural lubrication. In this case, using a sex lube becomes necessary to make sexual intercourse more pleasurable and enjoyable.
Human sexual processes are instinctive, natural, and gratifying. However, if the body cannot produce natural lubrication, the experience may cause discomfort, pain, and distress. In such occurrences, personal lubricants or sex lubes serve as the most suitable alternative that can bring back the pleasure in most sexual activities.
Therefore, sex lubricants are always the best recourse against lack of body lubrication and uncomfortable sex. At present, there are different types of sex lubes available in the market that goes well with your personal needs and most kinds of sex toys.
Most of them offer great solutions to various sexually-related concerns, whether you're single, in a heterosexual relationship, or same-sex relationship.
History of Sex Lubes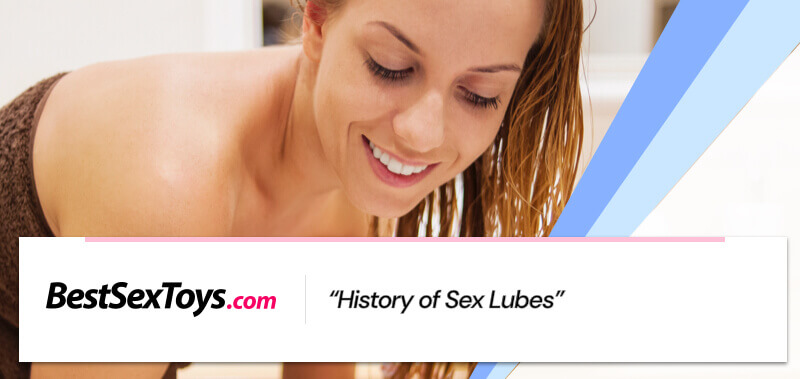 According to studies, humans have been using lubricants for many centuries already. The practice can be traced way back to 350 BCE. During these ancient times, olive oil was the primary lubricant of choice. Long before the first manufactured lubricant was launched, many people have been created using natural sources for their personal needs.
In 1904, manufacturers introduced the first personal lubricant in the market, which is K-Y Jelly. This is a water-based and water-soluble lubricant that is still common up to the present time. During its introduction in the early 90's, the K-Y Jelly brand is essentially meant as a surgical lubricant.
Over time, the market gave rise to other types of personal lubricants that are suitably formulated to make sexual activities more "slippery" and pleasurable. Some of the most common ones are oil-based lubricants and silicone lubricants, among others.
At present, there are numerous brands of sex lubes or personal lubricants available in the market. They are all specifically-formulated for most types of penetrative sex and genital stimulation. By using sex lubes, there's a significant reduction of friction in the penis, vagina, anus, and other body parts during sex and masturbation.
This significantly minimizes sexual discomfort, genital irritation, and other sexually-related injuries.
What Are the Main Uses of Sex Lubes?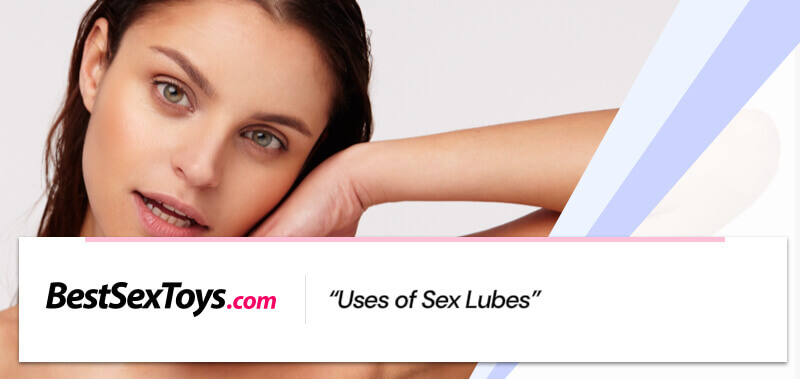 Sex lubes come in various formulations and is widely available in the market. You can buy sex lubes online, in health stores, pharmacies, and local sex toy shops, among other sources. So if you're considering using lube to redefine your sex life, you'll be delighted to find a multitude of choices and variants that would satisfy your needs.
You can also safely incorporate personal lubricants in your sexual activities, whether you're having sex with your partner or using a sex toy.
At BestSexToys.com, one of our objectives is to educate our clients about the main uses of sex lubes. Allow us to give you a more detailed rundown;
1. Sex Lubes are useful for all types of sexual activities.
Sex lubes are suitable for penetrative sex, foreplay, and masturbation. Anyone can benefit from sex lubes regardless of gender identity, sexual orientation, and age. Depending on the type of lube you are using, they are ideal for use combined with various sex toys and sexual paraphernalia.
Note that a personal lubricant can either be water-based, oil-based, silicone-based, or natural among other common types. Therefore, it's best to make sure that you're using the type that complements your lifestyle and preferred sexual activity.
2. Sex Lubes contribute to pleasurable sex.
A sex lube is the next best thing to natural lubrication. So if you notice that your body is not producing enough lubrication to achieve pleasurable sex, you can always resort to a good sex lubricant.
The sex lube industry takes pride in the overabundance of personal lubricants' choices available in the market nowadays. There are different types, formulations, and flavors that would suit your needs. Some can even deliver different sensations such as a warming or cooling effect upon application.
Some sex lubes help delay ejaculation among men, and even if you're using a condom, a good lube can make sex more satisfying and natural.
3. Sex Lubes provide a solution to vaginal/penile dryness.
Vaginal dryness during sexual intercourse is quite common among women. Many factors contribute to this, such as changing hormonal levels, the aging process, breastfeeding, stress, and certain medications.
Among men, the natural lubrication and moisture levels of the penis also vary. However, genital dryness is something that you can overcome with the use of sex lubes.
In these circumstances, the direct application of sex lube on the vulva, vaginal opening, and penis is an effective solution to vaginal and penile dryness. In any case that you are using a sex toy, such as a dildo or masturbator sleeve, lube application on your sex toy produces a wet and slippery sensation that ultimately solves your dryness issues.
If you're having uncertainties about the type of sex lube that suits your needs, or if you have skin allergy issues, you may contact your healthcare provider to get a professional recommendation.
Don't feel discouraged because there are many hypoallergenic and water-based sex lubes that you can choose from. You may also buy most of them over-the-counter.
4. Sex Lubes are essential for anal sex.
Sex lubes is an absolute necessity for those engaging in anal sex since the anus doesn't produce lubrication on its own. They are also essential among those who are using various types of anal sex toys.
Whether you're using a butt plug, anal dildo, or prostate massager, it's important to apply a liberal amount of lubricant along the sex toy and anal opening to avoid soft tissue injuries and anal perforation.
Additionally, the use of lubricants makes anal training more comfortable and manageable. Adequate lubrication helps minimize the sensation of excessive anal stretching, offers a relaxing effect during anal intercourse, and adds pleasure to the over-all "backdoor" experience.
5. Sex Lubes prevent vaginal tearing and promote safer sex.
Sex lubes help reduce friction to genital tissues during sexual intercourse, resulting in less injury and irritation. For those who are using condoms, water-based lubes can minimize the risks of breakage; and help keep the condom in place for better protection against sexually-transmitted diseases such as HIV infection.
Here's a pro tip; if you are using latex condoms, make sure to use a water-based or silicone-based lubricant to protect yourself. Other types of lubricants tend to cause the latex condom to break down.
Health experts agree that the use of proper sex lube also reduces vaginal trauma, such as vaginal tearing. In fact, an actual study suggests that sex lubricants can significantly enhance one's sexual experience since it decreases the occurrences of vaginal abrasions and irritation.
This led to the conclusion that the use of clinically-safe personal lube during sex is a clever strategy to prevent vaginal tearing that tends to increase one's predisposition to HIV and other infections.
6. Minimizes pain and discomfort during sex.
Sex lubricants are commonly recommended to women by health experts to minimize vaginal tears, irritation, and discomfort during penetrative sex. Pain and vaginal lacerations secondary to friction during penetrative sex are two of the most frustrating events that can ruin your sex life and relationship.
That is why public health experts advise men and women to add lubricant to their sexual regimen to promote comfortable and safer sex.
However, there is very little information as to whether lubricants cause any vaginal symptoms. Only one thing is certain in this case, sex lubricants reduce pain and irritation during sex, foreplay, and self-stimulation.
So if you have qualms about sex lubricants or you have sensitive skin, discuss these issues with your partner or health care provider to figure out the most viable option.
7. It makes oral sex more fun and interesting.
Sex lubes can add flavorful excitement to your oral sex. You'd be amused to hear about sex lubes for blowjob and cunnilingus. It may sound crazy, but so does a donut-flavored lube, peppermint-flavored lube, and raspberry sorbet-flavored lube, among many other delicious variants.
Mouths, like vaginas, also need a little help to keep them moist and properly lubricated. Surprisingly, water-based lubes that come in various flavors can ultimately add something delightful to your oral sex experience.
Studies About the Use of Lubricants During Sex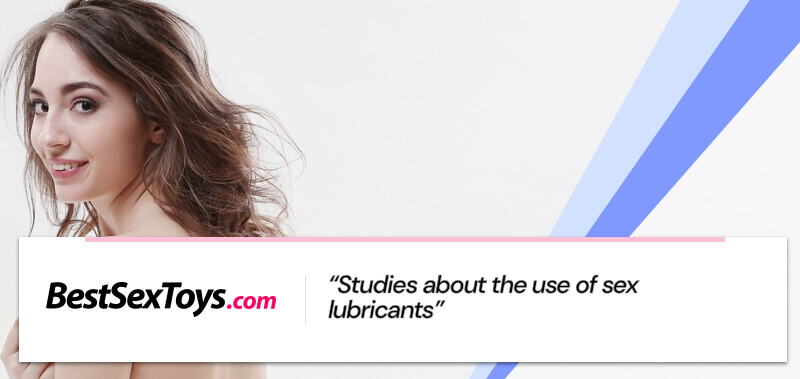 A nationally represented research by Indiana University regarding the use of sex lubricants reveals that almost 70% of women describe sex with their choice of lubricant as "very satisfying" and "very pleasurable". In addition to this finding, most of the respondents agree that sex lubes can make sexual activities more comfortable and enjoyable.
Another study conducted by an Indiana University involving 2,453 women between the ages of 18 and 68 proves that personal lubricant use during self-stimulation and partnered sex resulted in higher ratings of sexual pleasure and satisfaction.
Furthermore, sex experts and researchers from the Center of Sexual Health Promotion performed over 15 studies for presentation at the American Public Health Association (APHA) conference. In response to this study, public health professionals recommend the use of lubricant to condoms during sex.
In another survey conducted in San Francisco, the involved gay men who engage in anal intercourse, 89% state that they "always" use sex lubricant during anal sex. However, despite the pervasiveness of personal lubricants and their generally benign reputation, many questions still emerge regarding the safety of some products.
In conclusion to these studies and researches, choosing a sex lubricant is always a personal decision. Couples can explore various types of lubes to figure out what works best for them.
In any case that a certain type of lube causes irritation or undue reaction, it is best to stop using it and look for another kind. A health specialist or sex therapist can also provide guidance and recommend safe options.
Types of Sex Lubes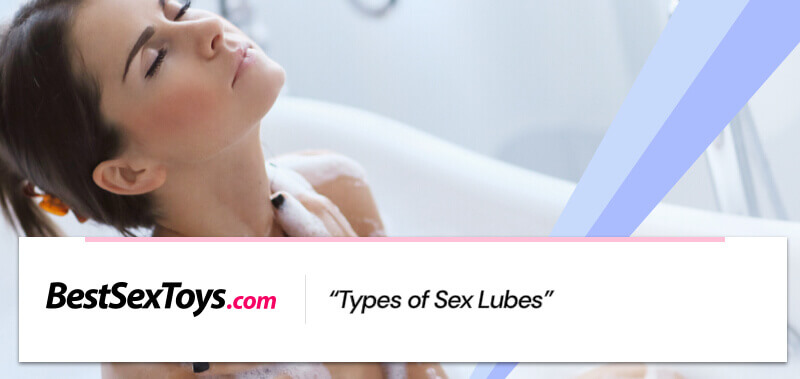 To achieve the best experience when using your sex toys and having an intimate moment with your "significant other", it is advisable to use a sexual lubricant. We often hear stories about people using makeshift products to achieve a wet and slippery sensation.
From butter, margarine, massage oils, lotion, and many other unlikely substances, we can only imagine the harsh components that these products contain. The end result could be devastating and messy beyond words.
Some couples that rely on their saliva can only expect a thin and watery sensation that is not slippery and dries out fast. It is for this reason that a personal lube becomes necessary. Still, you need to closely consider the type of lube that suits your lifestyle and sexual practices to achieve its optimum benefits.
Knowing the different types of sex lubes can help you land on the best choice, so you can skip the hassles and worries of having to deal with irritation or allergic reactions. Moreover, you'll also need to carefully examine each type's advantages and disadvantages.
Here's everything you need to know about sex lubes, including their pros and cons;
Water-Based Lubricants
Water-based lubes are the safest and most versatile of all types of sex lubricants because they are suitable for almost all sexual activities. They also complement the use of silicone sex toys.
Apart from being versatile, water-based lubes are also the most popular because they are easily available, washes off fast, inexpensive, and do not stain. Ingestion of some amount during sexual activities is also not harmful. In fact, some water-based lubes come in a variety of flavors.
Most couples prefer water-based lubes because they are safe to use with latex condoms and contraceptive diaphragms/caps. According to survey, most women prefer water-based lube because it's the closest thing to the vagina's natural lubrication. You may also reapply as often as you want.
Some water-based lube products are also meant for vaginal absorption and help keep the vaginal tissues healthy. Water-based lubes also leave your skin feeling soft, smooth, and free from harmful residues.
On the downside, water-based lubes are not ideal for wet play or sex in the shower because they wash off easily.
There are two variants for water-based lubes.
1. Water-based lubricants with glycerin.
Water-based lubes with glycerin are the most common variant. They contain synthetic glycerin that produces a mildly sweet taste. Most of the flavored lubes and warming lubes that you'll find in the market contain glycerin. When the water-based sex lubricant starts to dry up, applying a small amount of water can make it slippery again.
Examples of Water-Based Lubricants with Glycerin: K-Y Jelly, Wet and Wet Flavored, Astroglide, Revelation, Liquibeads (vaginal suppositories for vaginal wall dryness), ID, and Good Head.
Pros: Easily available, affordable, safe to use with latex condoms, smooth and lightweight, washes off easily and does not stain the fabrics.
Cons: Dries out fast, some products can be sticky against the skin; synthetic glycerine causes yeast infections to flare up in most women; some products also contain parabens (preservative) or propylene glycol, which may be harsh on sensitive skin.
2. Water-based lubricants without glycerin (Glycerin-Free).
For those who have recurrent yeast infections, a water-based lubricant containing glycerin is a more suitable choice. This variant of water-based lube may contain glycerin derived from vegetables, which will not cause yeast infections to flare up.
Examples of Water-Based Lubricants without Glycerin (Glycerin-Free): Ultra Glide Glycerin-Free, Sensua Organics, Slippery Stuff, Liquid Silk, Probe, O' My, Astroglide Paraben-Free, and Carrageenan.
Pros: Typically last longer than lubes that contain glycerine, minimize genital irritation, safe to use with latex condoms, thicker consistency which serves as an extra cushion, will not stain fabrics, and a good choice for anal sex.
Cons: The taste is slightly bitter because it doesn't contain glycerin, not easily available; can only be found in sex toy stores or online sex shops; some products still contain parabens or propylene glycol, which may irritate sensitive skin (check the label and ingredients to ensure that you're getting a paraben-free and glycerin-free water-based lube).
Oil-Based Lubricants
Oil-based lubricants provide a slippery, smooth, and long-lasting experience. They have a thicker consistency that is velvety to the touch. Since they are oil-based, they last longer during sexual activities and generally do not require re-application.
Oil-based lubes are ideal for self-stimulation, such as masturbation. They are also sometimes useful in combination with water-based lubes during sexual activities.
It is important to note that oil-based lubes are not suitable for use with latex condoms. They tend to degrade and weaken latex, which increases the likelihood of leakage or breakage. This could potentially increase the risks of sexually transmitted diseases/infections and unexpected pregnancy.
However, if you prefer to use oil-based lubes, make sure to use condoms that are made of polyisoprene, nitrile, or polyurethane. Investing in these types of condoms is beneficial if you prefer oil-based lubes over other types of personal lubes, or if you want to protect yourself from STD's/STI's; as well as if you're duly practicing safe sex.
Oil-based sex lubes include lubricants such as baby oil, massage oil, jojoba, coconut oil, olive oil, commercially-available oil products, and mineral oil. They are generally good choices for women who have a sensitivity to chemical additives and preservatives commonly found in water-based and silicone-based lubes.
Another notable property of oil-based lubes is that they are great for water play and sex in the shower or hot tub since they do not wash off easily. They also leave the skin feeling smooth and well-moisturized because they tend to last longer.
On the downside, oil-based sex lubes may increase the risk of vaginal and urinary tract infections in women, although there's no sufficient data that supports this claim. Furthermore, the oily property of oil-based lubes can easily stain your bedsheets and linens, so make sure to lay down a cover for protection.
There are two variants of oil-based lubricants.
1. Natural Oil-Based Lubricants.
Natural oil-based lubricants are usually found in your household. As a rule of thumb, if it's safe for you to eat it, it's also safe to apply it on your vulva and vagina. The same thing goes for oil-based lubes from natural sources because our bodies can clear out natural oils more efficiently than lubes made of petroleum.
Natural oils like grapeseed, jojoba, and apricot also have thinner consistency; and are therefore suitable for vaginal sex than other types of oil.
Examples of Natural Oil-Based Lubricants: Olive oil, butter, avocado oil, sunflower oil, peanut oil, corn oil, palm oil, and vegetable oil.
Pros: Ideal for body and genital massage, great for masturbation, generally safe for vaginal application, edible, suitable for all types of sexual activities, cheaper alternative, and easily available in the household.
Cons: Can damage latex condoms; easily stains linens and fabrics; leaves a slippery and greasy after-feel.
2. Synthetic Oil-Based Lubricants.
Synthetic oil-based lubes are thicker, smoother, and more slippery. They usually take longer to clear out of the skin than natural oil-based lubes. Unlike natural oils, synthetic oil-based lubricants are not safe to eat and may trigger some form of skin allergies or irritation among those with very sensitive skin.
Examples of Synthetic Oil-Based Lubricants: Mineral oil, body lotions and creams, Vaseline, Stoke 29, Jack Jelly, and baby oil.
Pros: Suitable for external masturbation and body massage during foreplay.
Cons: May cause irritation to the vulva and vaginal tissues of women with sensitivity to oil products; can easily damage latex condoms and stain the bedsheets; leaves a sticky texture that lasts long.
Silicone Lubricants
If you're looking for a lubricant that lasts for a long time, offers a silky feel, suitable for sex in the water, and safe to use with latex condoms, a silicone lubricant is your best choice. The only downside to using silicone lubes is that they are not suitable with silicone sex toys, and we know that most sex toys are made of silicone material.
Unfortunately, silicone lubes can damage the surface of your silicone sex toy, which is why you'll have to pass on this type of lube if your sex toy is made of silicone material.
The good thing about silicone-based lubes is that most of them do not contain preservatives and are safe on the skin. They also leave a moisturizing effect. Most silicone lube brands are tested by dermatologists to ensure their safety.
Among all types of sex lubes, silicone lubricants last the longest and are specifically recommended for women suffering from genital pain during sex and chronic vaginal dryness. They are generally safe, hypoallergenic, and not associated with serious health risks.
The reason is that they do not penetrate through the skin. Finally, it is worth noting that silicone lubricant is different from the type of silicone used in breast enlargement procedures.
Silicone-based lubes stay on the skin longer than water-based sex lubes. They also don't rinse off as easily. To ensure maximum safety and benefits, women should rinse off any silicone lube residue from the vagina immediately after sex.
Examples of Silicone Lubricants: Wet Platinum Premium Body Glide, Astroglide Diamond Silicone Gel, Gun Oil Personal Silicone, Astroglide X Premium, Pjur Back Door, Turn On Silicone-Based Sex Lube, Slippery Stuff, Eros, and Silicone-Based Healthy Vibes.
Pros: Slippery, great for anal sex, will not damage latex condoms, works well even on wet environments and underwater, odorless, tasteless, and don't evaporate quickly like water-based lubricants (may last three times longer than water-based lubes); most silicone-based lubes are free from glycols and glycerin (make sure to check the label to verify).
Cons: Can easily damage sex toys made of silicone and CyberSkin, leaves a sticky after-feel against the skin, and doesn't wash off easily (requires soap and water to clean up); more expensive than other types of personal lubes and not easily available in local stores and pharmacies.
Petroleum-Based Products
Petroleum jelly is an oil-based substance that people use to moisturize, treat, and soften dry skin. Although it works as a personal lubricant and may be useful with various sex toys, it can easily damage latex condoms, cause unintended pregnancy, and trigger vaginal infections.
Although petroleum-based products fall under the category of oil-based lubes, some individuals tend to view them as separate entities. In such a case, it's best to provide a clarification that the pros and cons of oil-based lubes are likewise applicable to petroleum-based products.
Examples of Petroleum-Based Products: Petroleum Jelly brands (Vaseline), Petroleum Jelly with skin moisturizer, Solimo Petroleum Jelly skin protectant, and Xtra Care Creamy Petroleum Jelly.
Pros: Heals dry skin, good for massages, and moisturizes the face, hands, and heels.
Cons: Breaks down latex condoms, difficult to clean and wash off, may cause irritation to the vagina by altering its pH levels, may trigger yeast infections, and introduce bacteria to the genitals; may leave stains on bed sheets and linens.
Who Can Benefit From Sex Lubes?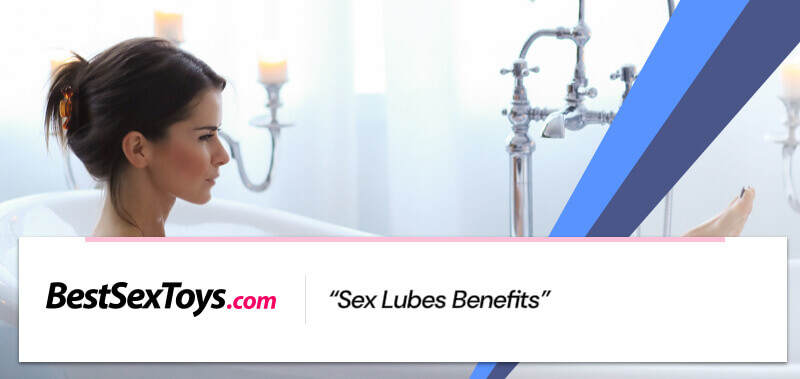 Couples and sex toy users need to understand the role of proper lubrication in comfortable and pleasurable sex. Partners can openly talk about the best ways to achieve a satisfying sexual relationship and consider the use of sex lubricants if natural lubrication is not enough.
In some cases, prolonging sexual foreplay can do the trick. However, this may not always work for everyone under some circumstances. To achieve the best experience in the bedroom and boost sexual enjoyment, both in partnered sex and solo play, sex lubes can often be a major necessity.
Let's discuss the different types of individuals that can benefit from using sex lubes;
Women
Lubricants are beneficial among women who are having issues with their natural lubrication leading to painful sex. It should be understood that for women, vaginal lubrication is an essential part of sexual arousal.
It signifies their readiness for vaginal penetration, making it easier for their partner's penis to enter. It also reduces friction that may trigger discomfort and irritation. For most women, inadequate lubrication causes pain during sex.
Women suffering from vaginal dryness could be facing some issues with their reproductive health. The most common is the menopause.
Therefore, menopausal women and those who are dealing with changes in their estrogen levels, can benefit from sex lubricants.
Other conditions that cause vaginal dryness are hormonal imbalance, certain medications and therapies, psychological factors, childbirth and lactation, prior surgeries, and cancer treatments.
Sex Toy Users
Sex toy users can benefit from personal lubricants to make solo play intensely satisfying. Here's how;
Couples
Couples can amplify their sexual experiences by using sex lubes. This particularly applies to women who cannot rely on their natural lubrication due to various reasons. The same goes for couples engaging in sensual foreplay, anal sex, Yoni massage (vaginal massage), and other forms of genital stimulation.
Among men who are using condoms, a water-based lubricant helps enhance pleasure and contributes to a smoother sensation. Moreover, lubes with a warming effect and other properties that magnify the sensation during sexual intercourse can significantly redefine a couple's sex life.
Adventurous couples that engage in extreme sexual activities such as fisting (inserting an entire hand or fist in the anus or vagina) need generous amounts of lubricant to facilitate muscle.
Sex Lubes

Reviews and Testimonials