The Best Sex Games
Sex Games
1-Year Warranty
Discounted Prices
Free Shipping
Worldwide Shipping
Discreet Billing and Shipping
Users' Favorite
Foreplay Games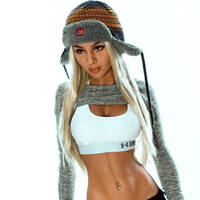 Height: 5.4ft
Material: Premium TPE
Anal Hole: Yes
Vaginal Hole: Yes
Mouth Hole: Yes
Skeleton: Aluminum Alloy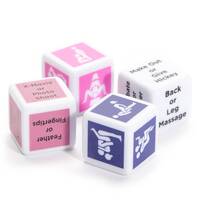 3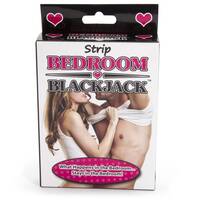 4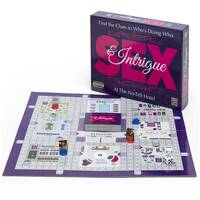 5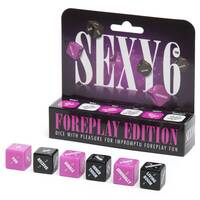 What Is a Sex Game?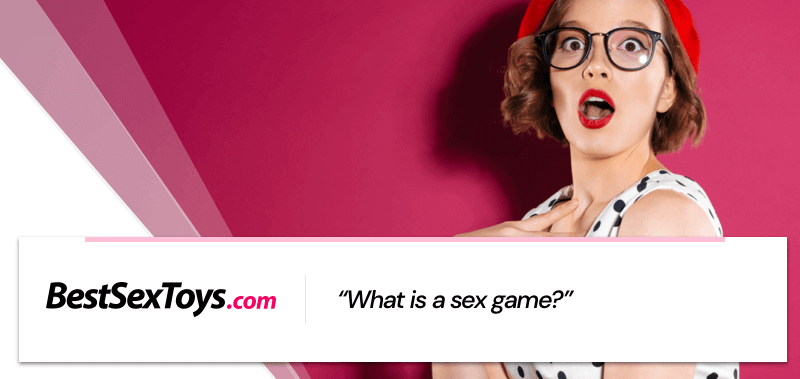 Sex Games are sexually-suggestive games, matches, or bets between two or more people to amplify the sexual atmosphere during a party or to simply have some naughty fun. A sex game varies in terms of rules, intensity, boundaries, and format or set-up.
It usually involves the use of sex dices, sex cards, board games, and other game paraphernalia. One classic type of a sexually-suggestive game is "Truth or Dare" wherein the rules and consequences depend mainly on the participants.
For couples and individuals that engage in sex-themed parties, sex games are meant to get people in the mood for sex and to prolong foreplay. The introduction of a Sex Game is a crafty way to boost everyone's mood, turn them on, and build up the heat in preparation for a wild and sexy activity. In such cases, the Sex Game serves as an introduction to an erotic engagement that lies ahead.
Still, it's highly notable that not all Sex Games lead to sexual activities among the participants. Some are mainly for adding some sexy and hilarious elements to an adult party to lighten up the mood, have a dose of laughter, and avoid awkward silences.
For some, Sex Games are intentionally-arranged to make the party more interesting and thrilling for everyone. It all depends on how, where, and when you would introduce the sex games during a party.
Common Sex Game Scenarios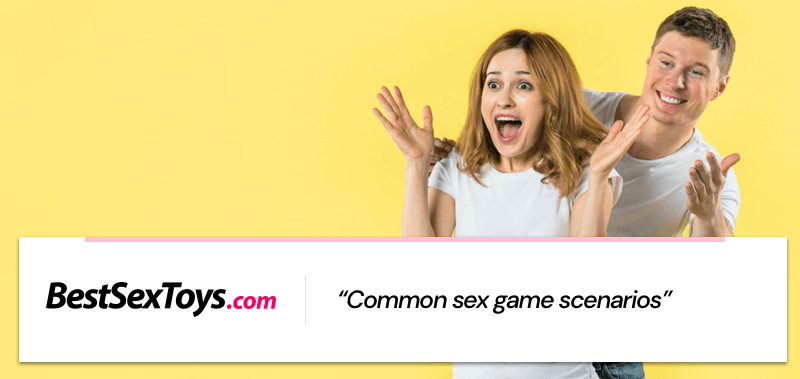 If you're wondering what makes Sex Games relevant and constructive, it would be interesting to figure out that there are practically many situations wherein they come in handy and useful.
Here are the most common scenarios where Sex Games are commonly used and implemented;
Couple Play
Couples who have difficulty thinking of new ways to spice up their sex life and prolong sexual foreplay can benefit from Sex Games. This is also one way to have fun and do some sexual experiment with your partner. For example, sex dices and sex cards can introduce interesting ideas to heat things up, extend foreplay, and try out new sex positions.
Threesome
Modern and adventurous singles that engage mainly in sexual relationships can have an enjoyable threesome with a game concept. Sex dices and sex cards can be useful in coming up with erotic ways to satisfy each other and get the wild fun rolling.
Moreover, playing sex games during a threesome creates a "fair trade" between the three parties involved.
Couples' Sex Party
A Couple's Sex Party or "Private Friends Party" is a social event that involves open-minded couples that know each other on different levels. Sex Games are suitably-used to liven up the party and get the attendees to find new partners through a process called "mix and match".
This enables each participant to find a new sexual interest for the night. The game could be anything that involves a series of question and answers, random matching, card game, or a compatibility test.
Swingers Party
Sex Games are quite common in a Swingers Party. This is a type of private event attended by couples who "may know or not know" each other and have a clear perception of what the party is all about.
The purpose is to socialize and interact with the other couples to find a new sex partner during the party or to engage in a sexual activity with other couples. To get the fun rolling, Sex Games serve as an introduction to clear the air, create a sexy atmosphere, and make everyone feel comfortable.
Orgy Party
An Orgy Party involves lots of random people that come together in a party primarily to have sex. It can be a twosome, threesome, or group sex. The people may or may not know each other, and the venue commonly refers to an "Orgy Dome".
Orgy Parties are quite common among young adults, gays, and gender-fluid individuals that enjoy random hook-ups. During the party, sex games serve as initiators to engage everyone to find a partner/s, warm-up activity, and get the party rolling.
Cuddle Party
A Cuddle Party is a sex-positive event where people practice cuddling, hugging, and consensual touching. The party is meant to create a positive gateway to sex for couples and individuals that seek romantic engagements.
Sex Games are specifically-used to make everyone feel comfortable, get rid of awkward silences, overcome shyness, and encourage participation.
What's the Purpose of Sex Games?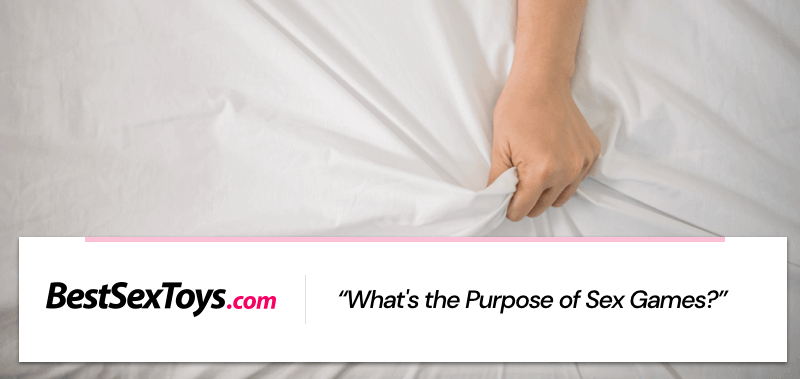 Sex Games are specifically-crafted to create a sexy atmosphere, promote a sensual vibe between sex partners, and add some naughty elements to a party. In its broadest sense, a Sex Game is meant to bring in loads of lustful and erotic ideas to spice up a rather ordinary party scenario.
The following can help you gain a better understanding about the different purposes of Sex Games;
For Married Couples
The purpose of Sex Games for married couples is to provide creative ideas to make foreplay and sex more exciting. Sex Games are meant to break sexual routines and monotony. Therefore, couples going through dry spells in their sex life can benefit from playing sexy adult games to overcome any sexual rut they might be going through.
Through various Sex Games, couples can gain new and crafty ideas to intensify foreplay, try out new sex positions, and become more resourceful in the bedroom.
For New Couples
The purpose of Sex Games for new couples and long-distance couples is to help them get to know more about each other. A Sex Game is a fun way to bond, discover new things about each other's personalities, and develop a sense of intimacy.
One example is Monogamy game board for adult couples. It is a two-player game specifically-designed for committed couples or those who are new in their relationship.
As the game progresses, the questions and challenges become more intimate and sexy. Other game ideas for new couples are the classic "Truth or Dare" and game cards.
For Parties
In every party, whether it's wholesome or sexual in nature, Sex Games can infuse a great deal of fun and excitement. The main purpose of Sex Games in adult parties is to give everyone a good laugh, magnify the sexual aspects of the event, and get the party started.
For example, Foreplay Dices are useful in giving ideas on what particular sexual act you're supposed to do with another person, while Sex Cards are fun to use when describing a specific sex position.
In Swingers Parties and Orgy Parties, Sex Games serve as fun-filled introductions to break the ice between the participants, suggest sex, and intensify the sexual vibe.
General Purpose
As a general purpose, Sex Games are creative and interesting presents to newlywed couples, friends, and relatives that are celebrating their anniversaries, and other couples honoring special occasions that mark their relationship.
A Sex Game serves as a unique and thoughtful gift that might turn out to be highly beneficial to a couple. Examples of Sex Games that make ideal naughty presents to couples are; Sex and Foreplay Dices, Talk Flirt Dare Card Game, Adult Loaded Questions Party Game, or Monogamy Board Game.
For Personal Use
The purpose of Sex Games for personal use is to satisfy your curiosity and to learn how the games work – just in case you'll end up playing them with friends at a party.
Perhaps you would want to create a sexy atmosphere in your crib by displaying Sex Dices on your end table. Without a doubt, Sex Games are meant to give you a dose of adult education in a fun and creative way.
How to Organize a Sex Game Party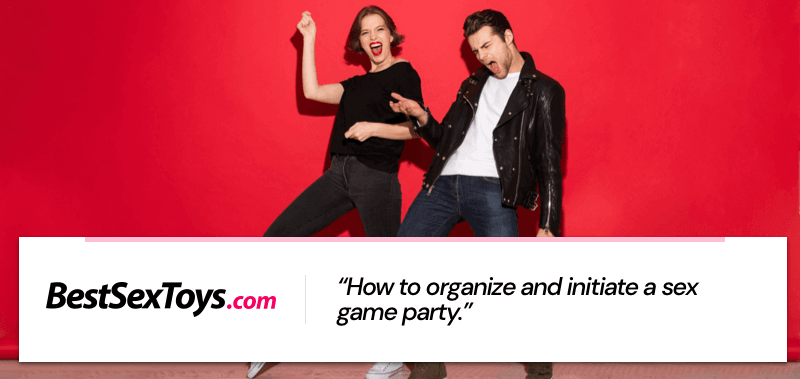 Sex Games are specifically designed for mature and open-minded individuals who have full awareness about the rules and consequences of the game.
However, there are some couples that make swift decisions to get into sex games with other couples (or people) in the heat of the moment only to suffer from a trail of regrets later on. This should not be the case – because Sex Games are merely for adult fun and entertainment alone.
Therefore, it should be understood that sex parties are merely fast-paced events that layout the cold facts about casual sex. To avoid having regrets later on, communication is a highly crucial aspect.
And if you're intention is to experience what a Sex Game party feels like, and your other half agrees to it, here are tips on how you can organize a sex party and convince your friends to join you for a sex game;
Discuss the plan. Discuss with your partner and determine how you intend to organize the event. The planning stage should include the date, venue, game rules, and boundaries that you need to set for yourself and everyone.
Decide the type of Sex Games party you want to achieve. It could be a Couples' Sex Party, Swingers' Party, Orgy Party, or a Cuddle Party, among many other party concepts.
Pick a Sex Game that matches your concept. This depends on how wild and intense the party is meant to be. You may use Foreplay Dices, Sex Dices, Sex Cards, or ordinary playing cards. You may also consider games such as Truth or Dare, Strip Poker, Sex Charades, and Body Shots drinking game.
Plan your guest list. Discuss with your partner who to invite and if your guests can bring a partner whom you don't know.
Create a teaser for the sex game party. Send out text messages and emails that provide "hints" about the event. This serves as an introduction to build-up everyone's curiosity and trigger anticipation about what's coming next. Use this as an opportunity to educate your guests about the concept of sex game parties.
Invite the people on your guest list. You may organize a casual meeting to discuss the party with them or send an email that contains the relevant details and rules of the event. Include an RSVP to confirm the number of attendees.
During the party, introduce a warm-up game to engage everyone. It could be Truth or Dare or Sexy Charades. Once the party has started to heat up, you may start rolling the Foreplay and Sex Dices to cue everyone to level up. Other game ideas for the next stage are Body Shots drinking game, Strip Poker, and Strip Twister.
How to Introduce Sex Games During a Party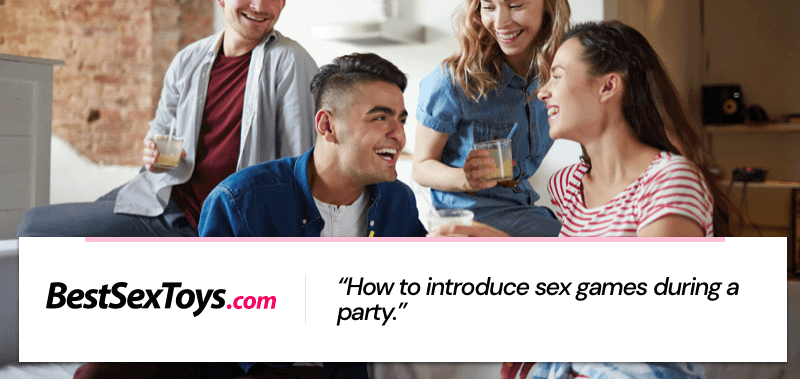 During Sex Games parties or "pleasure parties", the host and organizers introduce different kinds of sexual paraphernalia like sex toys, condoms, lubricants, sex cards, and sex dices. Such events are always full of guests with various goals and expectations.
The sex games contribute to the most exciting part and are meant to heighten the sexual vibe. Planning the games also keeps the party alive and encourages interaction between the guests – and gives everyone a chance to make new friends and find sex partners.
To initiate the most exciting part and the very essence of the party, introducing the sex games to the guests is a crucial point. Creativity and energy are important to sustain the mood and liven up the guests' energy.
Therefore, the hosts and organizers must come up with a catchy and creative way to heat things up in the venue and get everyone in the mood for a wild fun with the other guests.
Here are basic ideas on how to introduce sex games in a party;
1. Call Out the Guests' Attention.
At the start of the party, everyone is already aware about the concept of the event. The challenge lies in keeping up with the momentum and magnifying the erotic atmosphere.
How can you call out the guests' attention? What's the best way to give hints about the sex games? Here are some ideas to make sure that the guests' eyes and ears are on you.
Use sex toys as props to create a greater impact
Divide guests into two groups if necessary
Encourage participation by allowing everyone to take turns
2. Introduce a Sex Game.
Whatever sex game that you might have in mind, give yourself the liberty to discuss it in full detail. Be lively and entertaining enough to give everyone a good laugh.
Some of the games you can introduce at sex parties are Dirty Charades, Body Shots Drinking Game, Spin-the-Bottle, and Stripping Games. Here are some ideas on how to introduce a sex game to the guests;
Discuss the mechanics, rules, and guidelines
Discuss the consequences for the losing team
Ask someone to demonstrate the game as a sample
3. Fun and Naughty Warm-Up Activities.
Think of fun and creative warm-up activities to make each one feel comfortable with the other guests. These warm-up activities are also meant to build up the excitement for everyone and to break awkward silences. They offer exciting means for the guests to get acquainted with each other and to promote sexual attraction.
2 Truths and a Lie. If you're hosting a small group of guests, you may ask everyone to casually introduce themselves and mention 3 things which consist of 2 truths and 1 lie. The rest of the group should guess which of the three things is "lie".
Spin-the-Bottle with a Twist. Some sex parties use a wand vibrator instead of a bottle to mimic the classic game Spin-the-Bottle. The guests can take turns spinning the vibrator. The game starts as the guests arrange themselves in a circle. Someone starts the game by spinning the vibrator; and must command an action or ask a dirty question to the person to whom the vibrator points the moment it stops spinning. After performing the "consequence", that person spins the vibrator again to take advantage of his/her turn to command or ask a question to the next person that the vibrator points to.
Truth or Dare. Another warm-up activity for sex games and parties is the classic Truth or Dare. The guests pass a sex toy from one person to another as loud music plays. Somebody is tasked to randomly stop the music without looking at the guests as they hold and pass on the sex toy. The person holding the sex toy when the music stops becomes the subject of the game. He/she has to choose between answering a question honestly (Truth) and doing a task (Dare).
4. Level-Up.
When the party starts to heat up, and everyone is ready to get wild and naughty, it's time to level-up the game. Level-up games are sexier and more physical in nature. They have touchy elements that hold no bounds or restrictions. Some level-up games are meant to turn the guests on and make them run to the nearest private room with their partner.
3 Examples of level-up games are:
Body Shots Drinking Game: Involves Foreplay Dices and Sex Dices wherein the participants have to perform an action (lick, kiss, or suck) to a pre-salted body part (neck, lips, or chest).
Sex Cards: The guests (couples or individuals) have to randomly pick up a card that shows different sex positions or erotic acts. The task is to demonstrate the sex position or what's in the card in front of everyone.
Stripping Game: The guests are divided into two or more teams. The game encourages everyone to form a clothesline by stripping off their clothes and laying them on the floor. The team that ends up forming the longest clothesline wins and gains the authority to ask the losing team members to perform a sexy consequence for them.
The Most Common Sex Games for Parties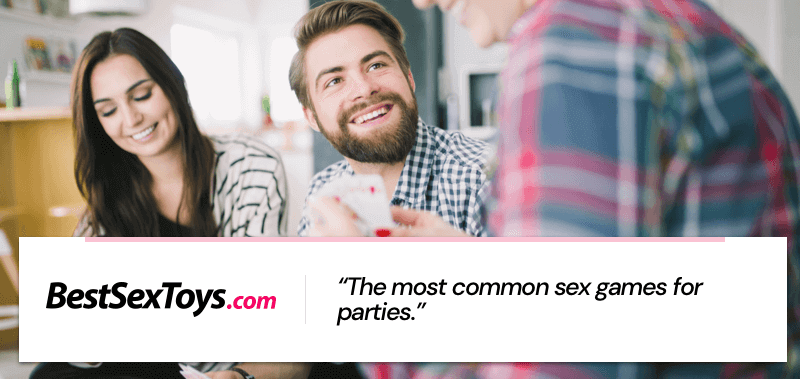 When adults go to parties and play games, expect things to get wild and naughty in a whim. For some, a good dose of laughter is enough to liven up the mood.
However, some adult parties can go beyond the ordinary and escalate into random sexual encounters. But let's face it. Everybody loves adult games with a notoriously sexy twist because that's what makes the event a party!
Here are great ideas of naughty Sex Games to play that can make you and your partner, or the entire crowd, go wild and crazy. Introduce these sexy games during a party to fill the room with laughter and energy.
1. Truth or Dare.
Fearlessly answer steamy questions or dare to do something wild. This classic game with an adult twist never fails to liven up a party. Use Sex Cards such as Adult Loaded Questions to play the game, and you'll never run out of naughty questions to ask.
2. Body Shots Drinking Game.
Roll the Foreplay Dice to reveal an action and a certain body part. Take a drink from a shot glass and perform the action on a pre-salted body part that corresponds to the dices, then take a lime/lemon wedge with your mouth from the person's mouth, who's giving the body shot. Examples of dice combinations are; lick and chest, suck and neck, or kiss and thigh, among others.
3. Strip Twister.
This is similar to the usual Twister game but with a naughty twist. Whenever someone loses balance, falls off, or makes a mistake during the game, they must take off a piece of clothing. This game requires physical exertion and is quite tricky, but it's all about having loads of laughter while exploring and touching each other's bodies, making every participant vulnerable.
4. Sexy Charades.
Divide the guests into two teams. Each team member has to take turns acting out a sex position, naughty word, or erotic fantasy. Let the others make wild guesses as one person acts it out under time pressure. The team that makes the most correct guesses wins the game. A consequence awaits the losing team. Use Sex Cards like Dirty Charades or Sex Dices to feed the game with different ideas.
5. Sexy Game Cards.
Pick a card and do exactly what it says or answer the question. There are a variety of adult game cards specifically-designed for Sex Parties and Couple Parties. They are meant to give everyone a good laugh while amplifying the sexual atmosphere.
Examples of Sexy Game Cards for Couples and Swinger Parties are; PlayMonster 5-Second Rule Uncensored Game and Talk Flirt Dare Game Cards.
6. Guess the Word.
Play with friends and other couples to discover how sexually-suggestive clues can lead to the cleanest and most innocent answers – but only until you have figured out how dirty everyone's mind is.
Get everyone to think out of the box and make wild guesses as you read out naughty clues. The first one to collect all 5 game cards that spell out dirty wins.
7. Scratch Cards.
Scratch a card and find out what to do with your sex partner. Each card has four different sections, which are Action, Location, and Time, plus a surprise Bonus. Scratch one heart for each section to reveal three different words and enjoy a spontaneous moment of foreplay, intimacy, or sex by following the combination. Sample combinations are; "Hands-only – Car – 1 Minute" and "Oral Sex – Garden – 3 Minutes".
Sex Games for Couples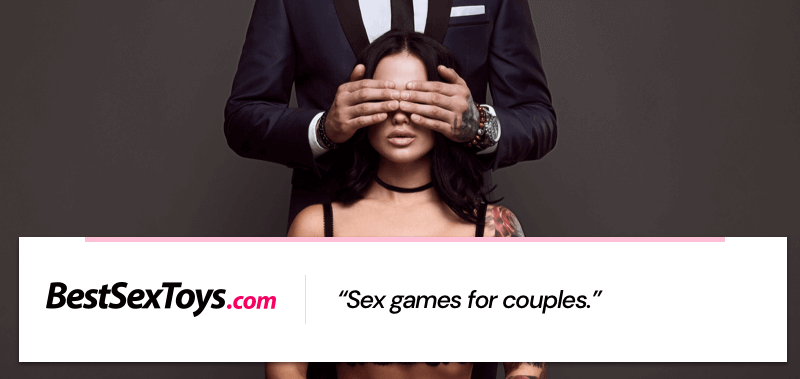 Whether you have an intimate party for two with your partner or hosting a Swingers Party, you can benefit from Sex Games to amplify the erotic vibe. Sex Games for couples have a wide spectrum from simple to complex. Start by picking out elaborate and sexually-suggestive games and some cheap sex toys for props from sex stores.
Most couples find commercially available games interesting and attractive enough to set the stage for a wild fun with other friends and couples. Sex Games actually help in easing out the nervousness and awkwardness in a Swingers Party or Couples' Sex Party. You may also adjust the rules and guidelines to everyone's comfort level.
The following are Sex Games that you can play with your partner or with other couples. Ideally, an intimate party of up to 4 couples is enough to keep the event fun, exclusive, and private.
1. Sensory Game.
Put your partner on a blindfold and use different materials to tease, stimulate, and turn them on. To intensify the experience, tie both hands as you introduce different stimuli.
Some of the materials you can use to tease and test your partner's sensory perception and sensitivity are feathers, ice, fur, silky ropes, metal, different fabric textures, back scratcher, vibrating sex toys, and toothbrush among others.
2. Strip Poker.
Play with your partner or with other couples. You can start the game fully dressed-up and end it half-naked. Remove a piece of clothing every time a player loses a hand. Level-up the game by performing seductive acts while half-naked.
3. Monogamy.
This is a board game that you can play as a couple for an intimate moment together. Monogamy encourages romantic couples to know more about each other and boost their sex life by trying out new things together. The game features steamy questions and sexy challenges to ignite the passion with over 400 ideas and three different play levels.
4. Truth or Dare for Couples Card Game.
This is a great after-dinner game and amusement for Swingers Parties. Truth or Dare for Couples consists of 50 questions and sexy challenges to initiate a wild and naughty night with other couples.
An example of a "Dare" is to let your partner remove one piece of clothing from you. The game cards also include prompts for conversations, icebreakers, and sexy trivia.
Party Venues for Sex Games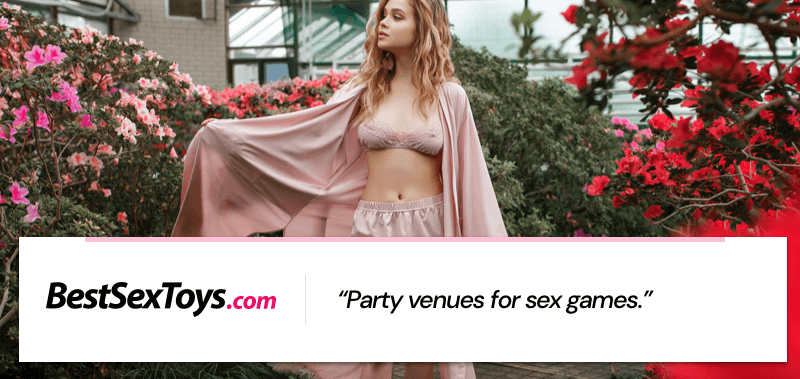 There are different party venues for Sex Games, depending on how intense or how wild the party is well-expected to turn out. Ideally, since sex parties are "closed-door" events, the number of attendees is planned out in advance by the organizers to anticipate the headcount, logistics, and venue's size.
The venues are usually private and kept in "secretive" places where there's little to no chance of being discovered by intruders and outsiders.
Moreover, depending on the type of sex party and the number of expected guests, the venue is suitably-customized accordingly to conform to certain requirements. The following are the most common venues for Sex Game Parties;
Private Homes
Individuals or couples may host sex game parties in their own homes. Some of the most important factors to consider are; proximity to the neighbors, homeowners' rules and guidelines, noise level, and parking space for guests.
Sex parties that are specifically-organized in private homes are usually exclusive and involve only a small number of invited guests with pre-defined rules and arrangements.
Hotel Suites
Sex game parties that offer exclusive access to only a few and selected guests are usually held in a hotel suite or penthouse. Hotel suites are fairly common and discreet party venues for those who prefer a "secretive party" for a limited number of people only such as a Couples' Sex Party, Threesome Party, and exclusive Orgy Party.
Private Yachts
Elite sex party organizers that want to amplify the exclusivity and privacy of their event prefer to rent private yachts. This party concept redefines the experience itself and allows the guests to relish a slight detachment from everyone else while engaging in some wild fun on their own terms.
Moreover, the idea of being in a sex party while sailing on the sea also creates a sense of freedom and romance for everyone on board as it sets the mood for a sensual adventure.
Orgy Domes
Orgy Domes refer to sex party venues where random people meet to have sex. For sex party enthusiasts, an Orgy Dome is a general term that is specifically used to describe a particular place which can either be a house, an abandoned building, a secret room or chamber, an apartment, or a hotel room. Modern concepts of Orgy Domes refer to a specific place where sex parties are regularly held and organized.
Bars and Clubs
For people seeking out events involving open-minded partygoers and where hardcore naughty play is well-encouraged, bars and clubs are absolute go-to places. Bars and clubs are common sex party places where you can have your fair share of illicit fun.
Although they are more popular among the third-sex population and gender fluid individuals, straight people have come up with their own undisclosed version of sex parties with a handful of sex games.
How to Get Ready for a Sex Game Party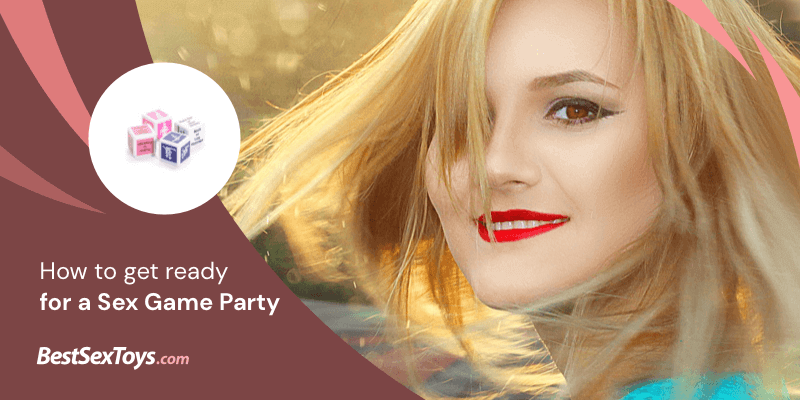 Sex parties are social events where people attend to either watch or take part in sexual activities. In most cases, partygoers participate in such naughty parties to satisfy their sexual curiosity or engage in sex.
What makes Sex Games parties exciting is that the people already know what to expect and what's bound to happen after the fun and games. There is also a strong anticipation to have sex with any of the guests as things get wild and heated up during the event.
If you're a sex party beginner, we can offer you the basics on how to prepare for sex games and different ways to enjoy the experience.
1. Work on Your Personal Hygiene.
Take your time to work on your personal hygiene before attending a sex party to create a good impression. During a sex game, you might have a close encounter with the other guests, and it's always a plus factor to smell and look clean.
Just like any other party wherein some people try their luck to search for a date, a sex game party is also meant to connect the guests – but instead of aiming for dates, they level up to sex. And this is reason enough for you to put hygiene right on top of your list.
2. Bring Some Protection.
If you're going to attend a Sex Games party, make it a point to bring with you some protection. As a general rule, people that host Sex Parties and Sex Games provide condoms to their guests at the entrance.
But it doesn't hurt to be on the safe side of things for your own benefit. So bring your own protection to anticipate those "just in case" circumstances.
3. Dress Appropriately.
Get to know the theme of the party and dress accordingly. The last thing you'd want to happen is to get out-of-place due to your outfit or to stand out for all the wrong reasons. So dress appropriately and accordingly, or just make an effort to look good.
Try to get as much information as you can about the event to plan on what to wear. Here's a tip; sex games parties usually require guests to wear normal and decent clothes that are not too revealing and allow free movement. And lastly, make it a point to dress nice and sexy undergarments.
4. Mind Conditioning.
A Sex Games Party is literally what it is, and people attend to these events for the naughty games, adult fun, and sex. Try to manage your expectations by conditioning your mind on what's bound to happen during the party's course. Practice open-mindedness, don't judge the guests, and understand the general concept of a sex-themed party.
5. Know the Rules.
Don't attend a Sex Games party without a clear understanding of the event's rules and consequences. Be aware that not all sex parties are the same. Some are specifically designed for singles, couples, and swingers, while others are for gays, lesbians, and gender-fluid society.
Take your time to know the rules of the party to know what to expect and to make the necessary preparations.
6. Set Your Boundaries.
Not all sex parties are hardcore and vulgar like Orgy Parties. Some are suitably designed for normal individuals who want to have a sense of adventure through sexual exploration or by simply flirting and cuddling with another person. There are also some who attend sex parties mainly for the fun and games, and have no intention to engage in sexual activities.
Whatever your reasons are for attending a sex games party, make it a point to set your boundaries. This can spare you from being haunted by regrets later on. Maintaining your boundaries can prevent you from engaging in activities that make you feel uncomfortable and are against your will.
7. Propose Games.
Depending on how much knowledge and experience you have when it comes to Sex Game parties, you can coordinate your ideas with the host or organizers. You may propose fun and interesting games to play or share new ideas to boost everyone's experience. Some games you can suggest are; Lovehoney Sexploration Cards, Tracy Cox Hot Sex Deck, and Dirty Charades.
8. Be Selective With Your Sex Partner.
Choose someone you're comfortable with making out and having sex with. Don't just settle for anyone in an attempt to go with the flow. Attending a sex games party doesn't necessarily mean that you're under obligation to have sex with anyone, even if it's against your will.
If you're not comfortable making out and getting intimate with anyone, you can always join the spectator's bandwagon and enjoy the party.
Rules for Sex Game Parties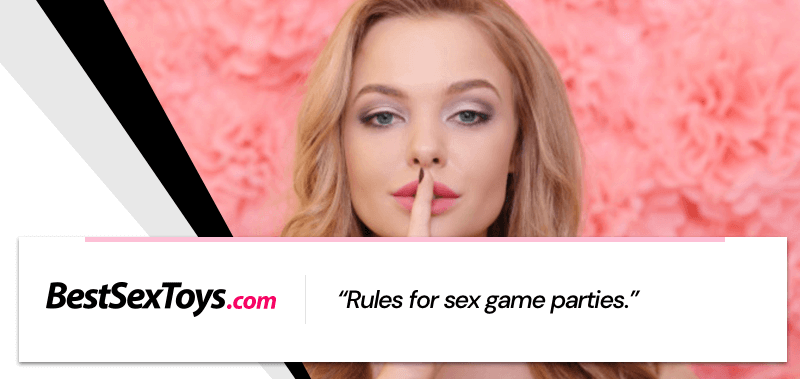 Sex Games parties are exclusive closed-door and adult events that are not meant to be shared or taken out publicly. So if you're attending a sex game party, skip that part wherein you share your activities and whereabouts on social media because there are strict rules that apply to everyone. And there are no exceptions.
For starters, it is worth noting that Sex Game parties are private events that follow specific guidelines that are comparable to social graces and etiquette. Whatever happens within the walls and bounds of the party venue is meant to start and end right there.
The following are the general rules of Sex Game parties;
1. Make Your Contribution.
Contribute something to the party (unless the invitation and rules state otherwise). Try to practice basic social graces when attending sex parties by bringing anything such as food, drinks, alcohol, and sex games. This applies explicitly to Couples' Sex Parties and Swinger Parties.
2. Leave Phones and Cameras at the Entrance.
Regardless of what type of Sex Games party or pleasure party you are attending, guests must leave their phones and cameras at the entrance. This basic rule ensures the party's privacy and confidentiality and prevents anyone from intentionally or accidentally leaking out the details of the party.
Moreover, leaving the phones and cameras at the entrance allows everyone to focus on having a good time without distractions or having to worry about phone calls and text messages.
3. Respect Individual Choices and Boundaries.
Not all people that attend sex parties end up having sex during the party. Some become essential parts of the audience and act as cheerleaders during the game, while others are simply there to flirt, make out, and party. Respect these choices.
Just the same, if you don't have the urge to engage in a sexual activity with anyone at the party, be aware that sex is not mandatory, and no one has the authority to force you. However, it doesn't necessarily mean that you have to prevent anyone from having sex, even if they want to.
You simply have to understand that everyone is free to choose when attending a sex game or sex party.
4. Always Ask for Consent.
Sex Games have rules. And sometimes, these rules go beyond a person's comfort level. If you feel that your partner is starting to feel uncomfortable with what is going on and things are getting too far, ask for consent before proceeding.
Asking for consent is one way of showing respect and offering reassurance. It can also prevent you from crossing any boundaries that the other person might have. Keep in mind that sex games and parties only encourage consensual sex.
5. Allow People to Leave.
During a sex game, some people may feel that the event is too much for them to handle. This is quite common among sex game beginners. Allow them to leave if they feel uncomfortable or if the rules no longer conform to their values and morals.
Participating in a sex game and attending sex parties is a mature decision that requires an open mind and a broader understanding of sex. If some people want to pull back, allow them to leave the party and casually remind them about the privacy rules.
6. Use Protection.
If you decide to give in and go all the way, make it a point to use protection no matter how exciting things get during the party. It's easy to get caught up in the heat of the moment, but keep your presence of mind and go for protected sex. The last thing you'd want to happen is to create a string of complications from one night of wild partying.
7. Keep Things Private.
Do not mention to anyone outside of the group what took place within the party. Respect the confidentiality of the event and the privacy of the guests. It doesn't matter whether you had good or bad experiences during the party.
The most important thing to keep in mind is to avoid talking about the party to anyone or sharing your thoughts on social media. Also, avoid discussing to others what happened within the venue and who were there at that time.
8. Mute Thoughts About the Event.
In any case, you run into one of the guests in a public place, don't talk about the sex games and party. It's perfectly natural to engage in a casual chat and random discussion, but avoid talking about taboo topics involving the sex games.
As a general rule, what happens within the party must end and dissipate as soon as the party is over. So stay mum about it and try your best to act casually when meeting people from the party.
Where to Buy Sex Games for Parties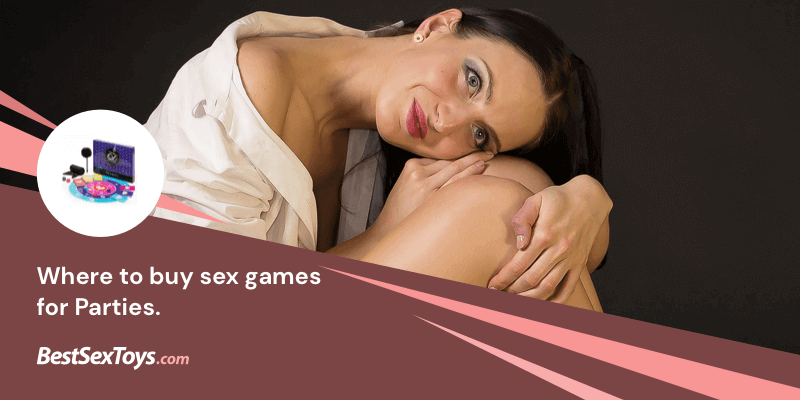 There are different ways to acquire Sex Games resources and paraphernalia. You just have to search in the right places. Depending on how bold and fierce you are in terms of inquiring and buying sexy items, you can explore various options.
Here are some sources of Sex Games you can consider;
Local Sex Stores
If you know a local sex store near you, consider it an opportunity to get up close and personal with a variety of adult Sex Games and cheap sex toys. Sex stores usually offer a wide variety of products to satisfy various kinks regardless of how naughty and bizarre they are.
So if you're bold enough to step into a local sex store and step out with a package in hand, then this is a suitable place where you can buy your Sex Game of choice.
Game Stores
Shops that sell a variety of game items and accessories may have adult Sex Games in their inventory, such as sex cards, adult board games, and sex dice. Just approach a sales clerk and inquire if they have your choice of Sex Game.
If the shop is extensive and flexible enough to offer different types of games across the board, then you might be at the right place to view a selection of Sex Games.
Online Selling Platforms
One of the easiest and most practical ways to search for Sex Games resources is through online selling platforms. You'll find various types of sex games and other related items within just a few clicks and without doing any leg work.
Best of all, you'll come across product descriptions and reviews to satisfy your need for information and serve as reference points.
Online Sex Toy Shops
Online sex toy shops such as BestSexToys.com offers a variety of Sex Games suitable for individuals, couples, and parties. You may also view other products related to your search to enable you to land at the best choice.
BestSexToys also offers accurate product descriptions and credible sex toys reviews to extend safe and convenient shopping solutions to all its customers. Other services you can expect are secure check-out, discreet billing and packaging, worldwide shipping, and reliable customer service.
The Takeaway: Are Sex Games Parties for You?
Remember that life is all about experiencing and learning new things, and sex games can be part of the process. Parties the have Sex Games offer a good place to start your sexual exploration.
And just as long as you're secure and confident enough with your sexuality and you have the willingness to loosen up and try out bolder things, you might find sex parties fun and exciting. And on a sexy note, looking good in your underwear may be a good reason to strip off your clothes and flaunt your assets.
To keep you well-grounded, you must understand your own limits and respect other people's preferences as well. Know that you're not obligated to have sex with someone if you don't want to. These basic rules can give you a sense of certainty about sex games and contribute to your enjoyment.
Keep in mind that your safety must be your top priority at all times. Always bring protection, and you won't live to regret your choices.
And lastly, if you feel that sex parties are not for you, don't feel bad about it and just charge it to experience.
There are many other activities and social events that you can try out that fit your standards. Or perhaps, there are still many things that you ought to learn about sex parties and sex games. So take things in strides, because what's not working for you right now may eventually work out sooner or later.
Sex Games

Reviews and Testimonials