Tail Butt Plugs
Didn't find what you are looking for?
View All
Best 7 Tail Butt Plugs in 2023
1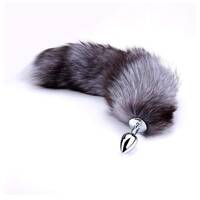 Material: Metal, Silicone
Length: 40 cm. (15.7")
Width: 3 cm. (1.18")
Color: Gray
2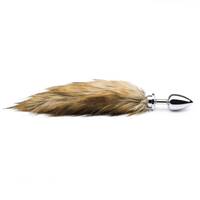 2
Circumference: 5 inches
Insertable Length: 4 inches
Length: 16.5 inches
Flexibility: Rigid
Material: Metal
Waterproof: Splashproof
Allergens: Phthalate-Free
3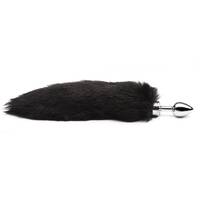 2
Circumference: 3.75 inches
Insertable Length: 3 inches
Length: 14.5 inches
Flexibility: Rigid
Material: Metal
Waterproof: Splashproof
Allergens: Latex-Free
4
Discounted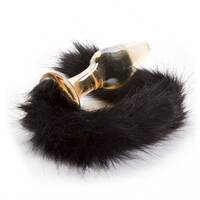 2
Circumference: 5 inches
Insertable Length: 4 inches
Length: 15.5 inches
Flexibility: Rigid
Material: Glass
Waterproof: Splashproof
Allergens: Latex-Free
5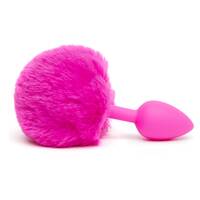 2
Circumference: 3.5 inches
Insertable Length: 2.5 inches
Length: 5 inches
Flexibility: Flexible
Material: Silicone
Waterproof: Splashproof
Allergens: Phthalate-Free
6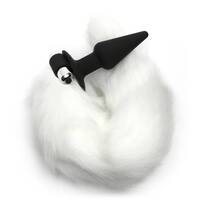 2
Silicone Butt Plug 4 inch
Battery Info: 3 x LR44 batteries
Power Type: Batteries (included)
Vibration speed: Single speed
Circumference: 4.5 inches
Insertable Length: 4 inches
Length: 20 inches
Flexibility: Firm
Material: Silicone
Waterproof: Splashproof
Allergens: Latex-Free
7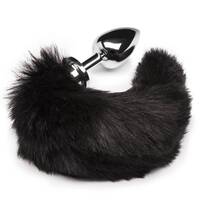 2
Circumference: 5 inches
Insertable Length: 4 inches
Length: 16.5 inches
Flexibility: Rigid
Material: Metal
Waterproof: Splashproof
Allergens: Latex-Free
We have more
Tail Butt Plugs
View All
As seen on
What Is a Tail Butt Plug?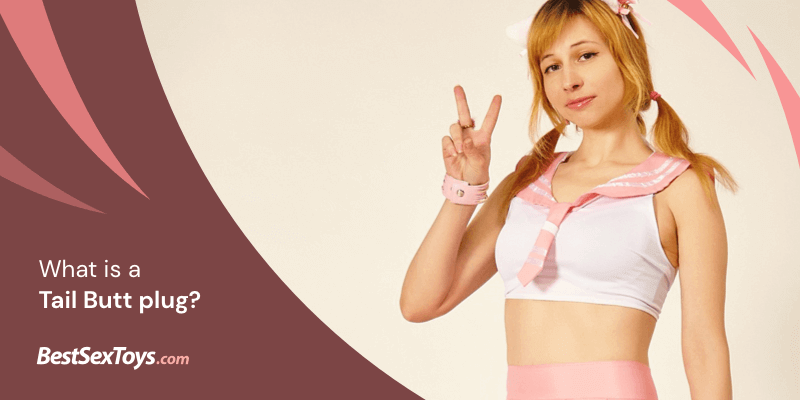 A tail butt plug is a smoothly shaped plug that is inserted into the anus using lubrication with a fake tail attached to the outer end. In comparison, a basic butt plug is inserted into the anus with lubrication and has a flat round base or handle that allows for the butt plug to be removed after use.
A tail butt plug doesn't have a handle but can have any kind of tail imaginable attached to the outer end of the butt plug. When inserted, tail butt plugs make the tail look like it is coming out of the wearer's body. This appearance makes tail butt plugs a great addition to sexual fantasies and hot and heavy roleplaying games.
If roleplaying is something you enjoy or want to try, your imagination and fantasies can come to life with a sultry vixen, a magical unicorn, a sexy kitten, or a ravenous wolf. The physical appeal of a butt plug when having sex is the extra pressure it creates with anal stimulation. For women, a butt plug can be used to give the feeling of double penetration during sex. For men, a butt plug stimulates the prostate gland.
This stimulation feels wonderful as the prostate gland plays a role in the process of ejaculation. Stimulating the prostate gland can also help a man have stronger erections and even more mindblowing orgasms. This is just the basic appeal of enjoying the penetrative pleasure of a tail butt plug.
If you are curious and want to try a tail butt plug on your own for the first time, masturbation with a tail butt plug is a great way to explore your body and develop confidence in using this toy before introducing it to a partner.
Types of Tail Butt Plugs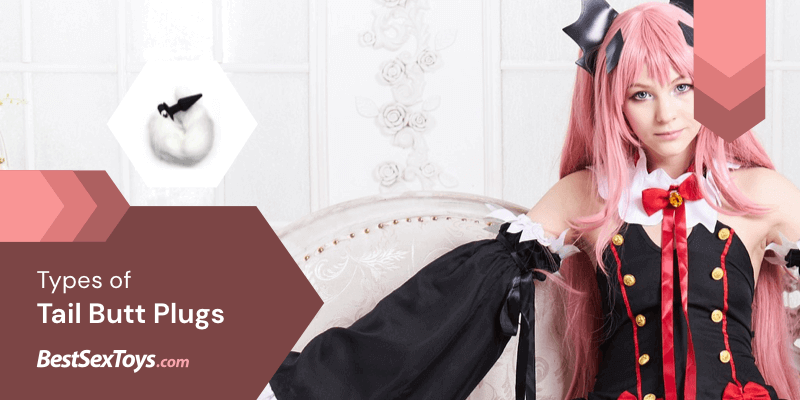 There is a very large variety of tail butt plugs, starting with the kinds of tails. Almost any kind of animal tail is available as a butt plug. Some notable categories are fox, wolf, raccoon, cat, puppy, pony, unicorn, bunny, and even pig.
There are even some very exceptional rainbow-colored tails with LED lights that will provide a glow-in-the-dark fantasy. These tails are all available in carrying lengths; for example, the bunny tail is a cute puff, but the ponytail is long, elegant tails that mimic a horse's.
For those who like to play with their dark side, there are even devil-tail butt plugs that can put you in touch with your inner sex demon. The fantasy doesn't stop there, so if there is a mythical or real creature with a tail you'd like to copy for some kinky copulation, there will be the right one out there for you.
What to Consider When Buying Your First Tail Butt Plug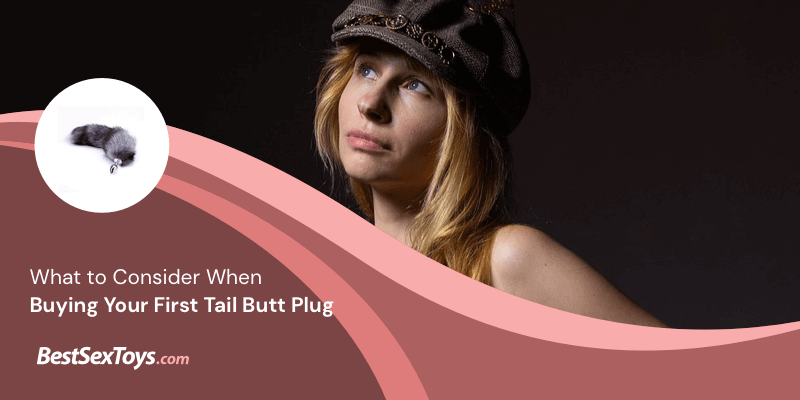 1. Your Level of Experience With Anal Play.
If you have never experienced anal penetration before, it is important to take it slowly the first time. Because the anus does not generate any lubrication naturally, you will need to use lubrication. The first step in anal play is choosing the correct lubrication for the toy you will use.
Then using your fingers, become comfortable with penetration into your anus. Do this by applying a generous amount of lubrication to your fingers and slowly, gently become comfortable with placing a finger inside your anus.
After becoming comfortable with inserting a finger into your anus, use lube to try a beginner butt plug with a small diameter. A good starting size example is this slim, beginner butt plug.
If you have already had some experience with anal play, you should already know the size of the object you are comfortable having inserted into your anus. Make sure you choose a tail butt plug that is a comfortable size for you because you may want to wear your tail butt plug for quite a while.
If you want to wear a tail butt plug for 2 – 3 hours or even longer, it can become uncomfortable if the butt plug is a lot bigger than what you have gotten comfortable with previously.
2. Sizes of Tail Butt Plugs.
You can choose the size of your butt plug and the length of your tail for the full penetrative fantasy effect. As mentioned previously, there are clearly marked "beginners" butt plugs suited in size and shape to those who are just starting their anal exploration.
Starting at 1.5″ in diameter and increasing in size to about 2.8″ in diameter, you can choose a size to suit you.
The tail's length can range from a cute 2″ puffball to a super luxurious 40″ tail.
3. Materials Used in Tail Butt Plugs.
For the anal plug of a tail butt plug, the easiest maintenance materials are silicone, Pyrex, and stainless steel, as all of these materials are non-porous. Bacteria will not enter non-porous materials, which makes them safer to use. These are also materials that can be washed at high temperatures.
Pyrex and stainless steel can even be washed in boiling water, but this extreme temperature should not be used for silicone. It is possible to have anal toys made of porous materials like hard plastic, but these need to be washed immediately after use with warm, soapy water. If you want to share your butt plug, it is highly advisable to get a non-porous option.
Many people prefer to use non-porous materials for anal play as there are bacteria in the anus and rectum that would be detrimental to your health or your partner's health if they were to enter other parts of the body.
Many tails on butt plugs are made from faux fur or faux leather, meaning the material is synthetic. This is because faux fur has become highly sophisticated with new technology making it super soft and hyper-realistic.
Because synthetic fur can be fully submerged to be cleaned and real fur cannot, it's much easier to maintain a high level of hygiene with synthetic tails.
With real fur, there are ethical and health, and safety concerns due to animal fur farming commonly resulting in neglect and diseases that can then affect humans. Faux fur also doesn't carry the risk of allergies that people may not even know they have and is more affordable.
How to Use a Tail Butt Plug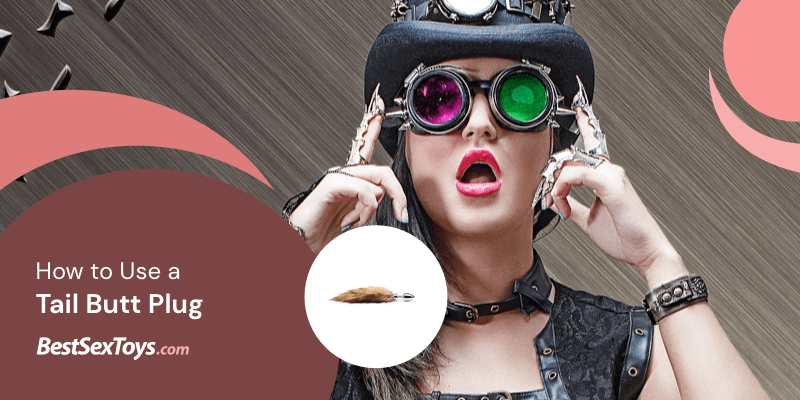 1. Lubrication Is Essential.
So you have chosen your first tail butt plug, and you want to give it a try on your own first to make sure you can make a sexy bedroom debut with your new toy. This is best to do with a generous amount of lubrication. The lubrication you choose to use depends on the material of the butt plug you have.
If you have a Pyrex or a stainless steel butt plug, you can use a silicone lube that will stay wet and slippery for a long duration. If you have chosen a silicone butt plug, you will need to use a water-based lube as silicone lube will degrade silicone toys' texture and quality.
Keep your lube nearby as you will want to apply more as soon as you feel the lube begin to become tacky or dry. Because the anus cannot self-lubricate, you will want to add more lube when you start to feel uncomfortable to keep enjoying your butt plug.
2. Start With Your Fingers.
Once you have applied a generous about of lube to your fingers, insert a finger to start pleasuring and relaxing your anus. Once you feel relaxed enough, hold your tail butt plug with your other hand, so the tip is touching your anus.
Gently pushing against your anus with the butt plug, push until you feel it begin to enter your body. Apply pressure that feels good but will also start to insert more of the tip of the butt plug into your anus. If it feels good, gently retract and insert the butt plug to slowly work it deeper into your anus.
Once you have inserted the butt plug and the pressure feels good, feel free to continue to play in any way you please, as your butt plug will rest inside your anus. If you are using the tail with your partner, remember that they should slowly move or remove the butt plug.
The extraction of the butt plug can also be done as part of a game, especially if there is a BDSM or control element at play. Removal of a butt plug should always be done slowly and gently.
3. How Long You Should Wear a Butt Plug.
The duration that you choose to wear your butt plug is entirely up to what is comfortable for you; however, the standard health advice should be only 2-3 hours. Some people choose to wear butt plugs on their own for the entire day or as part of extended BDSM play.
Ultimately, you should only wear any butt plug as long as you feel comfortable doing so. It is also not a good idea to wear a butt plug while using the toilet, as the pelvic muscles needed to release when urinating will also relax your anus. It will be essential to remove your butt plug if you are going to have a bowel movement.
How to Clean a Tail Butt Plug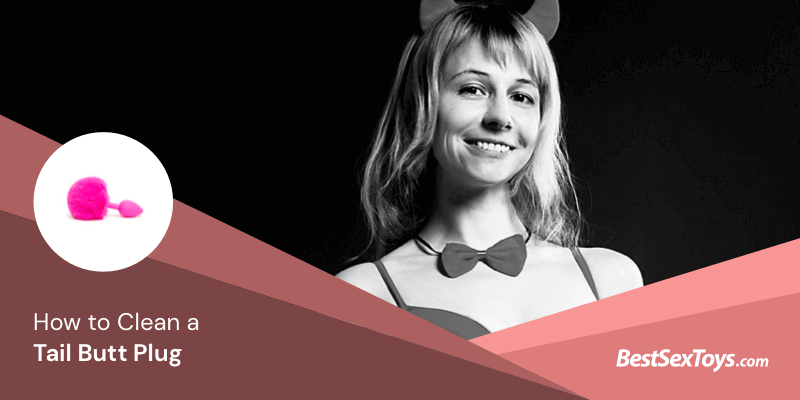 Remember to always make sure you have read the manufacturer's instructions on how to best care for your toy. If you have a detachable tail, it will be best to take it off the butt plug and wash them separately, as they have different needs for cleaning and care.
Below we have the most popular materials that tail butt plugs are made of and the care that needs to be taken when cleaning your new fluffy fantasy.
Cleaning Non-porous Tail Butt Plugs
These are made of silicone, glass, Pyrex, and stainless steel. They can all be washed with soap and warm water, but the advantage is that silicone, Pyrex, and stainless steel can all be placed in boiling water to disinfect them or even the top rack of your dishwasher.
Cleaning Porous Tail Butt Plugs
These are made of hard plastic, Cyberskin, elastomer, jelly rubber, nylon, neoprene, vinyl, soft vinyl, or acrylic. Porous butt plugs must be cleaned both before and after use as bacteria can penetrate porous substances. Soap and warm water are the best for cleaning these toys. If any toys are battery operated or vibrate in any way, don't submerge them and use a warm soapy cloth to clean and a rinsed warm cloth to rinse.
Cleaning a Faux Fur Tail
A faux fur tail makes aftercare easy because it can be washed by fully submerging in water and soap. A gentle hand wash in warm water will keep it nice and clean. Faux fur can also be left to air dry or can be gently blow-dried. Giving your tail a brush will keep it fluffy.
Cleaning a Real Fur Tail
Do not submerge a real fur tail into the water fully because the water's added weight may cause the tail to break and could damage the skin holding it together. If this is damaged, there could be massive hair shedding, which would ruin the tail's appearance. Instead, gently use a cold damp cloth soaked in mild soap with as little water as possible.
The tail should then be gently blow-dried to prevent any mold or damage. After the tail has dried, gently brush it to maintain a fluffy look, but be careful when doing this to not pull out any fur.
More Anal Sex Toys
All Anal Sex Toys
All the sex toys for



Subscribe to our Newsletter
Newest Deals
Discounted Prices
Free Products
Giveaways
Promo Codes
Table of Contents
Tail Butt Plugs
Check the
Best 7 Tail Butt Plugs
Find the best 7 Tail Butt Plugs we've gathered after reviewing dozens!
Check Now