Inflatable Dildos
Didn't find what you are looking for?
View All
Best 8 Inflatable Dildos in 2023
1
Great Deal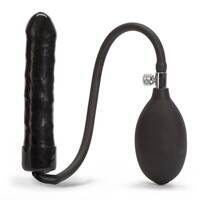 Cock Locker Inflatable Dildo 6 Inch
Circumference: 6.5 inches
Insertable Length: 5.5 inches
Length: 6 inches
Material: Latex
Waterproof: Splashproof
Allergens: Phthalate-Free
Allergen Warning: Contains Latex
2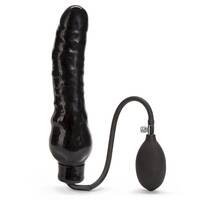 Cock Locker Huge Inflatable
Circumference: 9 inches
Insertable Length: 9 inches
Length: 9 inches
Material: Latex
Waterproof: Splashproof
Allergens: Phthalate-Free
Allergen Warning: Contains Latex
3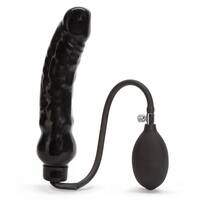 Cock Locker Extra Large Inflatable
Circumference: 5.75 inches
Insertable Length: 8 inches
Length: 9 inches
Material: Latex
Waterproof: Submersible
Allergens: Phthalate-Free
Allergen Warning: Contains Latex
4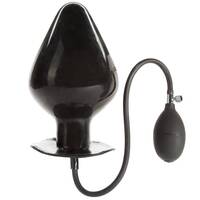 2
Cock Locker Ace of Spades Extra Large Inflatable B
Circumference: 20 inches
Insertable Length: 8 inches
Length: 8.5 inches
Flexibility: Firm
Material: Latex
Waterproof: Submersible
Allergens: Phthalate-Free
Allergen Warning: Contains Latex
5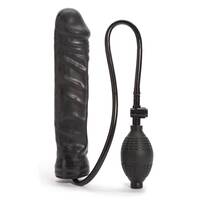 Inflatable Stud Dildo 9.5 Inch
Circumference: 7 inches
Insertable Length: 9.5 inches
Material: Latex
Waterproof: Submersible
Allergens: Phthalate-Free
Allergen Warning: Contains Latex
6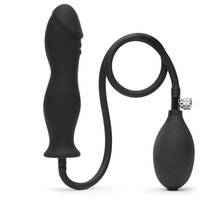 Lovingjoy Silicone Inflatable Dildo 6 Inch
Circumference: 4.75 inches
Insertable Length: 6 inches
Length: 30 inches
Flexibility: Flexible
Material: Silicone
Waterproof: Submersible
Allergens: Latex-Free
7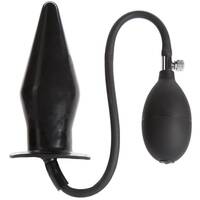 2
Circumference: 15 inches
Insertable Length: 7.5 inches
Length: 5.5 inches
Flexibility: Flexible
Material: Latex
Waterproof: Submersible
Allergens: Phthalate-Free
Allergen Warning: Contains Latex
8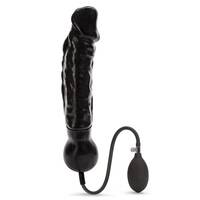 Cock Locker Inflatable Monster
Circumference: 12 inches
Insertable Length: 11 inches
Length: 14 inches
Flexibility: Flexible
Material: Latex
Waterproof: Submersible
Allergens: Phthalate-Free
Allergen Warning: Contains Latex
We have more
Inflatable Dildos
View All
As seen on
What Is an Inflatable Dildo?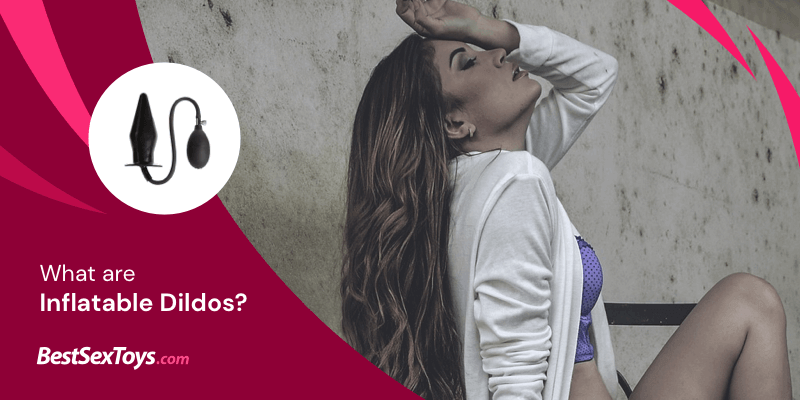 Inflatable dildos are dildos that look like penises or just oblong objects that can be inflated. A hand pump is attached to a tube that runs into the base of the dildo. By repeatedly squeezing the pump, the air inflates the stretchable material around the dildo, increasing its thickness. While inflatable dildos are typically used for solo play, giving your partner control over the pump is a great addition to your bedroom experience.
Inflatable dildos are great for having more fun with your partner, adding a new feature to masturbation, or training your holes to be able to take something thicker. When the dildo is inflated, it presses against more nerves in your vagina or anus, giving you even more control over your pleasure.
There are many reasons a person may want to train their vaginal or anal muscles. Your muscles can be developed to stretch wider with less pain and discomfort; this is a common step many people have to take before getting into regular anal play. However, even the vagina may have trouble taking a wide girth. Inflatable dildos give you the opportunity to practice at your own pace.
Types of Inflatable Dildos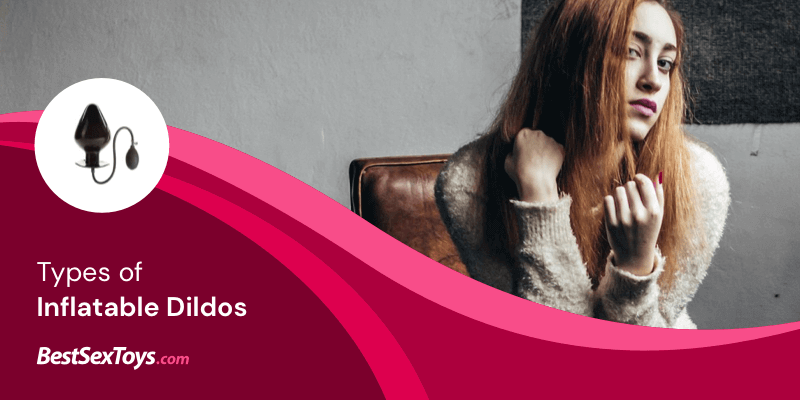 Handheld
Handheld inflatable dildos give you control over insertion. The chord at the bottom of the dildo runs to a handheld pump that you'll hold. While the toy is deflated, you can use it as a regular dildo until you're ready to start pumping.
Suction Cup
Suction cup inflatable dildos have a base that keeps the toy in place. Securing it to the floor or on a wall, you can lower yourself gently onto the toy. The chord for the pump will come out from the base's front, so nothing gets in the way of your pleasure.
Vibrating
Vibrating inflatable dildos have a hard base for the vibrating feature, giving you an additional force to bring you to climax. The chord for the pump runs from the base of the dildo and into the handheld pump, which will typically have controls for the vibrator at the bottom. While pumping, you can use the buttons to adjust the speed and mode of the vibration.
Inflatable Dildo Materials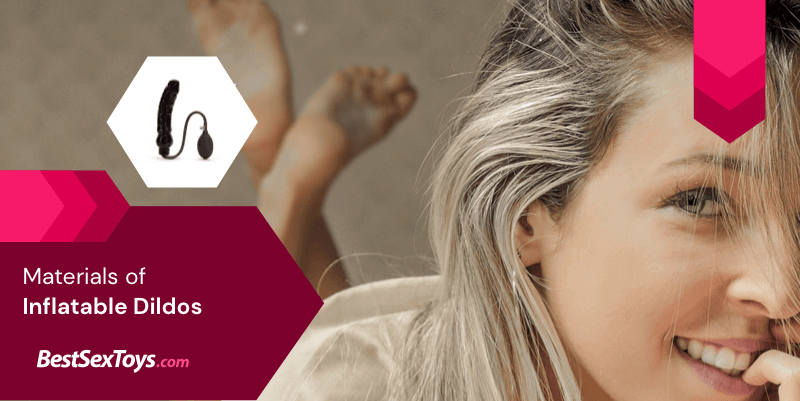 Inflatable dildos need to be made out of flexible material in order to reduce the risk of bursting. These are the most common materials used for inflatable dildos:
Silicone – a smooth, safe, and non-porous material. Do not pair it with silicone lube.
PVC – soft and smooth material; however, be careful of added ingredients that could be harmful. PVC is more regulated now, but be sure to thoroughly read reviews and product details.
Jelly or Latex – smooth and flexible materials that often come in customizable colors. Avoid these if you have a latex allergy.
Cyberskin – Cyberskin is a hyper-realistic material that is typically the closest feeling to real skin.
A majority of materials used for inflatable dildos are designed to be easy to clean. When choosing the right material for you, check the product information for anything that you may have an allergic reaction to. Latex and jelly are two materials people are commonly allergic to.
How to Use Inflatable Dildos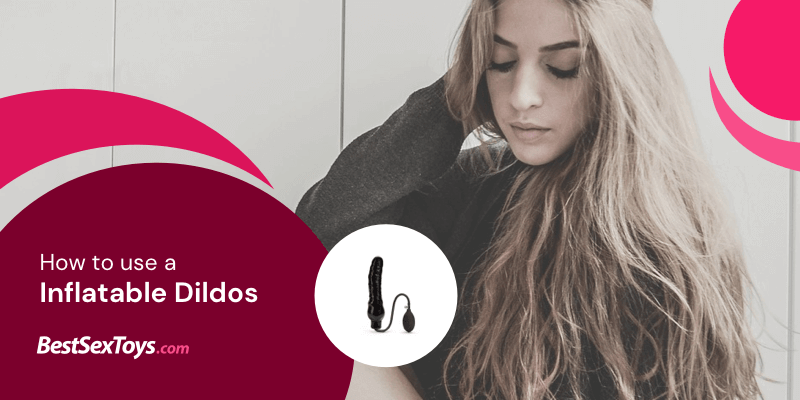 1. Practice
If you don't properly prepare, use or take care of an inflatable dildo, you could cause harm yourself or others. Once you take out your dildo and wipe it down with warm water and a cloth, pump the toy up to the maximum girth before getting ready for insertion. This will give you a visual of what will be going inside of you. Practicing before use also gives you an idea of the limitations of your inflatable dildo. This helps you avoid the risk of overinflating it.
2. Add Lube
Always use a generous amount of lube when inserting a sex toy into your body. For anal play, it's important to remember that this area is not self-lubricating, and you can risk your health and comfort if you go in too dry.
Squeeze some lube onto the toy and then add some to the point of insertion.
Extra lube is going to be necessary. You're going to be pushing your limits to some degree, so it's important to give your body any help it may need. It's also important to keep the toy from possibly over-stressing from increased friction.
Water-based lubes evaporate faster, so you'll need to keep the bottle handy or switch to a thicker lube like silicone-based. But don't forget if you have a silicone toy, use water-based or oil-based lubes.
3. Carefully Insert
Gently insert the toy into your vagina or anus. Inflatable dildos are thick even when they're deflated, so if you feel any discomfort or pain, remove the inflatable dildo immediately and try again later.
Remember that once the toy is inflated, it cannot comfortably be moved much further in and should not be pulled out while inflated. This is why it's important to carefully insert it to your favorite spot, being aware of how far it reaches. You can thrust the inflated dildo, but this will change the balloon shape because of different pressures in your anal and vaginal canals.
4. Slowly Pump
Slowly pump air into the inflatable dildo, monitoring how your body is reacting. Even when you're an experienced user, you need to be careful with how quickly you stretch the muscles. Once your muscles adjust, you can get down to business. You can deflate it gradually if your muscles begin to feel sore, or you can increase the pressure if you feel like you can take more.
If a partner is controlling the pump, clearly communicate any discomfort to reduce the risk of damaging your muscles. For those using inflatable dildos to train their muscles, keep track of the number of pumps you do before you begin to feel strained. This will help give you a metric to work against for each training session.
5. Deflating
Use the release button or valve to slowly let the air out of the inflatable dildo. Do not try to remove the toy until you have entirely deflated it. Slowly emptying the dildo gives your muscles time to adjust and relax after being stressed.
6. Removing
You may need to apply more lube to comfortably pull out the deflated dildo. Slowly begin removing the toy, especially during removal from the anus. This reduces the risk of straining your muscles. You may feel lingering pressure, but this is normal when working out any muscle of your body. However, consult a professional if you have any prolonged pain or discomfort.
How to Clean Inflatable Dildos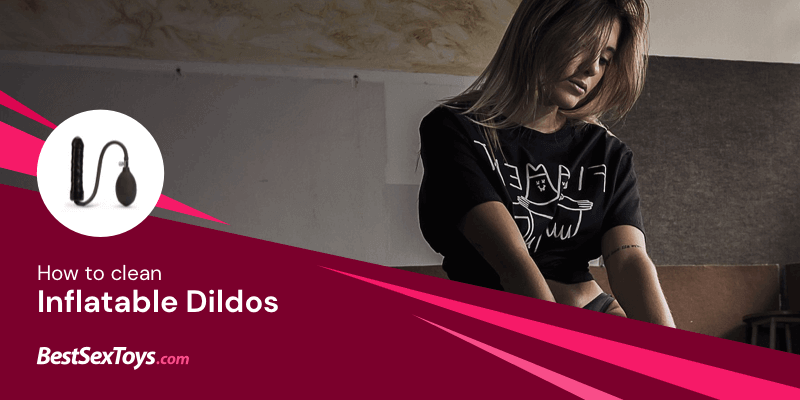 As with any sex toy, keeping your inflatable dildo clean will keep it useful for longer. After a session, use warm water and soap or a specialized sex toy cleaner.
Always follow the manufacturer's instructions on what kind of cleaner to use on the sex toy's material. Thoroughly wash the deflated dildo with your hands or a soft washcloth, removing any fluid or lube from each piece.
Next, you need to entirely dry your inflatable dildo with a soft cloth or towel. If you're not sure if you've dried it enough, leave it out in a warm, dry area. Never put it away before you're sure there's no lingering moisture.
Before the Next Use
Even though you've thoroughly cleaned and dried your toy before putting it away, when taking it out for another session, wipe it down. Use warm water and a dry cloth to get rid of any bacteria or germs that may have found their way into the toy's package or storage bin. Because this is going into very sensitive areas of your body, you always want to take the extra step to ensure it's safe and clean.
How to Not Damage Your Inflatable Dildo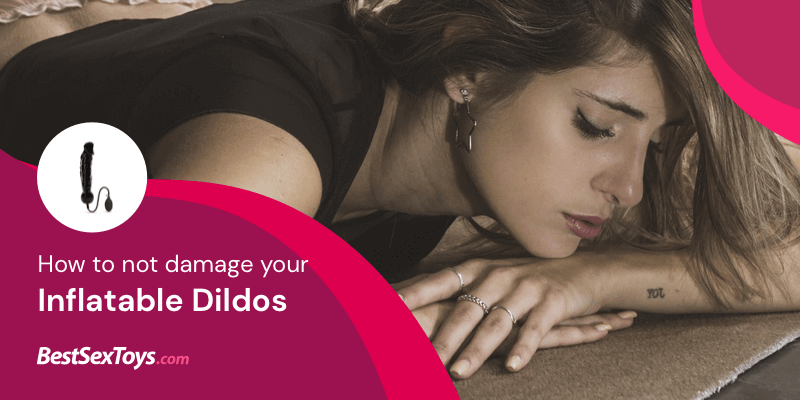 1. Keep Out of Direct Heat or Sun Exposure
Leaving your inflatable dildo in direct sunlight for too long or exposing the toy to high temperatures can severely damage the material. Different materials will react to heat and sunlight differently, but almost all materials will deteriorate if left out in a hot and dry area.
Even if you leave the toy out to dry completely after washing it, most of the moisture should evaporate within an hour if properly wiped down with a dry towel. Do not put the toy on a windowsill or try to speed up the drying process with something like a hairdryer.
2. Don't Over-Inflate It
While inflatable dildos are made to test out your limits, don't try testing out the limits of your toy too often. Overinflating your dildo too much can damage the material caused by too much strain. This can lead to tears in the material and it can even burst.
Follow the manufacturer's instructions when inflating it to the maximum girth. If you find that it's no longer thick enough for you, don't try to strain the toy past it's capacity; instead, it might be time for an upgrade.
3. Store It Properly
Avoid leaving your toys laying around or tossed into the back of a drawer. You can easily damage the material and increase the risk of germating bacteria. Use a cloth bag or a specialized sex toy box that will keep the toy away from the elements. Always look out for anything that may signal it's time to throw away your toy, like discoloration or a bad smell.
What Does an Inflatable Dildo Feel Like?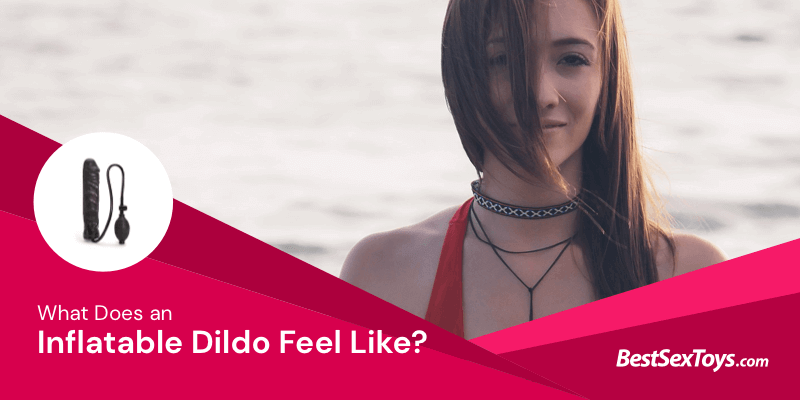 Having an inflatable dildo inside you can feel intense. Men and women say they feel "full" or "stretched" and that the sensation gives them intense orgasms. The inflatable dildo is pressing against your inner nerves, some of which may just not get stimulated enough during normal masturbation or sex.
The new experience of the constant pressure on these deep nerves gives some people satisfaction even without the use of other toys or stimulation.
What Makes Inflatable Dildos Unique?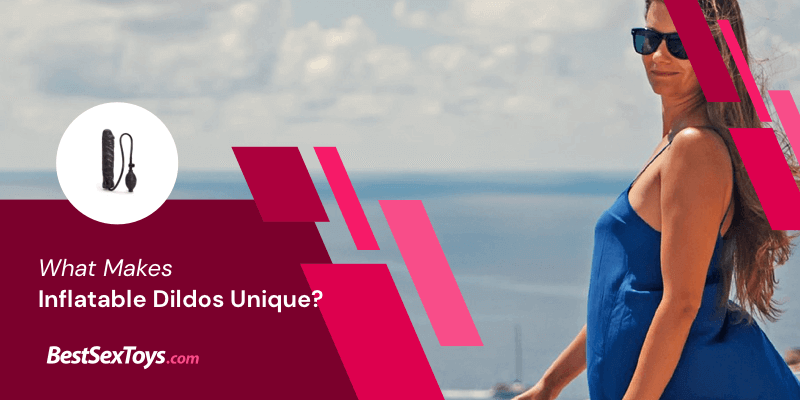 Adjustable
Inflatable dildos are available in a variety of sizes. While you should start small as a beginner, you can move on to other sizes at your own pace. Because the body is in a constant state of change, you may find that some days you can't take very many pumps, and others you might be able to inflate the dildo to full capacity! With the adjustable girth, you have a customizable toy that can fit your needs at any moment.
Vaginal Training
Many women use inflatable dildos to train their vaginas to help their muscles adjust to new sensitivities. Inflatable dildos can be used to adjust to a new partner, become comfortable with new toys, or even just to find new ways to stimulate their G-spot.
Anal Training
Men and women can both use inflatable dildos to train for anal play. For men, inflatable dildos constantly stimulate their prostate, giving them more intense orgasms. Many people find inflatable dildos to be their preferred method of anal muscle training because they can control the depth of the toy and the speed at which they increase the girth. This helps many couples get used to anal play faster than training with anal dildos or butt plugs.
How Much Do Inflatable Dildos Cost?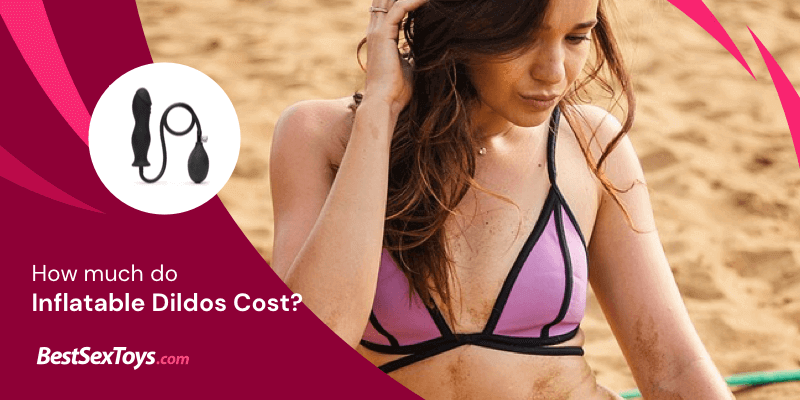 The price for an Inflatable dildo can start at about $30. Features like size, material, vibrating quality, and more can raise the price to a few hundred dollars.
When purchasing inflatable dildos, check out the product information and reviews.
This is especially important if you're allergic to any materials commonly used for sex toys. Shopping online using a sex toy e-shop will give you a wider range of options with various features, but visiting your local sex shop can put you in touch with knowledgeable staff.
All the sex toys for



Subscribe to our Newsletter
Newest Deals
Discounted Prices
Free Products
Giveaways
Promo Codes
Table of Contents
Inflatable Dildos
Check the
Best 8 Inflatable Dildos
Find the best 8 Inflatable Dildos we've gathered after reviewing dozens!
Check Now