Metal Dildos
Didn't find what you are looking for?
View All
Best 9 Metal Dildos in 2023
1
Best Deal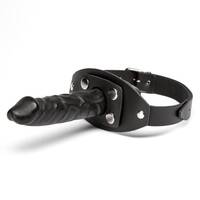 2
Circumference: 4.5 inches
Insertable Length: 5.5 inches
Length: 8.5 inches
Maximum harness size: 28
Material: Leather
Waterproof: No
Allergens: Phthalate-Free
Allergen Warning: Contains Latex
2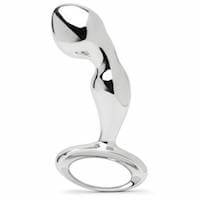 2
Circumference: 3.5 inches
Insertable Length: 3.5 inches
Length: 5 inches
Flexibility: Rigid
Material: Metal
Allergens: Phthalate-Free
Waterproof: Submersible
3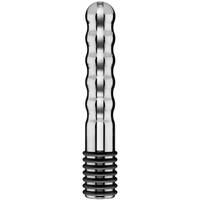 2
Circumference: 3.5 inches
Insertable Length: 5.5 inches
Length: 7.5 inches
Flexibility: Rigid
Material: Metal
Waterproof: No
Allergens: Phthalate-Free
4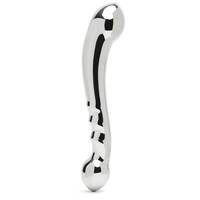 2
Circumference: 6.5 inches
Insertable Length: 9 inches
Length: 11 inches
Flexibility: Rigid
Material: Metal
Waterproof: Submersible
Allergens: Phthalate-Free
5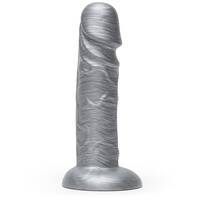 2
Circumference: 5 inches
Insertable Length: 6 inches
Length: 7 inches
O-ring Diameter: 1.75 inches
Flexibility: Flexible
Material: PVC
Waterproof: Submersible
Allergens: Phthalate-Free
6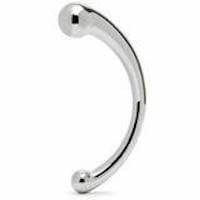 Material: Metal
Length: 9 Inches
Insertable Length: 8 Inches
Circumference: 5 Inches
Flexibility: Rigid
Latex: No
Phthalate: No
Waterproof: Yes
7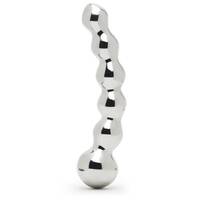 3
Circumference: 5 inches
Insertable Length: 6.5 inches
Length: 8 inches
Flexibility: Rigid
Material: Metal
Waterproof: Submersible
Allergens: Latex-Free
8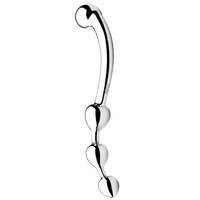 2
Circumference: 3.5 inches
Insertable Length: 8 inches
Length: 9 inches
Flexibility: Rigid
Material: Metal
Waterproof: Submersible
Allergens: Latex-Free
9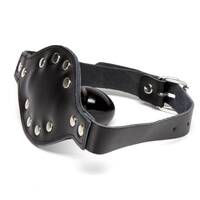 2
Fastening: Buckle
Length: 25 inches
Material: Leather
We have more
Metal Dildos
View All
As seen on
What Is a Metal Dildo?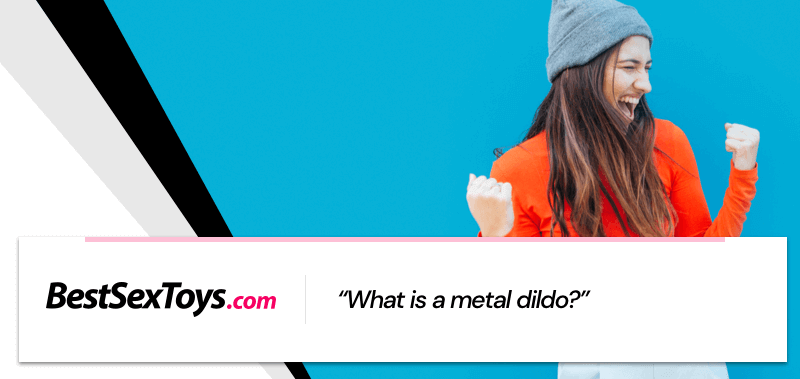 Metal dildos are just like their flaccid, rubber, or silicone counterparts- except that they're simply made of stainless steel instead. The metal dildos are much more rigid than the silicone toys, and obviously come in heavier sizes.
When a toy has a lot of weight in it, it can create a stronger and more pleasurable sensation in the bedroom due to the added pressure. Their rigid and firm structure is also not as flexible as regular dildos, making them more satisfying for people who need that stronger push.
Metal dildos can be used with oil, water, and other lubes, just like other toys. Not only can they be combined with other pleasurable substances, but they can also be used for experimenting with temperature. Whether you're heating up or cooling down the metal, this new concept can create many exciting times in the bedroom for you and your partner.
Essentially, don't place the toy in too hot or cold of environments, as the metal can burn you or cause other physical harm the next time you pick it up. These sex toys are solid metal and will retain the temperature of the location they are in.
These dildos are also extremely hypoallergenic. Unlike silicone models, you don't see a lot of rashes or breakouts from using these toys with certain lubricants. Compared to other types of toys, you don't need to be as selective or careful with what you're using this toy with.
The steel models are exceptionally versatile and can be used with all kinds of lubrication, gels, and other types of products for anal or vaginal pleasure.
Are Metal Dildos Hard to Take Care Of?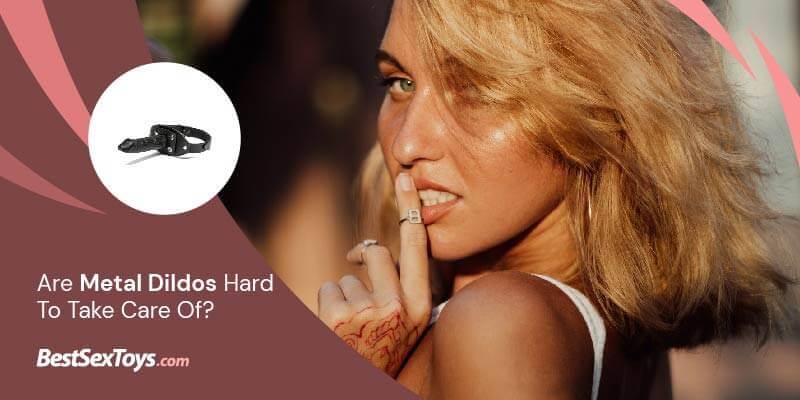 Not at all! Metal sex toys are very easy to keep disinfected for in between uses. The only thing to keep in mind is to make sure to always clean off your toy after using anally if you plan to switch to a vaginal usage, that way you don't have any high chances of a possible UTI.
These toys can be soaked in warm water or bleach to disinfect, as well as placed in the dishwasher to clean off. Most of these toys will come with their own bag to keep safely inside, as well.
What to Look Out for When Looking for a Metal Dildo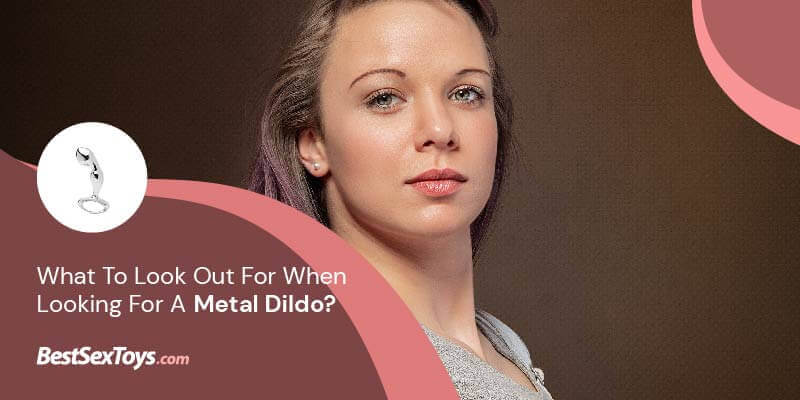 1. The Shape.
The shape is a huge factor when selecting a special new toy for you and your partner. Maybe you would prefer something with a little curve in it, or even just a nice straight dildo? Keep in mind that metal doesn't bend, so you would need to be very careful in your decision before purchasing. After all, you can't exactly bend a straight dildo into a curve and back whenever you want to use it.
2. The Size.
If you're new to purchasing and using sex toys, please keep in mind that you should start off smaller rather than bigger. Learn your limits and what ideal sizes, girths, and widths you would be looking for in an ideal toy. If you have a sexual partner who is male, keep in mind the length of their penis when selecting your choice of toy.
This could be used as a great model when you go to buy your product. After all, no penis is the exact same, and no singular dildo works for every single woman. Each one is unique, so take the time to know your own limits, and sexual pleasure focuses.
3. The Features.
This is a huge thing that can come in handy to pay attention to both you and your partner when purchasing a sex toy. Maybe you would want something with pleasure bumps, or a curved handle? Or perhaps a metal dildo with vibrations?
Always make sure to purchase a toy that you will actually use all of the features with. If you find a very fancy one that you won't use to its full capacity, you're only throwing away your money.
4. The Quality.
There are three huge factors that you need to use to fully understand the quality of a good metal dildo.
Seams: No professional or well-made metal dildo will have any noticeable cracks or seams in the design of the toy.
Ergonomics: Make sure this is a toy that you would be able to firmly grasp even if your hands are covered in slimy lubricants or sticky substances. Otherwise, what's the point in purchasing it?
Weight: A good metal dildo will have a certain amount of weight behind it, making it very pleasurable to use during intercourse.
5. The Maker.
There are so many different sex toy manufacturers out there that it may seem impossible to know which ones are actually the best. Only about a dozen of them are among the top most professional, and worth their salt for a good deal for your next toy.
Try to find a company that is well known, has great reviews, encrypted websites, as well as discreet shipping. With all of the different companies out there, if you aren't even a little bit careful, you may end up with a company that will easily take a lot of your money for a bad toy, rip you off, or send you a product that you didn't want or need.
What Makes a Metal Dildo Unique?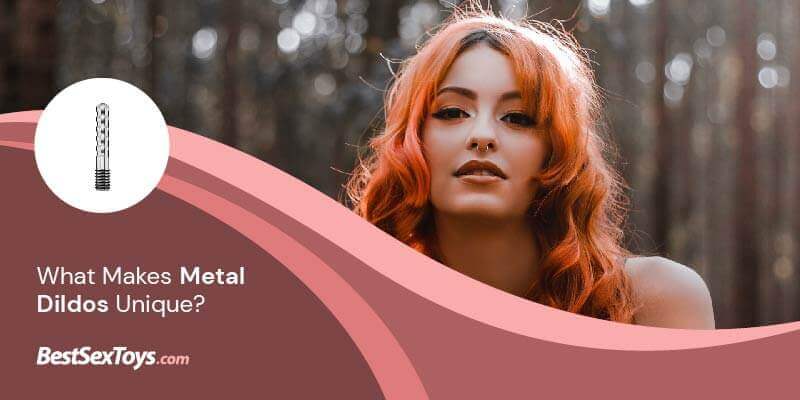 Metal dildos are incredibly different from glass, rubber, or plastic counterparts. Not only do they have the temperature benefits, weight, and sanitization safety, but their smoothness comes with many different factors that help raise the value of these toys.
Metal toys aren't very rough and allow for smooth anal and vaginal insertion. It's a little known fact that toys are highly encouraged for couples and groups to explore and use together, because they help strengthen emotional and sexual bonds between partners and units.
Metal toys add the extra weight for those who can't hit their climax as easily as others, and help assure that everyone has a good time. With all of the different ways that you can use the metal dildos, it's very important to keep these factors in mind.
Remember that an anal dildo must have a wide base for safe play, and that smaller dildos are perfect for beginning females and men looking for anal pleasure, while the larger dildos are perfect for couples or more experienced women.
These toys are obviously much more durable than any other as well. The stainless steel lasts for a very long time, and these objects are much harder to break than your average dildo. While glass and plastic can easily chip, crack, or break- metal dildos won't be nearly as hard to put a dent in if you had any kind of accident.
The stainless steel is safe to use in all forms of liquid and won't easily rust. These are very fun devices that are made to be used in many different ways. They're some of the more valuable and sought-after than their counterparts, and for good reasons, you can clearly see.
What Are Some Fun Extras for Your Metal Dildo?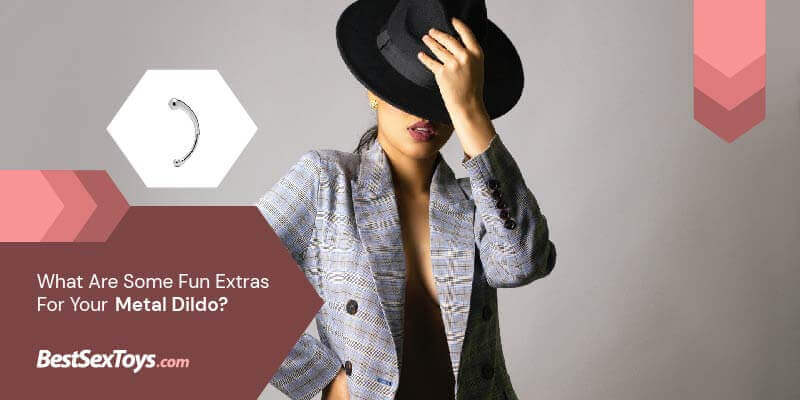 Suction Cup Metal Dildos
Dildos with suction cups on the end can create some amazing times with hands-free fun. Attach this to the base of your bathtub, metal bed frame, or wall, and use your body to enjoy the toy. These are ideal if you're used to being solo or don't have access to a partner, and can significantly simulate the company of another.
Pleasure Bumps
Pleasure bumps are great additions normally found around the base of the toy. These can add a lot more sensation and value to your toy and create a much more enjoyable experience for you or your partner. Feel free to relax as the studs go to work with every stroke, as they caress every inside area of your body.
Vibrations
Vibrating dildos are among the most popular in the toy industry. These devices are generally waterproof, and can come in many different speed settings. Vibrators are fun to use for single-use or as a sex toy for couples, and can create a lot of sensation for both parties.
This feeling causes a lot of climaxes and high times for your sexual intercourse, so if you're looking for a great time, look up one of these amazing toys.
How to Pick the Right Sized Metal Dildo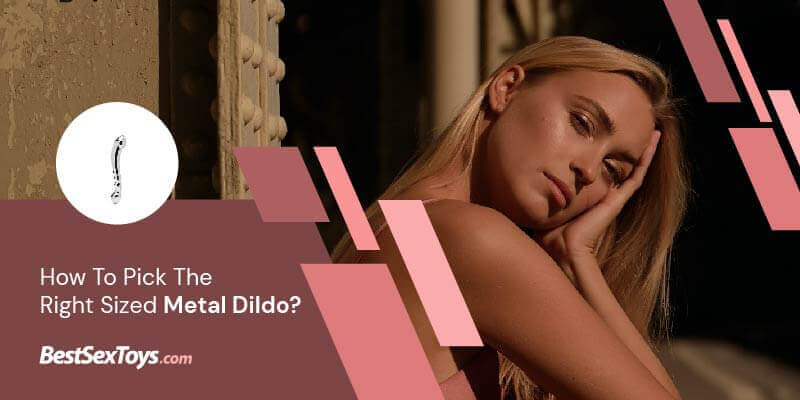 Many different factors will help guide you to the toy of your dreams. Although the more basic features are price and tolerance, there is a small list you can go down to make sure you're finding the right dildo that's perfect for you or your partner.
Always look at online reviews and articles before you officially start your shopping experience. It's important to see what real people say in their experiences with the toys to make sure that you're investing in something that you'll use and enjoy.
Please keep in mind that size isn't everything, and especially beginners should choose smaller sizes to start on. If you aren't used to these toys, you may end up causing yourself discomfort or physical harm using these larger items. Start off small and work your way up.
Again, always keep an eye on the reviews. The top-rated dildos aren't meant for everyone, and you could easily find something much more suitable for yourself at a lower and more affordable cost.
Keep in mind the differences between the aluminum and the stainless steel dildos. They aren't the same thing, and each has its own pros and cons. Do your research before deciding on one or the other.
Types of Metal Dildos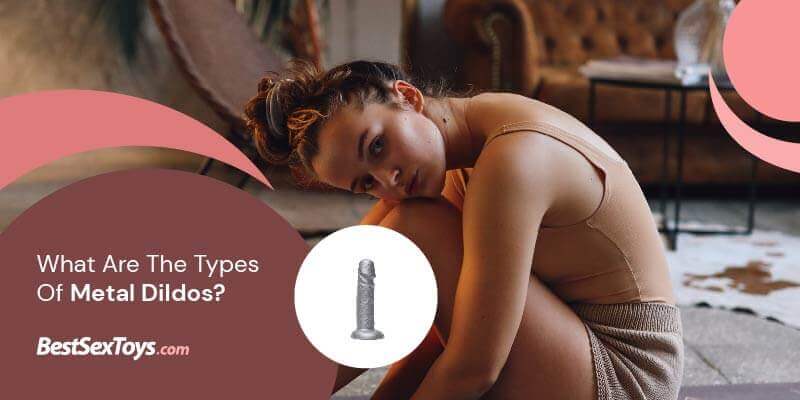 Aluminum Dildos
The lighter of the two dildos.
Much cheaper than the stainless steel dildos.
Don't hold their heat nearly as long as the stainless steel, however, they do chill down quite as easily and fast.
Stainless Steel Dildos
Much heavier and stronger than the aluminum dildos.
More expensive and better quality than the aluminum dildos.
Heat up much faster, but due to their size and weight, they are known to cause carpal tunnel symptoms from overuse.
The main things to look out for when buying a metal dildo are if it's a manual or a vibrator, the size and shape of the tool, and the type of metal.
We've already gone over the different values of the dildos' sizes, as well as the differences between aluminum and steel. However, a vibrator versus a regular metal dildo is a huge thing to look out for when making a purchase.
There will be a huge difference in price between the two different toys, but each one will have its own pros and cons. Vibrators, for example, are much easier to use, but require batteries to operate to ensure the best time possible.
A manual and regular vibrator doesn't need any batteries to use, and will often be much heavier than the vibrators. However, these toys will also cause certain health concerns more frequently due to the excessive thrusting of the weighted metal.
Either way, both are great toys to own and to use in the bedroom, and can lead you to the sexual gratification that you and your partner are both looking for. It's important to follow all procedures and guidelines with care. For example, not all vibrators are waterproof.
Some of the cheaply made ones won't have that included, and you shouldn't assume that they are just because a majority are waterproof. Otherwise, you'll end up with a broken toy that may give you a bit of a shock in the end. Quite literally.
What Pairs Great With a Metal Dildo?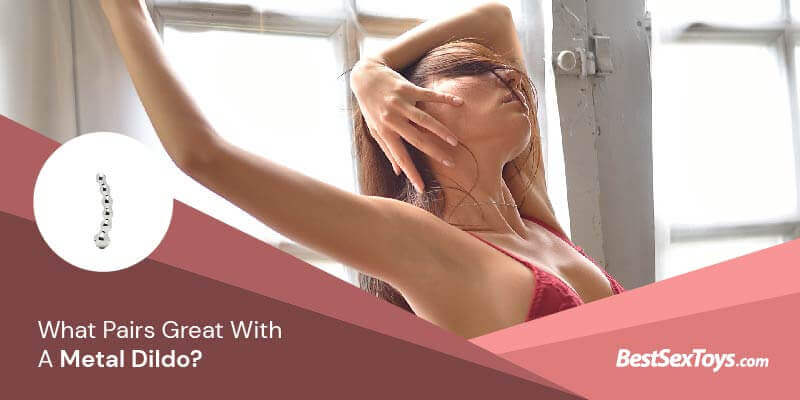 Lubricants. Great for heating up or easing friction with the use of these toys.
But Plugs. Can Stimulate extra areas, since the toy can't perform two actions at once.
BDSM Accessories. Whips, chains, specialized foreplay, and costumes can make it more exciting in the bedroom.
Metal dildos are very fun toys that a lot of accessories, add ons, and extras can pair up with nicely to create your ideal sexual experience. Whether it's a special costume or accessory to wear, these BDSM mainstream items are fun to use in groups or couples where cosplay and costumes are being used.
Another great thing to pair with these toys are whips, handcuffs, and other forms of tie-down objects. The physical arousal received from the toys when somebody is blindfolded or held back against their will is only amplified immensely, thereby giving the most maximum arousal possible.
This combination will certainly help you hit your special climax that you were hoping for when you bought the toy.
Heated gels and special lubricants are also great duos to match up with. The metal holds in heat very well, and many people find the warmth to be very arousing during sex. Heated gels can give warmth to the metal that will only grow stronger with the friction of the toy during intercourse.
Since metal dildos can use nearly any and all forms of lubricant, their possibilities are certainly limitless whether you want to use oral or heated gel, water, oil, or another form of pleasure liquid.
Butt plugs are one of the final things that match well with metal dildos. The weight of the toy adds a major bonus to most toys, and since butt plugs put a lot of pressure on the human body, a weighted toy will only feel even better when applied vaginally to the woman.
These toys also go well with butt plugs if you're looking for that dual insertion experience. Many women are into the idea of having both areas of their body receiving pleasure at the same time, meaning that these toys would be highly appreciated when paired up with a hefty butt plug or any other good anal sex toy.
Are Metal Dildos Worth It?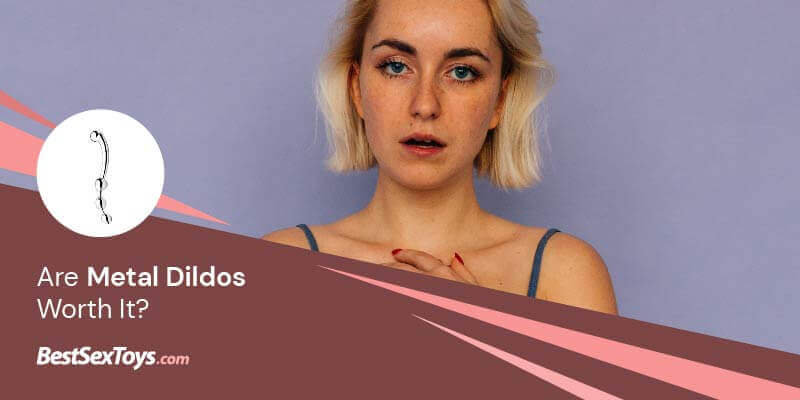 In all honesty, that depends solely on the user. However, these toys are known to have many different benefits that lots of people will be able to use in the bedroom. If you're prepared to drop a little extra money for these toys, then it's a good option to keep in mind when you're going out of your way to look for your next sexual experience.
If you don't think you'll need the extra weight, pleasure, and possible features, then maybe you'll want to stick to something cheaper with a different quality to it. However, these toys are still a fun time and can lead to many great memories between yourself and your partner.
Many are made to be used vaginally or anally, and come with their own qualities for each. Depending on how safe you are, how well you maintain your toy, and the amount you end up using it, and any extras inside the bedroom, these toys are definitely worth it.
Four of the Best Metal Dildos
Extra Large Njoy Eleven. This is an 11-inch dildo. $399.99
Njoy Pure Wand. This is a 9-inch dildo. $139.99
Desire Luxury Beaded Stainless dildo. This is an 8-inch dildo. $59.99
Njoy Fun Wand. This is a 9-inch dildo. $95.00
Remember, that if you have a partner or a group in the bedroom, that metal dildos can help strengthen any and all bonds. If you're looking for something to spice up your sex life, this isn't a bad start.
All the sex toys for



Subscribe to our Newsletter
Newest Deals
Discounted Prices
Free Products
Giveaways
Promo Codes
Table of Contents
Metal Dildos
Check the
Best 9 Metal Dildos
Find the best 9 Metal Dildos we've gathered after reviewing dozens!
Check Now