Face Strap-Ons
Didn't find what you are looking for?
View All
Best 9 Face Strap Ons in 2023
1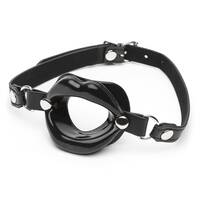 Fastening: Buckle
Material: Silicone
2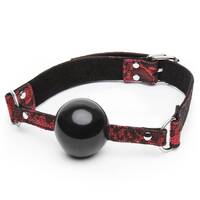 2
Bondage Silicone Ball Gag
Fastening: Buckle
Material: Silicone
3
Great Deal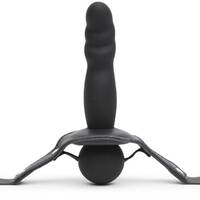 2
Large Silicone Ball Gag with Dildo
Fastening: Buckle
Length: 21.5 inches
Material: Silicone
4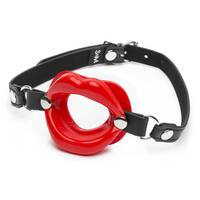 2
Fastening: Buckle
Allergens: Nickel-Free
Length: 25 inches
Material: Silicone
5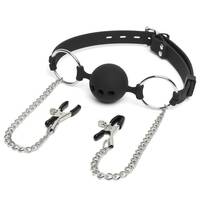 Ball Gag with Nipple Clamps
Fastening: Buckle
Length: 24.5 inches
Material: Silicone
6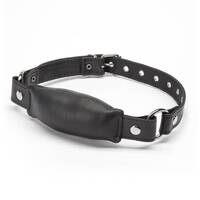 2
Fastening: Buckle
Length: 24.5 inches
Material: Leather
7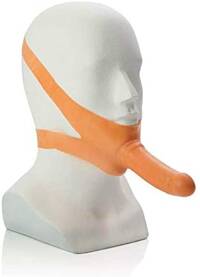 Material: Latex
Proportions: 5.5" length
Features: Waterproof
8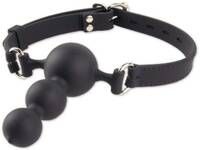 Material: Latex
Size: 5.5 inches
9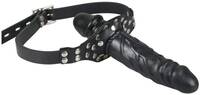 Material: PVC + leather pants
Size: 8.6 inches
We have more
Face Strap Ons
View All
As seen on
What Is a Face Strap-On?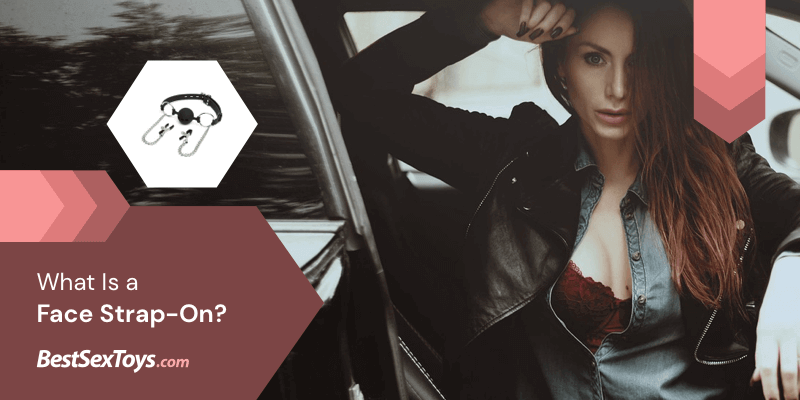 A face strap-on is an accessory that goes strapped to your face allowing the wearer to attach another sex toy to the strap-on.
Depending on your preference, a rigid dildo or a soft, realistic-looking silicone vagina can be strapped to the face for a fetish-filled ride. Some face strap-ons allow a dildo to be switched out for another favorite plaything, making sure this toy will always keep oral sex exciting.
There are many different options, such as face strap-ons completely made of silicone or latex with a dildo permanently attached or a leather harness, which could even be locked in place to dominate the wearer.
A face strap-on can have an extra-long dildo fixed in place to act as both a gag and penetrative toy or be placed over the mouth to ensure a very intimate view of the penetration.
Depending on what gets you off, be it an upgraded 69 experience, a bit of sub-dom play, a chance to pretend you're in a threesome, or just riding someone's face, the face strap-on opens a new world of erotic games to be played.
How to Use Face Strap-Ons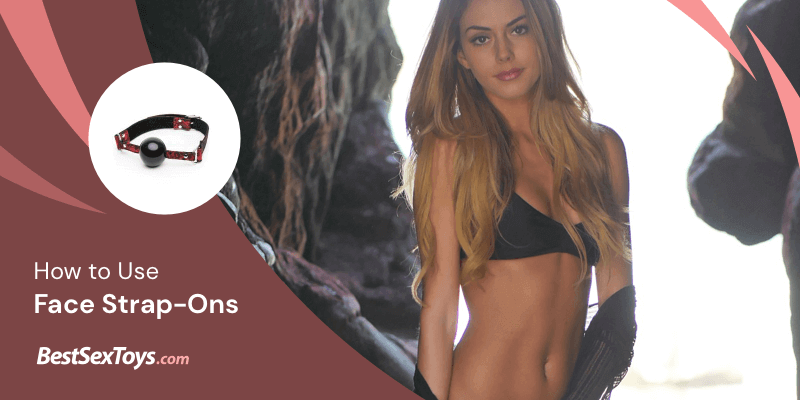 If facesitting is your thing, securing the face strap-on over the chin will leave the wearer's mouth free for oral play while the dildo or vibrator attached provides penetrative pleasure. The wearer will be the submissive as the face strap-on silences them by covering their mouth or stifles their moans with a ballgag.
The gags on face strap-ons can vary in shape and style, so if the wearer wants to have something hard and phallic inside their mouth instead of a ball, their fantasy can be fulfilled.
The face strap-on is a popular sex game of female domination in heterosexual sex, for lesbians couples who want to try something new with either dildos or Fleshlight-like toys, and gay couples who want to enjoy an intimate view of anal penetration along with the sensation of giving fellatio.
Below are the instructions to use a face strap-on for the first time.
1. Strapping on a Face Strap-On for the First Time.
If You Have a One-Size-Fits-Most Face Strap-On:
After opening the box and reading the after-care instructions, it is time to try on your new toy. Place the face strap-on over your head, position the toy as you would like it, test to see if it fits securely by holding the toy, and simulate a partner moving it forwards, backward, and swirling it as if they were rotating their hips.
If it moves or slides around too easily, place soft cloths between the back of your head and the straps of the face strap-on. Because these face strap-ons don't have adjustable buckles, a loose fit is best fixed by filling the gap with something comfortable.
The soft cloths will act as a cushion at the back of the head and fill the gap between your head and the strap-on to keep it in place. Test the amount of movement the face strap-on has and add more cloths until you feel the face strap-on is sitting securely.
If You Have an Adjustable Harness Face Strap-On:
Place the harness over your head to see how tightly it fits with the attached toy in the position you want. Doing this in front of a mirror can help you undo the buckles and tighten them. Secure the buckles as firmly yet comfortably as possible and hold the toy to mimic a partner moving it forwards, backward, and rotating their hips.
If the harness moves or slides around too easily, you will need to adjust the harness to make it tighter. Depending on your type of harness, there may be more than one buckle. Check that all of them are adjusted, so you are able to wear the face strap-on with a firm but comfortable fit that prevents the toy from moving out of the position you want it in.
Finally, if none of the holes for the buckles provide a firm fit, getting a leather hole puncher will let you neatly create buckle holes in just the right places for the perfect fit.
2. Play With Yourself First.
This toy can be a little intimidating to use the first time. Feeling awkward can kill the mood as awkwardness is sometimes sexy for some sexual partners but can be an absolute mood-killer for others. Playing with the toy on your own will help you introduce this toy to your partner confidently.
On your own, put it on securely and lie down to test out what it would be like when your partner's body moves it for a longer period of time than when you first tried it on. If you want to ride it, lay it down on a pillow and try out how you would get the toy to penetrate you.
Remember to use lubrication if you choose to fully test the penetration and clean your toy before and after use. By playing with the face strap-on, especially in front of a mirror, you could find a sexy way to use the toy before showing it to your partner that will make them even more excited when trying it for the first time.
3. Set Signals for Communication While Playing.
Because this toy is attached to a partner's head, sensitive areas such as the nose and neck need to be considered. There will be a rhythm that will please the rider and the provider that is safe and sexy, so communicate clearly with your sexual partner before strapping this toy in place and make sure you have established a way for them to inform you when to slow down, stop or even speed up when they can't speak.
Consider choosing a 'safe signal' instead of a safe word so that the wearer can still express their needs.
4. Penetration With a Face Strap-On.
Whether you are using this toy for vaginal or anal penetration, lubrication is the best pathway to pleasure. Being wet from foreplay will heighten the sensation vaginally, and lubrication is essential for anal play as the anus is not self-lubricating.
Anal sex can be very painful, so practice with your fingers or attach a butt plugs prior to your face strap on to see how it feels is recommended as you become comfortable and confident on what your or your partner's body can handle.
How to Care for a Face Strap-On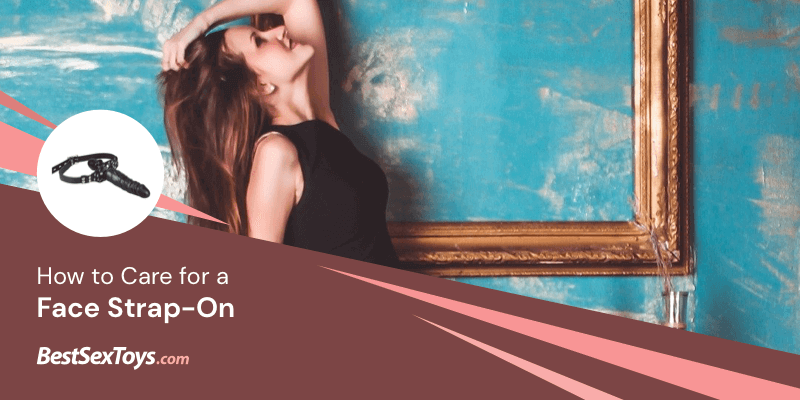 As with any toy, make sure you read the instructions before use to get the best longevity out of your toys. Generally, most sex toys are either porous or non-porous. Porous means they are more absorbent and can hold bacteria if it's not cleaned correctly.
Non-porous toys are made from materials that bacteria cannot get into, so they are safe to share—after the right cleaning and care. Regardless of what your toys are made of, remember to store them in a lint-free environment that keeps them out of direct sunlight, free of dust, and other contaminants that can be tough to clean off.
Cleaning Porous Toys
These are made of hard plastic, cyberskin, elastomer, jelly rubber, nylon, neoprene, vinyl, soft vinyl, acrylic, and leather. These toys should be cleaned before and after use, as bacteria are more likely to penetrate these substances.
Soap and warm water are the best for cleaning these toys. If any toys are battery operated or vibrate in any way, don't submerge them and use a warm soapy cloth to clean and a rinsed warm cloth to rinse.
Another hot tip is that a condom can protect porous toys that can't be completely disinfected. If you want to be extra safe, using these toys in condoms is one way of keeping your porous toy squeaky clean.
Cleaning Non-Porous Toys
These are made of silicone, glass, pyrex, and stainless steel. They can all be washed with soap and warm water, but the advantage is that silicone, Pyrex, and stainless steel can all be placed in boiling water to disinfect them or even the top rack of your dishwasher. Glass toys should never be placed in extreme temperatures as they could shatter or change shape.
Maintaining a Leather Harness
Leather is a very porous part of the toy that needs proper care to ensure it stays safe, form-fitting, and comfortable to wear. It cannot be disinfected entirely, so if you use the face strap-on with multiple partners, a less porous harness may be needed.
Just like with leather shoes, the leather harness will need a conditioner to keep it in top shape. There is also saddle soap that can clean your leather harness in a gentler manner than regular soap. Submerging leather is not recommended, so rather use a cloth or brush to clean the harness.
After drying, liberally apply a leather conditioner that has a beeswax base to condition and maintain both the appearance and smell of your leather harness.
What Materials Are Face Strap-Ons Made Of?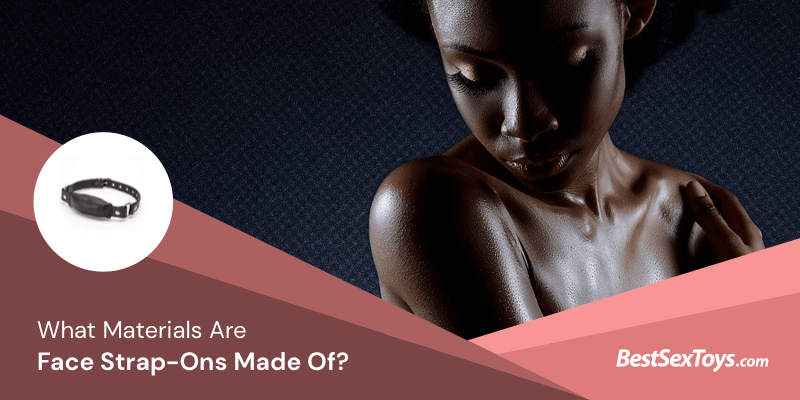 The facial harness can be made of a range of materials such as nylon, neoprene, or leather.
There are completely latex face strap-ons where the dildo, ballgag, and harness are all made from one complete mold in latex. Fabric masks can be fitted with any of your favorite round-based dildos.
When deciding, consider whether you will use this with one partner or if it is a toy you would like to share with others, as this can help you choose between porous and non-porous materials.
What to Consider When Buying Your First Face Strap-On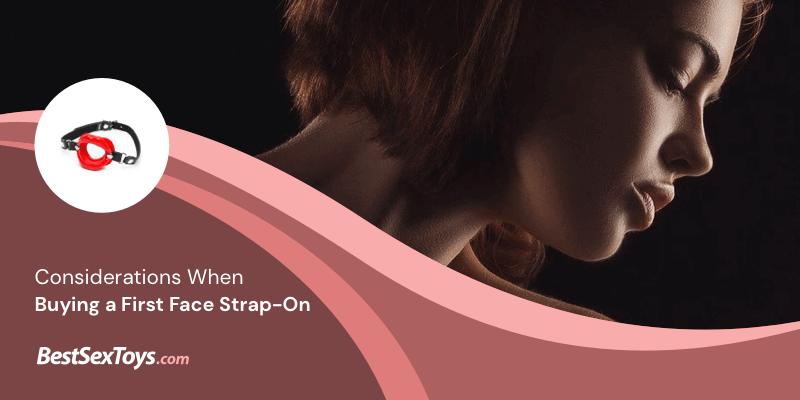 1. The Desired Size.
If you are already experienced using dildos, you should have a good idea of what you want. For those who aren't sure, it could be good to start with a smaller-sized dildo and a face strap-on that allows for interchangeable toys. That way, if you or your partner decide to increase the length or girth of either the dildo or gag, you can control this by changing out the toy.
2. The Materials That Work for You.
If you have any allergies to substances like latex, some options provide for your needs. Buying a mask that allows you to insert your trusted sex toys can be a better option for those with allergy concerns.
3. The Harness Fabric and Adjustability.
If you already have a favorite toy and want to try strapping it to your face, then all you need to get is a head harness (also known as a dildo mouth harness) that allows you to interchange toys.
This allows you to slot the desired toy in place and fasten the harness down firmly. If you want female genitals, unfortunately, there are not as many interchangeable options. When choosing a harness, think about the level of kink you want to incorporate into your sex life, as a leather harness carries a certain level of BDSM energy.
If you just want to be able to stare at your partner's enjoyment while pleasuring them orally and penetratively, a lower-maintenance option made of nylon or neoprene may be more what you need. For those with ethical concerns, faux leather harnesses are a great option and need less maintenance.
How Much Does a Face Strap-On Cost?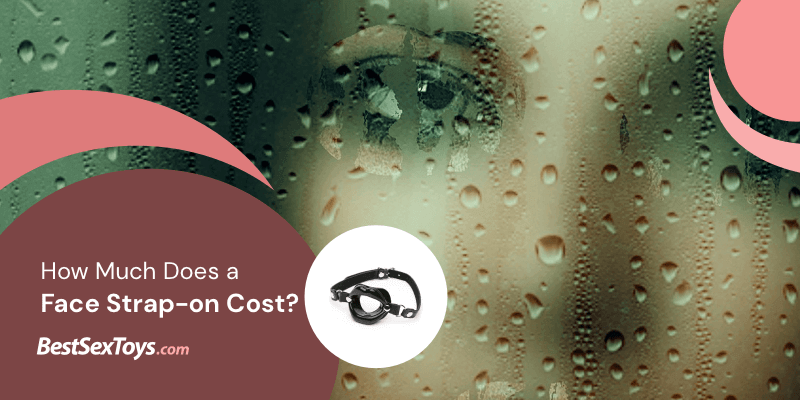 Starting with the lowest price, here are 5 face strap-ons that make facetime sexier than it's ever been:
The Male Mastubator Mouth Gag is a face strap-on with a faux leather harness that supplies a shallow silicone vagina on the partner's face to be penetrated. $25.99
The Convenience Black Lamian is an 8.6-inch detachable PVC dildo with an adjustable leather harness that will fill the mouth of the wearer with a hard dildo while penetrating. $28.99
The Strict Leather Dildo Face Harness is adjustable and allows for different round-based dildos to be placed in the harness. The dildo is not included, so use your favorite toy. $40.84
The Bondage Boutique Silicone Ball Gag With Dildo For the submissive wearer, there is a 5.5-inch solid silicone ball gag and a 4.8-inch silicone dildo with a 4-inch girth and adjustable leather harness. $44.99
The Belt on Shaft is for those who want to have their cake pounded and eaten this one-size-fits-most latex harness has a 5.5-inch dildo that is 1.5-inches in girth that can easily be placed on the chin. $48.99
Whatever you choose, remember to discuss incorporating any sex toys with your partner as this can create a happy, healthy, adventurously sexy environment.
All the sex toys for



Subscribe to our Newsletter
Newest Deals
Discounted Prices
Free Products
Giveaways
Promo Codes
Table of Contents
Face Strap Ons
Check the
Best 9 Face Strap Ons
Find the best 9 Face Strap Ons we've gathered after reviewing dozens!
Check Now