Squirting Dildos
Didn't find what you are looking for?
View All
Best 7 Squirting Dildos in 2023
1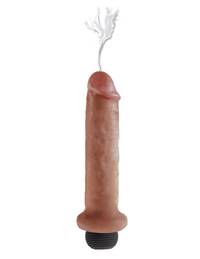 Length: 8.2 inches
Material: PVC
Circumference: 1.7 inches
Insertable Length: 7 inches
Phthalates Free: Yes
2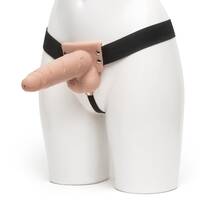 2
Fetish Fantasy Ejaculating Hollow
Circumference: 6.25 inches
Insertable Length: 7.5 inches
Length: 8.5 inches
Flexibility: Firm
Material: PVC
Waterproof: Submersible
Allergens: Phthalate-Free
3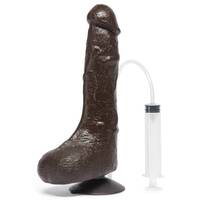 2
It Ejaculating Dildo with Vac-U-L
Circumference: 5.75 inches
Insertable Length: 7 inches
Flexibility: Flexible
Material: PVC
Waterproof: Submersible
Allergens: Phthalate-Free
4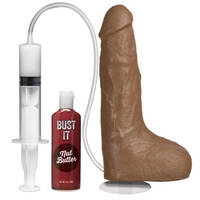 Squirting Realistic Penis
Length: 8.5 inches
Width: 1.9 inches
Circumference: 6 inches
Harness Compatible: Yes
5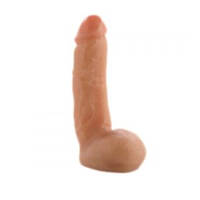 Length: 8 inches
Insertable Length: 6 inches
Diameter: 2 inches
Material: Premium Rubber
Later Free: Yes
Phthalates Free: Yes
6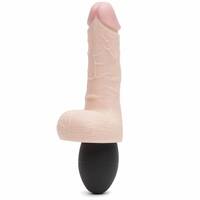 Circumference: 5 inches
Insertable Length: 5 inches
Length: 6 inches
Flexibility: Flexible
Material: PVC
Waterproof: Submersible
Allergens: Phthalate-Free
7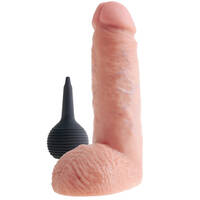 King-Balls Squirt Dildo 8
Length: 8 inches
Material: PVC
Circumference: 2 inches
Insertable Length: 6 inches
We have more
Squirting Dildos
View All
As seen on
What Are Squirting Dildos?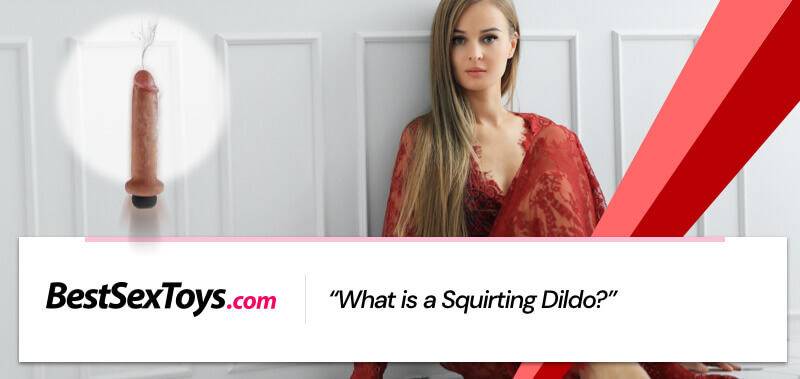 A squirting dildo is a step above your basic realistic dildos that have been around forever. They are now even more realistic and squirt. They come in several different shapes and sizes to serve your personal needs and are great for masturbation, vaginal sex, or anal sex. They can be used in correlation with a strap on or alone for maximum pleasure.
The squirting dildo is perfect for people who have Bukkake fantasies, or overall, just get off on the idea of making a penis ejaculate. For some, the thrill of making a penis cum will release dopamine (the feel-good chemical in the brain). Squirting dildos are perfect for masturbation or lesbian sex because of this.
When it comes to choosing the perfect squirting dildo, there are different things you must think of. First is what type of squirting dildo will work best for your needs and what you find easier to use, and the second is what you would like to fill the dildo with. On top of these options that are specific to squirting dildos, there are other options to decide like color, size, thickness, and length.
How to Use a Squirting Dildo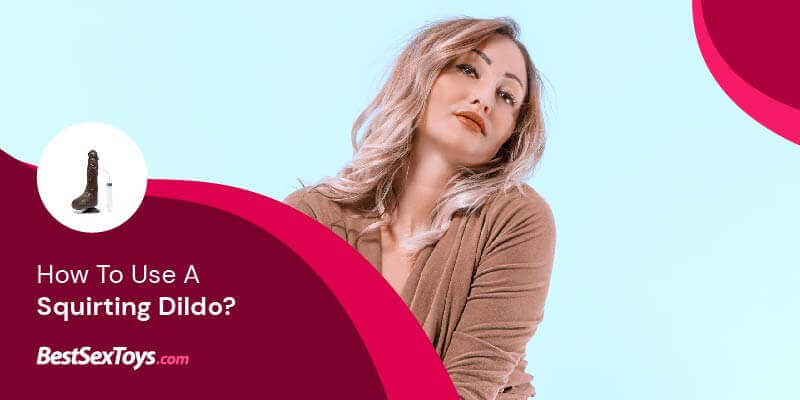 Using a squirting dildo is simple, even for beginners. It is the same as any other dildo, but instead, you have to worry about refilling the dildo with whichever substance you would like to. After filling the dildo, you can then have some fun.
Like any other dildo, you will want to make sure that you use the correct size for your body, specifically if you plan on using your squirting dildo for anal play. If you do want to try anal, a good recommendation is to fill your dildo with lubricant. This will make your experience even more pleasurable.
If this is the first dildo you are using, remember that foreplay is also key. You always want to make sure you are completely comfortable with the toy that you are using and that you are lubed up. It is a good thing to still lubricate yourself as a woman, even if you are wet. You can never have enough lubricant.
It is even more crucial if you are using your dildo anally. Make sure you start slowly, and as you get used to the dildo, you can speed things up. Remember that these dildos cum on command, so if you are close to getting off, you can "squeeze the trigger" at the perfect moment.
The thing to remember with squirting dildos is that you will need to perfect your timing when to squeeze the trigger to make it ejaculate. Some people get off on how far a penis can shoot the cum. If this is the case for you, you will want to practice with your squirting dildo.
Releasing the trigger with different pressures will cause the dildo to shoot farther or closer. The practice is key! Remember that if you are practicing and then go to the real thing, you will want to use the same "semen" inside. Liquids of different consistencies will shoot farther than others.
How to Refill a Squirting Dildo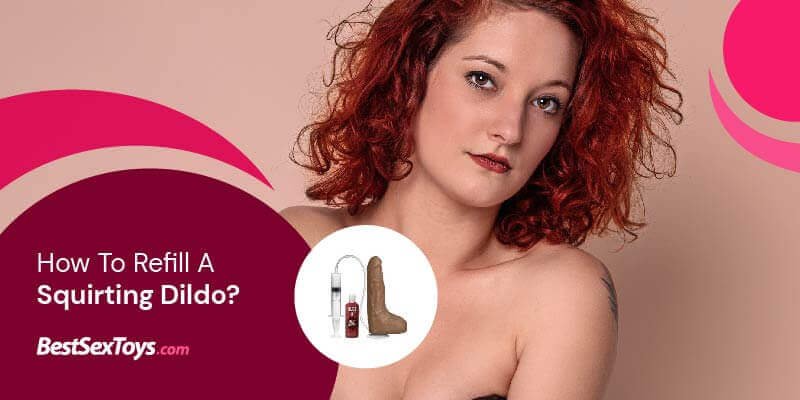 There are two types of squirting dildos; one resembles the make of a turkey baster, and the other uses a syringe and tubing.
The squirting dildo that resembles a turkey baster is the easiest to use. To use it, you squeeze the shaft of the dildo, dip the head of the dildo in the liquid you would like to use, and slowly loosen your grip on the dildo. This will fill the inside of the dildo. In some cases, instead of squeezing the shaft of the squirting dildo, you squeeze and release the testicles.
As mentioned, the second type of squirting dildo works with a syringe and tubing. In this case, the length of the wire is the length of the dildo and has a plug. You fill the squirting dildo by putting the syringe on whichever liquid you choose and then pulling the "plug" on the syringe. You then push the liquid back into the dildo.
While the "turkey baster" dildo is easier to refill, it does have a downfall. These types of dildos usually cannot be used with a strap-on or a suction cup. So, depending on what your forte is, you may want to try the other option.
What to Fill Your Squirting Dildo With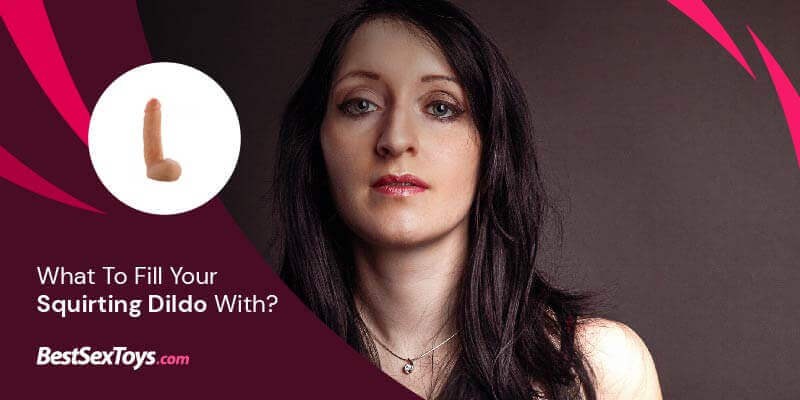 The biggest question we have to answer is what we want to fill our squirting dildo with. When you first purchase your squirting dildo, that is usually a tube of fake cum that comes along with it.
It looks and feels exactly like real cum! If you like the concoction in the tube that comes with it, you can always order more. However, if you are not a fan or want to spice things up, you can try a few other options.
Silicone Lubricant
Silicone lubricant is a great option to fill your squirting dildo, specifically if you are planning to have some anal play. Silicone is a longer-lasting lubricant and can be used if you are near water. For instance, using your squirting dildo in the shower.
Being water-resistant means the lube is great for anal because you will not have to keep applying the lubricant in the middle of your playtime. This can end up being tedious and can potentially kill the mood.
Flavored Lubricant
A good, flavored lubricant is perfect for those men or women who love swallowing or spitting cum. There are tons of different flavors to choose from and different ways to have fun with the flavored lube.
For example, you can play with your partner for a while, and then once you are ready to squirt your dildo, you can squirt, and then lick off the flavored lubricant from your lover's body. The other option is again to cum in your lovers' mouth for full-on oral ecstasy.
Cornstarch
If you are looking for something to fill your squirting dildo with on a budget, then corn starch is a great option. You can stir about two tablespoons of corn starch in a cup of water, heat it up in a pot or the microwave, and you will have tons of cum for your dildo.
The only thing with this trick is that it should not be used in the vagina to throw off the pH balance. However, this is a great mixture if you love giving or receiving facials. It will not do any harm to your skin and is an excellent alternative to buying expensive products.
Real Cum
Yes, real cum can be used in a squirting dildo. This is perfect if you are looking into artificial insemination either by yourself or with a partner. Get a few vials of cum and just put it right in the dildo for even more realistic fun. The benefit of this is that if you have a partner that loves the taste of real cum, that is exactly what they will get.
Water
While water may not be the most realistic, it is an option. Water can be used in any part of the body, but the consistency simply is not there. If you are looking just to experiment and see if a squirting dildo is for you, then water may be for you. The benefit of water is that you will not have to clean the inside so vigorously.
How to Clean a Squirting Dildo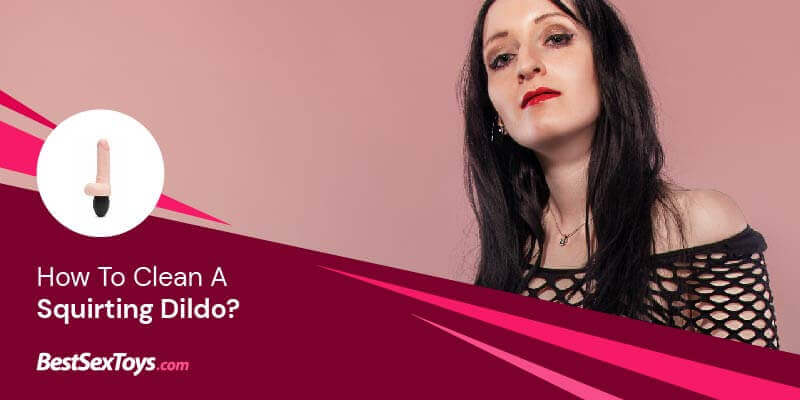 Cleaning a squirting dildo is pretty simple. As with most sex toys, when you purchase a new one, they should come with cleaning instructions. However, this is not always the case. If you don't have a set of instructions, then there are a few basic steps you can follow to ensure your squirting dildo is disinfected and cleaned properly.
The first thing you can do is use a sex toy cleaner. When using a sex toy cleaner, it is important that you use some friction with your hands to make sure the product gets everywhere. Keep in mind that if you want your squirting dildo to last longer, you can put a condom on it and cut a very small hole where the "cum" will come out.
The other basic thing you can do is wash it with soap and water. Use a solution of hot water with a little bit of soap and scrub the outside vigorously. As far as the toy's inside, you can use a solution of soap and water. However, you must keep it rinsing it out until there are no longer any suds.
Bleach is also an option. You can submerge your squirting dildo in a sink full of water with about two tablespoons of bleach. Let the dildo sit for about 20 minutes. This gives the bleach enough time to disinfect any germs that are on the dildo.
Again, this solution can be used inside of the dildo as well, but it is important to since out the dildo thoroughly to ensure no bleach remains. If there is some left in the dildo, it can cause some serious reactions to the Netherlands region.
If you have a one hundred percent waterproof quirting dildo, you can even use your dishwasher to clean the toy. The steam from the dishwasher will kill any bacteria on the toy. However, if you use this method, you still need to clean the inside of the dildo.
Types of Squirting Dildos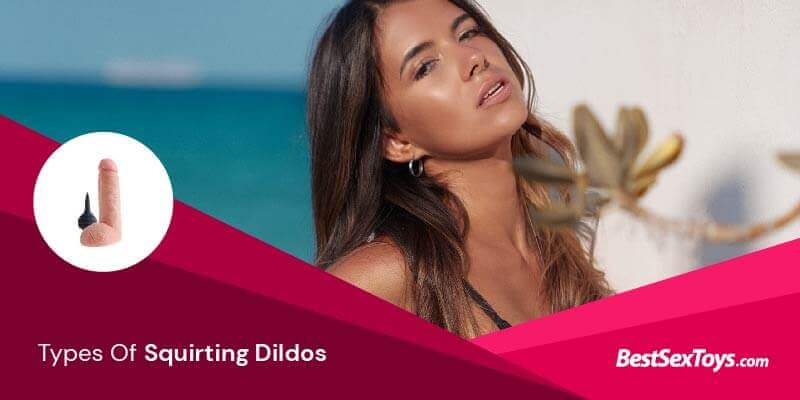 Ebony Squirting Dildos
Ebony squirting dildos are perfect for those who prefer ebony partners or those who have always wanted to try having sex with a different race. These squirting dildos are very realistic and even more realistic with the "cum" coming out.
These can even be used with a partner if you have ever been interested in having a three sum with an ebony man, but your partner is not interested in sharing you with a real person.
Big Squirting Dildos
Big squirting dildos are perfect for those experienced with using other toys, or smaller dildos. Size does matter, particularly if you are planning to use a squirting dildo for anal play. Make sure you can handle a larger dildo, as it is recommended you start small first if you are also used to big then go for it. Just use plenty of lubricant.
Small Squirting Dildos
Small squirting dildos are perfect for beginners in the sex toy realm. It is also smart to start off small first to make sure you are comfortable playing with the squirting dildo, and you do not hurt yourself. If you are planning on using the dildo for anal sex, make sure you use plenty of lubricant and start off by using smaller objects such as a small butt plug, or fingers.
Suction Cup Squirting Dildo
Suction cup squirting dildos are very versatile and great to use if you are the type of person that loves trying different positions. Suction cup dildos can be attached to a shower wall, regular room wall, floor, headboard, or anywhere else.
You can even use most suction cup squirting dildos with a strap-on. This makes for an even more realistic experience! The great thing about these is that if you are masturbating, you can put the dildo on the wall and go at it until you are ready to cum.
Using a squirting dildo is perfect if you want to spice up your masturbation routine or try new things in the bedroom with your partner! Squirting dildos are fun and easy to use, even for a complete novice.
The trickiest things to figure out are what type of dido will be more convenient for you to use and what to fill your squirting dildo with. After this, you are well on your way to having more fun in the bedroom with a realistic experience that will be tough to beat.
All the sex toys for



Subscribe to our Newsletter
Newest Deals
Discounted Prices
Free Products
Giveaways
Promo Codes
Table of Contents
Squirting Dildos
Check the
Best 7 Squirting Dildos
Find the best 7 Squirting Dildos we've gathered after reviewing dozens!
Check Now