Bondage Collars
Didn't find what you are looking for?
View All
Best 10 Bondage Collars in 2023
1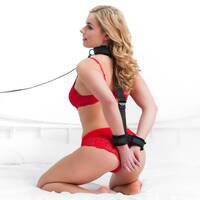 2
Soft Collar-to-Wrist Cuffs
2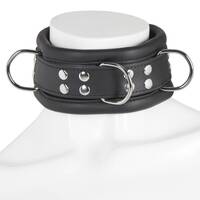 Deluxe Heavy Leather Collar
Fastening: Buckle
Allergen Warning: Contains Nickel
Length: 22 inches
Material: Leather
3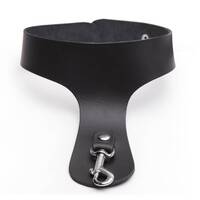 2
Deluxe Leather Collar with Cock Ring
Fastening: Buckle
Allergens: Latex-Free
Length: 22 inches
Material: Leather
4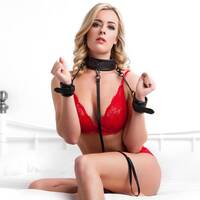 2
Faux Leather Collar and Cuff Set
Fastening: Buckle
Length: 20.5 inches
Material: Faux Leather
5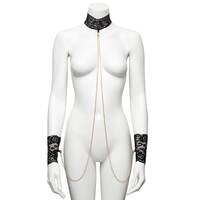 Black Lace Collar and Cuffs
Fastening: Velcro
Allergens: Latex-Free
Fabric: Lace
6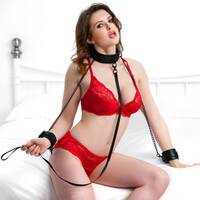 Wrist-to-Collar Restraint Set
Fastening: Buckle
Material: Faux Leather
7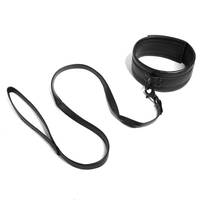 2
Boutique Faux Leather Collar and Leash
Fastening: Buckle
Length: 38 inches
Material: Faux Leather
8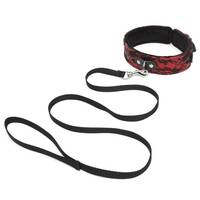 2
Lace Collar with Leash Set
Fastening: Buckle
Fabric: Lace
9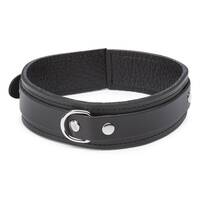 Bondage Boutique Soft Leather Collar
Fastening: Buckle
Allergens: Latex-Free
Allergen Warning: Contains Nickel
Length: 21.5 inches
Material: Leather
10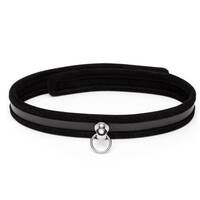 Sex & Mischief Black Day Collar
Fastening: Velcro
Length: 18.5 inches
Material: Faux Leather
We have more
Bondage Collars
View All
As seen on
What Is a Bondage Collar?
A Bondage Collar is a neck device, fashion accessory, or collar that a person wears around the neck to demonstrate their submissive status in a relationship. It is one of the most significant BDSM practices that signifies ownership of the person wearing it. The term "collared" describes the person who is wearing the bondage collar in the relationship.
The dominant asks their submissive to wear a bondage collar (also known as ownership collar) to symbolize a specific aspect in their lifestyle, which could be romantic, erotic, or slavery. The symbolism depends primarily upon the relationship between the two parties involved and their boundaries.
In the BDSM community, the practice of putting on a bondage collar to express submission to your partner refers to "collaring". It is a ceremonious event that represents one facet in a relationship wherein the submissive commits to keep the bondage collar on for a certain time.
This makes collaring somewhat comparable to marriage because it could take years before a submissive can finally receive a bondage collar from their dominant.
According to the rules, wearing a bondage collar or "collaring" symbolizes consensual authority between the dominant and submissive partners. It is not duly forced nor implemented without consent. However, in as much as the "collared" wears the bondage collar for a specific period of time, it is subject to revocation due to any probable reason. This marks the end of the BDSM relationship.
As a sex toy, a Bondage Collar creates the impression of fun, fear, and excitement in any sexual relationship. The collars also facilitate role-playing and sexual experimentation in the bedroom that may involve erotic humiliation. In this sense, the person wearing the collar may submit to slavery or pet-like status, while the dominant partner takes control and assumes power.
The Three Stages of Bondage Collaring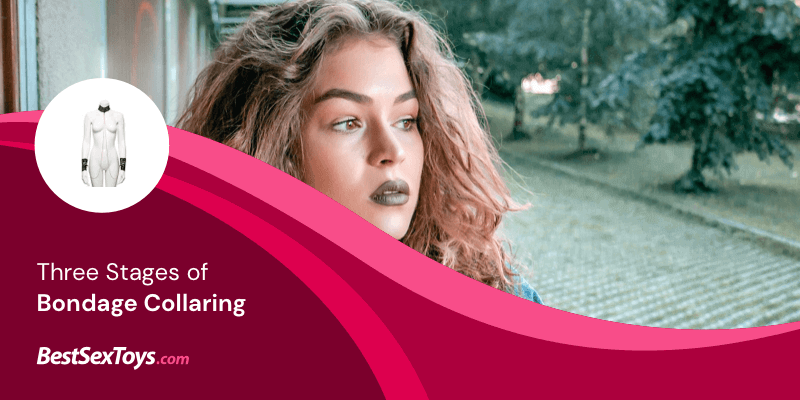 In mainstream fashion, collars are aesthetic elements of clothing that fasten around the neck. They are made from a wide variety of materials and may serve as novelty accessories. Throughout the years, different styles came out in the market to complement the latest trends in fashion.
In BDSM, collars have different meanings and symbolize certain roles within a relationship. Some bondage collars are primarily used in BDSM play between a dominant and a submissive, while others indicate slavery. This practice is greatly honored in BDSM communities, which is why they observe the three stages of collaring. Let's explore each one of them.
1. Collar of Consideration.
The Collar of Consideration is similar to a pre-engagement ring. It is typically a band that is made of leather, which doesn't always have to be in the form of a neck collar. It could also be a bracelet or an anklet. The color code for this stage is blue.
The dominant offers this bondage collar to express their interest in the submissive. On the part of the submissive, acceptance of the collar of consideration signifies serious trust and unavailability for a certain period of time. There is no commitment at this point, which means that the submissive may get their freedom back anytime by removing the collar if things don't work out. This signifies the end of the BDSM relationship.
2. Training Collar.
The Training Collar marks the second stage, and it comprises the training agreement between a dominant and a submissive. On this stage, the dominant trains the submissive about the standards and practices of BDSM. These aspects may depend upon the rules of the dominant. According to BDSM tradition, a training collar is either red or black and is made of leather material.
At this point, both parties must communicate openly to understand each other's desires, needs, values, and way of life. This is one way of figuring out if they are well-aligned with their goals. Consent is an important aspect of BDSM, which is why both parties must understand the rules of being in a dominant and submissive relationship. Either party may still choose to end the relationship at any point regardless of how strong their attachment is.
3. Slave Collar.
The Slave Collar is the third and final stage of collaring. On this stage, the dominant offers the bondage collar to the submissive after they have fully completed and surpassed the BDSM rituals and practices that fall under the Collar of Consideration and Training Collar. At this point, both parties have a clear understanding of each other's BDSM lifestyle.
Advancing to the Slave Collar signifies that the submissive has officially become the slave of the dominant. In most BDSM practices, this marks the permanence of the relationship, and there is no way of ending it once you have reached this point. However, in some cases, the dominant partner may decide to end the relationship, thereby freeing their slave.
Types of Bondage Collars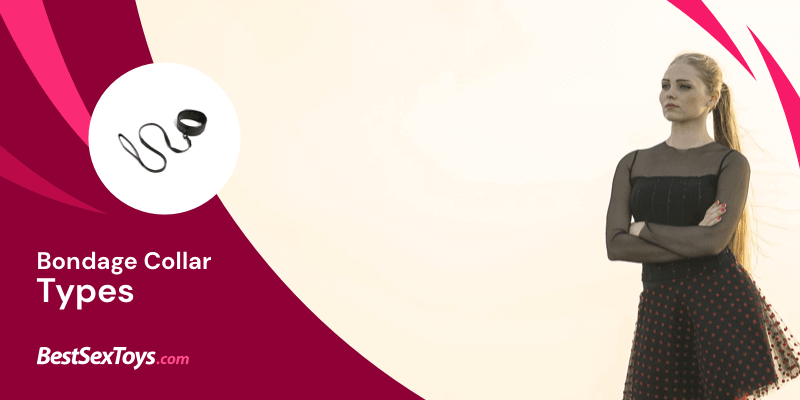 There are a handful of varieties of Bondage Collars, which makes them interesting to explore. Some are mainly for symbolism and as fashion accessories, while others satisfy a multitude of sexual kinks. Still, it is worth noting that Bondage Collars have gone through an interesting evolution throughout the years to accommodate different types of role-playing and BDSM scenes.
Let's examine closely the different types of Bondage Collars available in the sex toy market;
Shock Bondage Collar
A Shock Bondage Collar is an electric stimulation sex toy that comes with a remote control. It is meant to trigger anxiety while eliciting sexual responses during a BDSM session. The electric stimulation also works on various sensitive areas of the body and doesn't cause pain. It has low amperage and is well-designed to make BDSM more intense and satisfying for the dominant and submissive.
To use, the dominant handles the remote control while delivering punishment to the collared submissive through painless shock or electrical stimulation.
Leather Bondage Collar
A Leather Bondage Collar is a classic BDSM collar that consists of a black leather strap with a width of approximately 1.5 inches. The size varies depending on the size of the submissive. It is snugly positioned around the neck of the submissive to indicate ownership.
This permanent bondage collar usually has an O-ring on the front that may serve as an attachment for the leash. A locking mechanism at the back consists of buckles, hooks, and an additional accessory for the padlock. Leather bondage collars are typically associated with the classic traditions of Master/slave dynamics in BDSM.
Inflatable Bondage Collar
An Inflatable Bondage Collar is an extreme BDSM toy that elicits fear and distress to the collared. It is radical and quite sadistic since it's meant to choke the wearer or the submissive partner. It comes with an inflatable collar, rubber hand pump, and an air-releasing valve that works as a safety feature.
Inflatable Bondage Collars trigger punishment, anxiety, and pain to the submissive, which significantly puts the dominant partner in a position of power and control. They are used in BDSM role-playing wherein the submissive assumes the role of a pet or slave.
Metal Bondage Collar
A Metal Bondage Collar is a solid and shiny metal collar or "choker" that is usually made of chromed zinc alloy or stainless steel. There are various widths available such as thick and rigid types, thin and sleek variations, and everything else in between. The submissive wears the metal bondage collar permanently, which comes with a lock.
Metal Bondage Collars usually have one or several O-rings that allow the dominant to attach chains, leashes, and a variety of bondage gears to the collar. Some have additional attachments that are useful in locking the submissive to bondage furniture and other sex devices. This type of bondage collar grants the dominant full authority to give commands to the submissive.
Postural Collar Bondage
A Postural Collar Bondage is a wide collar that limits neck movements. It is made of rigid materials like thick leather, metal, and PVC. Another variation is a neck corset with metallic details for various attachments like body restraints, chains, and leashes. Additional bondage elements like spikes, locks, and straps adorn typical postural collar bondages.
One of the purposes of postural collar bondage is to enable the wearer to maintain posture by keeping the head high and preventing them from looking down. The dominant may also attach several BDSM gears to a postural collar to further restrict movements. Examples are; chains with handcuffs, ball mouth gags, arm spreader bars, and leg restraints. Alternatively, the postural collar bondage is also useful in restraining the submissive to bondage furniture.
Locked Bondage Collar
A Locked Bondage Collar is a BDSM collar permanently worn by the submissive even in public places. It symbolizes ownership and loyalty to their dominant partner. This bondage collar typically has a locking mechanism to keep it in place at all times, which could either be a fancy padlock or stylish closure that's suitable for day wear.
Most Locked Bondage Collars also serve as a fashion accessory that the submissive can wear daily at work and in various social events without drawing attention. They serve as a reminder of their relationship with their dominant partner.
Bondage Training Collar
A Bondage Training Collar symbolizes the relationship between a student and a trainer. It consists of a leather strap that may or may not indicate BDSM training. In general, the collar itself does not have a lock, which denies any form of commitment. The closure is usually a buckle or snap which the student or trainer can easily remove since the training always has a definite end. Other elements include an O-ring or D-rings on each side for the application of restraints.
During training time, the learner or student responds to the commands of the trainer. They may or may not assume submissive and dominant roles because the relationship could depend upon the basis of the training. For instance, the training could be for the purpose of a permanent relationship. Additionally, there is a symbolism that accompanies the training, which could be in the form of color-coding.
Bondage Play Collar
A Bondage Play Collar is a wide collar that has a width of approximately 2 to 3 inches. It is usually padded and durable enough to withstand heavy scenes. To serve its purpose, it has several O-rings or D-rings to easily connect devices, chains, and various bondage equipment that would supplement different BDSM practices.
The two primary purposes of this collar are; to promote the exchange of power and emphasize the roles of a Master and a slave. A pet collar is an example of a Bondage Play Collar with animalistic status.
What to Consider When Buying a Bondage Collar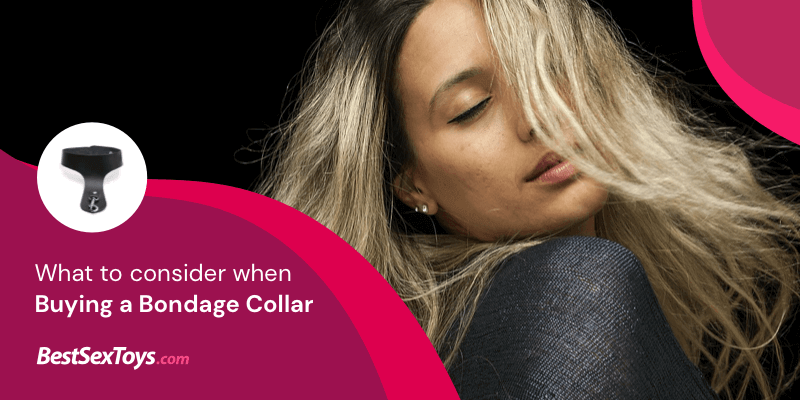 Anything that you decide to wear around your neck must be safe and comfortable. The same goes for your partner. It is always important to recognize the fact that the human neck is a highly vulnerable body part that deserves proper care and conscientiousness.
It seems so utterly romantic and flattering to have your partner agree to wear a bondage collar to signify your ownership. Therefore, you might as well pick the best.
A bondage collar should not just be anything that fits around the neck. It should be snug and aesthetically pleasing enough to make it wearable 24/7, especially if you're serious about having your partner use it for day wear and as an accessory.
Here are the top 5 factors to consider when buying a bondage collar.
1. Size.
Most bondage collars are specifically crafted as one-size-fits-all, particularly the ones made of leather and PVC. Even some metal collars can be suitably adjusted to conform to a particular size.
However, if you are meticulous about the dimensions and you want to follow specific measurements, you may get in touch with a direct BDSM sex toy manufacturer to provide the specifications of a custom-made bondage collar. This could be beneficial if you intend to use a bondage collar on a long-term basis and for various purposes.
2. Material.
Some individuals are allergic to certain materials like leather, plastic, and metal. This is a major concern because most bondage collars are made up of these components.
The good news is that some collars have inner linings made of hypoallergenic materials that can help prevent skin allergies and irritation. You might want to consider these options to ensure that the bondage collar won't cause any discomfort to the submissive.
3. Type.
The type of bondage collar is a major consideration among dominant and submissive partners that want to express loyalty and commitment in their relationship. This is also important among those that follow the stages of collaring. Different types of bondage collars are also available for couples that incorporate BDSM scenes in their bedroom activities.
These include leather straps with gags, handcuffs, and physical restraints, as well as metal bondage collars with multiple O-rings for attachments to bondage furniture and various BDSM equipment.
4. Quality.
When it comes to bondage collars, low pricing could mean poor quality. The reason is because traditional bondage collars are always made of high quality and durable materials that are meant to withstand tension during BDSM play.
We know for a fact that these criteria are not cheap. So if you're quite particular with the quality and durability of your bondage collar, you must be willing to pay the price for that matter.
5. Lock.
The locking mechanism is one of the essential elements of bondage collars. This is particularly important if the collar symbolizes an aspect of a relationship, such as romantic, erotic, or slavery. If you want the submissive to wear it permanently, consider a design that works like a daytime and nighttime accessory.
Two of the most common designs are; leather collar with a heart-shaped padlock in front where the two ends meet, and a metal collar with an O-ring in front and a padlock at the rear. There are many other variations and creative designs to choose from, depending on the rules and dynamics of a BDSM relationship.
How Much Does a Bondage Collar Cost?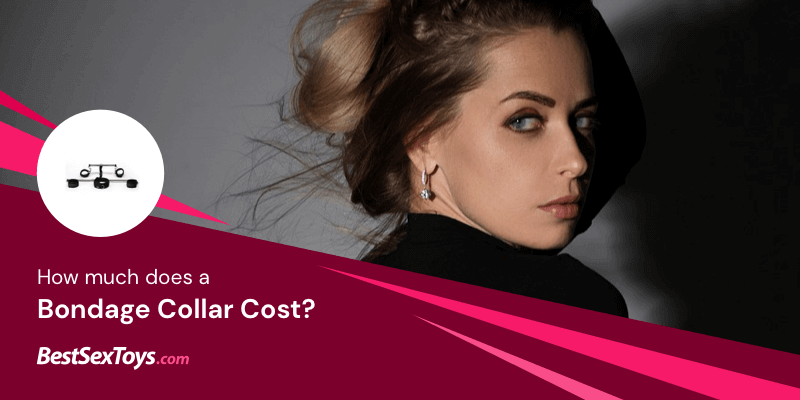 The price tags of bondage collars vary greatly depending on the type and material you prefer. Ideally, a collar that is made of high quality and durable materials has a more premium price than a basic one.
Bondage collars with additional elements such as chains, handcuffs, spreader bars, and multiple attachments are understandably pricier compared to plain collars without any add-on accessories.
Here's a general price reference for the most common types of bondage collars;
Leather Bondage Collar with O-Ring: $20.00 to $40.00
Bondage Collar with Leash: $20.00 to $30.00
Metal Bondage Collar with Chain Details: $30.00 to $50.00
BDSM Bondage Choker: $15.00 to $30.00
Leather Bondage Collar with Wrist Restraints: $30.00 to $50.00
Bondage Collar with Handcuffs and Spreader Bar: $80.00 to $150.00
Neck Corset with Multiple O-Ring Attachments: $30.00 to $80.00
Leather Bondage Collar with O-Rings and Rear Padlock: $30.00 to $50.00
All the sex toys for



Subscribe to our Newsletter
Newest Deals
Discounted Prices
Free Products
Giveaways
Promo Codes
Table of Contents
Bondage Collars
Check the
Best 10 Bondage Collars
Find the best 10 Bondage Collars we've gathered after reviewing dozens!
Check Now