Organic Lubricants
Didn't find what you are looking for?
View All
Best 9 Organic Lubricants in 2023
1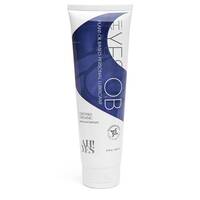 Organic Plant Oil-Based Lubricant
Bottle type: Squeeze
Lubricant Type: Oil-based
Volume: 40 ml
2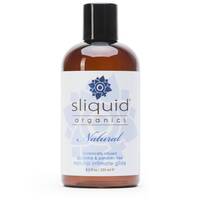 Sliquid Organics Natural Lubricant
Bottle type: Squeeze
Lubricant Type: Water-based
Volume: 255 ml
Lubricant Features: Condom-safe
3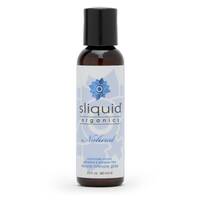 Sliquid Organics Natural H2O Lubricant 2.0 fl oz
Bottle type: Squeeze
Lubricant Type: Water-based
Volume: 60 ml
Lubricant Features: Organic
4
Great Deal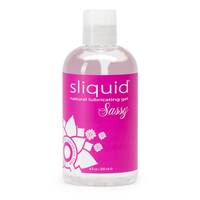 Sliquid Sassy Water-Based
Bottle type: Squeeze
Lubricant Type: Water-based
Volume: 255 ml
Lubricant Features: Vegetarians Yes
5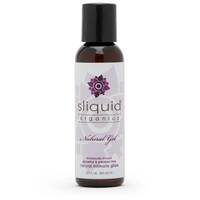 Bottle type: Squeeze
Lubricant Type: Water-based
Volume: 60 ml
Lubricant Features: Condom-safe
6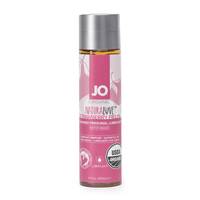 System JO Organic Strawberry
Bottle type: Squeeze
Lubricant Type: Water-based
Volume: 120 ml
Flavours: Fruity
Lubricant Features: Flavored
7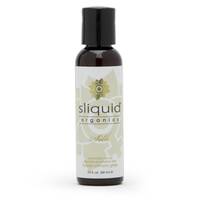 Sliquid Organics Natural Silk
Bottle type: Squeeze
Lubricant Type: Water-based
Volume: 60 ml
Lubricant Features: Vegetarians Yes
8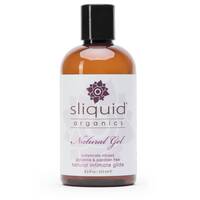 Sliquid Organics Natural Gel
Bottle type: Squeeze
Lubricant Type: Water-based
Volume: 255 ml
Lubricant Features: Vegetarians Yes
9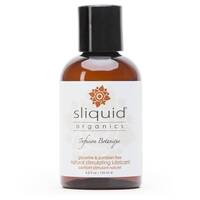 Natural Sensation Lubricant 4.2 fl. oz
Bottle type: Squeeze
Lubricant Type: Water-based
Volume: 125 ml
Lubricant Features: Condom-safe
We have more
Organic Lubricants
View All
As seen on
What Is an Organic Lubricant?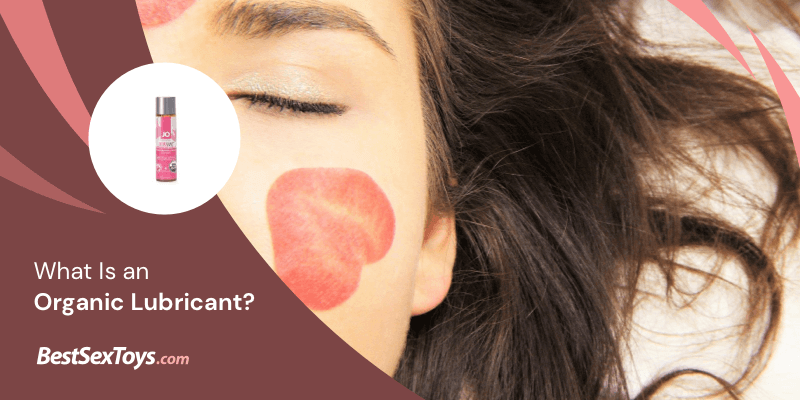 Organic lubricants are lubricants made from natural ingredients such as coconut oil, olive oil, and many others, commonly found in household ingredients. Organic lubricants reduce friction and increase sexual pleasure.
Many varieties of organic lubricants promise different pleasures without any harmful synthetic substances such as parabens that can be endocrine-disrupting chemicals and glycerin that can cause yeast infections due to being a byproduct of sugar.
It is also a fantastic development for vegans who welcome the ability to safely formulate organic lubrication with the peace of mind that no animal products are included in these nature-based lubes.
Types of Organic Lubricants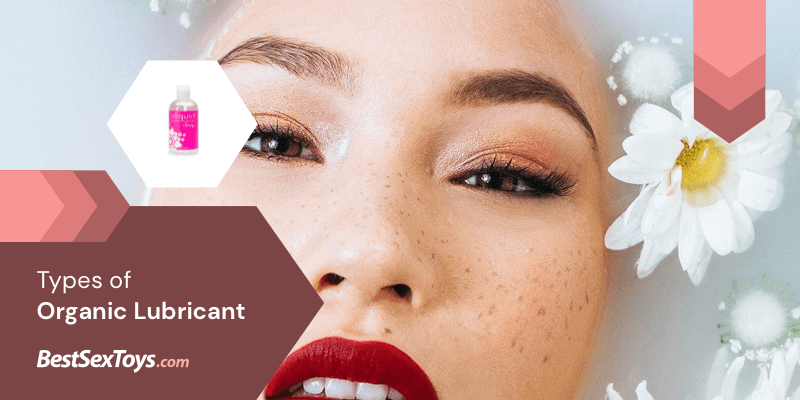 There are always new kinds of organic lubricants available. Below we have a list describing the most popular types of organic lubrication titled with their key ingredient.
Water-Based Lube
When getting a water-based lube, organic or otherwise, the best is always iso-osmolar water-based lubes. These are the best for making sure that the water-based lube does not affect the hydration of the intimate skin and membranes you will be using it on.
There are different kinds of water-based lubrication, so always double-check to make sure that you have chosen an organic option. Water-based lubes are among the most common varieties because they don't damage or alter the quality of sex toys.
Organic water-based lubricants do not contain glycerin as it is not a naturally occurring substance. A drawback with water-based lubrication that does not contain glycerin is the bitter taste. Unless you enjoy bitterness, this can make them less enjoyable as glycerin contributes to sweetness. This might not work for those who want to always include oral sex at any time they please during intercourse.
Another drawback is that water-based lubes will become tacky after some time, which is not the best sensation, so remember to head into the shower to finish off playtime on a sexy, non-sticky note.
Coconut Oil Lube
Pure coconut oil is a fantastic, edible option for lubrication. If you are choosing this lubricant, remember that it can degrade or destroy a condom. Due to the pleasant taste, coconut oil is the favorite flavored lube for oral sex.
Coconut oil is safe for penetration, masturbation, and massage, as well as pleasant-tasting oral sex, making it a real all-rounder in the world of organic lubrication. It is also less damaging to fabric than other natural oils as it doesn't need extra effort to wash out of fabric.
The final bonus is the moisturizing effect that extra virgin coconut oil will have on your whole body after a fully sensual experience with it. When choosing coconut oil as lubrication, look at the ingredients list to ensure the only item is coconut oil to be sure that it is 100% natural and edible.
Olive Oil Lube
Olive oil is rumored to have been used as lubrication by the ancient Greeks and Romans and still offers the option for a slick sex session today. While it has a fantastic history, olive oil is still a risk when using a condom as it will degrade or break condoms.
If you need to have protected sex using a condom, don't use an oil-based lube and go for a water-based lubricant. Another drawback with olive oil lubricant is that it will stain fabrics and sheets. If you want to experience using olive oil as lubrication, make sure to use old sheets.
Penetration is generally not recommended with olive oil as it can have a negative effect on the pH of intimate, internal areas. It's also important to take a shower immediately after as any clothing that comes in contact with an olive-oil-drenched body is highly likely to stain.
Cannabinoid Oil Lube
Cannabinoid oil is made with tetrahydrocannabinol (THC), the psychoactive component of cannabis mixed with another substance to form a lube. This is then absorbed through the skin and membranes.
This may not be legal everywhere, so always check the laws where you live before purchasing this lube. There is some very compelling anecdotal evidence that cannabinoid oil is a very powerful sexual stimulant when used as lubrication.
It is not pure cannabinoid oil as that would be an extremely strong substance, so there will be a low percentage of cannabinoid oil supported by another natural substance such as coconut oil or even aloe vera.
If you want to use a condom safely with CBD lube, there are brands that provide latex-safe options like Quim Rock's Smooth Operator that is an aloe & CBD serum.
Aloe Lube
Aloe vera is a versatile plant that has many medicinal properties. Because it is used for medicinal purposes, this lubrication can be made for oral sex. Aloe lube is stain-free and can be made to be pH-balanced to protect the vagina or rectum's internal balance.
Always check to be sure of the manufacturer's warning, but generally, an aloe-based lube will be safe to use with condoms. This means it should also be safe for rubber and plastic toys. As with any natural lubrication, harmful substances like parabens, petroleum, and glycerin will not be present.
Is Organic Lubricant Safe to Eat?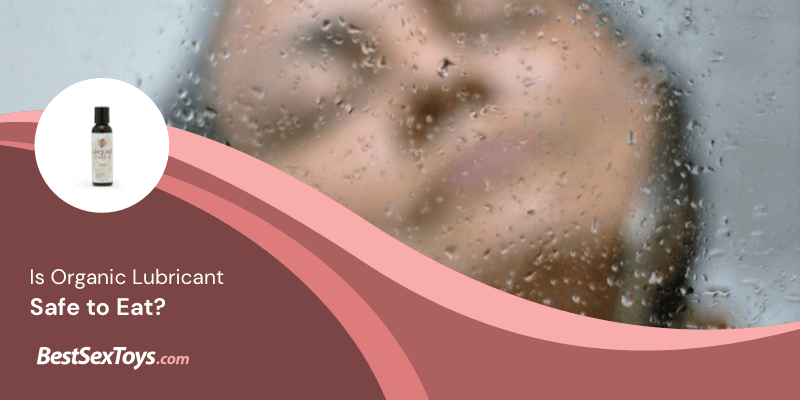 Generally speaking, all sexual lubricants will be safe for oral sex, but this does not mean they are edible in large quantities. If you are using an organic lubricant like olive oil, it may not taste pleasant to consume large quantities of it, even though olive oil is perfectly edible.
If you search for pleasant tasting organic lubrication that can be consumed, coconut oil is the best option. There are other organic lubricants that have a pleasant taste great for oral sex, such as water and aloe lube, so remember to check the label for flavors.
Which Is Better: Silicone or Organic Lubricant?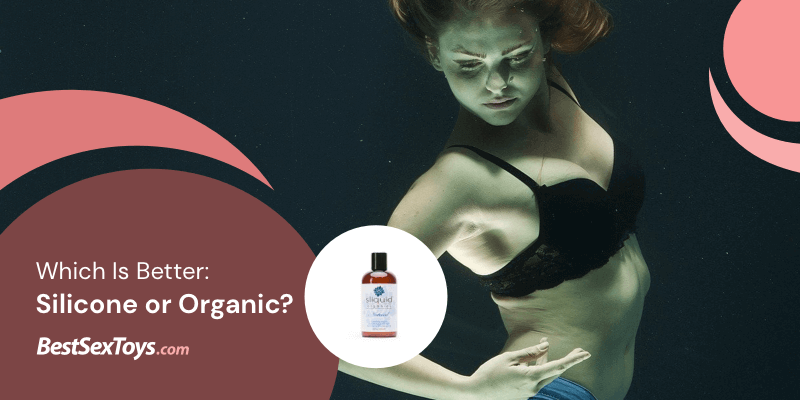 Silicone lubes are considered the market leader as there is a very low tendency for there to be any physical irritation from a silicone-based lube, they reduce friction extremely well, there is no chance of infection from silicone-based lube, and the duration that these lubes continue to be slippery allows for almost endless frictionless play.
The considerable cost of using silicone-based lube is when it comes to combining it with other silicone-based products such as sex toys. Silicone will bond with other silicone forms, which then causes undesirable changes to the surface of sex toys made of silicone. Oils also affect the condition of silicone-based toys and should be avoided.
Is Organic Lubrication Safe to Use With Condoms?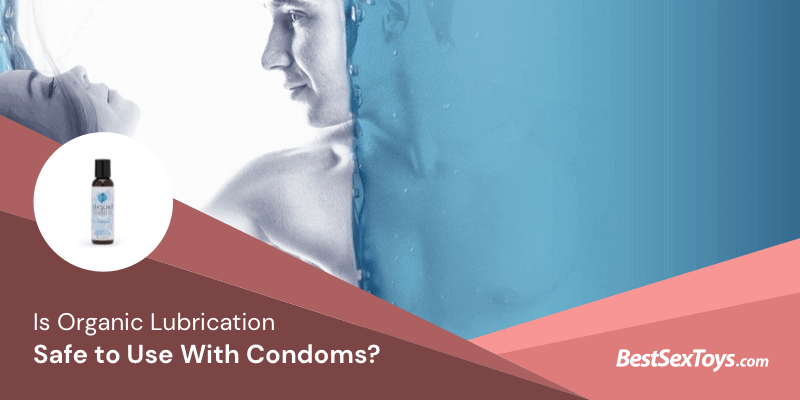 As a rule of thumb, if the organic lubricant is oil-based, it should not be used with a condom as this may affect the condom negatively. This is also true of other non-organic substances that are sometimes used for lubrication, such as petroleum jelly.
The reaction is similar to that of silicone with other silicone-based products; the chemical similarity between oil-based lubes and latex condoms can result in the deterioration of the condom. If the natural lube is water-based, it should be safe to use with a condom. Remember to check the product label and instructions to be sure if it is suitable to use with a condom.
How to Use Organic Lubricants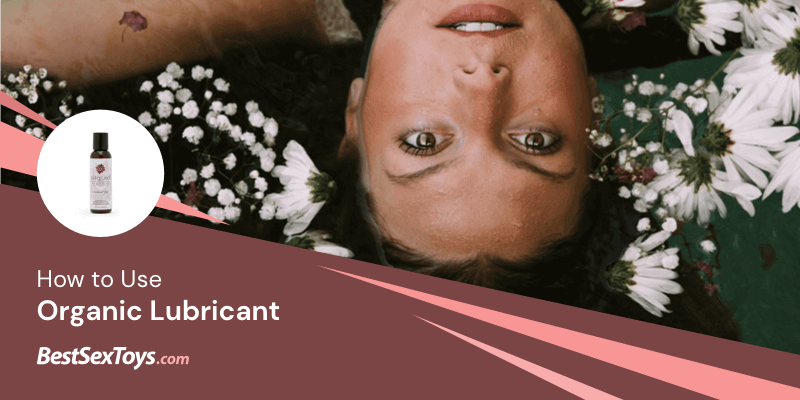 After carefully choosing an organic lube that does not have any known allergens to you or your partner that will also complement your sexual repertoire, toys, and condoms, it's time to apply the liquid lovemaking potion.
Read the instructions, especially if you are using a carefully formulated product crafted to provide a particular sensation or give a particular experience. Manufacturers will guide you to getting the optimal experience according to how much you should apply and where.
Apply the lubrication to your partner's body as this will enhance the sensuality of the experience. If you are using something that allows for use on the whole body, like coconut oil, apply it liberally to give your partner a massage. Alternatively, let your partner apply the lubrication and massage you.
If you are using lubrication for penetration, make sure that there is enough at the entrance of the vagina or the anus. Water-based lube may become tacky during foreplay, so keep the lube close for reapplication if needed.
Monitor the condition of your body after using natural lubrication for the first time. The ingredients may not have caused an infection and could have added great pleasure to your sexual play, but there could be a change to the pH level of the rectum or vagina that results in irritation, discharge, painful intercourse, painful urination, or thick, white vaginal discharge.
What to Consider When Buying Organic Lubricants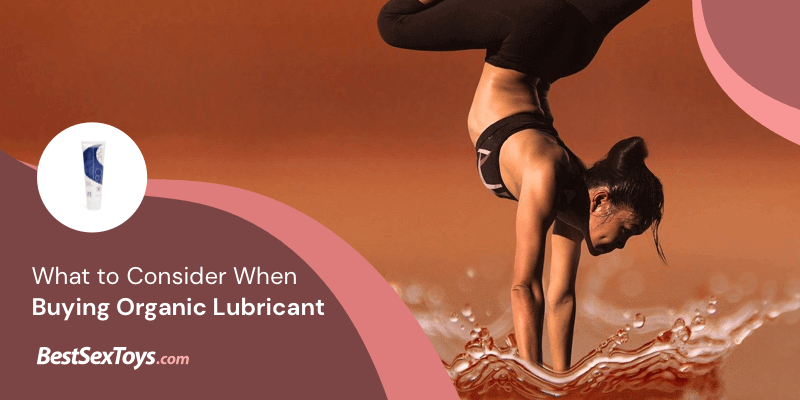 Allergens
Remember that allergens can exist in many food products and ingredients. It is very important to check with your partner if they have any allergies to the ingredients of the natural lubricants you are considering. If you and your partner do not have any food allergies, this can broaden your selection of natural lubrication options.
Condoms
If you need to use a condom for pregnancy prevention or prevent sexually transmitted infections or diseases, you will have to avoid organic lubricants with high oil content, such as coconut oil or olive oil. There is latex-safe natural lubrication, so remember to check the natural lubrication label before purchasing to see if it is fine to use with condoms.
Flavor
If you or your partner hate the taste of coconut, it will be a terrible experience. This is also true for olive oil as some people may not enjoy the taste of the oil on its own. There are many formulated natural lubes that can provide a pleasant taste along with an organic orgasm.
Ethical Concerns
There are some really great, ethically conscious products. The product's label will confirm whether the product is completely vegan or not. Usually, vegan products have labels stating "eco-certified ingredients".
Remember, many personal hygiene and cosmetic products are promoted as cruelty-free, but this is not the same thing as vegan. It does not guarantee that absolutely no animal products have been used in creating the item, just that they never tested on animals.
Special Sensations
Just because the lube is organic doesn't mean it can't heighten your sexual pleasures beyond making sure there is no unwanted friction. Many different organic lubes promise to get the job done with an extra level of sensation and satisfaction.
Fertility Friendly
Some lubes are marked as fertility-friendly or sperm-friendly to indicate that they are formulated to support the body's natural condition when trying to conceive. Almost all organic lubes can be considered fertility and sperm-friendly as they don't contain substances like petroleum, propylene glycol, glycerin, parabens, silicone, and Nonoxynol-9 (N-9), which all negatively affect sperm.
How Much Do Organic Lubricants Cost?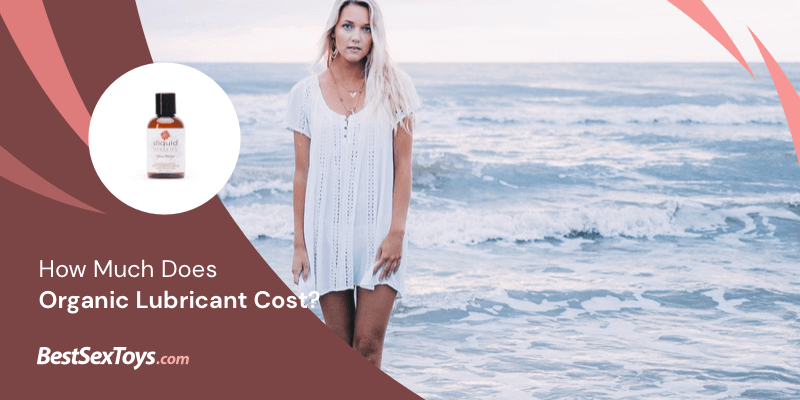 The prices of organic lube can vary greatly, from the very cheap olive oil in your kitchen cupboard to the carefully crafted options that will put a dent in your pocket. The price range for organic lubricants is between $8.44 up to $58. It all depends on the ingredients used in the product's elaboration.
More Sex Lubes
All Sex Lubes
All the sex toys for



Subscribe to our Newsletter
Newest Deals
Discounted Prices
Free Products
Giveaways
Promo Codes
Table of Contents
Organic Lubricants
Check the
Best 9 Organic Lubricants
Find the best 9 Organic Lubricants we've gathered after reviewing dozens!
Check Now