Mouth Gags
Didn't find what you are looking for?
View All
Best 10 Mouth Gags in 2023
1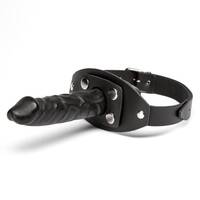 2
Circumference: 4.5 inches
Insertable Length: 5.5 inches
Length: 8.5 inches
Maximum harness size: 28
Material: Leather
Waterproof: No
Allergens: Phthalate-Free
Allergen Warning: Contains Latex
2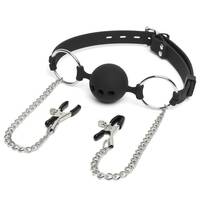 Ball Gag with Nipple Clamps
Fastening: Buckle
Length: 24.5 inches
Material: Silicone
3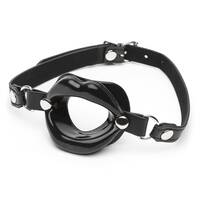 Fastening: Buckle
Material: Silicone
4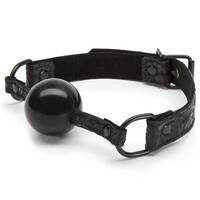 2
Fastening: Buckle
Length: 22.5 inches
Material: Silicone
5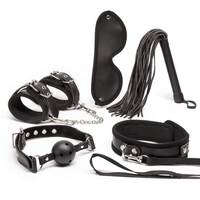 Special Bondage Kit (5 Piece)
Fastening: Clip
Material: Faux Leather
6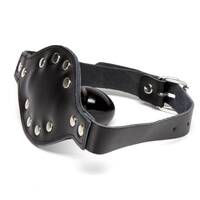 2
Fastening: Buckle
Length: 25 inches
Material: Leather
7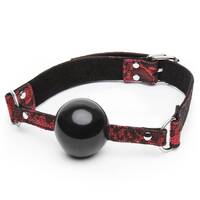 2
Bondage Silicone Ball Gag
Fastening: Buckle
Material: Silicone
8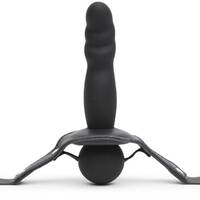 2
Large Silicone Ball Gag with Dildo
Fastening: Buckle
Length: 21.5 inches
Material: Silicone
9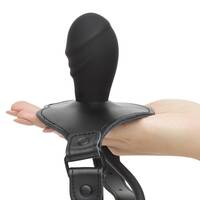 2
Bondage Boutique Inflatable Dildo Gag
Fastening: Buckle
Allergen Warning: Contains Latex
Material: Leather
10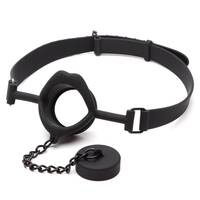 2
Scandal Stopper O-Ring Gag
Fastening: Buckle
Length: 26.5 inches
Material: Silicone
We have more
Mouth Gags
View All
As seen on
What Is a Mouth Gag?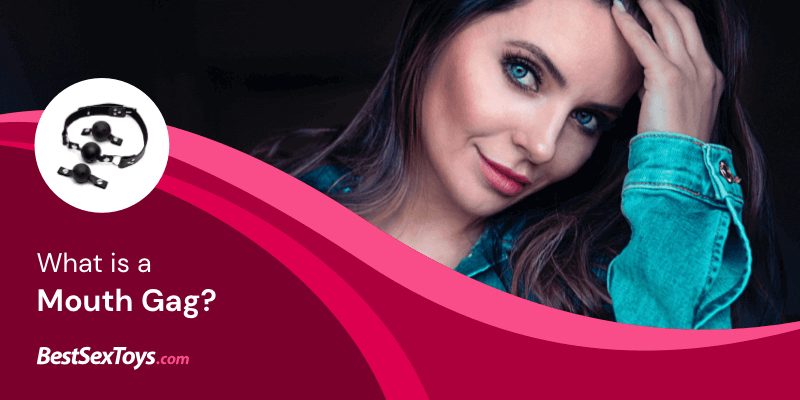 A mouth gag is a bondage toy used in BDSM (bondage, dominance, submission, masochism). A mouth gag is designed to keep someone from making noise and to force their mouth to stay open.
While mouth gags are commonly used by a dominant-submissive couple, they can be used for partners that are trying to reduce their volume, train their gag reflex, or simply add some spice to the bedroom.
A mouth gag is a great way to start introducing some more serious kinks. Whether it's to build sexual tension, get into a humiliation kink, or increase the power dynamic, couples that bring mouth gags to their sexual experiences find it to be an exhilarating addition. This sex toy removes a part of your control while your partner is (usually) free from restraint.
It's important to remember to establish non-verbal safewords. Since you won't be able to talk and make any noises, you'll need to find a way to keep your BDSM session safe for both partners.
What Is the Purpose of Using Mouth Gags?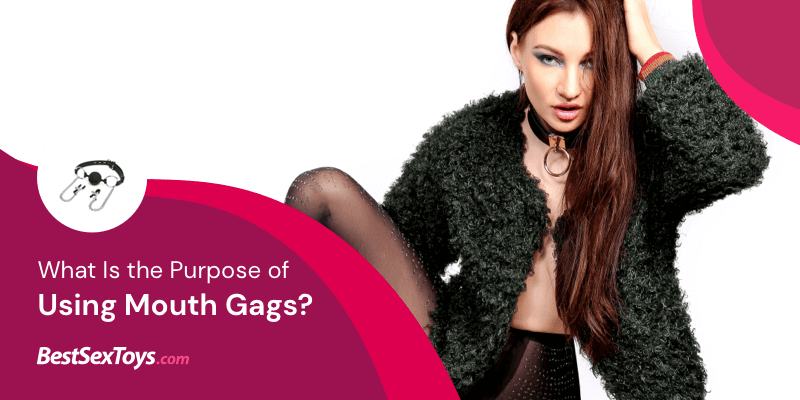 1. Noise Limitation.
To reduce the volume of your partner's moans and loving screaming, a mouth gag can help muffle the noises they make. Whether this is to spare your neighbors or play into a restriction kink, you and your partner can find the struggle to speak exhilarating. You'll need to find new ways to communicate and show your pleasure, developing an updated kind of love language.
2. Gag Reflex Training.
With the use of certain types of mouth gags, you can train your partner to have less of a gag reflex. You can start with a ring gag, so they're used to keeping their mouth open for extended periods of time, move on to a ball gag, and then maybe introduce a dildo gag for some depth training.
3. Various Kinks.
Mouth gags are used for a variety of BDSM scenes and kinks. Whether for humiliation, delving into power play, or completing the helpless look, a mouth gag is typically the first step to getting into more intense sessions. Typically worn by the submissive, a mouth gag's primary use is to be a restriction device.
Types of Mouth Gags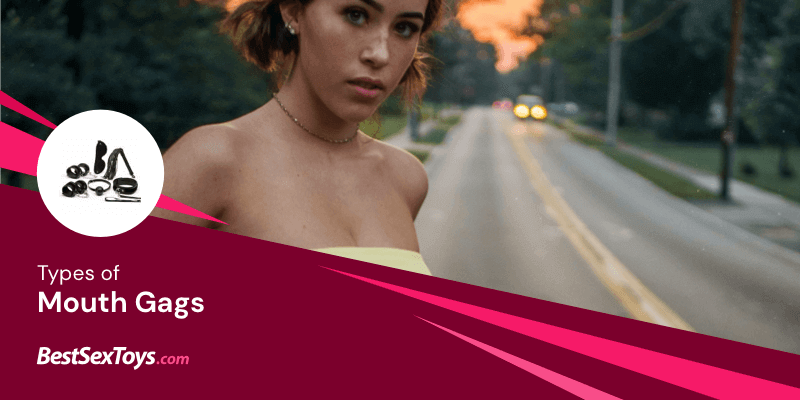 Breathable Gags
These are mouth gags that have holes in the mouthpiece. This will make it easier for your partner to breathe through them, which is a great place to start for beginners. Ball gags are the most commonly used breathable gags, but you may find other types that have breathable options available. Open mouth gags are, obviously, almost always of the breathable variety.
Ball Gag
A ball gag uses a firm ball to force your mouth to stay open while muffling your noises. You won't be able to speak, and your volume will be reduced to a barely audible whimper. You can find ball gags in a range of sizes; they can either be smaller to fit inside a beginner's mouth easily or large 'jawbreaker' styles for experienced users.
Dildo Gag
This mouth gag has the addition of a dildo that goes in your mouth or practically down your throat while it's fastened to your head. This is typically for more experienced users, as it requires a bit of deep-throating expertise and a handle of your gag reflex.
While you won't necessarily be deepthroating (unless you purchase a dildo specifically for that), having the dildo in for a long period of time may end up feeling like it.
Open Mouth Gag
An open mouth gag keeps the jaw wide open, generally leaving room to fit something inside your mouth. This can help train your jaw to stay open for longer periods of time. Ring gags, lip gags, spider gags are a few of the most common types of open mouth gags.
While these aren't designed for noise reduction, they do leave your mouth available for blowjobs while still restricting movement.
Bar Gag
Also known as 'pony bit' gags, a bar gag is a rod that is inserted in your mouth. The fastener can either connect at the back of the head or one of the bar's ends. These are paired with nipple clamps or more intricate headpieces. While it doesn't restrict noises as well as a ball gag, they are used to train your mouth to be able to stay open wider for longer.
How to Use a Mouth Gag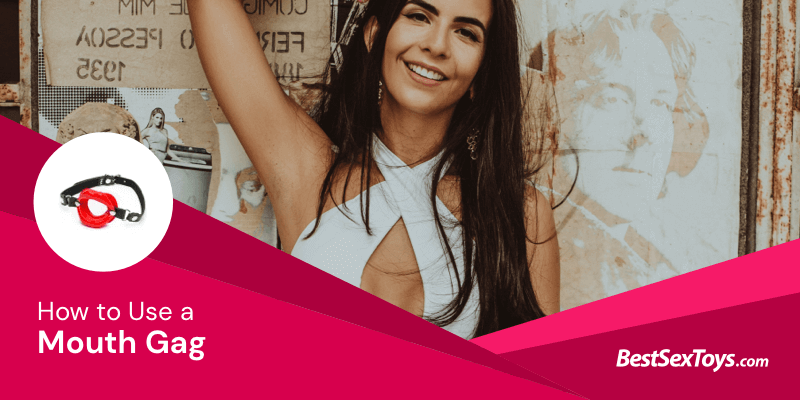 1. Cleaning.
Before using a mouth gag, be sure to clean it off and wipe it down. Even though you're always going to wash this toy after use, it's important to make sure no lingering bacteria or dust is going into your mouth.
Before using a mouth gag, wipe it down with either a disposable wipe or give it a quick wash with warm water and soap. You won't need to worry about drying it too thoroughly if you're going to use it almost immediately, but you should give it a quick rub down with a towel if the mouth gag is brought in at a later point in the scene.
2. Inserting.
While the exact insertion instructions will depend on the type of mouth gag you have, the same basic principles will apply. Make sure you're comfortable and ready for the mouthpiece. Opening your mouth as wide as possible, gently insert the piece into your mouth, closing your jaw as far as the toy always without applying too much pressure. Fasten the head strap in place.
Communication with your partner during this step is crucial. Although this piece is designed to have some level of discomfort, it should never cause you pain that you can't handle. Remember to adopt non-verbal safe words that will indicate your partner the need for a pause or full stop in the scene.
3. Adjusting.
Once the strap is securely around your head, adjust the strap, piece, and your mouth's muscles to get as comfortable as possible. Pay attention to any sharp pain or unusual discomfort as you're adjusting. Once you've got it properly in place, you can get down to business!
4. Removing.
As you're removing the mouth gag, it's important to take it out slowly. This is especially true for dildo gags if you're removing it from near your throat.
Give your jaw time to adjust, and be careful not to strain any of your mouth's muscles. You need to be wary of lockjaw when your muscles constrict, and you find jaw movement difficult.
5. After Cleaning.
After you're finished with your scene, you'll need to clean your mouthguard. Even if you're the only one using it, you shouldn't be under the impression that a quick rinse off will be "clean enough". However, soap and warm water are typically enough to clean it, rather than using a specialized sex toy cleaner.
When you're finished, make sure the toy dries completely before putting it away. Removing additional moisture will prevent the growth of mold or bacteria. If you're ever unsure about whether you've dried the mouth gag entirely or not, leave it out in a dry, warm place for about an hour. Then you can safely store it away.
What Is the Best Mouth Gag for Beginners?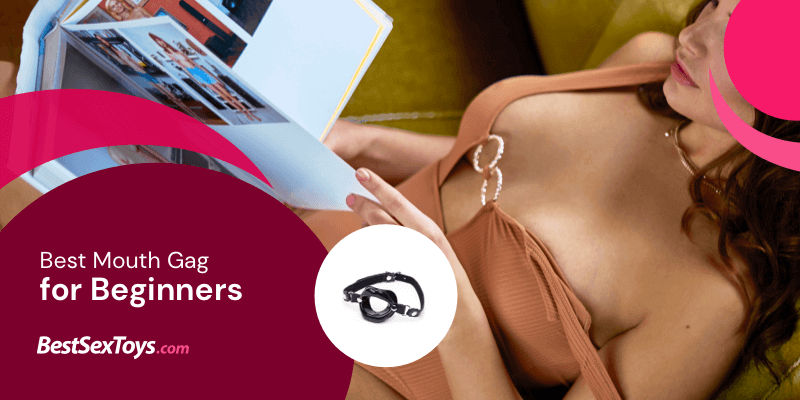 When it comes to using mouth gags, you need to be aware of your experience level and limitations. Test your partner's gag reflex by starting simple: use a tie or cloth for a gag first. Tie it around their head with their mouth open or ball up the fabric and stuff it into their mouth.
Those that have a trained gag reflex or no reflex at all can generally take it a step farther than those with an easier-to-trigger reflex. When looking for a new mouth gag, take into consideration the type, size, and material.
For beginners, a smaller, breathable ball gag may be the best first step into using mouth gags. It's important to note that if you're not going to use a breathable ball gag, then the ball gag should be more oval in shape than a perfect sphere.
Bit gags are also typically easier for a beginner's jaw when they're a smaller size. Your partner may find that they prefer silicone material since it will feel softer on their teeth, although plastic isn't necessarily uncomfortable.
Precautions When Using Mouth Gags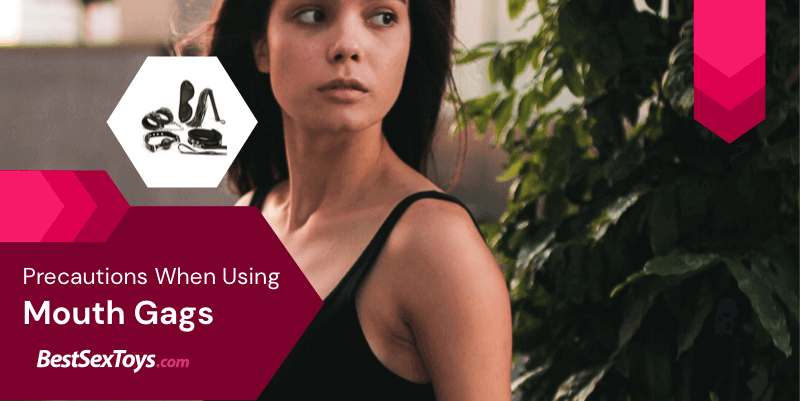 When it comes to stepping anywhere near BDSM kinks, safety is a priority! You'll need a nonverbal safeword, also known as a "safe action"; this can come in the form of a few taps, snapping, or facial indicators. You could also use something like a squeaking toy or another noisy object that will give your partner the indication to hold on, slow down, or stop entirely.
Always make sure the piece you're using is compatible with you or your partner. If you're training your gag reflex, it's probably best not to jump into a large piece or a dildo gag. If you have allergies to certain materials, pay close attention to the sex toy materials.
Always make sure your partner is comfortable with the size and width before inserting the piece. You have to be in the right mindset when using a mouth gag to not risk a panic attack from an unprepared gag reflex. Have medical scissors nearby in case you need to remove the mouth gag quickly.
Never use a gag if your partner isn't feeling well or if their nasal passages are blocked. Breathing through your nose will often be the primary way to breathe properly while a mouth gag is inserted.
Although it may seem like a mood killer, discussing these safety measures before a scene is crucial for safe sex. No matter what happens during the scene, it's non-negotiable to listen to their cues and keep their best interests in mind.
Where to Buy Mouth Gags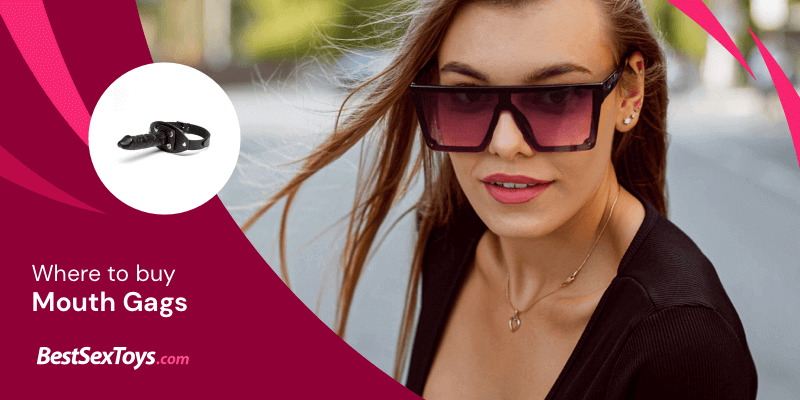 Shopping In-Store
To find quality mouth gags, you'll most likely need to take a trip to your local sex store. There, you'll be able to find a selection ranging from beginner to expert with plenty of styles and materials.
Having the advantage of seeing the size and width up close and personal gives you a much better idea of what you or your partner will be able to handle.
The store employees are almost always approachable for any questions or concerns you have and should help you find the right piece for your experience level. If you're concerned about allergies or safe materials, they can provide you with more product details and lead you in the right direction.
While it's probably best to leave the gritty details of your sexual plans out of the conversation, getting an experienced opinion can help save a lot of time and unpleasurable discomfort.
Shopping Online
When it comes to shopping online, it's important to read through the product information. You'll be able to find almost any kind of mouth gag you can think of, but you'll need to make sure you purchase from a reputable manufacturer.
Pay close attention to their product details and the online sex toy reviews! From there, you'll be able to determine if their products are the right fit for you.
While some stores have return and refund policies for mouth gags, it's better to try to find the right piece the first time. First, determine what style and size you're looking for. Then, you can browse through the different shapes, colors, and additional features that you or your partner will enjoy.
All the sex toys for



Subscribe to our Newsletter
Newest Deals
Discounted Prices
Free Products
Giveaways
Promo Codes
Check the
Best 10 Mouth Gags
Find the best 10 Mouth Gags we've gathered after reviewing dozens!
Check Now