Bondage Kits
Didn't find what you are looking for?
View All
Best 10 Bondage Kits in 2023
1
Great Deal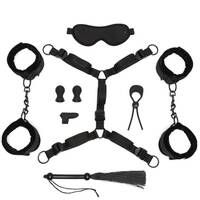 2
All Tied Up Bondage Play Kit (8 Piece)
Material: Silicone
Waterproof: Submersible
Allergens: Phthalate-Free
2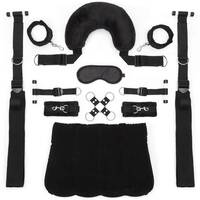 2
Master Mega Bondage Kit (8 Piece)
Fastening: Velcro
Fabric: Faux Fur
3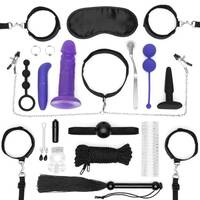 3
All You Need Bondage Kit (20 Piece)
Circumference: 5 inches
Insertable Length: 6 inches
Waterproof: Splashproof
Allergens: Phthalate-Free
4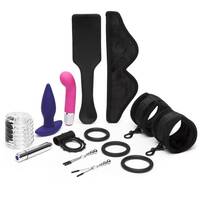 Jumbo Couples Sex Toy Kit (12 Piece)
Battery Info: 2 x AAA batteries
Power Type: Batteries (not included)
5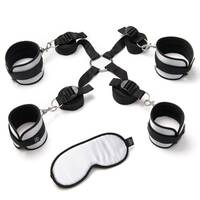 Hard Limits Bed Restraint Kit
6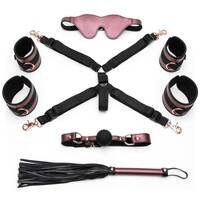 2
Lover's Bed Bondage Kit (4 Piece)
Fastening: Velcro
Material: Faux Leather
7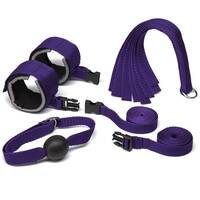 Fastening: Velcro
Allergens: Latex-Free
Length: 57 inches
Fabric: Nylon
8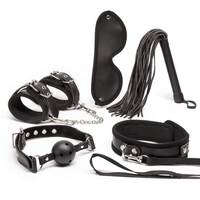 Special Bondage Kit (5 Piece)
Fastening: Clip
Material: Faux Leather
9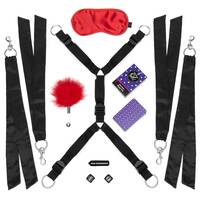 2
Bind Date Bondage Kit (8 Piece)
Battery Info: 3 x LR44 batteries
Power Type: Batteries (included)
Vibration speed: Speeds & patterns
Waterproof: Submersible
Allergens: Phthalate-Free
10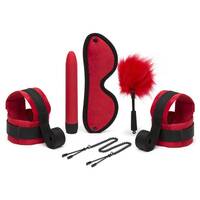 2
Couple's Pleasure Kit (6 Piece)
Circumference: 3.5 inches
Insertable Length: 6 inches
Length: 7 inches
Flexibility: Rigid
Waterproof: Submersible
Allergens: Phthalate-Free
We have more
Bondage Kits
View All
As seen on
What Is a Bondage Kit?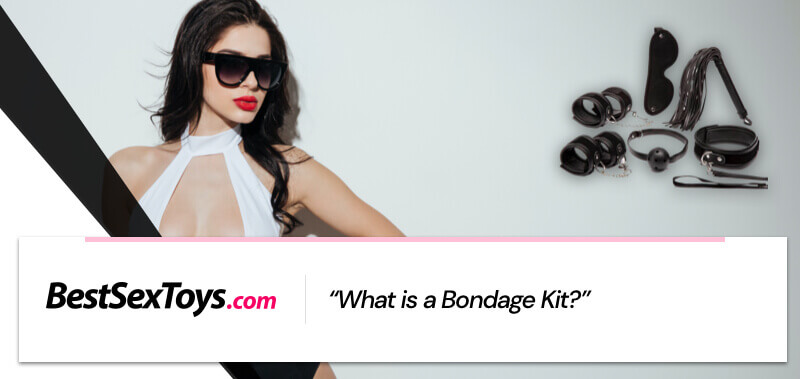 Bondage kits are a way to be prepared for any kinky situation and offer multiple bells and whistles to get you and your partner off while being tied down. Typically including something for restraining and something for tantalizing, these matching kits are aesthetically pleasing and are commonly used in photoshoots.
Bondage kits can be a non-intimidating and a simple way to introduce your partner to bondage play and are popular with first-timers. Most of the bondage kits come with restraints that can be used in a multitude of positions, which means one kit can go a long way for a couple starting out.
So if you're just getting started in BDSM or if you're looking to add something new to your toy chest, a bondage kit gives you the most bang for your buck, while also being sexy and color-coordinated.
What Is Included in a Bondage Kit?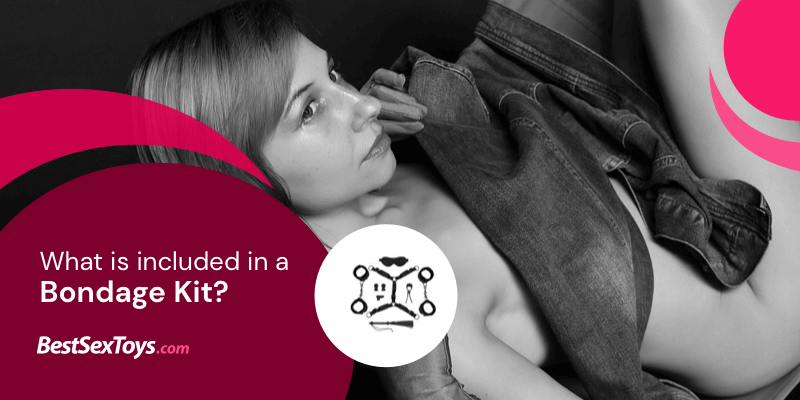 Every bondage kit has some tool for restraining one of the partners. This can be leather cuffs with chains, harnesses, silky cloth, ropes, or bondage tape. The higher-end bondage kits come with more versatile restraining systems so that you can put your partner in multiple positions and situations, while the more cost-effective models offer simpler situations.
Bondage kits typically include one or multiple sensory tools. Sensory tools, or sensory toys, can be anything that stimulates the bound party during play. More advanced kits include everything you would ever need like, whips, floggers, vibrators, butt plugs, dildos, nipple clamps, clitoris suckers, or other new ways experiment with your partner.
Bondage Restraint Types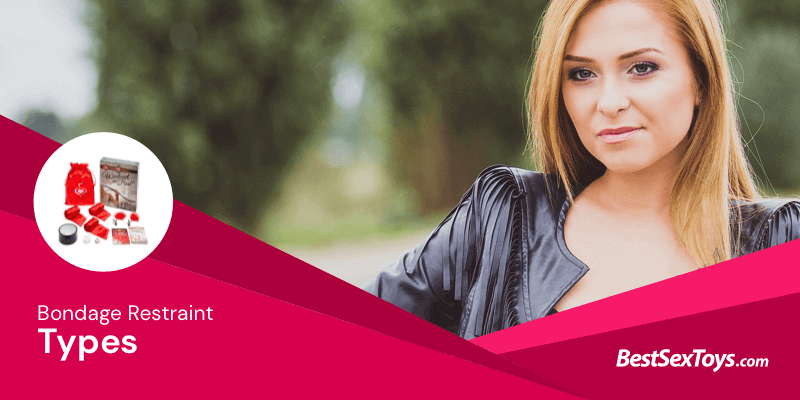 If you're trying to introduce your partner into the wide world of bondage, you may want to start them out with something more comfortable, but if you're looking to expand your kit, you may want to go into the unknown. It's important to understand what restraints can come in bondage kits so that you can choose the best one for you and your partner.
1. Cuffs.
Most of the cuffs you find in your bondage kit won't be of the fake-cop variety but will instead be thicker than plush cuffs or cuffs made of leather. It's extremely easy to cut off blood flow at the wrists and the ankles, so the thicker cuffs give you all of the control that you want while also keeping your partner safe and comfortable while they're under your spell.
The extra surface area of the cuffs also helps the restrained partner feel more under control and will enhance the bondage experience. Some cuffs are accompanied by a harness and chains with clips to force the bound party into whatever position you desire, and they can be used with other kits or restraints for the ultimate bondage play experience.
2. Ropes.
When you think of bondage, the first thing that pops into your head is "rope." This is probably due to the intricate knotwork and artistry that had come out of the Japanese form of using bondage ropes in photography and art. Ropes come in different materials and take a good amount of understanding to utilize without accidental injury to your partner.
The body has a lot of sensitive areas, and blood flow is, of course, of the utmost importance. If it is your first time experimenting with bondage play, it may be better to leave the ropes for next time. If you're looking to expand your already existing kit with a kit that is heavy on the ropes, take into account the material and thickness of the ropes, to make sure you find the perfect fit.
Natural fiber ropes can stretch and wear out over time, but they are softer on the skin and offer better handling for knotwork. Synthetic fibers are stronger and won't stretch over time, but they are known to cause rope burn and don't hold knotwork.
Unless you are an expert at bondage with years of experience, never try suspension bondage on your partner as it can lead to serious injury. If suspension bondage is your pleasure, consider getting a sex swing to bind your partner, rather than suspending them yourself.
3. Ribbon.
The ribbon is the simplest and most playful way to introduce your partner to bondage play or to experiment together as a couple for the first time. These thick ribbons are designed to be soft on the skin and adjustable for your comfort level.
Ribbons are also a comforting way to bring somebody into the bondage fold while also making them feel like a gift to be unwrapped.
4. Bondage Straps.
Bondage straps are a way to easily and completely have control over your partner's body in a snap. These straps are designed much like belts, they are adjustable to encompass different parts of your partner's body and snap open and shut for quick catch and release.
Bondage strap kits usually include enough straps to immobilize your partner's entire body. Straps are best paired with sensory tools to have your partner wiggling with delight and anticipation. The straps can be used with other restraints to create a unique bondage experience.
5. Bondage tape.
Bondage tape is essentially duck tape that won't rip the bound parties hair out when being removed. Bondage tape keeps a good hold over itself without any damage to the surrounding skin, and therefore is a good resource to have in any bondage kit. The tape is versatile and reusable if stored carefully and rolled back up after each use.
Like bondage straps, bondage tape is used when you want full control over a submissive's body and want to bind as much as possible. If using a bondage tape, it's important that you don't bind your partner too tightly. The tape should have a little give to it when applied to not restrict the blood flow.
If you can see the skin bulging around the tape, rather than laying flat with it, you know that you have gone too tight.
6. Harnesses.
Harnesses are usually used with cuffs or ropes to offer you and your partner new and exciting positions. These harnesses are usually secured around the neck or across the chest, and have rings throughout to secure your cuffs or rope.
These harnesses can also be used for other bondage scenarios and can even have a hand in your bondage fantasy foreplay. Harnesses can be comfortably and secretly worn underneath clothes if exhibitionism is your fancy.
7. Gags.
Using a gag on your partner or the tied up party is a way to force them deeper into bondage play by making it impossible to speak and a little harder to breathe. Mouth gags are inserted into the submissive mouth and then fastened around their head so that the gag won't slip out. Gags can come in different forms depending on what you would like to use them for.
The most typical version, a ball gag, is designed to take up the subs entire mouth while forcing it to remain open. Gags are known to cause drooling and are used when a slobbering fetish is involved in your fantasy, though not all gags cause an obscene amount of drool.
Ring gags force the mouth open while still giving the dominant the power to insert things into the mouth. In BDSM, gags are used as a form of humiliation and enhance the subs feelings of helplessness.
8. Blindfolds.
Blindfolds or sex masks enhance bondage play by taking one of the submissive senses and therefore heightening all others. Blindfolds are typically simplistic and resemble sleeping masks but can be more elaborate depending on your preference.
Typically made from either plush materials, leather, or ribbon, blindfolds are often used in bondage play to add an element of surprise to every tease, tickle or touch. Blindfolds make it so that your submissive doesn't see what's coming and can lead to more intense orgasms.
Any restraints can be used together to bend your partner into whatever position you'd like. If you're having a hard time just picking one kind of restraint you enjoy, consider getting two kits and using them together.
Bondage Kit Sensory Tools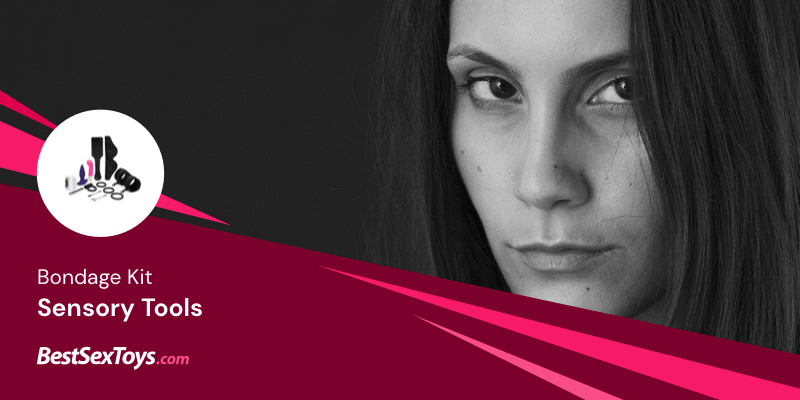 1. Bullet Vibrators.
Bullet vibrators pinpoint exactly the right spot again and again. These small and powerful vibrator tool used with restraints can enhance the bondage experience and tease your partner or submissive.
Bullet vibrators normally have several functions or levels of vibrations included in the device. When used during bondage play, bullet vibrators can be taped or tied to sensitive areas for continuous stimulation.
2. Butt Plugs / Anal Beads.
Put the pressure on your submissive by using a butt plug or a string of anal beads. When accompanied with a bondage play, butt plugs help keeping your partner focused on their situation and allow them to delve deeper into the sensations that they're feeling.
It is important to lubricate your butt plug or string of anal beads appropriately to not cause any unnecessary discomfort or pain. Water-based lubes or oil-based lubes can work but be sure to read the packaging included with your plug or beads to know what lube is recommended for use.
Butt plugs are considered a more severe punishment than anal beads because, with anal beads, you can go more slowly and stretch the anus over time. As with a butt plug, it is about dominating and filling your partner's cavity for punishment or added pleasure.
If you like the idea of a plug or a string of anal beads and you want to get one that lasts, try to find a hard plastic or silicone version rather than a jelly or soft plastic version as they can hold fragrances and bacteria, making them not entirely safe for long-term use and impossible to keep completely clean.
Some versions even include vibrating functions for added stimulation. If you or your partner are new to anal play, consider using a smaller butt plug to start as going too big too fast can be extremely painful.
3. Nipple or Clitoral Suckers.
Nipple suckers and clitoral suckers latch on to your most sensitive areas and intensify pleasure by increasing the blood flow. These toys are commonly used in BDSM and are a favorite for those who enjoy being teased while being bound.
They can come in various configurations and types, but the general method of using nipples or clitoral suckers is generally the same. Attach the suckers and create suction, leaving them on for a minute or two before taking them off and then teasing the area. It's important that you don't overuse suckers due to the draw and blood flow to the area.
4. Nipple Clamps.
Nipple clamps are often adjustable and can come with either chain attachments or be stand-alone. More deluxe models vibrate while others look like clothespins. After the clamps are removed from the nipples, they leave an increase of sensitivity. Depending on what pressure you set your clamps on, they can hurt.
Sometimes in bondage play, the pain is wanted, while other times, it isn't a turn-on for the submissive. It's important to have a talk about the limits when experimenting with clamps for the first time, but don't knock it until you try it.
5. Paddles or Floggers.
Spanking is a big part of some people's BDSM and bondage play fantasies, which is why a lot of bondage kits include some sort of spanking tool. Using your hand can be too hard for some beginners and can cause injury to either you or your partner.
Paddles and floggers give you more control over your swing to have your partner right where you want them. Whether you want to spank your partner at the beginning of a play or use spankings as punishment throughout your bondage play scenario, a paddle or flogger is essential to any bondage kit.
Be sure to discuss limits with your partner before spanking them for the first time to ensure they're as comfortable or as uncomfortable as they're okay with.
6. Dildos.
In many bondage positions, it can be hard to penetrate your partner once they're all tied up. In this case, you may want to be sure a dildo is included in your bondage kit. Dildos let you have a full penetration even when you cannot position yourself between your partner's legs.
Many dominants also choose to leave a dildo inserted into their submissive during bondage play, as it is said to have an enhancing effect of sensitivity and overall experience. Having a dildo on hand gives the dominate the ultimate control over the submissive party.
How Much Does a Bondage Kit Cost?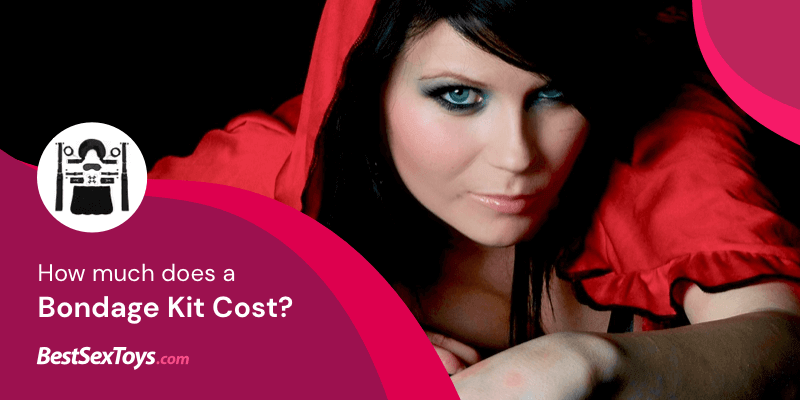 Bondage kit prices can range anywhere from $30 to over $200 depending on how many items you want to be included. Take the time to explore the different options available and consider which one would give you the most bang for your buck.
If you find everything you want when looking at the kits, except for one kind of restraint or sensory tool, consider purchasing it separately to add to your kit. Ideally, with a bondage kit, you want to get as many toys as you feel you'll actually use.
Talk with your partner while looking to see what they are most interested in as well, this experience is for the both of you after all.
Where to Buy Bondage Kits From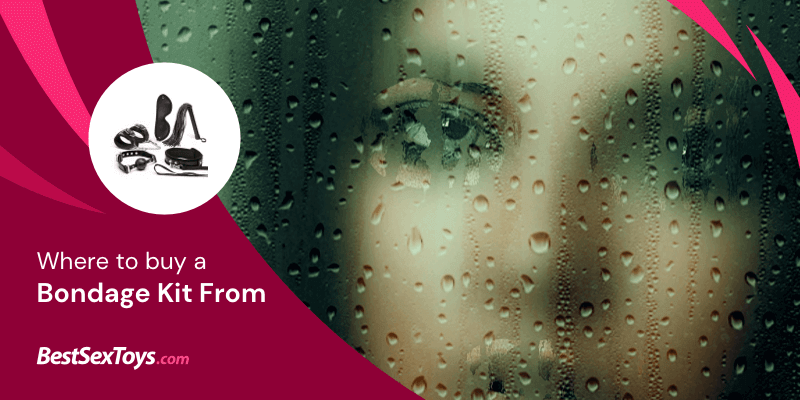 A wide variety of bondage kits can be found right here on the world wide web. All of the options you could want in all of the configurations you could dream of are right at your fingertips a few clicks away. Many sex toy websites as Bestsextoys.com, even have advanced filters to sort the results just for you, ensuring that you end up finding your perfect match.
If you find that you can't possibly wait for your bondage kit to ship from the website's warehouse, there are also plenty of options available to you at your local sex toy or adult store. Take the time to be familiar with what you want and what materials you want it in before buying to guarantee success on your first or fiftieth venture into bondage play.
More Bdsm
All Bdsm
All the sex toys for



Subscribe to our Newsletter
Newest Deals
Discounted Prices
Free Products
Giveaways
Promo Codes
Table of Contents
Bondage Kits
Check the
Best 10 Bondage Kits
Find the best 10 Bondage Kits we've gathered after reviewing dozens!
Check Now