Sexy Nightwear
Didn't find what you are looking for?
View All
Best 8 Sexy Nightwear in 2023
1
Best Seller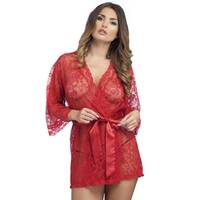 2
Fastening: Tie-up
Fabric: Lace
2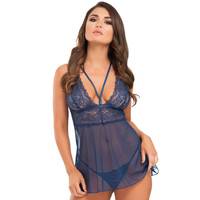 2
3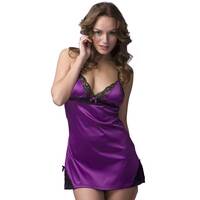 2
Satin and Lace Plum Babydoll Set
4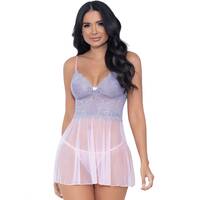 2
5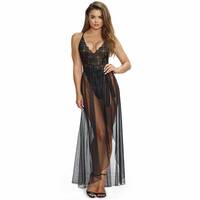 3
Teddy with Sheer Long Skirt
6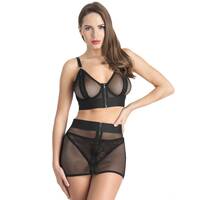 2
Fishnet Bra and Skirt Set
Fastening: Zip
Fabric: Fishnet
7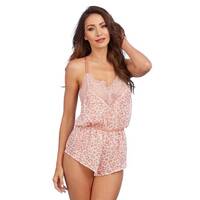 2
Dreamgirl Pink Leopard Print Lace-Trimmed Teddy
8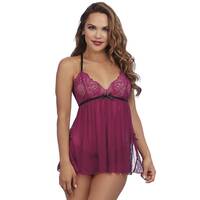 2
Dreamgirl Pink Lace Babydoll Set
Fastening: Hook and eye
Fabric: Lace
We have more
Sexy Nightwear
View All
As seen on
What Is Sexy Nightwear?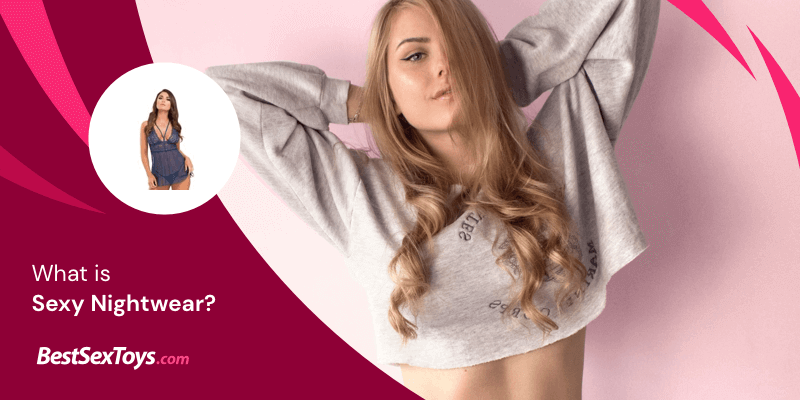 Sexy nightwear, or lingerie, can be your favorite pair of lacy underwear or a full one-piece bodice you bought last Valentine's day. Ultimately, it's a sexy set of underwear that hugs your curves and delicacies, accentuating your womanly features.
Know the power that shape, color, and attention to detail can have on your partner. With a little extra effort, you'll not only give them something to look forward to, but you'll give yourself a little boost too. Many women wear sexy nightwear even outside of the bedroom to feel more confident and shape their figure. 
Sexy nightwear is visually stimulating for you and your partner. There is a range of available styles, colors, and sizes to meet any couple's expectations. Take the opportunity to spice up your bedroom life with a little help from some visual foreplay.
Types of Sexy Nightwear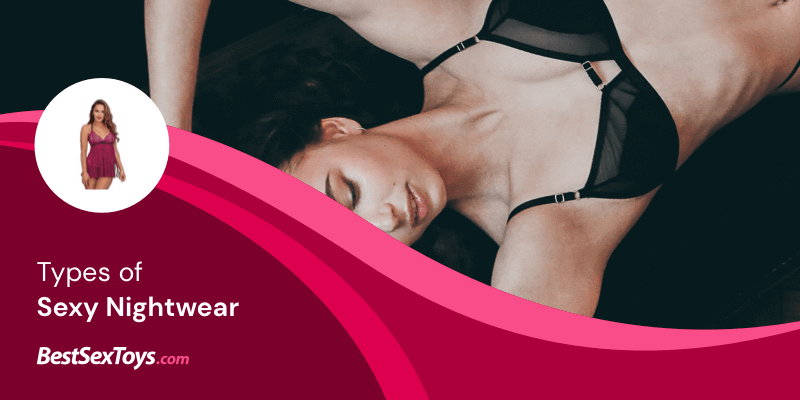 Babydoll
This is a bra or bralette that has a sheer skirt attached. It can look like a lacy dress, with the sheer fabric attached either above or below the breast and reaching between your belly button and mid-thigh. The fabric doesn't cling to your body but rather flows loosely around your stomach and waist. But, similar to a sundress, the right turns and twists give a tantalizing preview of what's beneath.
Bodysuit or Teddy
Imagine a one-piece swimsuit. Now, make it lacier, add a few ribbons, and boom! You have a lingerie bodysuit, also known as "teddy" nightwear. They can be full sheer, lacey, spider-web straps only, or even set up with a harness. While you may initially believe this covers too much, you'll find that many of your available options leave just the right amount to the imagination.
Bustier
Where a corset pulls your waist in, a bustier pushes up your breasts. They're often confused for each other, but there's one easily discernible difference: A bustier uses clips similar to a bra, a corset has laces that give you control over how tight it is. Bustiers are strapless, and give your girls some shelf to sit on.
Chemise
A chemise is a sexy piece that reaches you mid-thigh or higher. You'll typically find them in satin, although they can come in lace, cotton, or other comfortable materials. It's typically made to hang from spaghetti straps and be form-fitting, although there are some that can be a little loose.
Garter Belts
Garter Belts deserve a place on Sexy Nightwear because they're often paired with your favorite lingerie. Often a separate piece, these are mini corsets that cinch around your waist to tighten your figure. They have small strings or clips hanging from the fabric (the garter) to clip stockings, but letting these pieces hang can add to the appeal.
Reasons Why Women Wear Nightwear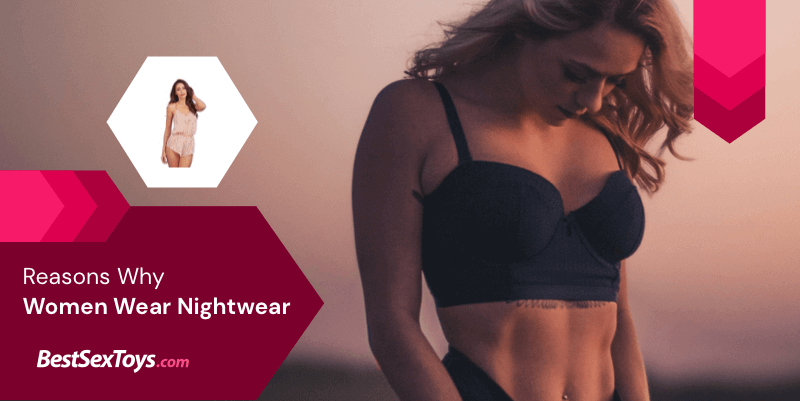 1. To Excite Their Partner
Whether you picked this out yourself, they gifted the piece to you, or you decided to go shopping together, throwing on some sexy nightwear can turn on your partner. When you're looking to entice them, you can give them a show without having to worry about performing the perfect striptease. That's the best about lingerie – the clothes do all the talking!
2. For Special Occasions
If you're looking to make a night more special, lingerie can add that missing spark. When you're looking to give your partner a little more appreciation or show them you want more attention, slip into lingerie. This can be a great signal to let them know what you're looking forward to. Whether it's for Valentine's day or to turn the evening into something different than the norm, sexy nightwear can transform the night.
3. To Flirt With Others
Sexy nightwear isn't just for evening bedroom attire. Bustiers and even bodysuits are used as decorative tops, layered with a jacket or see-through shirt. When going out on a date or special evening, you might want to add lingerie to your outfit to show off a bit more skin or put together a sexier outfit. If you're planning on taking them home, it gives them a preview of what kind of fun they can expect later on in the evening.
4. To Feel Comfortable or Confident
With the popularity of lingerie taking off in the 21st century, many manufacturers have caught that the material needs to be more comfortable. As a result, many women purchase lingerie just to wear around the house for themselves. Whether it's a chemise or a babydoll nightgown, you might find yourself using these as your typical nightwear. 
Because lingerie hugs your curves and tightens your figure, you may feel inclined to wear lingerie to feel more confident. It gives you a step in the direction of the body you're looking for, and many women report feeling motivated to work on their figure to look just as good without the lingerie.
Do Men Like Sexy Nightwear?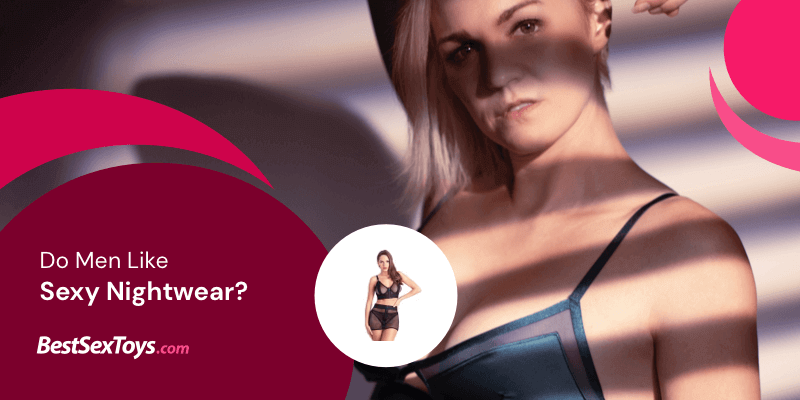 Types of Sexy Nightwear the Men Like
Whether your partner says he likes you in a giant T-shirt or with nothing on, sexy nightwear almost always turns him on in a different way. These pieces are specifically designed for intimacy and to look special, giving your partner a show for what's to come.
When it comes to what your man likes to see you in, it's always the best practice to ask! Either scroll through your favorite online lingerie store or maybe take to Pinterest to get some inspiration. While you may feel that this could ruin the surprise, some couples find looking through lingerie a fun and sexy activity.
But if you're just starting out or you're a bit shy to ask for that kind of information, keep a close eye on his reactions. If he likes you in dresses, maybe he'll prefer a babydoll lingerie.
If he's adamant that he thinks you're sexy enough with nothing at all, he might get turned on by spider-web teddy lingerie. If his eyes light up when you come to bed with the new piece, you know you've hit the jackpot!
What Makes Nightwear Sexy for Men
Adding sexy nightwear to your outfit puts in some additional intimacy – that visual foreplay we've been talking about. It also signals to your man that you were thinking of him. While it can help give you confidence and make you feel sexy, you know your man looks forward to seeing you in something tight and cute. 
The phrase "leave enough to the imagination" comes from the idea that your silhouette is enough to turn a man on, giving him something to fantasize over. With sexy nightwear, your best is out on display, and often is "just enough" for his imagination.
It's also an indicator that you want him back; some partners may be under the impression that a woman withholds her sexual desires, and he might not be picking up those subtle hints. This gives him a pretty good idea of what you're looking for.
How to Wash and Care for Sexy Nightwear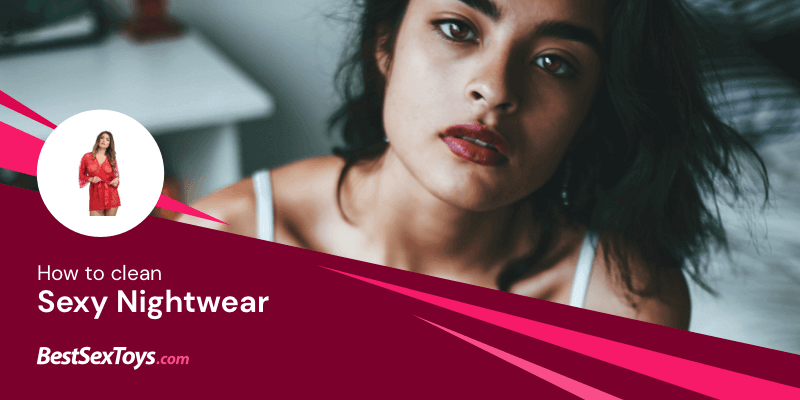 While satin or cotton may not be as easily damaged as lace or thinner fabrics, you should still consider taking extra care of your sexy nightwear. This will not only help it retain its shape and durability, but it will keep you from accidentally tearing or damaging the piece.
Take a moment to read the instructions on the product information or, more often, the tag on the fabric to know how to wash and dry your lingerie properly.
1. Hand-Wash
When it comes to being 100% sure you won't damage your sexy nightwear, think of the old saying: "If you want something done right, you have to do it yourself." Some washing machines tend to take a chunk out of your most delicate clothes. Instead of risking it, try washing the garment by hand in the sink or bathtub.
Fill up the basin with warm water, making it as hot as possible without burning yourself. Then, add a small amount of fabric cleaner by pouring it onto the clothing. You'll gently scrub the piece in the water, using your fingers to focus on areas that collect the most sweat.
2. Wash With Delicates
If you've had success in the past with lacy and delicate clothing in your washer, feel free to toss it in with your regular linens and delicate clothing. Some people purchase a mesh wash bag that you're able to insert garments into for additional protection. This is the best for pieces with a lot of string or thing straps that could get caught and tangled with other clothes.
Simply throw the lingerie into the mesh bag or with your other clothes and wash as normal. If the clothes are new and have color, it's best to wash them with other colored material in colder water, so they bleed less. Many convenience stores and your supermarket's laundry aisle will have color catchers.
3. Hang Dry
Some people are comfortable enough to tumble dry their lingerie with the rest of their delicate garments. However, especially if your lingerie consists primarily of lace or mesh fabric, it's better to be safe than sorry and hang dry the pieces. You can simply place the sexy nightwear on a hanger, put a towel underneath to catch any falling water, and leave the piece overnight to dry.
While it's best to hang the piece in a window or outside, you may not have the privacy to do so. So, instead, after the lingerie has hung up overnight, you can run it on a warm or no-heat cycle in the dryer, so the heat doesn't damage the material, but you're not left with stiff panties.
After you've treated your sexy nightwear carefully and gently, you don't want to go ruining it by stuffing it into the back of your underwear drawer. It's best practice to try to have a separate area for your lingerie. If you're uncomfortable hanging your lingerie or you're looking to keep it a secret, you can store it either in a bag or the package it came in.
You can keep this bag to itself or put it in a less used drawer so that the nightwear doesn't get pushed around and crammed anywhere. The material is often easy to tear and rip if handled too forcefully, so you'll want to be gentle with it.
Where to Buy Sexy Nightwear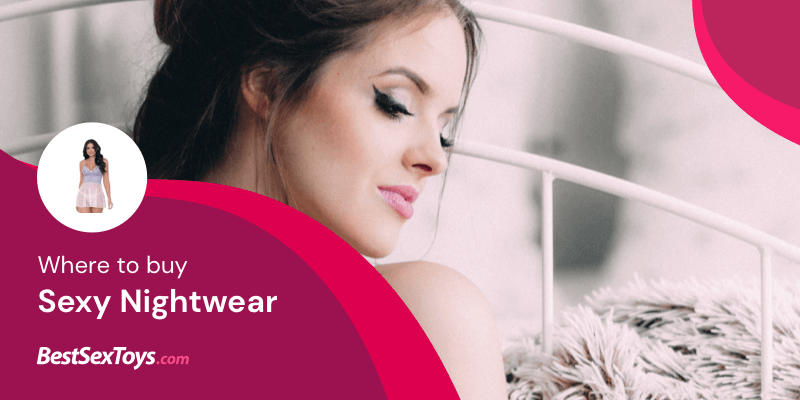 Shopping In-Store
Sexy nightwear can be found in most of your local clothing stores or supermarkets, but you'll find better quality and variation at a lingerie store or your local sex shop. In most stores, you have the option to try on the lingerie, giving you the chance to see how well it fits your curves and accentuates your body.
It's also a great idea to try on lingerie in-store to test how comfortable the material is. When it comes to lace or sheer fabric, it can be rough and coarse on your skin if it's not made well. While this helps in motivating you to get it off faster, it's disappointing if you were looking forward to wearing it for most of the day or using it in a longer tease.
Shopping Online
When it comes to having virtually unlimited choices to comb through, take to the internet! There are countless online boutiques and lingerie stores that allow you to choose between size, style, and more.
When shopping online, many stores have their own return and refund policies. This gives you the opportunity to try out the piece to guarantee that you can return it if it's not to your satisfaction.
All the sex toys for



Subscribe to our Newsletter
Newest Deals
Discounted Prices
Free Products
Giveaways
Promo Codes
Check the
Best 8 Sexy Nightwear
Find the best 8 Sexy Nightwear we've gathered after reviewing dozens!
Check Now