Realistic Vaginas
Didn't find what you are looking for?
View All
Best 10 Realistic Vaginas in 2023
1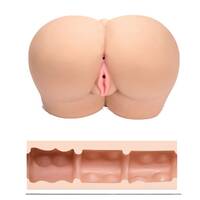 THRUST Pro Elite Alana Ribbed Vagina and Ass Mastu
Allergens: Phthalate-Free
Waterproof: Splashproof
Canal diameter: 0.5 inches
Internal Length: 7.5 inches
Opening: Vagina & Butt
Material: Soft Plastic
2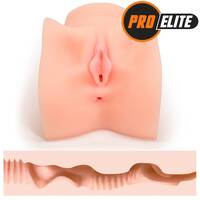 Realistic Vagina and Ass 70.5oz
Internal Length: 5.5 inches
Opening: Vagina & Butt
Material: Soft Plastic
Waterproof: Submersible
Allergens: Phthalate-Free
3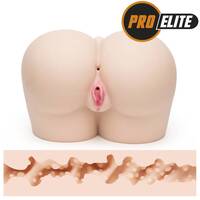 2
Rechargeable Vibrating Masturbator 370oz
Battery Info: 1 x battery
Run Time: 55 minutes
Power Type: Rechargeable
Vibration speed: Speeds & patterns
Internal Length: 6 inches
Opening: Vagina & Butt
Material: Soft Plastic
Waterproof: Splashproof
Allergens: Phthalate-Free
4
THRUST Pro Elite Layla Realistic Vagina and Ass 10
Allergens: Phthalate-Free
Waterproof: Submersible
Canal diameter: 0.25 inches
Internal Length: 4.5 inches
Opening: Vagina & Butt
Material: Soft Plastic
5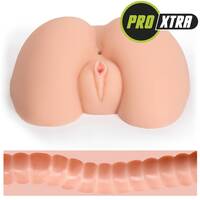 2
Realistic Vagina and Ass 27.1oz
Internal Length: 4.5 inches
Opening: Vagina & Butt
Material: Soft Plastic
Waterproof: Submersible
Allergens: Phthalate-Free
6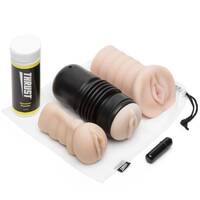 2
Force Realistic Vagina Kit (6 Piece)
Battery Info: 3 x LR44 batteries
Power Type: Batteries (included)
Vibration speed: Three speeds
Internal Length: 6 inches
Opening: Vagina
Material: Soft Plastic
Waterproof: Submersible
Allergens: Phthalate-Free
7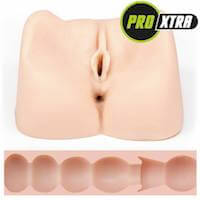 2
Material: Soft Plastic
Internal Length: 4.5 inches
Opening: Vagina & Butt
Allergens: Phthalate-Free
Waterproof: Submersible
8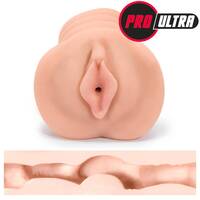 2
Ultra Holly Realistic Vagina
Internal Length: 6 inches
Opening: Vagina
Material: Soft Plastic
Waterproof: Submersible
Allergens: Phthalate-Free
9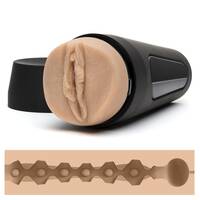 2
Main Squeeze Realistic Vagina
Internal Length: 8.5 inches
Length: 9 inches
Opening: Vagina
Material: Soft Plastic
Waterproof: Submersible
Allergens: Phthalate-Free
10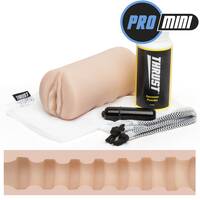 2
Self-Lubricating Male Masturbator Kit
Battery Info: 3 x LR44 batteries
Power Type: Batteries (included)
Vibration speed: Single speed
Internal Length: 4.5 inches
Opening: Vagina
Material: Soft Plastic
Waterproof: Submersible
Allergens: Phthalate-Free
We have more
Realistic Vaginas
View All
As seen on
What Is a Realistic Vagina?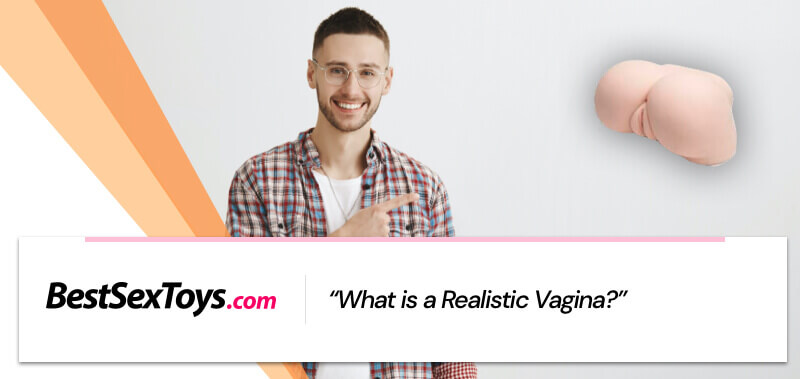 A Realistic Vagina is a sex toy that resembles the texture, color, and physical appearance of a female vagina. It works as a male masturbator and mimics the sensation of penetrating a real woman vaginally; and in some models, anally as well.
Realistic Vaginas typically have tight openings for maximum pleasure and stimulation during playtime. Other features include realistic labia, soft and stretchy material that's almost similar to human skin, and supple flesh that you would love to pat and squeeze.
The most Realistic Vaginas available in the sex toy market feature a lifelike vaginal structure internally and externally. The three-dimensional internal design has ridges, ribs, and dots that are meant to gently rub the penis' shaft for additional stimulation and texture.
Realistic Vaginas are made of body-safe materials such as clinical grade silicone, TPE, cyberskin, or synthetic plastic.
The composition resembles the softness and pliability of the human skin to achieve a lifelike experience. Some realistic vaginas also have self-lubricating features to simulate the act of having sex with a real woman.
In terms of physical form and aesthetics, there are different designs available in the market from small and discreet handheld models, all the way to bigger and plumper versions, with feminine butt cheeks and thighs that you can convincingly thrust and squeeze in the heat of the action as if you're making love to a real woman.
Some sex toy experts claim that the dummy-type Lifelike Vagina and Ass Sets are prototypes of Realistic Vaginas, which later on went through various developments and evolution. This eventually gave rise to other forms of male masturbators, such as the small and handy Fleshlights and the iconic Pocket Pussies, among other forms of masturbation sleeves.
All versions attempt to create the impression of penetrating a female vagina. A Realistic Vagina is every man's discreet bedroom companion. With a handful of currently available models in the market, there is a specific type that satisfies every need and lifestyle.
Some examples are Realistic Vaginas that also work as penis strokers and exercisers (for sexual training) and those that feature rotating, vibrating, squeezing, and thrusting elements.
How to Use a Realistic Vagina Sex Toy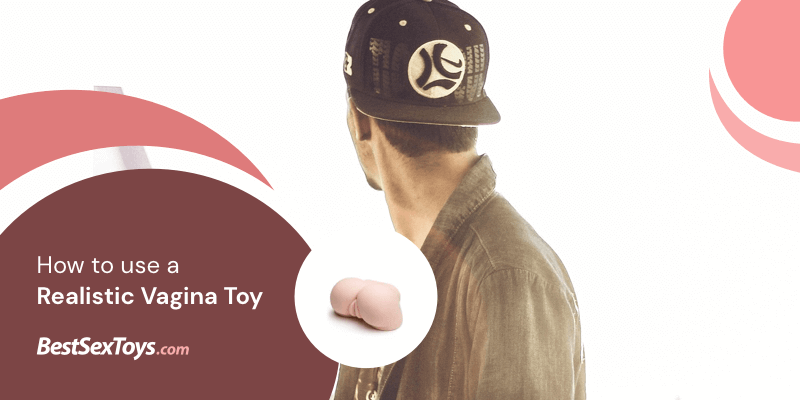 Realistic Vaginas are self-evident sex toys for men that are very straightforward in terms of use and purpose. Even an average guy who knows nothing about sex toys can instinctively use a realistic vagina for self-pleasure and masturbation.
Perhaps, the only things that require consideration and scrutiny are the different features and additional elements that add versatility to this sex toy. Knowing how a realistic vagina works and the variety of options available in the market can help you determine the specific features that matter most to you.
Here's a basic outline of how to use a realistic vagina as a sex toy.
1. Check Out the Features.
To understand how your sex toy works, it's important to check out the features first. Read the product specifications and instructions carefully to find out how to operate a realistic vagina. Learn how to change the batteries or how to charge your sex toy before initial use.
Get to know how to use the functions and settings, if there are any, and how to disassemble the device for efficient cleanup.
2. Test the Product.
Ideally, before using any sex toy, it's important to test and examine the product first. If you're using a realistic vagina with motorized components, you would naturally check how the features work by turning the device on and off. While you're testing the product, examine the material carefully to see how it feels against your skin.
You may also play with the settings to experiment with different patterns of strokes, vibrations, rotations, and squeezing motions.
3. Insert Your Penile Head Into the Opening.
Whether you're using a dummy realistic vagina with a butt or a handheld version, start by holding your penile head against the opening in preparation for insertion. You may gently caress and tease your penile head with the lips of the realistic vagina to play a little. This would make you appreciate the softness and lifelike quality of the material.
Gradually insert your penis into the realistic vagina's chamber as you feel its tight opening and internal texture enfolding and squeezing your entire shaft. You may thrust gently while your penis is halfway through it or insert it all the way in to appreciate maximum penetration.
Pro Tip: For a smooth and seamless entry, use a water-based lubricant. This is very important to avoid any friction on your skin. Since most realistic vaginas have rotating beads, dots, and ridges along with its internal chamber, applying a generous amount of lube provides a more lifelike and pleasurable experience.
4. Turn on the Motorized Components.
Level up your playtime by turning on the features of your realistic vagina. At this point, prepare to experience intense stimulation to the entire shaft of your penis, which can bring you to the peak of excitement in a heartbeat.
Depending on the type of realistic vagina you're using, you can expect different stimulation modes such as squeezing, thrusting, suction, and different strokes that replicate vaginal sex, anal sex, or even oral sex. You may play with various settings and sensational patterns to further intensify the experience.
5. Disassemble and Clean Up After Use.
Once you catch your breath and recover from the blissful euphoria, perform the necessary aftercare. If you're wearing a condom while using your realistic vagina, cleaning up would be a breeze. In this case, wiping your sex toy with antibacterial wipes is sufficient to maintain its hygienic property.
If you're not wearing a condom and you're using a self-lubricating model, it is highly advisable to disassemble the components of your realistic vagina to clean or wash the masturbation sleeve thoroughly. Disassembly depends on the type of product you're using. For efficient aftercare, refer to the manufacturer's cleaning instructions.
Types of Realistic Vagina Sex Toys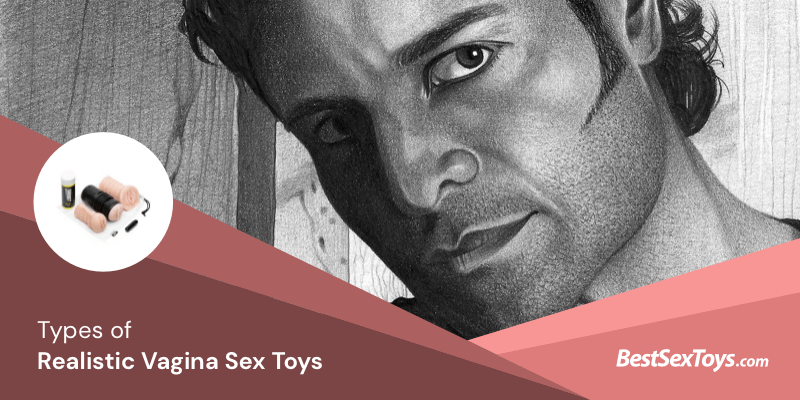 Medical experts claim that male sex toys contribute to better sexual performance and stamina among men of all ages. In addition to that, penile devices such as masturbators help enhance sexual desire and vitality among men suffering from low libido and sex drive.
Sex aids that require penile insertion are also effective treatment options for premature ejaculation, inability to ejaculate, and delayed orgasm in men. In such cases, the regular use of a realistic vagina for sexual training may help men develop better ejaculatory control.
So if you're thinking about investing in a sex toy to reap its potential benefits, here's an outline of the best types of realistic vaginas you might want to consider.
Realistic Vagina and Butt Set
A Realistic Vagina and Butt Set is a three-dimensional, lifelike masturbator that resembles the structure of a woman's vagina, anus, butt cheeks, and thighs. It has a firm and true-to-life exterior with tight channels specifically designed to mimic vaginal and anal penetration. The internal anatomy of the vagina replicates that of a real woman for a convincing sexual experience that feels like the real thing.
Realistic Vagina and Butt Sets are bulkier in form. They feature plump butt cheeks that you can pat, squeeze, and caress. They are actual dummies of a woman's private parts with compact entrance, tight chambers, and pliable material. Some models replicate the position and texture of the female G-spot with self-lubricating features for a realistic experience.
If you prefer a massive masturbator that offers more volume but significantly smaller than a sex doll, a Realistic Vagina and Butt Set is the perfect sex toy for you.
Vibrating Realistic Vagina
If you prefer a masturbator sleeve that offers an additional stimulation mode, a Vibrating Realistic Vagina is a wise choice. This is typically a handheld and compact sex toy with a tight chamber and vibrating features. It offers a variety of stimulation settings that mimic vaginal sex, anal sex, and oral sex.
Other common features to expect from Vibrating Realistic Vaginas are stroking mechanisms, gentle licking, and sucking motions that replicate a blowjob sensation. If you believe that this is the right sex toy for you, pick between a battery-operated and a rechargeable model.
Self-Lubricating Realistic Vagina
A Self-Lubricating Realistic Vagina is a male masturbation device that releases fluids to lubricate the interior chamber with every thrust. The smooth and slippery glide contributes to a more realistic experience and minimizes the friction against the penis's skin.
Although it will require you to get a good quality water-based lubricant, this choice is practically your best bet if you want something that feels closer to the real thing.
Self-Lubricating Realistic Vaginas come in various types. Some basic models emit fluid as you thrust and penetrate the interior chamber of the sex toy, while others have a specialized trigger that works synergistically with the vibrations, strokes, or pulsations.
There are also some self-lubricating features that you can control according to your liking or release fluids on your cue. Either way, this type of realistic vagina is an excellent choice if your love wet and slimy solo play.
Thrusting Realistic Vagina
For men who prefer the basic maneuver in masturbation, a Thrusting Realistic Vagina is the most practical choice. This variation is always a top favorite among men who love the familiarity and simplicity of thrusting motions. However, it comes with an exciting twist because different thrusting speeds are accessible with a click of a button.
Other features of a Thrusting Realistic Vagina are; pliable material that is somewhat similar to the human skin's elasticity, strong motor vibrations that accompany thrusting movements, and a temperature that mimics the warmth of a female vagina.
If you want to experience a male masturbator that delivers over 250 thrusts per minute, a Thrusting Realistic Vagina is exactly what you need.
Realistic Vagina Rotating Masturbator Cup
A Realistic Vagina Rotating Masturbator Cup is one of the most innovative sex toys for men that offer multiple features. The interior chamber provides a rotating and rolling action as it stimulates the entire shaft of the penis.
Some models also have vibrating, thrusting, and squeezing elements that add versatility to the masturbator. Just click on your desired setting and intensity to enjoy multiple levels of sensation with high-speed rotations.
Modern variations have a smart chip that lets you hear a female voice while using the masturbator cup. You may also create your own stimulation patterns to combine different modes of action, such as continuous rolling of its interior elements, trembling vibrations, and 360-degree rotations at varying speeds.
Realistic Vaginas with Rotating Masturbator Cup also feature a gentle suction mechanism that provides real contractions, stimulating beads that rotate simultaneously and massage ball rings that lightly squeeze the penis.
Realistic Vagina With Automatic Stroker
Men who love shifting between oral sex and vaginal sex will find pleasure in a Realistic Vagina with Automatic Stroker. This versatile sex toy combines a real blowjob sensation, deep throat oral sex, and vaginal penetration. The exterior design usually resembles a female vagina with a tight opening and soft labia. Some models are meant to be more discreet than the others and are made of transparent silicone instead of skin-tone color.
A Realistic Vagina with Automatic Stroker has multiple swirling and flicking miniature tongues along its interior chamber that stroke the penis. The sensation is comparable to dozens of tongues licking wildly and continuously.
Users of Realistic Vagina with Automatic Stroker benefit from this sex toy by using it as a penis "exerciser" or delay trainer. The goal is to improve sexual performance and prevent premature ejaculation by introducing different sensations to the penis. Such penile training can help men prolong their erection, improve sexual stamina, and control ejaculation.
How to Clean a Realistic Vagina Sex Toy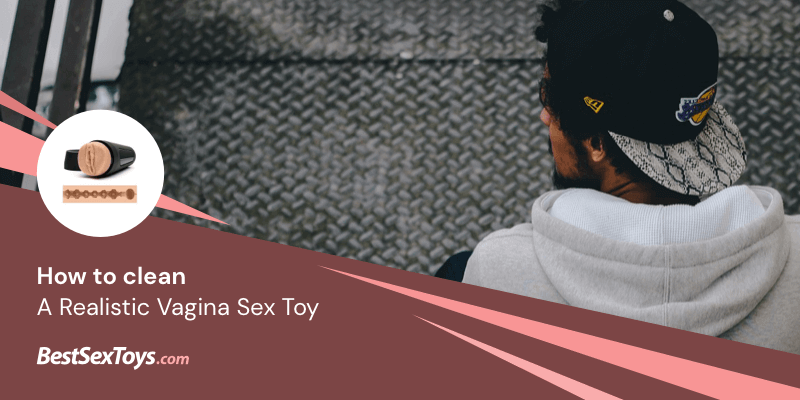 One of the most important aspects of owning a sex toy is proper maintenance. This is exactly where efficient cleaning comes into the picture. As much as you enjoy using your Realistic Vagina as a sex toy, it is just as important to keep its hygienic properties intact.
Proper disinfection and cleaning before and after use can contribute significantly to the longevity, quality, and performance of your sex toy.
Here are the most important things to keep in mind when it comes to cleaning a Realistic Vagina;
Proper Disassembly
Check out the cleaning instructions of your Realistic Vagina sex toy to figure out how to separate its internal component from its exterior casing. Most Pocket Pussies, Fleshlights, and Masturbator Cups have detachable parts for easy cleanup. Once you're able to separate the internal sleeve from the motorized component, you can wash it thoroughly with disinfecting soap and warm water.
Efficient Drying
Sex toys that are made of silicone, TPE, and synthetic plastic require a thorough drying procedure. Make sure to wipe your sex toy completely with a dry microfiber towel to remove excess water. Then allow it to air dry fully for several minutes before putting the parts back together for storage.
Maintenance of Material
Realistic vaginas are made of clinical-grade silicone or body-safe soft plastic that is washable with warm water. However, if your sex toy is made of TPE or other synthetic materials, consider cleaning it with disinfecting wipes instead, to prevent damaging the material.
If you have a realistic vagina that is made of porous materials like rubber or cyberskin, use a condom when using your sex toy to minimize the hassle of cleaning up. In such cases, disinfecting or antibacterial wipes are your best choice.
You may also invest in cleaning agents that are specifically designed for sex toys made of sensitive and porous materials.
Powder Application for Porous Materials
Sex toys made of soft jelly-like material, soft rubber, and cyberskin tend to get sticky after cleaning them up. To get rid of the stickiness and to preserve the material, powder application can do the trick.
Talcum powder or plain cornstarch helps absorb the excess water and moisture that is causing the sticky texture. Additionally, powder application contributes to the smoothness and overall quality of the sex toy material in preparation for next use.
How Much Does a Realistic Vagina Sex Toy Cost?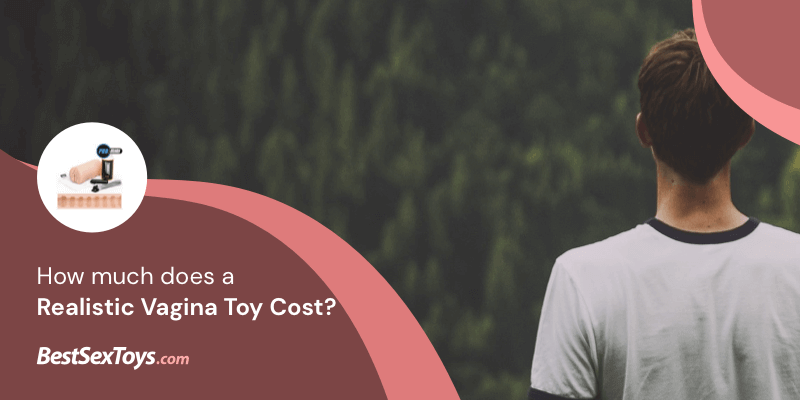 Do you think that a Realistic Vagina is the perfect sex toy that matches your needs? If you believe that it is, we couldn't agree more. Every man can benefit from a Realistic Vagina without question, and it's suitable for those in a long-distance relationship or currently not in a relationship.
The next step is to know how much money you'll need to invest in a good Realistic Vagina. The great news is that it doesn't cost that much. You can get a decent product at BestSexToys.com for as low as $50.00 with a discount.
If you have a more sophisticated taste when it comes to masturbators and you prefer something that offers different modes of stimulation, then you'll need to shed several more bucks to achieve that sensational feeling you're aiming for. Let's explore your choices.
Realistic Vagina and Ass Set: Price Starts at $69.99
Rechargeable Vibrating Vagina and Ass Set: Price Starts at $370.00
Realistic Vagina Kit with Three Vibration Speeds: $74.99
Single Speed Self-Lubricating Realistic Vagina: $34.99
Basic Realistic Vagina (Standard Model): Price Starts at $49.99
Pocket Pussy Realistic Vagina: $24.99 to $34.99
Realistic Vagina Dummy with Female Voice: $289.99
Realistic Vagina Masturbator Cup: $54.99
Tight Squeeze Realistic Vagina: $54.99
Where to Buy a Realistic Vagina Toy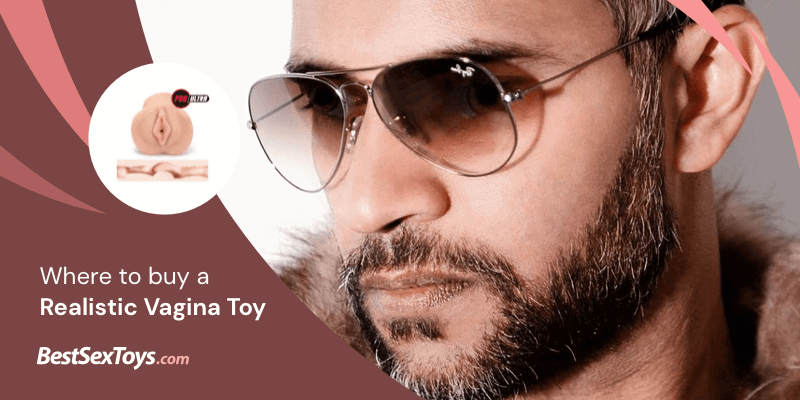 If you're wondering where to buy a Realistic Vagina sex toy, you have two basic options; an online sex toy shop or a local sex toy store. It's your choice to explore the internet for the best realistic vagina online or do the leg work by visiting various local sex toy stores in your area. Let's dig deeper into each one of them.
Online Sex Toy Shop
The internet opens a world of possibilities for any online shopper. This is practically the easiest way to find cheap sex toys such as Realistic Vaginas and standard masturbators. You can either browse through online selling platforms like Amazon or shop from specialty sex toy stores like BestSexToys.com.
The main advantage of shopping from an online store like BestSexToys is that it specializes primarily in the top sex toys in the market. You can always be certain about the quality of the products. As a shopper, you can browse through high-quality sex toys and related products that went through careful analysis and evaluation by credible sex toy experts.
Additionally, the website's products are the best of the best in their category, which means that their performance and quality are unquestionable.
Local Sex Toy Store
If you want to view the actual products and see how they work, you may also visit a local sex toy store. This gives you the advantage of holding and examining your choice of Realistic Vagina sex toy before purchasing it. Visiting a local sex toy store is also a good way to gain awareness about the different sex toys in the market and get up close and personal with them.
Entering a local sex toy store requires confidence and boldness on your part, especially when you have to inquire about your product of choice. Still, if you're open-minded enough about your sex life, doing your own shopping from a local sex toy store counts as a liberating and sexy experience.
More Sex Toys For Men
All Sex Toys For Men
All the sex toys for



Subscribe to our Newsletter
Newest Deals
Discounted Prices
Free Products
Giveaways
Promo Codes
Check the
Best 10 Realistic Vaginas
Find the best 10 Realistic Vaginas we've gathered after reviewing dozens!
Check Now