1-Year Warranty
Discounted Prices
Free Shipping
Worldwide Shipping
Discreet Billing and Shipping
Users'
Best-Selling Anal Toys
What Is an Anal Sex Toy?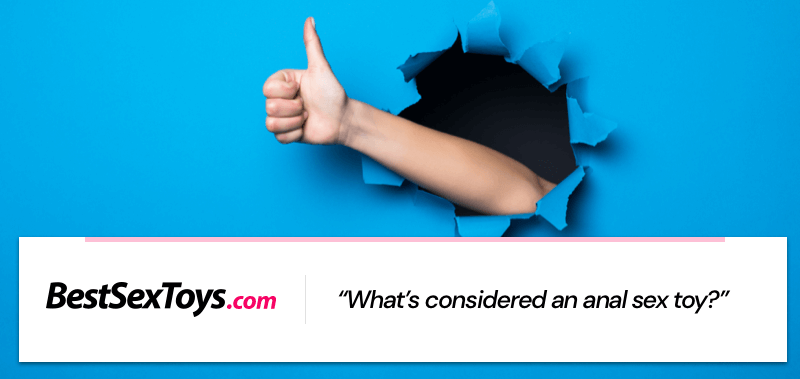 An anal sex toy is a type of adult sex toy that is designed to stimulate and go inside your anus. There are different kinds of anal sex toys, and the most common ones are; butt plugs, prostate massagers, anal dildos, and anal beads.
Anal sex toys are used for effective anal stimulation through actual penetration. Some are also used to train the anal muscles to relax. Studies suggest that the interior walls surrounding the anus are highly sensitive areas due to abundant blood and trigger sexual arousal with proper stimulation and lubrication. This is the rationale and science behind the use of anal sex toys.
Anal Sex Toy for Anal Stimulation.
Both men and women generally have the same responses and are capable of experiencing sexual pleasure with anal sex and stimulation. However, the use of an anal sex toy in men also triggers powerful prostate-enabled orgasms, which are the counterpart of the G-spot orgasms in women.
To safely and effectively use an anal sex toy, you must use a lubricant. You should also be aware that any sex toy that you're planning to put inside your butt must have a flared base or should be wider at the bottom.
Alternatively, there should be some way to easily pull the anal sex toy out of your anus so it cannot accidentally slip and go all the way in.
If you want to use an anal sex toy for effective anal stimulation and prostate-enabled orgasm, it is important to choose the right type of toy that's made from hygienic material and offers a high safety profile.
What to Consider When Buying an Anal Sex Toy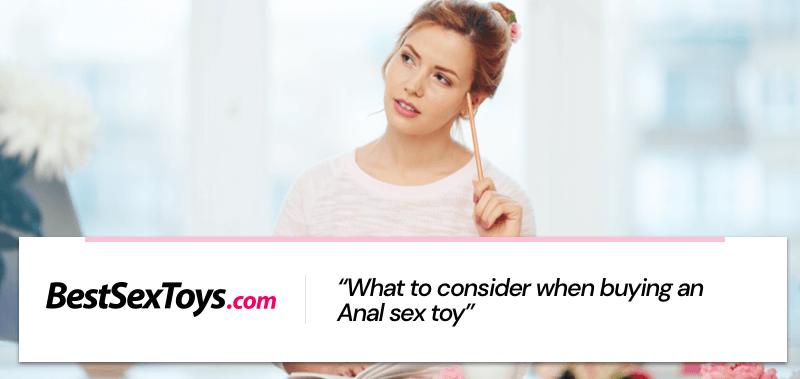 As you begin to explore the different types of anal sex toys, the chances are that you'll find yourself swamped with an endless choice of naughty novelty items. Deciding to buy an anal sex toy is just half the battle; the other half is finding the right one.
But before you conclude that good sex toys are hard to find, we'll make the process simple and less complicated for you. To start, here's a complete rundown of the things you must consider when buying your anal sex toy.
1. Purpose.
The first thing you must consider before buying an anal sex toy is its purpose. How do you intend to use it? What is your motivation for wanting to have an anal sex toy?
There are many reasons why people get interested in anal sex toys. It could be for the purpose of achieving sexual pleasure through anal penetration, to train the anus to open easier, to practice and get used to the sensation around the anal opening, or to train your anal sphincter to relax for a pleasurable anal sex.
If you're thinking about buying an anal sex toy, consider its purpose and your personal reasons for wanting to have one. By doing so, you can narrow down your choices and land at the best product that accurately addresses and satisfies your needs.
2. Size.
Anal sex toys such as butt plugs come in many different sizes that are suitable for beginner and advance players.
The smallest butt plugs are typically around 7.2 cm in length and 2.8 cm in thickness (measured along its widest portion).
Medium-sized butt plugs are around 8.2 cm in length and 3.3 cm in thickness.
Large butt plugs are around 9.2 cm in length and 4.3 cm in thickness.
Anal vibrators are usually around 9 cm in length and 1.8 cm wide. Depending on your choice of anal sex toy, there are several sizes that would suit your needs.
Ideally, if you're a beginner, you can benefit from a starter pack. This consists of three butt plugs in three different sizes that can be useful in training your anal sphincter muscles to relax and get used to the sensation.
3. Material.
Your choice of material for your anal sex toy is just as important as the type of toy itself. Although a lubricant is always necessary when using any anal sex toy, the material of the toy itself has a direct influence on the amount of pleasure you can get from it.
The most common materials used in anal sex toys are silicone, stainless steel, plastic, and glass. Assess your preferences to determine the best type of material that you'll find satisfying and comfortable.
Most butt plugs are made of silicone, although other variations are made of glass and stainless steel. Anal beads are made of silicone, plastic, or stainless steel.
Anal sex beginners can benefit from butt plugs made of silicone material to gently train the muscles that control the anal sphincter. While advanced players might prefer and appreciate anal sex toys that are harder and firmer to achieve a wider opening.
4. Features.
Anal sex toys are equipped with a variety of features for your ultimate pleasure and satisfaction. These features are divided into two major categories which are; the physical features and the mechanical features.
Physical Features
The physical features contribute to the aesthetic appeal of the product. These include the color and shape of the product, type of material used, and other elemental or novelty designs such as those typically observed in jeweled butt plugs, multi-colored anal beads, and tail butt plugs.
Mechanical Features
The mechanical features pertain to the automatic functions of the anal sex toy. If you're aiming for a delightful surprise, you might want an anal sex toy that vibrates to stimulate the interior walls of your anus. Or, you may want to try an inflatable butt plug that trains your rectal muscles to relax for a more pleasurable anal penetration.

Vibrating butt plugs are excellent for increasing the blood flow around your anus to increase its sensitivity. And anal vibrators are especially useful in stimulating a man's prostate (P-spot), also known as the male G-spot, to achieve an intense prostate-enabled orgasm.
5. Safety Profile.
Make sure that your anal sex toy has all the safety features necessary for risk-free usage. For starters, it should be wider at the base or "flared" to ensure that it will not go all the way up once it's lubricated. Remember that the muscles around your anus can suddenly contract, especially if you're a beginner, and this may cause your toy to slip all the way in.
If your anal sex toy is not flared at the bottom, make sure that it has something at its end that you can use to pull the toy out from your anus in case it slips in. This could be a ring-shaped feature that you can easily slip around your finger for ease of pulling out.
Anal sex toys that are made of waterproof materials are also safer choices because they help minimize irritation and abrasions along the anus and its sensitive walls. Moreover, it gives you the option to use a variety of commercially-available lubricants such as natural, water-based, and hypoallergenic lubricants.
6. Preference.
When choosing an anal sex toy, you have to be specific with what you want. The good news is that there are a variety of choices you can explore and play with to satisfy your curiosity and preference. The best examples are; butt plugs in all sizes, shapes and forms, anal vibrators, anal beads, anal hooks, and anal dildos, among many others.
Identifying your preference is important to prepare your mind and body for anal penetration. You also have to be comfortable and confident with your choice. More importantly, you have to be realistic with your preference.
For instance, you want to try out having double penetration during sexual intercourse, an anal dildo is a good choice for that. However, you might also want to start with a butt plug to train your anal muscles first. And for guys who want to experience prostate massage and stimulation, an anal vibrator is an excellent choice. Still, you might want to consider relaxing your sphincter muscles first using an inflatable butt plug or a vibrating butt plug.
7. Quality.
Quality is important when buying an anal sex toy. It's not enough that you have one to do the job. You must also be mindful about its over-all standard and condition. For maximum pleasure, safety, and usability, it's important to assess the totality of the product carefully.
Some of the factors that you must consider to determine the quality of an anal sex toy are;
The source and supplier
Tried and tested by the experts
One of the best in the market in its category
Hygienic and safe material
Serves its purpose
How to Use Anal Sex Toys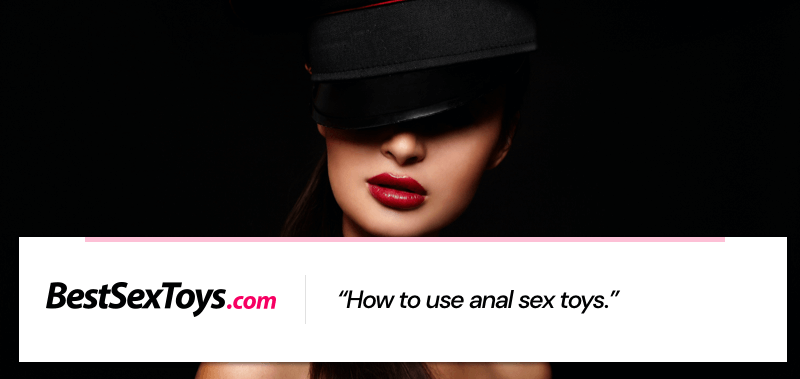 Anal sex toys are primarily used for anal penetration and stimulation to achieve sexual pleasure and arousal. Different varieties are ranging from anal beads to butt plugs to anal vibrators, and each one either triggers or facilitates powerful orgasm. Here's how to use them;
Sanitize/Sterilize
It is important to clean and sanitize your sex toys before and after use. Clean them with soap and warm water and allow them to dry completely before storing them to prevent bacterial build-up.
Lubricate
When using any anal sex toy, lube is always the key. The anus doesn't secrete its own lubrication, which is why it's important to use a quality lubricant before anal penetration. The top choices of lubes are silicone-based and water-based. So, if your anal sex toy is made of silicone material, make sure to use slippery and water-based lube to avoid friction and discomfort.
How to Use a Butt Plug
A butt plug is inserted inside the anus and is intended to stay there. The flared base keeps the butt plug from slipping all the way in and is used to pull the plug out easily. Women especially enjoy wearing a butt plug because it stimulates the internal part of the clitoris and G-spot during vaginal penetration.
Men, on the other hand, wear butt plugs to train their butt to open and close. Rocket-shaped and tear-drop shaped butt plugs are good choices because they force the butt hole to stretch and relax, which is excellent for training the walls of the anus.
How to Use an Anal Vibrator and Anal Dildo
An anal vibrator and anal dildo are both cylindrical. Lubricate them generously from the bottom to the tip before inserting them inside the anus. The cylindrical shape will open your anus to a certain diameter and keep it there. You can gently push and pull the sex toy while it's inside your butt, or move it in small circular motions to stimulate and massage the prostate.
How to Use Anal Beads
Anal beads are used during sexual intercourse to enhance your orgasm. The beads are slowly inserted into the rectum and pulled out gently or at varying speeds before or during an orgasm.
Some anal beads come in a soft string which you can insert one or two at a time, pull out, then reinsert. These soft strands have two variations – beads that have spaces in between them and beads that are in contact with one another. The anal sphincter muscles respond each time you insert and pull out the beads.
Another model of anal beads comes in a rigid form. It is inserted and pulled out from the anus like an anal dildo.
How to Use Realistic Butts
A realistic butt is similar to a mini booty. It is a compact and life-like butt that is made from soft material that you can spank, compress, and squeeze like the real thing. To use a realistic butt, you have to lubricate your penis for a warm and moist sensation. Then, thrust it inside the butt hole and enjoy the realistic feeling with every stroke.
How to Use Anal Hooks
Anal hooks are inserted in the anus. Once the ball is inside the anal cavity, the curved metallic rod will stick out and allows the metal loop at the other end to be secured to neck restraints or arm restraints using a rope or cord.
The use of ass hooks fall under sexual bondage because the submissive is discouraged from moving his arms, head, or hands since they are fastened by a rope that is attached to the metal rod connected to the anal hook. Each movement will therefore be felt in the butt.
How to Achieve Maximum Pleasure With Your Anal Sex Toy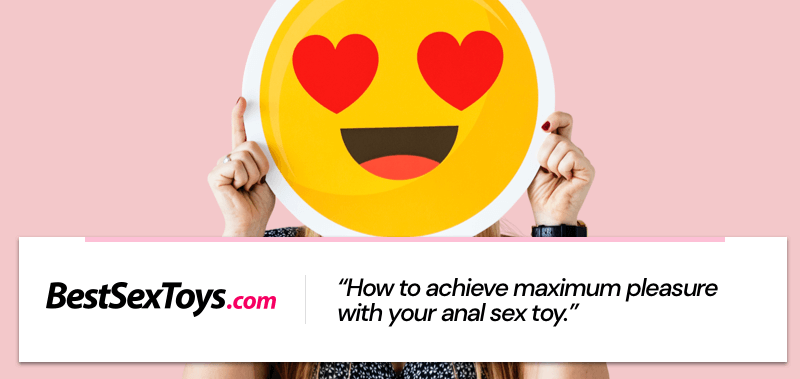 If you're one of those individuals who find pleasure in sexual experiments and new explorations, you'll be pleased to discover that anal sex is pleasurable and satisfying. Studies and research suggest that anal sex trigger sexual arousal and leads to powerful orgasms for men and women.
Reasons why anal sex leads to powerful orgasms;
The internal walls of the anus are rich in blood supply which accounts for increased sensitivity to penetration
Women that use an anal sex toy during vaginal penetration experience maximum stimulation of the G-spot and internal part of the clitoris
Anal sex toys such as prostate massagers and anal vibrators allow men to experience intense prostate-enabled orgasms which is the counterpart of G-spot orgasms in women
Anal sex toys provide a pleasurable stretch to the anus which makes anal sex satisfying
Anal sex toys "train and relax" the anal sphincter to ensure comfortable anal sex
Given all these claims that pertain to anal sex, what are the different ways for you to achieve maximum pleasure with your anal sex toy? Here are some proven techniques.
1. Gradual Insertion.
Gradual insertion applies to the use of anal beads. Whether you're using the rigid type or the soft and strand-like anal beads, you can benefit from this technique. Simply insert 2 to 3 beads inside the anus and then pull them out at the peak of sexual excitement or during orgasm.
Experiment by pulling out the beads at varying speeds, or by inserting more beads inside the anal cavity and gently pulling them out one at a time.
2. Vibration Patterns.
The best anal vibrators, butterfly vibrators, and prostate massagers are ergonomically-designed for comfort and ease of use. Enjoy them to the fullest by trying out different vibration patterns with a touch of a button using the remote control. Relax your anus and allow the powerful and rhythmic pulsations to stimulate your P-spot (prostate) for an intense anal, testicle, and prostate sensation. Some anal vibrators have double motors that ultimately provides double pleasure.
3. Plug It in.
Butt plugs pleasure women during vaginal penetration. A lot of women who have tried using a butt plug during a sexual intercourse claim that it intensifies their G-spot stimulation. The sensation reaches all the way through the internal part of the clitoris, which results in intense and multiple orgasms.
4. Feel the Stretch.
Butt plugs come in different sizes and forms. The most common types are the ones with flared bottoms and shaped like a rocket. For beginners, smaller butt plugs are beneficial to initiate the "stretch" and train the sphincter muscles to open and close.
Advance players may use bigger butt plugs for the same purpose with the added benefit of experiencing a more intense stretch in preparation for "bigger" penetrations. Maximize the use of your butt plug by training your anal muscles to relax while wearing it.
Also, wear your butt plug before having anal sex to get used to the sensation. This can result in a more comfortable anal sex experience.
5. Lubricate Generously.
The anus doesn't lubricate on its own. And anatomically, it doesn't create its own secretions. This makes sexual lubricants highly essential to enjoy anal sex and penetration fully. Get hold of a good quality lubricant if you're planning to use any type of anal sex toy to make the experience pleasurable and comfortable.
The most common types of lubricants are silicone-based and water-based. If you're using a silicone sex toy, make sure to use a water-based lube for a slippery and frictionless entry.
When using an anal vibrator and anal dildo, apply a generous amount of lubricant throughout their entire lengths from the bottom to the tip. Pay close attention to the tip of the sex toy to ensure ease of entry.
6. Twist and Thrust.
An anal dildo can be gently twisted while thrusting it inside the anal cavity. The twisting motion provides a pleasurable sensation along the walls of the anus that will make it easier for you to relax your anal muscles and savor the experience.
Gentle twisting and thrusting also work well with anal vibrators and butt plugs. However, the vibrating and pulsating function of an anal vibrator while gradually twisting and thrusting it can provide a more pleasurable sensation.
Experiment by twisting and thrusting your anal sex toy at varying speeds or ask your partner to do it for you when you're about to climax.
7. Rimming Massage.
If you love rimming, then you'll be delighted to know that vibrating anal sex toys can also be used for gentle or intense rimming.
Turn your vibrating anal sex toy on, and hold it against your anal opening to tease and please your hole while gently inserting it at a very shallow level. This technique is ideal for experienced anal players that are craving for something versatile, as well as for beginners that want to feel what it's like to initiate anal penetration.
Rimming is a good way to prepare and introduce anal sex to your partner, but it is also fun for solo play. Use the remote control to vary the speed of vibration. For maximum pleasure and to reduce friction, apply lubricant generously along the butt hole.
8. Use in Combination.
A sure-fire way to enjoy your sex toys is to use them in combo. Imagine the amount of pleasure you'll experience as you experiment with various combinations. Here are some examples;
A vibrator and butt plug
Double penetration with a dildo and a vibrating butt plug
A dildo and anal beads
A vibrator and anal beads
Double vibration with a vibrating dildo and a vibrating butt plug
There are many other combinations you can play with, depending on how much stimulation you can handle.
9. Intensify Oral Sex.
Wearing a butt plug while receiving oral sex is a great way to treat and pleasure your self. Apply a good amount of lubricant to your butt plug, insert it in your anus, and experience a different level of oral sex from your partner.
If you want to take things up a notch, opt for a vibrating butt plug and ask your partner to control the speed while giving you an oral sex.
10. Solo Play or Couple Play.
Your anal sex toy is excellent for both solo play and couple play. And they are useful and beneficial for both heterosexual couples and homosexual couples.
Use your sex toy to pleasure yourself while "training" your butt hole to open and close in the process. Males can also use an anal vibrator to explore and massage their P-spot and experience prostate-induced orgasms.
Anal sex toys can also be used when making love with your partner. Both men and women can wear a butt plug during sexual intercourse. Men who are using an anal vibrator while penetrating their partner's vagina pleasures both, and the vibrations can trigger simultaneous orgasms.
Among same-sex couples, butt plugs, anal vibrators, and anal dildos offer a different kind of sexual adventure wherein both can benefit from the pleasure.
11. Dress It up With a Condom.
If you're conscious about keeping your anal sex toy clean by minimizing bacterial build-up, dress it up with a condom. This trick is applicable for anal dildos, anal vibrators, and rigid anal beads.
Using a condom is beneficial for motorized anal sex toys since you cannot submerge them in hot water to sterilize them effectively. A condom can significantly help in preventing or minimizing smelly and harmful bacteria from settling on your sex toy. It can also contribute to its longevity.
How to Clean Your Anal Sex Toy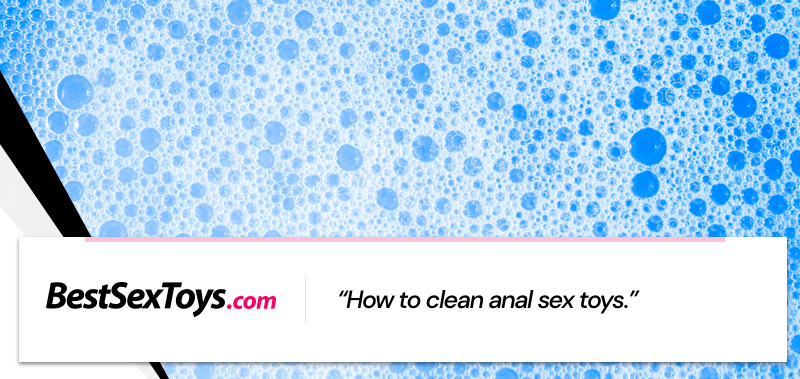 Anal sex toys are prone to moisture and bacterial build-up due to excessive use of lubricants, and because they enter the anal cavity. Cleaning and disinfecting them before and after use is crucial for sanitation, health purposes, and maintenance.
Follow these basic tips to ensure the safety and cleanliness of your anal sex toys.
How to Clean Basic Anal Sex Toys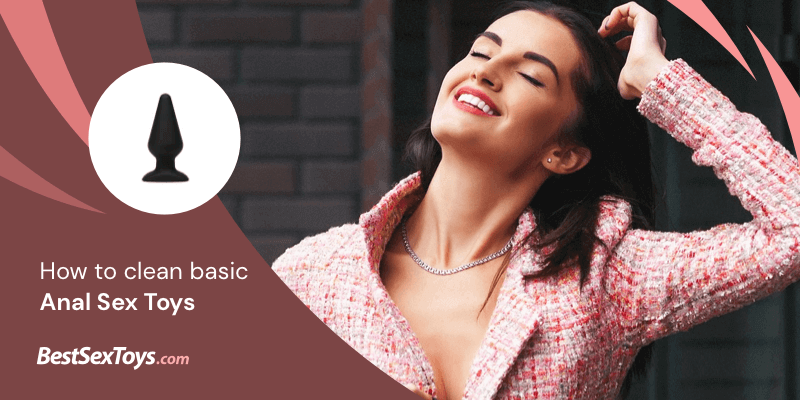 1. Wash With Gentle Anti-bacterial Soap After Every Use.
For non-motorized anal sex toys made of silicone, rubber, plastic, glass, or metal, wash them with anti-bacterial soap before and after every use. Give them a good scrub and pay attention to the areas where the lubricant and dirt tend to settle. Liquid soaps with disinfecting properties are a good choice.
Avoid using bleach, harsh chemicals, and alcohol because these can affect the quality and material of your sex toy. Using these cleaners on your sex toy may also affect the pH balance of your anal cavity whenever you use them.
2. Soak or Rinse With Warm Water.
Rinse your anal sex toy with warm water. If it's made of plastic, silicone, metal, or glass, soaking it for a few minutes in warm water can help in sterilizing it.
3. Dry Thoroughly to Avoid Moisture and Bacterial Build-up.
Allow your anal sex toy to dry completely through air drying or by patting it dry with a microfiber towel. Avoid using paper towels and tissue paper because they tend to stick to the material of your sex toy, especially if it's rubberized or made of silicone.
Make sure that your sex toy is completely dry before storing it to avoid moisture build-up, which is a breeding ground for bacteria.
4. Store Properly.
Store your anal sex toy in a safe and dry place. Wrap it carefully with a dry cloth or towel to avoid dirt from sticking on it.
How to Clean Motorized Anal Sex Toys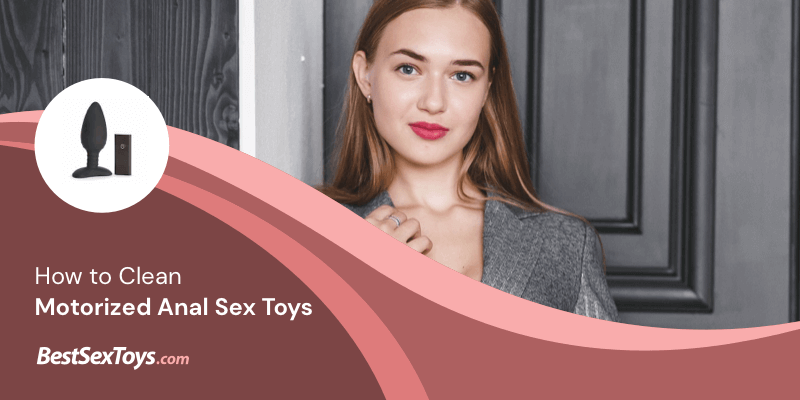 1. Clean It up With Disinfecting or Antibacterial Wipes.
Motorized, battery-operated, or rechargeable anal sex toys can be cleaned and sanitized using disinfecting wipes or antibacterial cleansing cloths. Rub them thoroughly and wipe all areas, especially the parts that are in direct contact with the anal walls. Since you cannot submerge them in hot water, pay close attention to proper disinfection.
2. Use Alcohol-free Cleansing Sprays.
After wiping and cleaning your anal sex toy, use an alcohol-free cleansing spray to add a layer of protection to it. Give it a good rub to cover all areas and allow it to dry completely.
3. Avoid Cleaners That Contain Alcohol or Bleach.
To maintain the pH level of your anal cavity, and to preserve the integrity of the material of your sex toy, avoid using chemicals that contain alcohol and bleach when cleaning them. Use the right cleansers with mild formula to maintain the quality of your sex toy.
There are commercially-available products nowadays that are designed for sanitizing different types of sex toys. If you can afford to shed funds from your budget, invest in them to maintain and sanitize your motorized sex toy properly.
4. Wrap It up.
Before storing, wrap your anal sex toy carefully for protection. You wouldn't want to drop and break it accidentally. Add some cushion for safety. Motorized sex toys require careful handling to ensure that they'll work well and deliver a good performance every time.
5. Change the Batteries or Charge Them as Needed.
When you buy a motorized anal sex toy, it usually includes instructions on proper care, maintenance, and charging. Read the instructions to know when it's time to change the batteries or to charge the toy. This will contribute to the longevity of your anal sex toy and its overall performance.
If you aren't using your motorized anal sex toy for quite some time, remove the batteries before storing and safekeeping.
Finding the Perfect Anal Sex Toy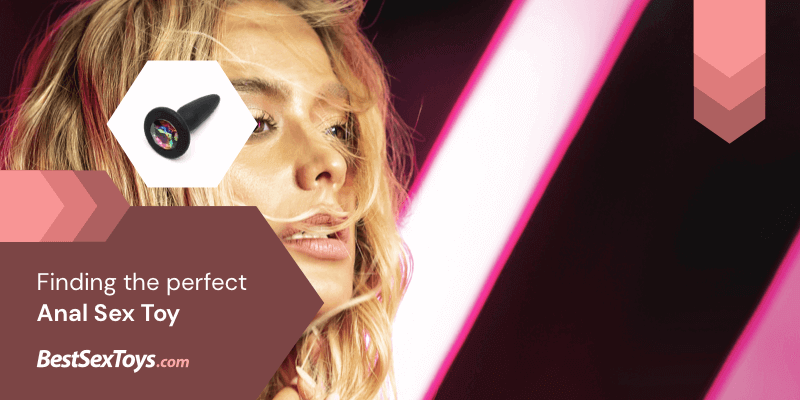 With the enormous number of choices available in the market, finding the right anal sex toy that satisfies your needs and preferences is quite challenging. To make the selection process easier for you, BestSexToys.com carefully evaluates the best of the best anal sex toys in the market to narrow down the choices.
Our team of experts take into consideration factors such as safety, pleasure level, maintenance, and quality to come up with the most comprehensive list of the best anal sex toys in the market. So if you're overwhelmed with the massive number of products that you see online, put an end to the endless search and daunting process.
We can present to you a credible and honest list of the most highly-recommended and consumer-approved anal sex toys with the highest ratings and reviews from our team of experts. Moreover, you can count on us to present to you a list of other related products for every item that has a similar function and exceptional feedbacks from those who have personally tried them.
The Best Anal Sex Toys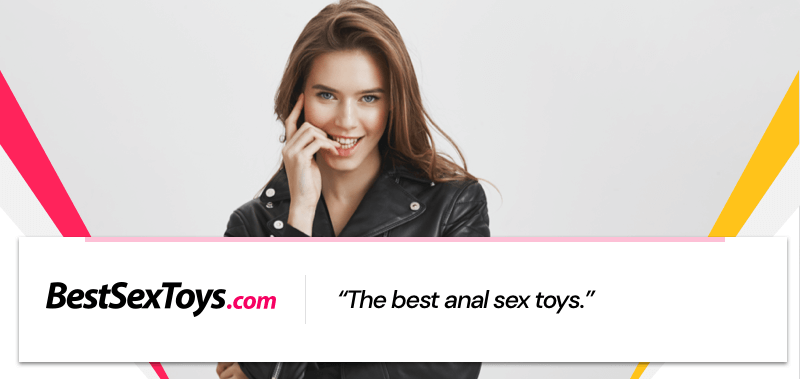 Anal sex toys come in many varieties, and they differ in type, function, color, shape, and size. Choosing the right one depends primarily on your personal purposes, such as to achieve satisfaction in bed or for sexual exploration.
Most individuals use anal sex toys to add an exciting twist to routine sex, train the anal cavity, or to introduce anal sex to their partners. Whatever purpose you might have in mind, it's crucial to know the difference between the various anal sex toys and their specific functions and features.
BestSexToys.com aims to feed your curiosity by giving you a complete rundown of the different types of anal sex toys available in the market.
Anal Dildos
Anal dildos are cylindrical-shaped or elongated sex toys designed for anal penetration. They come in various forms, shapes, and sizes. Some of the most common types are those that resemble a male penis, a straight cylinder with a tapered tip, rigid balls in progressive sizes attached closely to each other, and textured thick rods.
There are two major types of anal dildos, the classic anal dildo and the vibrating type. Classic anal dildos are designed to loosen up the anal cavity and provide deep penetration. The straight cylinder type is the most common one which is also suitable for beginners
Vibrating dildos are designed for slightly advanced players that have mastered the art of relaxing the muscles around their anus. Gentle thrusts to the anus using a vibrating dildo provide deep penetration and stimulation. The vibrations also stimulate a man's testicles and prostate.
There are anal dildos specifically-crafted for solo play and couple play. However, most of them are versatile enough to be used creatively or any way you want.
Be careful when selecting the size and shape of your anal dildo. Cone-shaped anal dildos and those that resemble a penis with veiny ridges are for advanced players, while narrow and rod-like silicone anal dildos are suitable for beginners.
Tail Butt Plugs
Tail butt plugs are novelty anal sex toys that are inserted inside the anus with a soft "tail-like" accessory attached to its end. The tails resemble that of a fox, cat, puppy, or bunny, although there's so much love and preference going around for the soft and furry foxtail.
The main feature of a tail butt plug is the "butt plug" itself because it is what's inserted inside the anal cavity. The tail is primarily for aesthetic purposes or to satisfy a sexual kink or fetish. With some creativity, the tail can also be used as a sex toy, sex aid, or for sensory stimulation to your partner.
Tail butt plugs are available in different sizes and materials like silicone, metal, crystal, and glass. There's also a wide variety of designs, colors, and color combinations for the tail to satisfy your penchant for something smooth, furry, and fluffy to the touch.
Are you in the mood to tease and seduce your partner? Choose a cute tail butt plug to play the role and gently caress your partner with your soft and hairy tail.
Inflatable Butt Plugs
An inflatable butt plug allows you to enjoy a "full" sensation with an incredible stretch to your butt. The smooth plug is tapered and has a rounded tip for easy insertion to the butt hole. With proper lubrication, it will easily slide through with ease and comfort. The flared base allows easy retrieval, safe use, and comfort.
Inflatable butt plugs are made of smooth and high-quality rubber. The tapered and round tip enables gentle stimulation to achieve intense sexual arousal. You can easily and quickly deflate it by turning the quick-release valve.
If you enjoy anal stimulation and penetration, you'll enjoy solo play with an inflatable butt plug. It is suitable for both beginners and advanced players because you can inflate it only as far as you feel comfortable.
An inflatable butt plug offers an excellent way to train and stretch your anal muscles for anal sex. The heavy-duty inflatable butt plug is designed to provide customized pleasure.
To start using it, you have to insert the butt plug in your anus and squeeze the hand pump to inflate the plug until you reach your desired fullness. The smooth and tapered round tip provides amazing P-spot stimulation once it's filled with air.
Glass Butt Plugs
You'll love the glass butt plug if you prefer a firmer or harder sensation in your butt hole. Don't be intimidated by its clear and fragile look because glass butt plugs offer a unique feeling and are very hygienic.
Glass butt plugs are hypoallergenic. Choose a heavy and good quality plug to ensure that it won't break or chip inside your butt. If this is your dilemma, don't worry about it because glass butt plugs are safe as long as you get them from a trusted and credible sex toy supplier.
Glass feels warm as it touches your skin and becomes slippery with a lubricant. You have the option to use a silicone-based or water-based lube. The clear glass also lets you see the sphincter opening around the sex toy.
One thing to keep in mind though, is that glass is completely hard and doesn't yield at all like a silicone. Before buying one, make sure that you're ready for the sustained stretch in your anus.
To clean a glass butt plug, you can safely submerge it in hot water for adequate sanitation before washing and scrubbing it with mild anti-microbial soap. Then rinse it again with warm water before drying it up.
Anal Vibrators
Anal vibrators are useful for both solo play and couple play. They are versatile, functional, and satisfying to use. Modern and advanced models offer up to 10 speeds for maximum stimulation and pulsating effect.
There are many shapes and sizes for anal vibrators, but all of them work the same and allow anal penetration. What makes other models stand out from the rest are the type of materials used, quality of the item, versatility, and design. Let's explore these features.
The type of material used for an anal vibrator is a top consideration. Some prefer silicone, while others prefer metal. We don't recommend the use of plastic anal vibrators due to high toxicity levels.
Next is the quality of the anal vibrator. This depends entirely on how sophisticated your taste is. Anal vibrators with two motors are said to target the P-spot, testicles, and perineum accurately. It is also important to choose an anal vibrator that is safe, hygienic, and non-porous. The quality of the item depends on the innate features of the product and the credibility of the supplier in providing precise details.
Versatility depends on the functionality of the anal vibrator. There are anal vibrators that offer a variety of functions like; anal vibrators for men and women, male vibrators, prostate massager, anal dildo + vibrator, and classic G-spot vibrator for women.
And lastly, anal vibrators that have an ergonomic design are suitable for effective P-spot stimulation and prostate massage, and therefore, guarantee more pleasure.
Butterfly Vibrators
A butterfly vibrator is a triple vibrating massager that simultaneously stimulates the clitoris, vagina, and anus. It helps the user achieve orgasm by triggering responses to these three erogenous zones. Butterfly vibrators usually come with a remote control that prompts several vibration modes and work at a certain distance.
Advanced models of butterfly vibrators are equipped with intelligent temperature control for uniform heat distribution that simulates the human body temperature. This allows the vibrator to heat in and out of the vagina.
When you use a butterfly vibrator, you can pleasure yourself with quiet love at a sound of less than 40 decibels, and nobody would hear the vibration.
We recommend waterproof butterfly vibrators for easy cleaning and sanitation. Silicone material is an excellent choice and is considered as safer and more comfortable because the material offers a soft and silky feel.
Jeweled Butt Plugs
Jeweled butt plugs are creative and artistic versions of the classic butt plug. They usually have gems attached to their base or are made of a crystal-like material.
There are many types of jeweled butt plugs like silicone, crystal, glass, and metal. Most of them are characterized by the flashy gem that's attached on the base that creates a shiny and shimmering effect when the plug is inserted inside the anus.
One of the factors that draw a lot of men and women to use jeweled butt plugs is its aesthetic purpose and appeal during sex. When a jeweled butt plug is inserted in your anus, and you spread your legs apart, the tiny gem that's sticking out of your butt hole serves as an accessory that's pleasing to the eye of your lover.
Jeweled butt plugs are easy to clean and can be soaked in warm water with soap. Avoid using bleach, harmful chemicals, and alcohol to avoid damaging the material. Use mild anti-bacterial soap and then soak in hot water for a few minutes to sterilize.
Metal Butt Plugs
Metal butt plugs are another variation of the classic butt plug. They also have a rocket-like shape and are available in different sizes. They are made from hypoallergenic metal that's clinically-safe to use and works well with water-based lubricants.
There are three basic sizes for metal butt plugs.
The small size is approximately 2.8 inches long and 2.5 cm in diameter.
The medium size is around 3.1 inches long and 3 cm in diameter.
The large size is approximately 4 inches long and 3.8 cm in diameter.
Most anal sex toy fanatics prefer metal butt plugs because they slip easily through the anal opening with just the right amount of lubricant and pressure. They provide a firm and sustained stretch to the anal muscles and are generally comfortable as long as you're using the correct size.
Cleaning and sanitizing is a breeze because you can conveniently soak your metal butt plug in warm water with soap. Keeping your metal butt plug submerged in hot water for a few minutes also provide efficient disinfection.
Anal Hooks
Anal hooks resemble an actual hook. They look like hooked metal poles that has a metal ball at one end, which is the end that is inserted in the anus and a loop at the opposite end. When the ball is inserted into the butt opening, the curved metal rod that sticks out will allow the metal loop at the opposite end to be secured with neck restraints, arm restraints, or a rope attached somewhere.
The rationale behind the anal hooks is their usability in bondage wherein the submissive may be discouraged from moving his head, hands, or arm since it's attached through a cord/rope to the anal hook. Therefore, a slight movement of the metal rod and the body part where it is attached will be felt in the anus.
Anal hooks are made from stainless steel and are, perhaps, the kind of brilliant anal torture apparatus you need to satisfy your sexual kink.
Realistic Butts
Realistic butts resemble an actual human butt or a mini booty. They are made from soft and smooth material that you can smack, squeeze, caress, and make love to.
For those who are especially fond of anal sex, realistic butts are excellent for practice, training, and physical satisfaction. They bring in a lot of pleasure because the sensation feels like the real thing, especially with the right amount of lubrication to your penis. Every thrust and pull feels warm and real, especially if you love to fantasize about anal sex.
A realistic butt is soft, compact, and weighs around 5 lbs. It offers a fantastic way for its user to explore anal sex and achieve absolute enjoyment in the process.
Large Butt Plugs
Large butt plugs are butt plugs in a bigger form and size and are suitable for advanced anal players. The size is approximately 4 inches long and 3.8 cm in diameter. They provide sustained stretch to the interior walls of the anus in preparation for more aggressive anal sex or fisting.
There are several variations of large butt plugs, but the most common one is the classic rocket shape. Some are more elongated but lesser in diameter for deeper penetration and gentle stretch, while others are a little shorter yet wider in diameter for more stretch and less penetration.
Large butt plugs come in different designs and materials such as the classic silicone, fancy crystal or glass, and metal. There are also large jeweled butt plugs and large tail butt plugs. Less common types and generally not recommended for hygienic purposes are large rubberized butt plugs and large plastic butt plugs.
Large butt plugs require intense cleaning and sanitation due to deeper anal penetration and wider stretch that tends to cause superficial abrasions along the walls of the anus. Use warm water and gentle anti-bacterial soap to clean the toy and put it in hot water for a few minutes to kill any leftover microbes.
Always use a water-based and slippery lubricant when inserting a large butt plug inside your anus.
Butt Plugs
A butt plug is an anal sex toy that is inserted inside the anal cavity (butt hole) for a variety of purposes. Here are the most common ones;
To train the anal sphincter muscles to relax for a comfortable anal sex
To train the interior walls of the anus to get used to the sensation
Used as a sex aid by both men and women to facilitate pleasurable sex and orgasm
Worn by women during vaginal sex for double penetration
To stimulate the G-spot and internal part of the clitoris during vaginal penetration
To stimulate the P-spot in men that leads to prostate-enabled orgasm
For cosmetic purposes during sex and sensory stimulation (jeweled butt plugs and tail butt plugs)
To achieve a more pleasurable oral sex
To experience a pleasurable stretch to the anus and prostate stimulation in men (large butt plugs and inflatable butt plugs)
Butt plugs require intensive cleaning and sanitation. Depending on the material, it is essential to use a mild anti-bacterial soap and warm water to clean a butt plug. Submersion in hot water is likewise beneficial to sterilize it. Dry the butt plug completely before storing it.
The use of butt plugs requires a generous amount of lubricant for ease of insertion and pulling. Water-based lubricants that are slippery and hypoallergenic are excellent options.
Anal Beads
There are two major types of anal beads; rigid anal beads and soft strand anal beads. Rigid anal beads are sturdy anal sex toys that can be inserted firmly inside the rectum like a dildo, and they're usually made from hard materials like glass or metal. Strand-type anal beads are bendable and made from soft body-safe silicone, soft plastic material, or medical grade silicone.
Conventional anal beads are used by inserting the beads inside the anal canal past the sphincter muscles with only the finger ring or loop left behind and exposed. A water-based lubricant is used with the beads for ease of insertion. The beads are then pulled out at varying speeds at the peak of sexual excitement or during climax.
If you're a beginner, choose anal beads that come in graduated sizes. This type starts with the smallest bead with the succeeding ones gradually increasing in size as you move up. This will allow you to start with the smallest beads and then work towards the larger beads as you get used to the sensation.
To use the anal beads for the first time, start by inserting only 2 to 3 beads then progress as you become more comfortable. Make sure to clean and sterilize your anal beads with anti-microbial soap and hot water before and after use.
Hollow Butt Plugs
Hollow butt plugs open up the anal cavity for easy access to your innermost pleasure zone. They are smooth, hollow, and tunnel-shaped anal sex toys that have a hole that goes all the way through the plug and thus clearing the way for various play such as finger insertion, anal sex toy, and lubricant. Wider open tips are more suitable for experienced users.
Hollow butt plugs are designed for anal sex and "huge" penetration. They come in a variety of colors, models, and sizes. The most common form resembles a tunnel plug that matches and conforms to the natural curvatures of the anus. It should feel comfortable when inserted inside the anal cavity with a slight "stretchy" sensation.
A hollow butt plug is wonderful fisting paraphernalia and will surely be loved by piss-play aficionados, especially those who consider themselves advanced players. It is usually made from silicone and requires water-based lubricant for easy insertion. Due to its hollow design, you can give your partner a peek inside.
There are three sizes available for hollow butt plugs which are;
Medium (length: 2.5 inches / inner circumference: 3.1 inches)
Large (length: 3 inches / inner circumference: 3.9 inches)
Extra large (length: 4 inches / inner circumference: 4.4 inches).
Small Butt Plugs
Small butt plugs are smaller variations of the classic butt plug. They are suitable for beginners in preparation for anal sex. By virtue, butt plugs are sex toys that are inserted into the rectum for anal training, sexual satisfaction, or as a sex aide.
A small butt plug is somewhat similar to a dildo but is shorter and has a wider base to prevent the device from slipping inside the rectum. There are different models and designs for small butt plugs like small tail butt plugs, crystal butt plugs, silicone butt plugs, and metal butt plugs, among others.
If you're an anal sex beginner and you want to train your anus to stretch or to get used to the sensation, a small butt plug is the most suitable choice for entry levels. Just like any other anal sex toy, small butt plugs require proper lubrication for easy insertion.
Make sure to wash, clean, and sterilize your small butt plug before and after use to avoid bacterial build-up.
Vibrating Butt Plugs
A vibrating butt plug is an advanced and more sophisticated form of butt plug. It provides pleasurable and continuous vibrations once inserted into the anal cavity for absolute sexual satisfaction.
Vibrating butt plugs can either be battery-operated or USB rechargeable and comes with a remote control. The plugs are typically made of silicone and, depending on the model, offer various vibration patterns and speed, which can conveniently be adjusted using the remote control.
A vibrating plug is often used by men as a prostate massager. When worn during sexual intercourse and vaginal penetration, the pulsating effect can cause powerful orgasms for both men and women.
Women can also use vibrating butt plugs for double penetration during vaginal intercourse or to maximize pleasure when receiving oral sex. The vibration patterns and ergonomic design are effective in stimulating the P-spot in men and the G-spot in women.
Vibrating butt plugs require careful maintenance and proper sanitation. To ensure longevity and to maintain the quality of performance, the batteries should be changed as needed. Rechargeable anal plugs should also be charged regularly. More importantly, the toy must be cleaned using antibacterial wipes and alcohol-free sanitizing spray before and after use.
Anal Sex Toys

Reviews and Testimonials