Bondage Ropes
Didn't find what you are looking for?
View All
Best 9 Bondage Ropes in 2023
1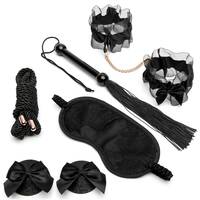 2
Midnight Special Gift Set
2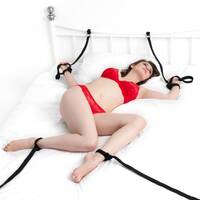 2
Soft Bondage Rope Restraints
Length: 53 inches
Fabric: Nylon
Allergens: Latex-Free
3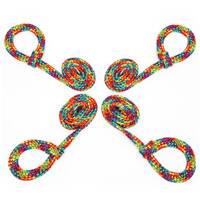 Rainbow Soft Rope Restraints
Length: 54 inches
Fabric: Nylon
4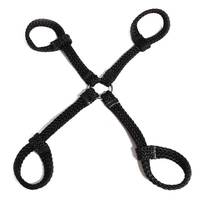 2
Bondage Boutique Soft Rope Hogtie
Length: 24 inches
Fabric: Nylon
Allergens: Latex-Free
5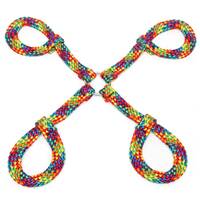 Length: 33 inches
Fabric: Nylon
6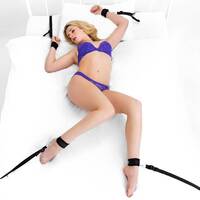 Please Under Mattress Restraint
Fastening: Velcro
Allergens: Latex-Free
Fabric: Polyester
7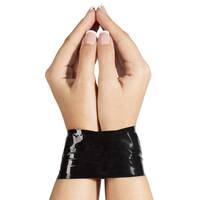 3
LoveHoney Black Bondage Tape
Material: PVC
Fabric: PVC
8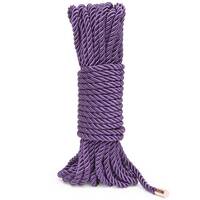 2
Want to Play? 10m Silky Rope
Fastening: Tie-up
Length: 10 inches
Fabric: Cotton
9
Great Deal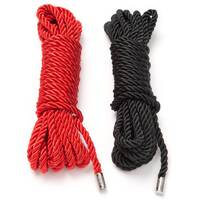 3
We have more
Bondage Ropes
View All
As seen on
What Is a Bondage Rope?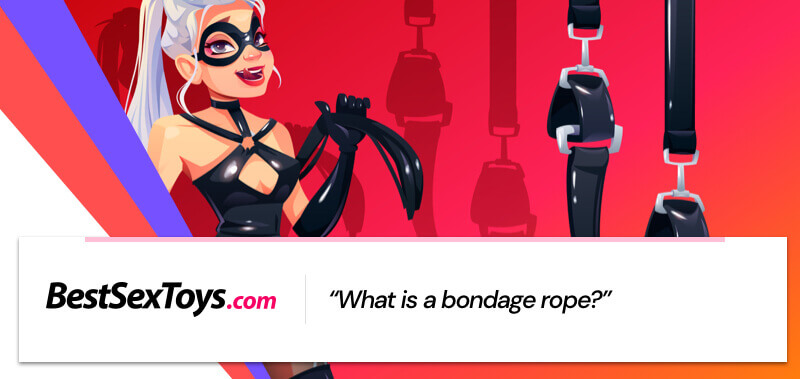 Bondage ropes are ropes that are used for bondage play. Bondage ropes sold in sex stores are softer than the ones you can find in a hardware store. Rope play is the practice of using ropes and knots to restrain your partner or restrict their movement and can even be a way to suspend your partner.
There are two main types of rope bondage. The western-style sets its focus on completely restraining one's partner, giving the dominant party full control over the tied one. Japanese bondage focuses more on symmetry and patterns, looking at the practice as more of an erotic art form.
How to Use Bondage Ropes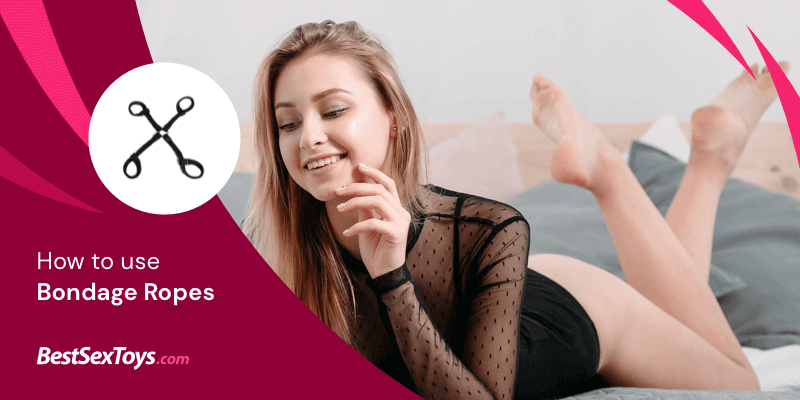 Start by having your partner stretch and move around because they will be spending plenty of time immobile, so it is best to warm the muscles up before starting. Take into consideration the flexibility and strength of your partner. Staying in one place for too long can be hard on your joints and restrict blood flow.
If you're a first-timer, have your partner lay in a comfortable position and be sure to adjust all cross-sections and knots so that they are taut without being too tight. If you're overzealous with the tension in your knotwork, you'll end up having to go back and loosen or rearrange your ties sooner during play rather than later.
Instead, take the time, in the beginning, to make sure everybody is comfortable and situated. Even when tied by someone experienced, bondage ropes are known to cause bruising, next-day soreness, and varying degrees of rope burns.
Bondage Rope Safety Precautions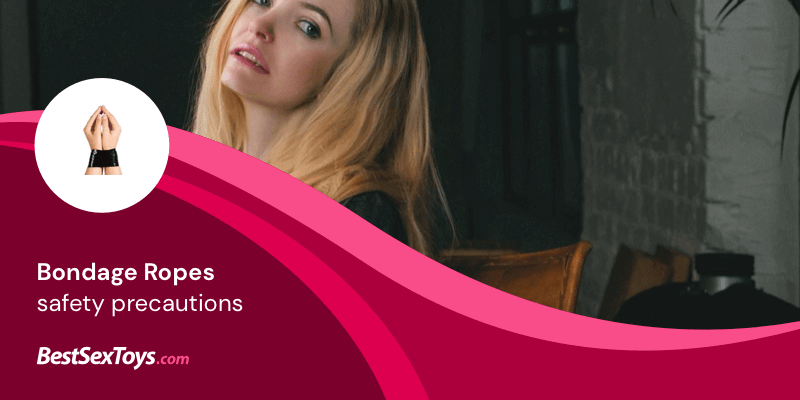 If you are the dominant during play, you are responsible for your subs safety. Rope bondage is an exchange of power, by immobilizing your partner, you are taking full control of their body. This is what makes rope bondage so alluring and why there is a hint of danger.
To go forward into the world of bondage ropes, both the dominant and submissive must understand the risks involved and the warning signs of trouble.
1. Deep Breaths.
Be aware of any changes in breathing, sometimes these can be a product of excitement and stimulation, but they can also be a warning sign that something is wrong.
2. Be Mindful of Blood Flow.
Take note of your partner's skin temperature. That way, you know what isn't normal for your partner and can better sense a dangerous lack of circulation. To minimize the risk of obstructing blood flow, it is advised that you don't use slip knots or similar knots that can lock down on themselves. You should also tie your partner in the desired end position so that the knots and ropes are at the correct tautness.
3. Watch Your Placements.
Do not place ropes or knots on the radial nerve, a nerve located on the outside of the arm between the triceps and deltoids. If your rope is anywhere near this area and a partner tells you that their hand went numb, remove the rope IMMEDIATELY. This is the same for the brachial plexus, which is in the front shoulder and armpit area. It is best to try to avoid these areas.
4. Don't Go Too Tight.
When tying the wrists and legs, it is important that you can fit one or two fingers under the ropes, this ensures that they aren't too tight. The nerves in the wrists are a concern, as well as the blood vessels. It is never okay to restrict the blood flow to the legs, so be cautious when binding them. Never tie your partner's neck unless you are a veteran of the bondage rope scene and know what you're doing.
5. Keep It Realistic.
Know how flexible your partner is and be realistic with your expectations. Many bondage rope positions are too uncomfortable for most people to do. If there's a position you both like the idea of but then come to find it's not doable for your submissive, try to work towards it by playing and stretching more often.
6. Know Your Skill.
Never try advance ties or suspension bondage before you are well seasoned in the art. Keep it simple at the beginning to minimize risk to your partner during play. Know your submissive limits and respect the trust that they granted you by allowing you to tie them.
7. Always Have a Safe Word.
Take your time before playing to come up with a safe word or other signals if a gag is being used. Safewords can be anything from saying obscure words to snapping your fingers.
8. Don't Go Anywhere.
When participating in bondage play, it is never okay to leave the tied-up party alone. This is a major safety risk that leaves the submissive unable to care for themselves or move in case of an emergency.
9. Be Prepared for an Emergency.
If there is an emergency, immediately cut your partner from their ropes. Keep something sharp nearby to cut the ropes, EMT shears, or a sharp pair of scissors. Do not hesitate to cut your ropes if something is off, your submissive safety is always more important than your ropes safety.
10. Communicate With Your Partner.
When tied up, a submissive must tell their dominant if they feel any real pain, tingling, or coldness in their extremities. If anything is numb, speak up.
11. Aftercare Is Important.
Remember that once you are done with play, the submissive will need to be taken care of. Take time after play to completely untie them and help them stretch and massage their muscles.
This practice, aftercare, is vital in bondage play and offers security and intimacy after a session. Take note of what your partner needs after rope play and provide it for them.
Bondage Rope Knots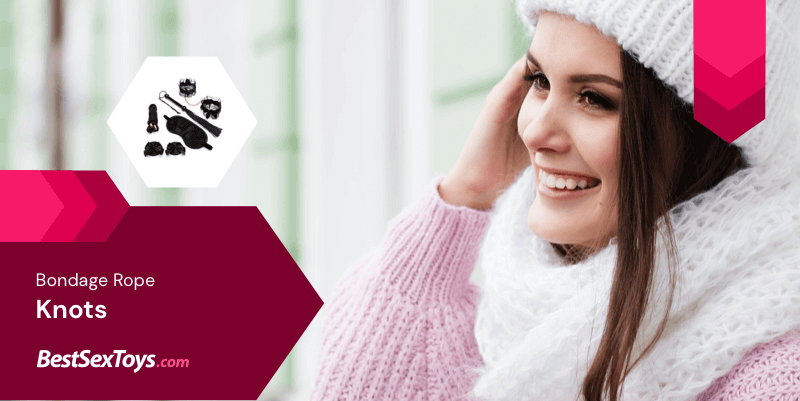 Nothing beats practice. When starting out in bondage ropes, spend some time surfing the web and looking for tutorials on how the knots are created. These knots are used explicitly in bondage because they create a good hold without risking injury.
Never use a slipknot when tying your partner because they can bear in on themselves and become too tight, especially when using a smooth synthetic rope. Basic knots like overhand knots and double overhand knots are used in rope bondage and more advanced knots like the Surgeons knot.
The surgeons' knot, otherwise known as the square knot, the additional steps in this knot create a stronger hold than a typical double overhand knot. A Cow hitch or larks head knot is important to learn as a beginner as well. This is a commonly used knot when attaching the rope to an object like a chair leg or bedpost.
Overall, YouTube is your best resource, and bondage rope tutorials and boy scout tutorials on knots alike will pave your way into BDSM ecstasy.
Bondage Rope Positions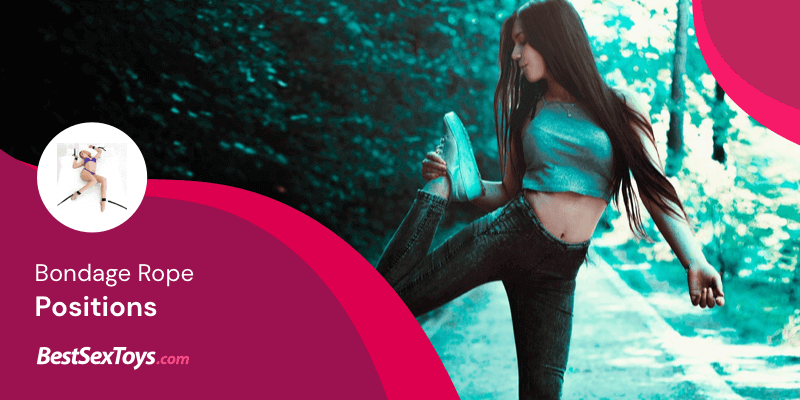 There is a multitude of bondage rope positions and infinite ways to use your bondage ropes during play. For new BDSM players, it is suggested that you google around and see what inspires you. Every couple is built differently with different health concerns or levels of flexibility.
It's important that you and your consenting partner talk about what level of comfort or discomfort is okay before choosing a position. Be ready to play around with it until you both find a way that works for you. After the first few times, using your bondage ropes, know that there is always a new position to try. These ropes keep it fresh and exciting in the bedroom.
Spreadeagle
If you have a four-poster bed or enough rope to attach to your bed's feet, the spreadeagle position is an ideal situation for beginners with bondage ropes. In this position, the submissive is tied by each ankle and each wrist to the bed's four corners.
Spreadeagle gives the dominant full control over the submissive while also being simple to tie and adjust to make your partner more comfortable. This is also a great position for people who aren't particularly flexible or athletic.
You can even add cuffs to the equation for maximum restraint without having to worry about loss of circulation. To achieve this, simply loop the rope through the cuffs and then secure them to the bed's four corners.
Chair Tying
Chair ties are another easy option that's good for beginners. Have your submissive sit in a char and then bind them to it. This can be done in multiple ways, but the simplest is tying the arms to the chair's arms and the legs to the legs of the chair.
It is as easy as it seems, and if you want to spice it up, you can bind your sub's hands behind their back, though this is a more uncomfortable position to stay in for too long.
Hogtie
The submissive is placed on their stomach, and then all four limbs are bound behind their backs. If you want even more security and control in your tie, you can also bind the knees and the elbow together. If you would rather your sub be able to move their arms and legs more, allow for more rope between the ankles and wrists.
If you plan to use a gag or collar during your play, you may not want to use the hogtie position. Hogties place pressure on the abdomen, which can sometimes cause difficulty when breathing.
Rope Harnesses or Web Ties
Rope harnesses are created with a series of knots and weaving normally done in the Japanese style that focuses on aesthetics. The ropes wrap the submissive in a way that mimics a spider's web. Participants can choose whether to include the arms in this form of rope work or leave them free.
The rope harnesses main focus is to apply pressure to sensitive areas while also building a structure for other ties. Many rope harnesses will apply pressure to the breasts and clitoris for extra stimulation during play.
Rope harnesses are also used as the basis for suspension bondage, though this is not suggested to be tried by anyone other than those experienced in rope bondage for safety reasons.
Crab Ties
The crab tie is when you bind your subs elbows to their knees and their hands to their feet. This position is still restrictive while also letting the dominant open and close the legs and roll the sub around while still bound. This tie can require some flexibility, but it makes up in fun what it lacks in comfort.
Bondage Rope Types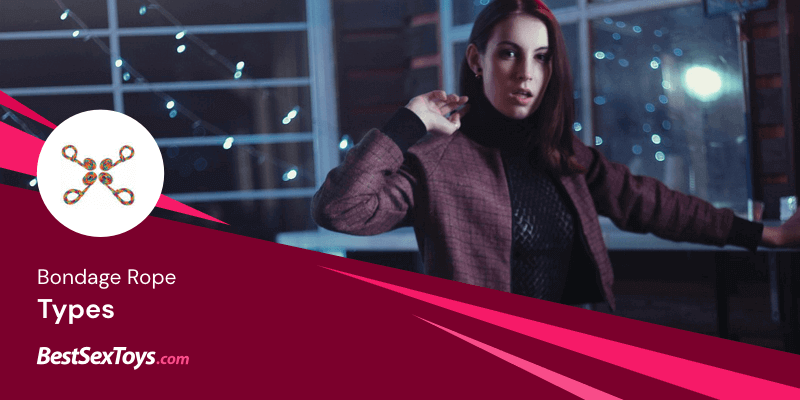 When picking your bondage rope, consider the feel and material of the rope. Do you want something silky smooth, or are you looking for something a little rough around the edges? How much of a hold do you want your rope to have? Some ropes are harder to get untied than others, and this is important to consider.
Are you or your partner allergic to any fibers? For example, if you have a grass allergy go with a synthetic alternative rather than hemp. Does style matter to you? Different ropes feed into different aesthetics, and some can even be offered in a multitude of colors.
You should also take note of the thickness of the rope. Lesser thicknesses will hold knots better but will also be harder to untie, and the ropes bite into the sub's skin more than thicker ropes, which are more comfortable and easier to untie.
Natural
Natural fiber ropes, made from materials like hemp, cotton, or linen, to name a few, are known to be less durable than their synthetic counterparts but make up for that by having a better grip with less of a chance of rope burn.
Synthetic
Synthetic ropes are the more durable of the two types and are made from materials like nylon. These ropes don't hold knots as well because of their smooth textures. They more often cause rope burn because the rope slides around more on itself and on the body. These ropes are easier to keep clean, however, if this is a concern.
Bondage Rope Length Needed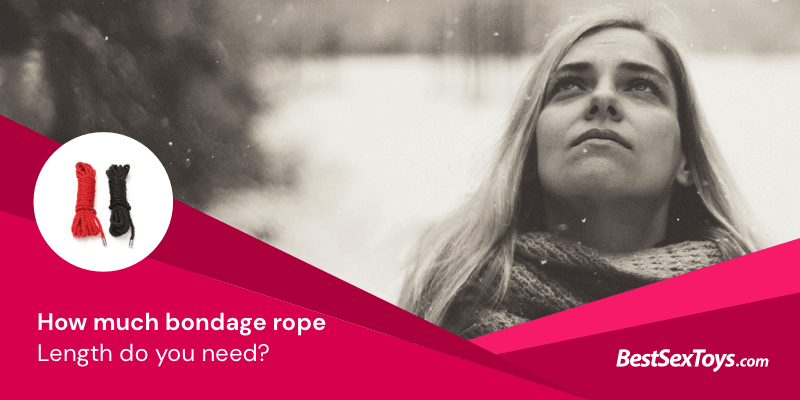 Should you buy in bulk or have several smaller ropes? It all depends on how you want to use it! Some ropes can fray when they're cut, which is why some users like buying shorter lengths of rope while those who enjoy the Japanese bondage style go for longer lengths to create vaster and more dynamic patterns.
It is important to note that the longer the rope is, the more rope will need to be pulled through each knot. Some prefer to use small ropes and attach them to make the tying process easier. A recommended length of bondage rope is the length of your arm multiplied by 4 or "four rope pulls."
The typical lengths of rope for sale are 10-15 feet and 25-30 feet. If storing that amount of rope seems like the wrong kind of naughty, look up a tutorial on how to wrap up and store your ropes. Practicing this will even help you get better at tying overall.
Bondage Rope Accessories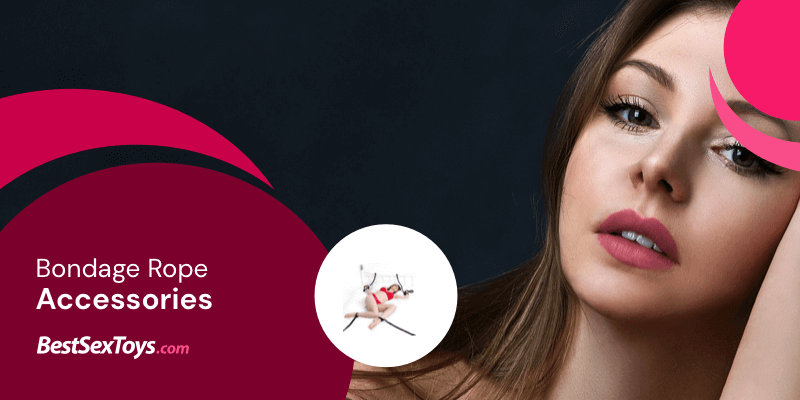 Cuffs, spreader bars, clamps, blindfolds, gags, and even furniture can be used to enhance your play with bondage ropes. These other toys can increase the control of the dominant and enhance the pleasure of the submissive. Take a night to scroll through and watch some bondage porn with your partner.
If something on the tape sparks your enthusiasm, consider adding it to your bag of tricks. More variety between your add-on toys can lead to more creative and more tailored for your favorite positions.
Having multiple things to go to during play can also give the dominant an edge when it comes to turning the pressure on and off of a submissive.
Cuffs can be used in place of rope around the sensitive wrists for anybody worried about their circulation. Spreader bars can be used in tandem with rope bondages by attaching the wrists to two corners of the bed and bending your partner over the bed, leaving them in a compromising and exciting position.
Clamps blindfolds and gags enhance the feeling of helplessness and enhance sensitivity and anticipation in the submissive, which plays a big part in BDSM. Try looking around your house with bright fresh eyes to see if your furniture can offer a unique bondage rope session that will have you thinking about that rocking chair differently than before.
Adding some bells and whistles to your bondage ropes make every time you change positions a new experience and will keep your sub on the edge of their seat, that is if they have one.
Where to Buy a Bondage Rope From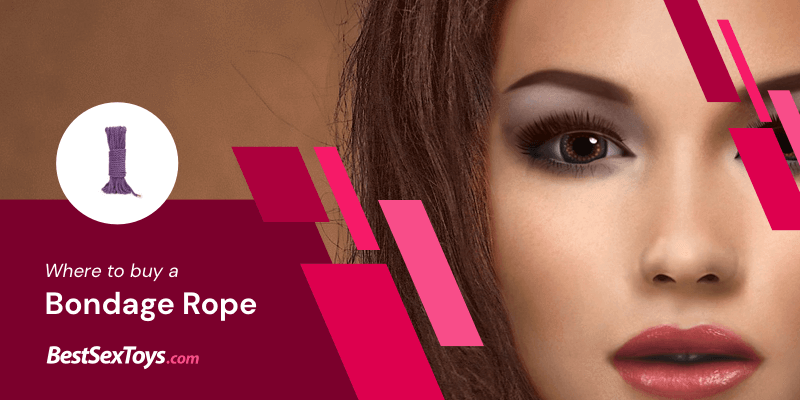 If you want easy options tailored for the act, a local sex shop may be better for you. Sex shops allow you to see the difference in what you're buying and maybe even feel the difference.
If you know exactly what you want, the online marketplace is for you. Sex shop websites have an insane variety of bondage ropes. The sites have separate categories to sort the ropes for length, color, material, rating, and price. Online sex shops also let you read ratings and reviews on sex toys to know what works best and how well it works.
If you need something quick and your local sex shop doesn't have exactly what you want, try exploring your local hardware store. While the idea may seem very 50 shades of gray, going to your local hardware store allows you to explore and feel different ropes before picking what works for you.
Don't be afraid to buy different kinds of rope in smaller sections to see what you like.
All the sex toys for



Subscribe to our Newsletter
Newest Deals
Discounted Prices
Free Products
Giveaways
Promo Codes
Table of Contents
Bondage Ropes
Check the
Best 9 Bondage Ropes
Find the best 9 Bondage Ropes we've gathered after reviewing dozens!
Check Now