Cyberskin Dildos
Didn't find what you are looking for?
View All
Best 10 Cyberskin Dildos in 2023
1
Hot Deal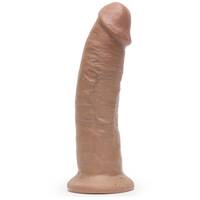 2
CyberSkin King Cock 8.5 Inch
Material: Cyberskin
Insertable: 8.5
Length: 9
Flexibility: Flexible
Circumference: 7
2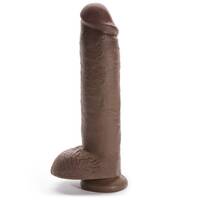 CyberSkin Realistic Dildo
Material: Cyberskin
Insertable: 9.5
Length: 12
Waterproof: Submersible
Circumference: 7.75
3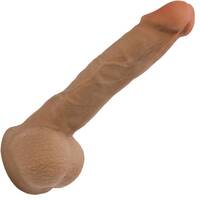 Material: Cyberskin
Diameter: 2 inches
Length: 7.25 Inches
4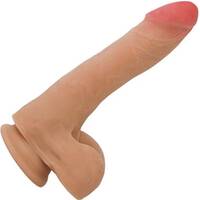 Material: Cyberskin
Base: Suction cup
Length: 7.5 inches
Insertable length: 5.5 inches
Girth: 1.5 inches
5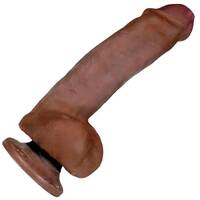 Material: Cyberskin
Diameter: 2 inches
Length: 9 inches
6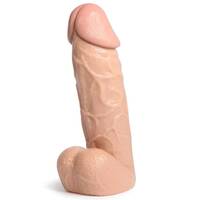 2
CyberSkin Base Dildo 7 Inch
Material: Cyberskin
Insertable: 7
Length: 8
Circumference: 6.5
7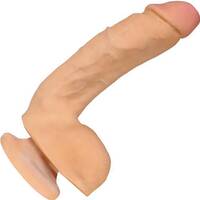 CyberSkin Real Man Dream Dick
Material: Cyberskin, Real Skin
Length: 8.75 Inches
Color: Flesh
8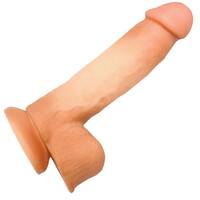 Material: Cyberskin
Circumference: 2 Inches
Length: 9.25 Inches
9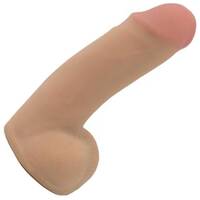 Squirtz CyberSkin Realistic
Material: Cyberskin
Diameter: 2 inches
Length: 7.25 Inches
10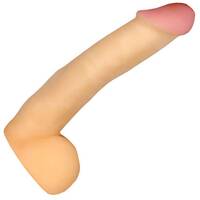 Material: Cyberskin
Diameter: 1.75 Inches
Length: 7.25 Inches
We have more
Cyberskin Dildos
View All
As seen on
What Are Cyberskin Dildos?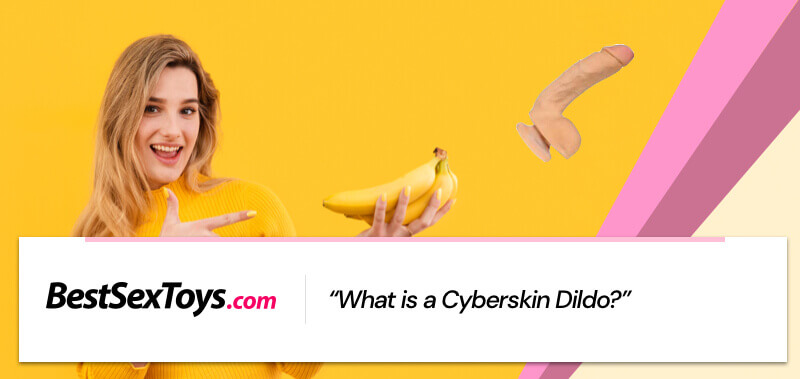 A Cyberskin Dildo is a penetrative sex toy made of Cyberskin material. It is a female masturbation toy suitable for vaginal stimulation and penetration. The most distinctive characteristic of this dildo is its true-to-life appearance and texture, comparable to a man's penis and testicles. It has a phallic shape, skin-like exterior, and sensation that imitate a fully erect penis.
The Cyberskin material is the primary component that highlights this type of dildo. Cyberskin is an elastomeric material that resembles the human skin. It is a combination of phthalate-free thermoplastic elastomer (TPE) and thermoplastic rubber (TPR), specifically designed to look and feel natural. This material is not only common in dildos but also in some variants of vibrators, male masturbator sleeves, and Fleshlights.
The aesthetic appeal and lifelike texture of a Cyberskin Dildo is what draw the attention of female sex toy fanatics. It is particularly popular among those that prefer a sex toy that can simulate the feeling of having sex with a real man.
Women who love to play with their erotic fantasies by creating the impression of making love with a real penis benefit the most from this sex toy. Unlike silicone dildos and rigid dildos, a Cyberskin Dildo closely resembles the skin folds, veins, and head of a live penis. It makes solo sex more realistic and sensational.
Cyberskin Dildos are available in different skin tones, girths, and lengths to satisfy many kinks and fantasies. Recent variations include suction cups to experiment on various sexual positions during masturbation, squirting mechanisms, thrusting movements, and extra-large size for maximum penetration.
How to Use a Cyberskin Dildo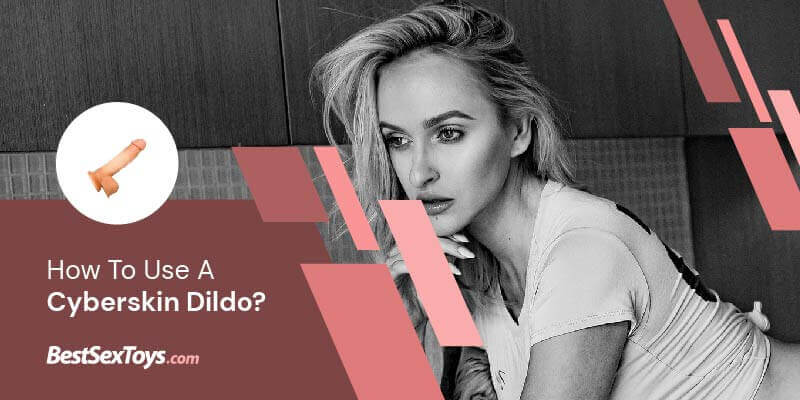 With the changing perception and openness of the modern society towards different types of adult toys, more and more women are increasingly becoming aware of the benefits and significance of sex toys to their sexuality. The growing curiosity goes hand-in-hand with the growing interest, which ultimately results in public acceptance.
If you think that a dildo can make your self-care routine more exciting, a Cyberskin Dildo is a good product to consider. Aside from its lifelike appearance and fleshy texture, it is also non-intimidating to use even for first-timers. To give you a general idea of how to use a Cyberskin Dildo during your solo play session, here is a Cyberskin dildo basic guide;
1. Clean and Disinfect Your Cyberskin Dildo.
Dildos are penetrative sex toys that require intensive cleaning and sanitation before and after each use. As a general rule, anything you use to penetrate your body, whether vaginally, anally, or orally, should be hygienic. Therefore, make sure to properly clean and disinfect your Cyberskin Dildo before starting your playtime.
2. Test the Features.
Cyberskin Dildos are available in different versions and each one may have a unique feature that can magnify your masturbation session. For example, your dildo may have a suction cup that would allow you to stick it to any non-porous surface, or it may have a thrusting mechanism to make the experience more realistic; or perhaps it comes with a vibrating motor for additional stimulation. Testing the features will enable you to become more familiar with how it works and the sensation it brings.
3. Apply Water-Based Lubricants.
Cyberskin is a skin-like material that has a soft but rubbery feel. Ideally, powder application helps maintain its smoothness to make it more natural-looking. However, for a seamless and slippery glide, you may use a water-based lubricant. Simply apply the lubricant along the shaft of your cyberskin dildo and on your vaginal opening before penetration.
Although silicone-based lubricant also works with cyberskin material, cleaning up can be a hassle and the oily after-feel may affect the quality of the material. This makes water-based lubricant a more practical choice.
4. Get Into a Comfortable Position.
When using a penetrative sex toy, your position matters to a great extent. The good thing is that, you are free to experiment any way you want to discover your body's erogenous zones.
To use your Cyberskin Dildo, you may assume your favorite sexual position, such as lying down on your back, sitting with legs wide open, lying on your side with one leg up; or even standing upright with your back pressed against the wall. The possibilities are endless as long as you're willing to get a little experimental.
5. Penetrate Your Vagina Using the Cyberskin Dildo.
Gradually insert the Cyberskin Dildo into your vaginal opening to start penetrating yourself. You may also engage in some foreplay by teasing your nipples, thighs, labia, and clitoris with the head of the dildo.
Teasing your body's sensitive zones with the cyberskin material will enable you to appreciate its fleshy and realistic texture. Allowing your body to enjoy a passionate foreplay also helps build up the excitement for the actual penetration, which is essential to achieve an earth-shaking climax with your sex toy.
Types of Cyberskin Dildos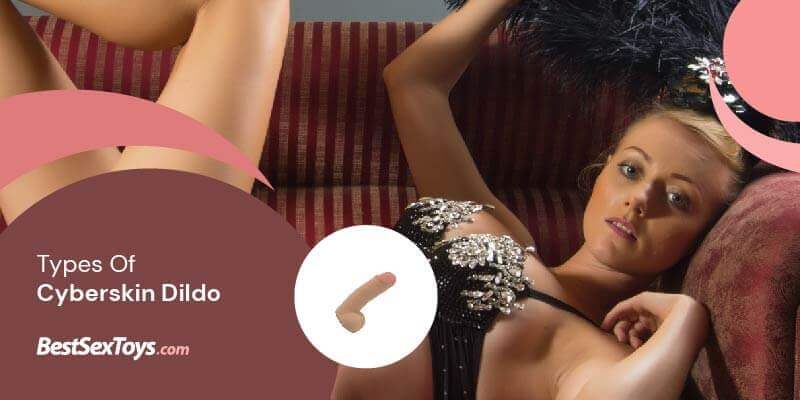 Cyberskin is a tactile material that is meant to imitate the skin's natural appearance and texture. Other similar materials that are made from the same elastomer components are Real Feel Super Skin, Fanta Flesh, and Better-Than-Real. These flesh-like materials are very common in the sex toy industry and bring an overabundance of pleasure and sexual satisfaction.
If you love sex toys with precise elements that resemble the real thing, a Cyberskin Dildo is a perfect choice. It does not only highlight the aesthetic details of a male penis but imitates the sensation as well.
For your reference, here is a quick rundown of the most common types of Cyberskin Dildos that are dominating the sex toy industry
Suction Cup Cyberskin Dildo
A Suction Cup Cyberskin Dildo comes with a powerful suction bottom that you can stick on any flat and non-porous surface. This is perhaps one of the most common and basic variation since realistic solo sex is meant to be hands-free. Suction Cup Cyberskin Dildos are available in different sizes and skin tones.
Vibrating Cyberskin Dildo
A Vibrating Cyberskin Dildo combines the power of vibrations and the natural feel of Cyberskin material. It can either be battery-operated or rechargeable. This variation is suitable for sex toy fanatics who enjoy additional stimulation modes during solo play and partner play. Innovative models also come with a remote control and suction cup feature to add up to its versatility.
Vibrating Cyberskin Dildos are ideal for those who want to experience the best of both worlds with their dildo, since they are useful as a vibrator and as a penetrative sex toy.
Thrusting Cyberskin Dildo
A Thrusting Cyberskin Dildo is a penetrative sex toy that provides thrusting movements. It ideally works in combination with a sex machine as an attachment. However, some variations are also functional on their own through a suction cup element or handle (handheld versions).
The sex toy market also introduces many other options, which can go from the most basic type to powerful models that offer different thrusting speeds.
Thrusting Cyberskin Dildos can simulate the experience of sexual intercourse because of their realistic appearance, human-like texture, and automatic thrusting motions.
Strap-On Cyberskin Dildo
A Strap-On Cyberskin Dildo is a harness with a realistic dildo attachment. The harness is wearable around the hips of a male or female partner and is primarily useful in the act of "pegging". The harness, which is usually made of leather, nylon, elastic, or cloth-like materials, consists of straps that the wearer can slip around both thighs and along the hips to stabilize the dildo.
With proper use, Strap-On Cyberskin Dildos are useful for both vaginal and anal penetration. They are also functional among heterosexual couples who want to engage in role-reversal sexual activities and same-sex couples that enjoy mutual penetration and/or penetrative sex.
Extra Large Cyberskin Dildo
An Extra Large Cyberskin Dildo is an extreme penetrative sex toy that is massive in over-all size, length, and girth. The dildo size is between 11.2 to 13 inches from base to tip, with an insertable length of 9 inches. The diameter measures around 2.3 inches. Extra-large Cyberskin dildos are suitable for women who enjoy huge penetrations and want to satisfy their bizarre sexual fantasies and curiosities.
Extra Large or Ultimate Cyberskin Dildos also resemble the physical appearance of a fully-erect male penis with its smooth head, real-looking veins along the shaft, skin folds, and testicles. They are available in different skin tone colors and generally have a flexible structure to simulate real things.
How to Clean Cyberskin Dildos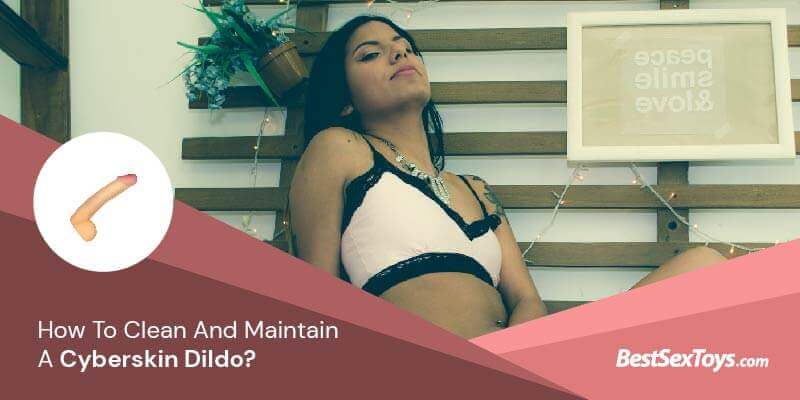 Cyberskin Dildos require special attention to ensure that they are clean and hygienic at all times. The Cyberskin material also needs proper treatment to maintain its skin-like quality and texture.
Since Cyberskin is a porous material that is sensitive to extreme temperatures, avoid using hot or cold running water when cleaning your dildo. For efficient cleaning, you'll need to use a mild disinfecting water and soap solution to remove any residue and to thoroughly sanitize it.
Here's a step-by-step guide on how to clean a Cyberskin Dildo;
1. Prepare a Disinfecting Soap and Water Solution.
Prepare a basin of water at room temperature and add some disinfecting soap. Use mild or hypoallergenic soap that doesn't contain harsh chemicals. Ideally, soaps with large moisturizer concentrations are not suitable since they can cause moisture build-up and stickiness on the Cyberskin material.
2. Use a Clean Microfiber Towel.
Dip a microfiber towel in the soap and water solution. Gently rub on the surface of your Cyberskin dildo. Make sure not to use too much pressure. Repeat the procedure until your dildo is completely clean and free from soap residue. For the final wipe, use plain water.
3. Wipe Gently and Allow to Air Dry.
Remove excess water from your Cyberskin dildo using a microfiber towel and allow it to air dry completely. Do not use a blow dryer to speed up the drying process because the hot air may damage the material. Also, avoid using paper towel, tissue paper, and other fibrous cloths when wiping a Cyberskin dildo because they tend to stick to the material.
4. Powder Application.
Prior to storing your Cyberskin dildo, make sure to eliminate excess water and moisture through powder application. Porous materials like Cyberskin tend to absorb and retain moisture after exposure to wet conditions. Moisture retention may cause a sticky and unappealing texture, foul odor, and bacterial build-up.
While others also recommend cornstarch to absorb the excess water, baby powder or talcum powder are also safe choices. Simply dab the powder all over the Cyberskin material until it feels smooth and soft like skin.
5. Store in a Dry Place.
Lastly, store your cyberskin dildo in a dry space or drawer that's free from moisture and humidity. You may want to cover it with a soft cloth for added safety and protection. Avoid keeping it in places that contain perfumes, colognes, cleaning agents, and alcohol. Accidental contact and prolonged exposure to any of these chemicals may damage the cyberskin material.
Pro Tips: The following are some tips on how to maintain a Cyberskin Dildo;
For hassle-free cleaning, dress it up with a condom. This prevents direct skin contact, which minimizes the absorption of lubricant, vaginal discharge, and body fluids.
Invest in mild and non-toxic disinfecting wipes / disinfecting sprays specifically formulated for sex toys made of thermoplastic elastomers and thermoplastic rubbers.
Do not spray alcohol solution on your cyberskin dildo, and avoid using strong chemical-based disinfecting wipes to clean it up.
Do not submerge your cyberskin dildo in hot or cold water and avoid exposure to extreme temperatures.
Different Ways to Use a Cyberskin Dildo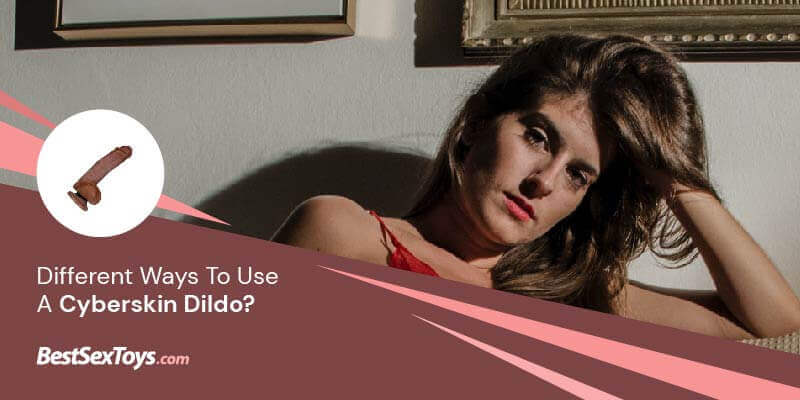 There are different ways to enjoy a Cyberskin Dildo. Whether you're a conservative sex toy user or someone who likes to think "outside the box", you can make the most out of it. You may also use it to break some boundaries you might have regarding your sexuality.
Here are some ideas on how to get wild and have an exciting time with your Cyberskin Dildo;
Add It to Your Sexual Repertoire.
A Cyberskin Dildo is a suitable sex toy for couples that want to get a little experimental with their sexual relationship. Adding it to your sexual routine can spice things up and amplify your bedroom experiences. For women, allow your partner to use the dildo to tease and excite you during foreplay. You may also use it for some backdoor action if your partner is ready for anal sex.
Lesbian Sex.
A Strap-On Cyberskin Dildo can make sex more fulfilling among lesbian couples that want to engage in vaginal sex and penetration. A strap-on is a creative way to use the dildo hands-free, so you can multitask while having sex.
Anal Sex.
Cyberskin Dildos with realistic testicles usually have a wide base making them safe to use as anal sex toys. If you're fond of anal sex and you intend to use your cyberskin dildo for some realistic backdoor playtime with your partner, make sure to pick a model that has large balls that serve as a stopper. Alternatively, you may also use a strap-on to get into some pegging action.
Hands-Free Solo Play Anywhere.
Cyberskin Dildos with suction cup bases are superb sex toys for those who enjoy hands-free solo sex. Just stick the suction cup base on a non-porous flat surface and explore your dirty fantasies in any position that satisfies you. If your dildo has a thrusting mechanism, you're in for a realistic and wild sexual experience – hands-free!
Sex Machine Attachment.
If you're kinky and bold, a Cyberskin Dildo is the most convincing attachment you can use with a sex-machine. Aside from simulating real sexual intercourse, the sensation is the closest thing that could imitate actual penetrative sex with a man.
The automatic thrusts combined with the true-to-life texture and phallic shape of a cyberskin dildo offer the most mind-blowing experience you can imagine with a sex toy.
What to Consider When Buying a Cyberskin Dildo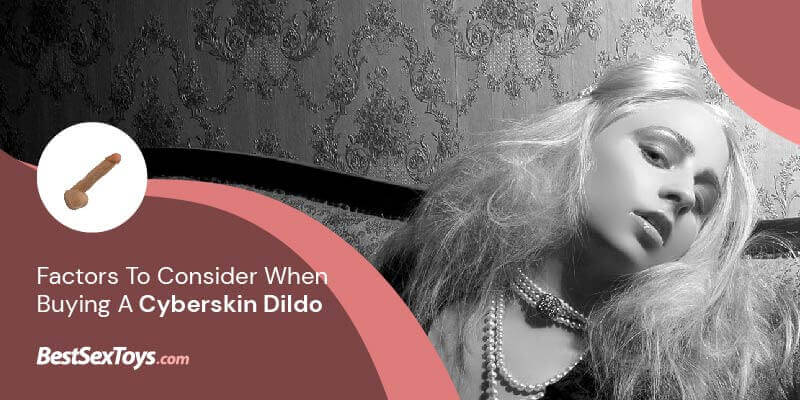 Cyberskin Dildos are the perfect choice for women that prefer a phallic-shaped and life-like dildo. Aside from imitating a live and erect penis, it has a unique structure that equates to a satisfying sexual experience every time. If you believe that this is the best choice for you as well, we're giving you a list of the factors to consider when buying a cyberskin dildo.
1. Size.
Does size matter to you? If the size is a primary consideration when buying a dildo, pick something that can bring you loads of pleasure and excitement. Whether you prefer a small, average, or large dildo, the key to making the right choice is to determine the approximate dimensions that match your need. Here is a dildo size guide for your reference;
Small Cyberskin Dildo: 6 to 6.5 inches in length / 1.5 inches in diameter.
Medium Cyberskin Dildo: 7 inches in length / 1.75 inches in diameter.
Large Cyberskin Dildo: 8 to 8.5 inches in length / 1.75 to 2 inches in diameter.
Extra Large Cyberskin Dildo: 11 to 13 inches in length / 2 to 2.3 inches in diameter.
Standard Cyberskin Dildo: 7.5 inches in length /1.5 inches in diameter.
2. Features.
What features matter most to you? There are many variations for Cyberskin Dildos, such as vibrating, thrusting, and squirting types. Pick a model that meets your specific requirements to ensure that you'll get the most out of your sex toy. There are also basic cyberskin dildos that don't have motorized components yet deliver amazing performance and sensation.
Examples are handheld cyberskin dildos, suction cup cyberskin dildos, flexible cyberskin dildos, and slightly-angled cyberskin dildos.
3. Price.
How much are you willing to invest in a Cyberskin Dildo? The best thing about cyberskin dildos is that they are relatively inexpensive. You can purchase a basic type with a decent size for as low as $40.00. If you're lucky enough to get a good discount, the price can even go lower.
However, you should never compromise quality for affordability. For your reference, the best cyberskin dildos are somewhere between the price range of $40.00 and $100.00.
4. Source.
Where is the best place to buy a Cyberskin Dildo? You have the option to buy from a local sex toy store or online sex toy shop. If you prefer to buy your dildo online, make sure that your source offers discreet billing, shipping, and packaging to safeguard your privacy. For all your sex toy needs, you can count on BestSexToys.com to offer you the best products, deals, and shopping solutions.
All the sex toys for



Subscribe to our Newsletter
Newest Deals
Discounted Prices
Free Products
Giveaways
Promo Codes
Check the
Best 10 Cyberskin Dildos
Find the best 10 Cyberskin Dildos we've gathered after reviewing dozens!
Check Now