1-Year Warranty
Discounted Prices
Free Shipping
Worldwide Shipping
Discreet Billing and Shipping
Top-Rated
Best-Selling BDSM Toys
1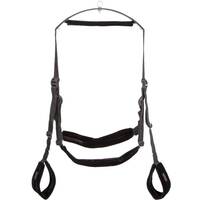 Fastening: Clip
Allergens: Latex-Free
Length: 20.5 inches
Material: Metal
2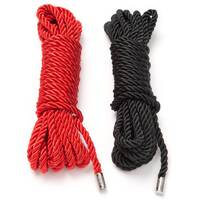 3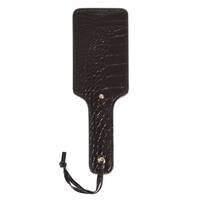 Faux Crocodile Leather Paddle
Length: 10.5 inches
Material: Leather
4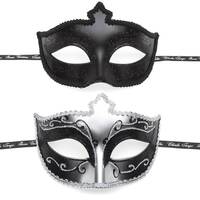 Fifty Shades of Grey Masks On Masquerade Mask (Twi
in Sex Masks
Fastening: Tie-up
Material: Hard Plastic
5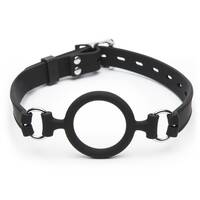 Fastening: Buckle
Length: 22.5 inches
Material: Silicone
What Is a BDSM Sex Toy?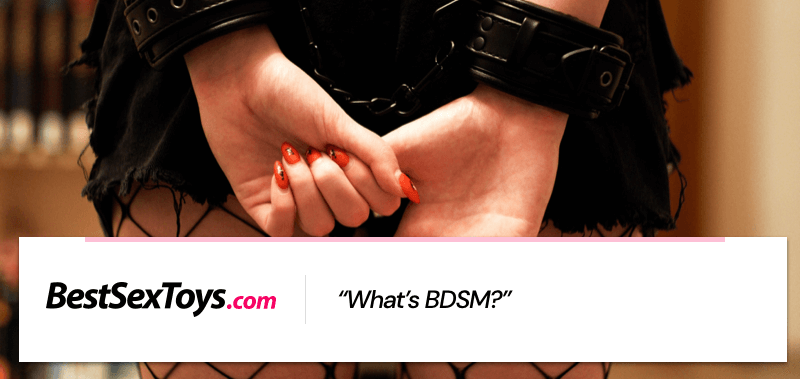 A BDSM sex toy is in a class of sex toys designed to enhance humiliation play, bondage, and other sexual activities enjoyed by BDSM participants and couples. BDSM toys are designed to blindfold or gag a partner, physically restrain a partner, or tease a partner while they are restrained. Their purpose is to enhance the pleasure and pain experienced during a BDSM sex scene.
BDSM sex toys tend to be made from durable materials like latex, leather, steel, or satin, to withstand the wear and tear of rough BDSM play.
BDSM Roles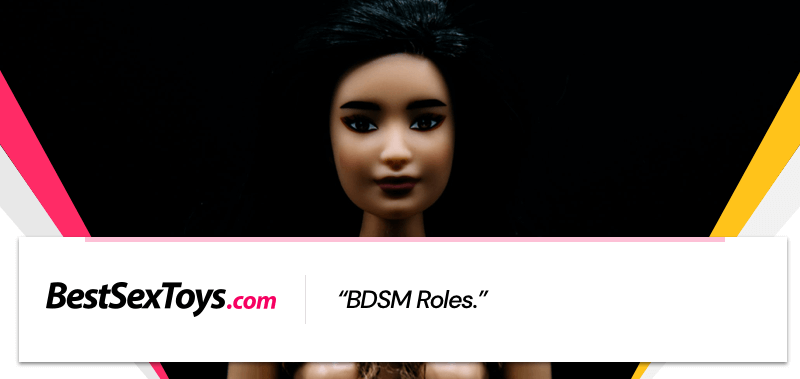 In order to get started with BDSM sex toys, it's important to know your role. There is the dominant role, and the submissive role, explained below.
Submissive
Being a submissive is defined as "Willing to obey someone else" (Merriam Webster).
Or, as "one who gives over their rights, their desires, and themselves to another. As a gift" (Urban Dictionary).
However, there is a tone in the definitions given above. If you take a look at the way BDSM is referred to in media culture and by the people who practice BDSM, they miss erotic, sexual constituent of the process.
Dominant
Being a Dominant, or Dom, is defined as "commanding, controlling, or prevailing over all others" (Merriam Webster).
Or, as "having power and influence" (Urban Dictionary).
A Dominant (Dom) is a sexual participant who controls the other participant (sub) and takes on the role of the superior. The partnership of the Dom and sub in the BDSM community is referred to as a D/s partnership.
The male Dominant is normally referred to as a Dom or Master. The female Dominant is normally referred to as a Domme or Mistress.
Where to Buy BDSM Toys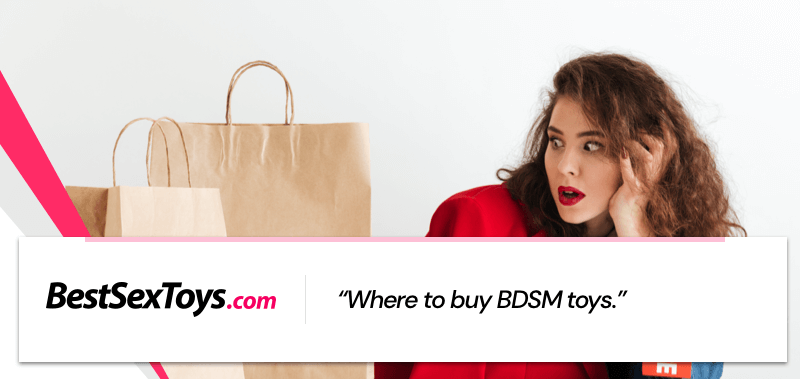 When you're ready to buy your BDSM sex toys, you will have so many choices to make.
What kind of BDSM sex toys? What materials? Dom or sub? Or both?
And, if you're new to buying sex toys, there's another choice to make. It's a choice that has the potential to stop any "newbie" in their tracks. Where do you buy your BDSM sex toys?
Shopping at an online adult store has definite benefits, but shopping at your local sex shop does as well. When you are ready to buy, but not quite sure where to go, this may help you decide.
Local Sex Shop
If you're considering stopping by a sex toy shop in your local area, that's spectacular! Many people get anxious and nervous, but there are reasons a person may choose to go to the store over the online option.
When you go into a sex toy shop in person, it gives you the ability to speak to people who know plenty about sex toys and have been asked some very unusual and erotic questions, more than you can imagine!
A good and knowledgeable sales staff also understands the importance of being discreet. They want to help you find the right toys for your desired situation, and avoid getting one that doesn't feel good or work the way you want them to.
Online Sex Store
If you choose to shop at home for your BDSM sex toys, on your personal Wifi connection, in your pajamas (or naked), that's the grand level of privacy that you will get when shopping at an online sex toy store. Nobody knows what you're doing (unless you choose to tell, of course), and no one cares, because you're at home.
One of the biggest selling points of online sex toy shopping is the privacy it allows. Good online sex toy shops should also guarantee discreet shipping, so your privacy extends to your mail carrier, family, and your neighbors also.
When you buy your BDSM sex toys, choosing in-person or online is about what's most important to you. Do you want to talk to real people and hold a product in your hand before you buy it?
Or, if you're strapped for time, concerned about privacy, and you have always gravitated towards doing all of your shopping online, there's a wonderous world of sex toys online waiting to be found! There is no right or wrong way to buy your BDSM sex toys, just the way that works best for you.
BDSM Rules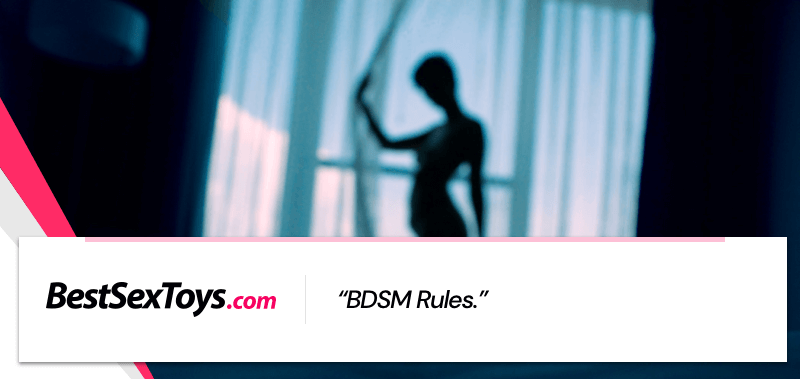 BDSM Etiquette
Although BDSM is about dominance and submission during a session or scene, standard social etiquette rules still apply, such as not intimately touching someone you do not know, not touching someone else's belongings, and abiding by dress codes.
Many events that are open to the public may also have rules addressing recreational drugs, alcohol consumption, cell phones, video, and photography.
Know What Your Partner Wants
The types of physical sensations desired during a BDSM scene can vary between participants. Both will have desires, as well as limitations. These should be communicated between the dominant and submissive clearly.
A specific scene takes place within the general resolutions and etiquette of BDSM, such as requirements for mutual consent and agreement as to the limits of any BDSM activity. Consent is the keyword, and it is held to the most remarkable of high standards in the BDSM community.
Consent in BDSM frequently takes the form of an unstated, implicit notion based on perceived behavioral displays of interest or disposition. The BDSM community takes consent further, demanding explicit rather than implied consent. This agreement can be incorporated into a formal contract.
Respect
Those in the BDSM community are most committed to the concept of consent. With consent, comes respect for each participant, and the pre-designated "script" so to speak, that has received agreed upon consent from both or all participants.
If you are involved in a monogamous, intimate relationship with your partner, participating in a BDSM scene alone together, consent and respect should also be always be held to the highest standard. Rarely, you may come across a rogue participant, just as you can in any community.
But when anyone in the BDSM community crosses the line, they are immediately cast out without hesitation! If either participant crosses that line with their monogamous partner, I can almost guarantee the rogue offender will be cast out as well.
Safe Word
The participants in a BDSM scene must agree on a safe word or gesture the sub can use at any time to stop an action from continuing. With that, since there is the potential for pain, as well as pleasure, both participants are aware of the rules and their limits.
In a twist, it also means that the submissive has more control of the scene than the dominant since he or she dictates the limitations and has the power to stop the action at any time and for any reason. Common safewords include red, pineapple, banana, and peach.
Types of BDSM Sex Toys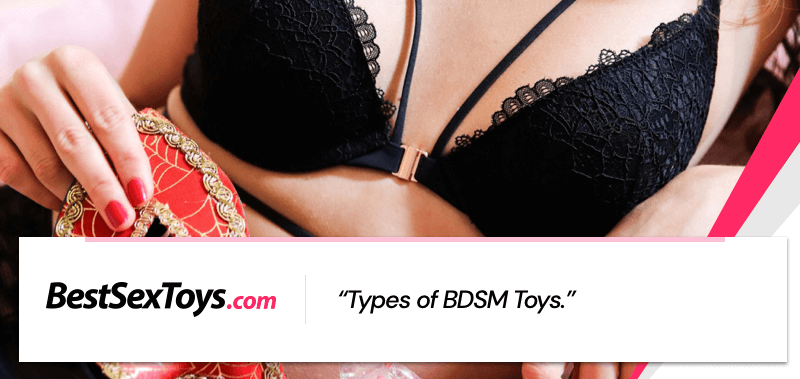 Anal Hooks
What is an Anal Hook? An Anal Hook (or ass hook) is a smooth, curved metal bar, usually with a large eyelet on the longer end, used to attach tethered ropes, and a metal ball on the other. They're used across many kinks. Anal hooks are typically used anal stimulation, for training a submissive to hold a specific posture, or dominance/humiliation.
How to use Anal Hooks: An anal hook is inserted into the human anus for erotic purposes. It is a restraint device, and can be hooked up to ropes and other bondage equipment, making sure it keeps a stronghold on its wearer.
Typically, the anal hook is used so that the rod is passed between the buttocks and fixed on the back with tethers. The stimulation balls are then no longer required, and there is the visual illusion that the wearer is impaled on the hook.
Anal hooks enhance G-spot and prostate stimulation. For those with a little less anal experience, yet all of the desire, a smaller, thinner anal hook would be a preferable choice. As the wearer's body becomes acclimated to the pleasure of the anal hook, more girthy options are available.
Bondage Ropes
What is a Bondage Rope? A Bondage Rope is a rope used during BDSM activities to restrain a person, restrict movement, wrap or suspend a person. It is also known as rope play. Bondage ropes come in a variety of lengths and materials, most commonly cotton or nylon.
Many modern rope bondage techniques borrow from the Japanese bondage style known as Shibari. There are also many other notable modern styles of rope bondage including American or Western-style bondage, suspension bondage, breast bondage, and speed bondage.
How to use Bondage Ropes: Bondage ropes are used by the dominant to restrain the submissive in a desired position during BDSM activities. A dominant may use Japanese bondage ropes made of hemp or jute, or traditional ropes.
Thick cotton or silk ropes tend to be on the expensive side, but they are also particularly effective. Solid braid nylon rope is a more economical modern choice, and easy to untie after a session. Cotton or silk ropes won't slide around once they are tied.
During rope bondage, the person tying their partner generally derives pleasure from their partner's submission and their own feelings of control and power. A sub may be tied to bed posts, a chair, or specific BDSM furniture.
The restrained partner tends to become aroused from the feel of their own immobility, or of the rope against their skin. They might also become turned on by the struggle, or through submitting to the feeling of being captured.
Spanking Paddles
What is a Spanking Paddle? A Spanking Paddle is an instrument used to strike a person on the buttocks. The act of spanking a person with a paddle is also known as "paddling". A spanking paddle is a sex toy with two flat sides and a handle that's typically made of leather or wood.
How to use a Spanking Paddle: Paddles are often used as part of BDSM or bondage play to give the receiver a light or heavy spank on the bottom to know your desired spanking sensation. One primary thing to remember when spanking or paddling the receiver is to use restraint about where you hit.
The thighs, butt, and upper back, when done gently, can be safely spanked. Additionally, so can the breasts, again, gently.
What Materials Are Used to Make Spanking Paddles? One receiver might be turned on by the feeling of powerlessness, while another might be turned on by the physical sensation of spanking or both. If you want to intensify your experience with a spanking paddle, try a two-sided paddle made of different materials on each side, such as faux fur and leather.
Switch upsides, switch up the sensation! Spanking paddles can be made of many materials. Some more common ones are leather, wood, rubber, fur, plastic, and stainless steel. The fur paddle is softer and gentler, perfect for beginners. The other varieties are for the more advanced, and can deliver an intense thud or painful sting.
Chastity Cages
What is a Chastity Cage? A Chastity Cage is a device used to on a male submissive in BDSM. It is used to fulfill the desires of those with a fetish for chastity and orgasm control. A chastity cage prevents a male from getting an erection, thereby controlling his ability to masturbate or have sex and orgasms.
Metal chastity cages are best suited to shorter sessions where the wearer and keyholder are together in person. Longer chastity distance and lockup training works best with plastic devices. Plastic devices are slightly more flexible and comfortable to sleep in. They also have hygiene benefits.
How to use a Chastity Cage: A Chastity Cage is worn by men over their genitals. They are locked with either numbered plastic tags or a padlock and key. The plastic tags are numbered, informing the keyholder to whether or not they've been tampered with.
Plastic numbered tags typically are favored by those new to chastity, as well as those enjoying chastity devices over long distances due to their ability to be removed by the cage wearer in an emergency.
The goal is for a perfectly fitting cage. To fit and effectively wear a male chastity cage, a ring is secured around the penis and testicles as the penis is inserted into the tube area. The mechanisms are locked together. These guidelines may vary slightly from one cage to the next, but the most reputable chastity cages should come with a full set of fitting instructions.
Ring Gags
What is a Ring Gag? A Ring Gag is a gag with a hollow ring that holds the wearer's mouth open. It has a 1-3" diameter ring, usually wrapped in leather, with 2 straps attached to each side. The straps wrap around the head to hold it in place in the mouth. It is a device designed for insertion, to stop the subject from calling for help, and keep its wearer quiet.
How to use a Ring Gag: A dominant straps the Ring Gag around the head, with the ring being placed in the mouth of the submissive. These types of gags may cause a lot of drooling, which tends to be a turn on to both the dominant and submissive, but also must be watched carefully, giving the difficulty of swallowing in any gag. Visually, gags are stimulating, which adds to the dominant / submissive experience.
Gag Types and Sizes: There are various types and sizes of gags. Ball gags create a moment of animal instincts. Instead of having the ability to moan, speak, or distinctly describe sexual pleasure, the gag forces the submissive to simply feel the pleasure.
Options for beginners aren't a ball-shape. They are a cylinder-shape gag, or bit gag, where a first-timer wearer can chew most easily. There are typically O-rings with which the dominant can gently interact. There are also a number of dildo-shaped internal or external gags to play with.
Gags also come in several styles and colors. When you're ready, moving up to intermediate and advanced gags can include large balls that fully prevent breathing and audible sound. Some gags include metal mouthpieces and locks.
Clitoral Pumps
What is a Clitoral Pump? A Clitoral Pump is a sex toy for women that assist in arousal by encouraging blood flow to the genital area. A clitoral pump uses suction to draw blood to the clitoris and labia. It is used to enhance sexual pleasure during a session, although continued use is believed to provide benefits in the longer term, improving blood flow to the genitals.
How to us a Clitoral Pump: Simple clitoral pumps are cup shaped with an attached hand pump, which resembles the bulb on a blood pressure cuff. The cup is placed over the clitoris, the labia, or both. The bulb is then pumped by hand to create a vacuum between the cup and the skin, therefore pulling blood into the area.
A clitoral pump may also be referred to as a pussy pump. Clitoral pumps increase blood flow for heightened pleasure, and can be used alone or with a partner. Most clitoral pumps are made from silicone and come in a variety of novelty shapes. Some are also made with ticklers in the cup and vibrating bullets to increase pleasure.
Anal Beads
What are Anal Beads? Anal Beads are a sex toy made up of small balls attached together in a series. This sex toy gets its name from the bulbs attached to a cord, resembling beads on a string. The cord makes for easy retrieval, which is important as much of the sensation associated with anal beads is actually in the removal.
Sometimes the beads are all the same size, or each bead gradually increases in size going up the string.
How to Use Anal Beads: Anal beads are inserted through the anus and into the rectum. With all anal sexual activity, the anal beads and the rectum should be well-lubricated with a lubricant intended for anal sex. It is important to do this as the rectum can be easily ripped, torn or injured.
Anal beads create enjoyable and pleasurable feelings as each ball passes through the narrow sphincter of the anus. They can be removed slowly or at varying speeds, depending on the desired effect. Anal Beads are typically removed at the time of orgasm to enhance climax.
Are Anal Beads Firm or Flexible? Anal beads have a ring on the end, with the purpose of preventing the beads from becoming fully lodged in the rectum. The beads may either be joined by a semi-rigid thin shaft, allowing anal insertion in a single motion, or flexibly, requiring individual insertion.
The many nerve endings of the sphincter provide arousal both during insertion and removal, and larger beads may create feelings of pressure while in the rectum.
Butt Plugs
What is a Butt Plug? A Butt Plug is a conical-shaped, starting small and gently graduating in size. They will usually feature a slimmer 'neck' at the bottom and a flared base on the bottom for safety. A butt plug will gently stretch the anus, creating a sensation of pressure and fullness, in turn stimulating the sensitive internal and external nerve endings.
When the pelvic muscles contract during an orgasm, a butt plug can intensify the sensation as you're pressing against something. Using a butt plug can lead to intense anal fulfillment and amazing orgasms.
How to use Butt Plugs: When using a butt plug, it is best to warm up first, especially for beginners. Climaxing, and some anal play may help to relax you. You or your partner may try stroking around the anus with a well-lubed finger.
Then continue with a little penetration with the same finger, or rimming if you are playing with a partner. The butt plug is inserted slowly based on your level of comfort as it enters your anus. When it is completely inserted into the anus, the flared base will rest externally on the anus.
Once your butt plug is inserted, you can enjoy other forms of stimulation. You may also indulge in intercourse while the plug rests inside you. You might also like to try grinding against it for extra sensations.
What Are the Best Butt Plugs for Beginners? The best butt plugs for beginners are made from flexible, bendy material like silicone, with a smooth tapered tip for gentle insertion, and a slender girth. Beginner butt plugs are small, flexible, and easy to use. Another good option is a long and slim, butt plug, made ideally for easy insertion.
If you're hoping to work up to something a little bigger, a butt plug training kit is great. These kits typically start with a tiny 2.5 inch plug with a circumference of 3 inches at the widest part, and builds up to a larger plug with 4.5 inches insertable length and 3.5 inches in circumference.
Clit Clamps
What is a Clit Clamp? A clit clamp is a sex toy that clamps onto the clip. It might sound painful or uncomfortable, but in reality, when done correctly, it is quite the contrary. Don't misunderstand, it can be torturous, but in a great way.
A clit clamp gently squeezes your clit and applies continuous pressure, in turn stimulating all of the nerve endings. When the clit clamp is released, the blood flow rushes back to your clit, which makes your clitoris and genital area extremely sensitive.
How to Use Clit Clamps: First, test it out on your ear lobe or the webbing between your thumb and index finger. This will allow you to figure out your comfort level for how tight to cinch your clamp. Apply plenty of lube and indulge in activity to arouse your clit.
Your clamp should only be applied when your clit is "warmed up." The clit clamp is then attached to the base of the clit. Begin by keeping it on for 3-5 minutes, but never more than 10 minutes at a time. Then, proceed to bask in the sexual activities at hand.
Clit Clamp Benefits: Intimidating or desirable? Or maybe a little bit of both? But the clit clamp has an additional benefit – it leaves your clit sensitive after play for longer-lasting pleasure. So, buckle up and prepare to be deliciously sensitive after you remove your clit clamp.
The blood rushing back into your clitoris will bring you a pleasant tingly sensation. Nothing compares to sexual play right after removing your clit clamp.
Nipple Clamps
What is a Nipple Clamp? A Nipple Clamp is a Nipple type of sex toy that is applied to a person's nipples. The nipple clamp pinches the nipple and restricts the flow of blood, causing pleasure when the clamps are removed from the nipple, allowing the blood flow to return. Weights can be hung from the nipple clamps to increase the sensation of pinching and pressure.
How to use Nipple Clamps: Nipple clamps are used to increase the sensitivity of the nipple, also increasing the sexual arousal of the wearer of the nipple clamps. Nipple clamps cause stimulation by restricting the blood flow to the nipple, and trapping the blood that is already there.
The nipple is then stimulated to the point where there is either heightened sexual arousal, or the wearer may have an orgasm from nipple stimulation alone.
Types of nipple clamps: For beginners, it is best to choose a set of nipple clamps that are adjustable. When you start with an adjustable set, it allows you to experiment with many different levels of pressure to find what you enjoy.
As you've probably figured out by now, a majority of nipple clamps are made of stainless steel or similar metals. If you are allergic to metals, there are a few other options available. Metal clamps do come with rubber tips, and you may be able to find a silicone model.
Pussy Pumps
What is a Pussy Pump? A Pussy Pump is a sex toy used for increased sexual arousal to the female genitals. The pussy pump creates a vacuum over the vagina, causing the tissues to swell, increasing blood flow, and making the whole area much more sensitive.
It enhances pleasure during sexual play. When used regularly, it is believed to provide long term benefits improving blood flow to the vaginal area.
How to use a Pussy Pump: The pussy pump may look like a somewhat unusual face mask for oxygen, but of course, it is placed over the pussy (clitoris and / or labia). Although a pussy pump might look like a medical device, the result of use is an ultra-sensitive, receptive pussy, just waiting to be stimulated.
The pump is placed over the pussy, using lubrication to help it to stay in place if needs be. Once in place, the bulb is then pumped by hand. The suction causes increased blood flow and sensitivity of the area.
A pussy pump is ideal if you're looking for something to up the stimulation of the wearer. The increased blood flow and tissue expansion helps to achieve stronger orgasms and enhance penetration and internal sexual play for both partners. For some, the markedly puffy appearance of the labia and clitoris a real turn on.
Nipple Pumps
What is a Nipple Pump? A nipple pump is a sex toy that applies suction to the nipple. It increases the blood flow and enhances sensation. Nipple pumps are similar to a penis pump, but instead of a cylinder-shaped piece, they have a bulb or cone-shaped piece to go over the nipples.
They may include a mechanical pump, or be pumped manually. Nipple pumping is typically done before or during sex to enhance sensation and sensitivity. Some people practice nipple pumping regularly to enlarge their nipples over time.
How to use a Nipple Pump: Nipple pumps are used to increase blood flow to the nipples. When used for a few minutes at a time, the increased blood flow to the nipple will increase sensitivity, and the nipple will become engorged. Squeeze the bulb, place it over the nipple, and the suction will do the rest.
Take them off, and now this is where the fun starts. With the nipples of the wearer incredibly sensitive, stimulate as you please.
If you find it to be challenging to make the nipple pumps stick, start by applying a small amount of lubricant to the nipple to help it take hold. As a bonus, lube also feels really, really good. Always be sure to choose a good quality lubricant, that's natural and organic.
Penis Pumps
What is a Penis Pump? A Penis Pump is used to bring a solid erection to the penis. Penis pumps are designed to increase the blood flow to the penis area, stimulating an instant growth reaction that guarantees to make you swell with pride.
A penis pump will also deliver sensational sucking and make any dominant or submissive hypersensitive to every enticing touch or stroke.
How to use a Penis Pump: When using a penis pump, first, a plastic tube is placed over the penis. Then, a battery-operated or hand pump is connected to the tube, creating a vacuum and forcing blood into the penis, creating an erection.
A tourniquet-style ring is used at the base of the penis to keep it erect. Maximum capacity will be reached between 30 seconds and 3 minutes. Build up pressure slowly while feeling it out, and if any discomfort occurs, stop immediately.
Can a Penis Pump Increase Penis Size? Some say that prolonged use of a penis pump will eventually permanently increase penis size. Neither proven nor disproven, the fact remains that a penis pump is not going to give you a bigger erection, contrary to popular belief.
There are varied reviews out there, but, realistically, there's no evidence to back up these claims. However, if you're looking to increase sensitivity, and enjoy the visual of your penis growing, then you're going to be more than satisfied.
Nipple Jewelry
What is Nipple Jewelry? Nipple jewelry is a type of body jewelry that is designed to enhance a person's attractiveness and add spice to sexual activity. Nipple jewelry is utilized in BDSM nipple bondage or nipple torture scenes.
Designs of nipple rings vary from simple, decorative ones, pierced or unpierced, to intricate rings that can be hooked onto nipple bondage devices. All gender identities have been known to wear nipple jewelry.
How to use Nipple Jewelry: Nipple jewelry is used to improve the sensitivity of the nipples, meaning it feels extraordinary when they're touched or pinched with the jewelry in or attached. When pierced nipples are flicked, licked, or massaged, it really enhances their arousal. Nipple play alone can end in an intense orgasm.
Yes, nipple orgasms do exist, and are more likely to occur if your nipples are pierced. Nipple jewelry is also used by hooking chains, ropes, or another device to them in order to restrict movement or completely restrain the wearer during a BDSM scene.
Different ways to pierce a nipple: horizontally, it is the most popular. Nipples can also be pierced vertically and diagonally, and appear equally fantastic. Or, if you're into more of an extreme look, you can have multiple piercings through the same nipple giving multiple restraint options during sexual play.
Cock Rings
What is a Cock Ring? A cock ring is a ring worn around the penis, typically around the base or around the penis and testicles. Wearing a cock ring restricts the blood flow from the erect penis with the purpose of producing a stronger erection or to maintain an erection or a longer amount of time.
Cock rings come in different materials, from rubber and flexible silicone, to leather and metal.
How to use a Cock Ring: A Cock Ring is used by sliding it over the head and down the shaft of the penis to the base. This will typically be easier if the penis is flaccid or semi-erect. The cock ring slows the blood flow and enhances a penis erection.
With the slowed blood flow, the wearer may also experience more intense orgasms. Wearing a cock ring may also increase sensation and enhance masturbation, oral sex, and intercourse.
Types of Cock Rings: Cock rings come in many varieties, including complete with vibration! You can slide your vibrating cock ring over one of your fingers and / or around your palm, creating an intense handjob for the receiver. It can also be used this way for female and male penetration. Imagine the sensation.
Metal Cock Rings
What is a Metal Cock Ring? The Metal Cock Ring is also referred to as a metal penis ring. This sex toy is solely used by men. When used during penetration or intercourse, it can also bring pleasure to your partner. Its most common purpose is for the wearer to achieve longer erections and more powerful orgasms.
This is achieved by the concentration of blood flow around the part of the penis where the ring is on making the member more sensitive and easily enticed.
How to use a Metal Cock Ring: A misconception is using any cock ring, is that a cock ring is put when the penis is already erect. This is not the best way to use a cock ring. For the best fit, put your metal cock ring on when your penis is only half erect or flaccid.
That way, the space between the cock and the ring can be filled gradually. If you are already erect and have difficulty putting the ring on, use lubrication. When removing the metal cock ring, lube can also be used.
Metal cock ring sizes: Metal cock rings are not one size fits all. When talking about penis sizes, it is usually related to length. When determining cock ring sizes, it's all about width. If you have an average penis width, you will find that most of the cock rings will fit you adequately.
However, if you are thin or thick down there, it may be difficult to find the best fit. To avoid confusion, your most fruitful option is to buy an adjustable ring. There are typically 2 to 5 size levels, so you can choose the best one for your size.
Bondage Collars
What is a Bondage Collar? In the simplest terms, a BDSM collar is a piece of jewelry with a secret meaning. Customarily, a BDSM collar is something worn around the neck, similar to a choker or necklace. Historically, a bondage collar was a thick band of black leather or PVC worn tightly around the neck, choker style, with a large O or D ring in the front.
They frequently were secured on with a lock, and were only to be removed by the dominant in the relationship. Nowadays, BDSM collars range from the historical leather look, to refined pendant necklaces and modest chains.
How to use a Bondage Collar: Bondage Collars are common in BDSM scenes and role-playing sessions, for example, age play (Daddy Dominant/ submissive little girl) or animal role-play scenes, known as pet play.
Bondage collars have undertones of control, and when used with a leash, they have animalistic status. The dominant has physical control of the submissive. Bondage collars are also often used in female domination plays.
The Symbolism of Bondage Collars: The meaning behind the bondage collar is a hotly debated topic in the BDSM community, due to its highly personal nature. For some couples, the collar is simply a sign of their relationship to the BDSM community. Characteristically, only the submissive in a BDSM relationship will wear a collar.
This is known as being "owned," and if the couple were to attend a BDSM event, the submissive might not participate in any sexual activity without the permission of the dominant. The bondage collar can also serve the same purpose of a wedding ring.
Yes, in a collaring ceremony, an actual "I now pronounce you Dominant and Submissive, and partners for life!" These types of collars are typically worn 24/7 and are somewhat extravagant. Then, there is the "time to get naughty" collars for the couple, adding some kinky sexual bondage enticement to their sexual relationship.
Bondage Furniture
What is Bondage Furniture? Bondage furniture is a type of furniture which are designed to restrain a partner or participant in a submissive position. Positions and styles of bondage furniture can widely vary.
However, many styles of bondage furniture restrain the submissive in a doggy style position, leaving them vulnerable to anal play, spanking, and pussy play, or whatever play is desired.
How to use Bondage Furniture: Restraints, role play, spanking, pleasure, and pain are all uses of bondage furniture. These kinks are deliciously naughty and taboo. Bondage furniture is used to restrain the submissive with fittings used tethers and ties, chains, and ropes that attach between the submissive and furniture.
The furniture not only makes it easy to experience various positions, but using bondage furniture also allows for deeper penetration, which ultimately transforms to enhanced sexual pleasure.
Variety of bondage furniture: depending on how intense the play and desire. There are bondage benches, the classic bondage horse, bondage chairs, and bondage couches. If you desire more, you may move on to bondage stockades (including ones that hang) and crosses.
And that's not all! So many divine choices, so do your research and choose what satisfies your sexual desires.
Bondage Kits
What is a Bondage Kit? A bondage kit contains items used for bondage play and kink, such as blindfolds, wrist and ankle cuffs, collar and leash, nipple clamps, bondage ropes, and a mini flogger, as well as various other items. Bondage kits are a great way for beginners to experience BDSM. BDSM kit tools make for a comfortable introduction to BDSM and a personal bondage fantasy.
How to use a Bondage Kit: First and foremost, be sure both or all participants are in full consent to a bondage kit being introduced. You should also make sure to discuss these activities with any participant you would like to restrain or have restrained you. It is NOT sexy to "surprise" anyone with activities never before discussed.
Once a discussion and full consent occur, choose roles (dominant or submissive) and which items to begin with, and how they will be used, for example, restraint, teasing, or sexual torture (in a great way, of course).
Choose to use some or all because there's no limit to your dominant and submissive pleasures and fantasies.
Comfort and Durability: The goal of every BDSM activity is not always for the restrained submissive to be comfortable. But when it comes to your first set of restraints, easing into the experience is preferable. Start with a set that has soft, comfortable cuffs for your ankles or wrists.
They are very explicitly for beginners who are exploring and trying out new sensations and activities. More durable items definitely are also preferential for bondage kits because, well, think about it. When you tie up the submissive, the idea is that they stay tied up until the dominant releases them. A broken restraint just may spoil the mood.
Sex Masks
What is a Sex Mask? A Sex Mask is a type of mask worn during sexual activity. There are many kinds of masks, from eye masks, like those you would wear to a masquerade ball, hood masks that cover the face and head entirely, leaving openings for the eyes, nose and mouth, or just the nose and mouth. There are also persona masks and heavy rubber masks.
How to use a Sex Mask: Sex Masks are used to enhance arousal or sexual interest in the sight of seeing the wearer putting on or taking off a mask. Participants, both dominant and submissive, experience heightened and enhanced sexual arousal. True mask fetishists require that the mask be present being the controlling factor of their sexuality.
Sex masks can be especially enticing to the submissive wearer. The wearer's sexual senses are heightened due to other senses being restrained (as they most likely are too). Covering the eyes enhances play that involves touch because the blindfolded submissive will not be able to anticipate where or how they will be touched next.
The excitement of the unknown, combined with heightened sexual senses, will make for a mind-blowing sexual titillation and orgasms.
Mouth Gags
What is a Mouth Gag? A Mouth Gag is a device used in BDSM roleplay and sexual bondage. Mouth gags are typically associated with roleplays involving bondage. The participant wearing the gag is regarded as the submissive, while the other participant is regarded as the dominant.
Mouth gags can be used to make a submissive more helpless and as a form of punishment or humiliation. They also serve to silence the submissive from vocal activity, such as moaning during sexual activity.
How to use a Mouth Gag: Ball gags tend to be one of the more popular types of gags used during BDSM play. They have soft, solid rubber balls that are inserted into the mouth, and have straps on either side to secure them to the head. Wiffle ball gags are similar, although they have small plastic balls with several holes in them.
The holes make for easier breathing for the submissive. Open-mouth gags are designed to force the mouth to remain open so the wearer can perform oral sex. Bit gags have rubber bits that are inserted into the mouth for pony play. There are various other gags also, including cleave gags, and penis gags.
Gags are chosen according to the desires of those in the role play. A dominant may prefer to silence their submissive thoroughly, and receive enticement from their body language. Or, the dominant may desire the mouth of the wearer to be kept open to be able to receive oral sex from their submissive on command.
Whatever the desire may be, using mouth gags should be used with care, due to the inability of the wearer to swallow, and the potential to choke. Practice safety first, and mouth gags will prove to be a most enticing addition to any BDSM scene.
Floggers
What is a Flogger? A flogger is a sexual device used to flog, or whip, a consenting participant or submissive during a BDSM scene. Floggers usually are comprised of several tails attached to a rigid handle. The tails may be made from various materials, including rubber, leather, or even horsehair.
The goal is not to harm the submissive, but to use pain to increase sensation, and ultimately sexual pleasure.
How to use a Flogger: Flogging is something of a learned art form. When flogging a submissive, the dominant should start slowly and softly, and take cues from their submissive. Establishing a safe word during a flogging is detrimental.
Typically, the traffic light code, being green for continue, yellow to slow down, and red to stop is commonly used for safety and to confirm or deny continued consent.
Safety Advices with Flogging: When participating in sexual flogging activity, there are areas of the body that should be avoided. Those are the neck, face, spine, kidneys, tailbone, and anywhere else the submissive may experience discomfort.
On the other hand, accurate flogging, usually to the bottom or back, causes a build-up of endorphins in the submissive being flogged. When done the right way, flogging is a lot of fun and can be exceptionally rewarding for all involved.
Sex Swings
What is a Sex Swing? A Sex Swing is a type of harness explicitly for the purpose of greater genital access and sexual intercourse. The submissive is suspended, either above a bed or in a clear area, while the dominant moves freely.
There is a wide variety of sex swings, with the most common sex swings having a sling for the back, another for the butt, and adjustable stirrups for each leg. Some sex swing models are suspended from a bungee or spring to provide bounce.
How to use a Sex Swing: When using a sex swing, the participants are given enhanced strength, weight, and height to act out sexual activities. The receiver, or submissive in the swing, is able to receive sexual pain or pleasure, without concern for body placement, making for true, uninhibited indulgence.
The dominant is free to perform sexual activities on the submissive with ease, being their submissive is held in place and restrained, making for unrestricted genital access without compromise, and allowing for new sensations and deeper penetration.
Choosing your Sex Swing: You don't have to break the bank to acquire a great sex swing. Some of the best are able to be purchased for under $100! Many sex swings provide soft, padded areas for your ankles, wrists, butt, thighs, forearms, and head. These are attached to stronger, less-soft materials, most commonly.
These straps are usually adjustable to allow for the perfect set-up for your body shape and height. Adjustability is also favorable as your sexual position desires change as well. Use your sexual imagination. The possibilities are endless.
BDSM

Reviews and Testimonials