Double Ended Dildos
Didn't find what you are looking for?
View All
Best 10 Double Ended Dildos in 2023
1
Great Deal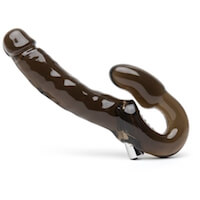 2
Material: Soft Plastic
Flexibility: Flexible
Circumference: 5 inches
Insertable Length: 7 inches
Length: 9 inches
Run Time: 90 minutes
Power Type: Rechargeable
Vibration speed: multiple
Allergens: Phthalate-Free
Waterproof: Submersible
2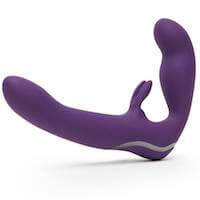 2
Material: Silicone
Flexibility: Flexible
Circumference: 4.25 inches
Insertable Length: 5 inches
Length: 8 inches
Run Time: 60 minutes
Power Type: Rechargeable
Vibration speed: multiple
Allergens: Latex-Free
Waterproof: Submersible
3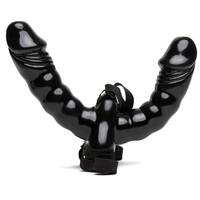 3
Battery Info: 4 x AA batteries
Vibration speed: Multiple speeds
Circumference: 4.75 inches
Insertable Length: 6 inches
Length: 12.5 inches
Flexibility: Firm
Material: PVC
Waterproof: No
Allergens: Latex-Free
4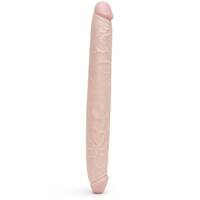 2
Double-Ended Dildo 12 Inch
Circumference: 5 inches
Insertable Length: 10 inches
Length: 12 inches
Flexibility: Flexible
Material: PVC
Waterproof: Submersible
Allergens: Phthalate-Free
5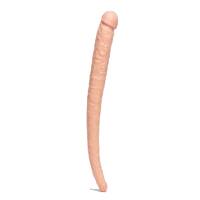 Realistic Double-Ended Dildo 22 Inch
Allergens: Latex-Free
Waterproof: Submersible
Circumference: 6.5 inches
nsertable Length: 22 inches
Flexibility: Flexible
Material: PVC
6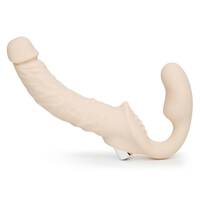 2
Posable Realistic Vibrating
Circumference: 4.5 inches
Insertable Length: 6 inches
Length: 9 inches
Run Time: 90 minutes
Power Type: Rechargeable
Vibration speed: Speeds & patterns
Flexibility: Flexible
Material: Silicone
Waterproof: Submersible
Allergens: Phthalate-Free
7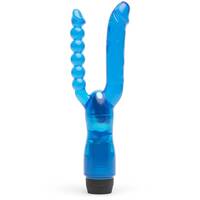 2
Double Penetration Vibrator
Battery Info: 2 x AA batteries
Vibration speed: Multiple speeds
Circumference: 3.25 inches
Insertable Length: 5.5 inches
Length: 10.5 inches
Flexibility: Flexible
Material: PVC
Waterproof: No
Allergens: Latex-Free
8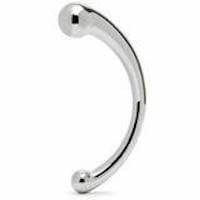 Material: Metal
Length: 9 Inches
Insertable Length: 8 Inches
Circumference: 5 Inches
Flexibility: Rigid
Latex: No
Phthalate: No
Waterproof: Yes
9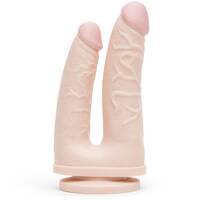 2
Circumference: 6 inches
Insertable Length: 6 inches
Length: 8.5 inches
O-ring Diameter: 2.25 inches
Flexibility: Flexible
Material: PVC
Waterproof: Submersible
Allergens: Phthalate-Free
10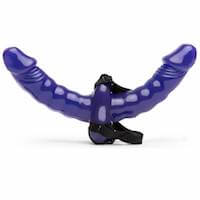 3
Material: Soft Plastic
Flexibility: Firm
Circumference: 4.75 inches
Insertable Length: 6 inches
Length: 15 inches
Maximum harness size: 30
Allergens: Latex-Free
Waterproof: Splash-proof
We have more
Double Ended Dildos
View All
As seen on
What Is a Double Ended Dildo?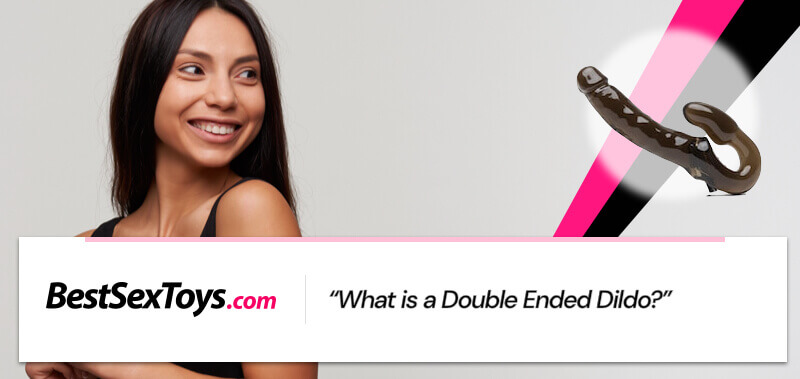 A double-ended dildo, also called a double penetration dildo, is a unique type of dildo designed for up to two people to use at the same time.
The toy is configured with a base that has two dildos protruding out of it. The dildos may or not be in the form of a penis and can come in a wide range of shapes, materials, sizes, and styles.
Some double-ended dildos are very soft and flexible, while others are more rigid and stationary. Many include vibration features but may vary whether the entire unit vibrates or each individual dildo vibrates.
How to Use Double-Ended Dildos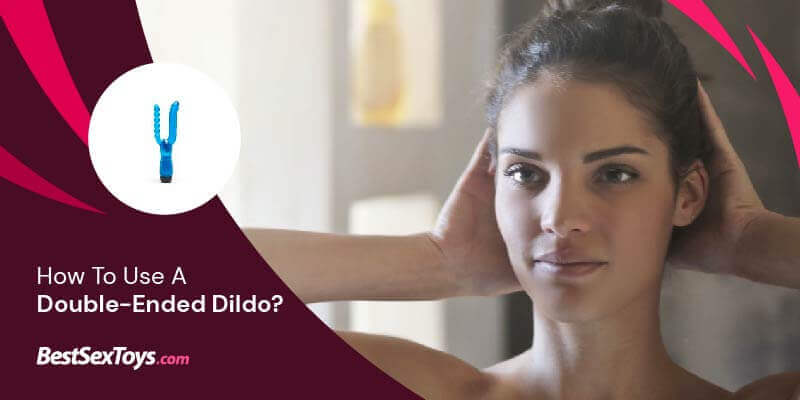 1. Do Your Homework
Have an idea of exactly what type of play you want to use your new toy for and shop around for the models that interest you. Research the devices or ask a salesperson about any questions you may have for usage or operation.
2. Follow Instructions Carefully
When you bring your new toy home, take the time to reach any instructions that come printed on the package or tucked away inside. These instructions may contain some very crucial information for operating or maintaining your new toy.
3. Wash Your New Toy Before Use
It is nice to assume that everyone in the dildo factory who handled your toy had perfectly clean hands. Just to err on the side of caution, it's not a bad idea to wash your new toy yourself before using it.
Refer to the instructions to determine whether or not your dildo is waterproof. Most waterproof dildos can be safely submerged in soapy water. If your dildo is not waterproof (possibly due to an external battery pack), you will need to be careful about wiping down the surface with a rag.
4. Warm Up With Kegels
If you purchase a double dildo with a strap-on, Kegels may be less important. The down-side of a strap-on is that it provides less maneuverability and less stimulation for the person wearing it.
If you opt for one of the strapless toys instead, you may find it difficult to keep the device in place. Purchasing a dildo that is more on the firm side will help slightly, but not entirely.
One sure way to decrease the chance of your dildo slipping out is to increase the strength of the muscles in the pelvic floor. You can strengthen these muscles using simple kegel exercises.
These exercises involve the contracting and releasing of the muscles inside the vagina. A similar exercise can be carried out to strengthen anal muscles using the same contract and releasing method.
5. Use Plenty of Lube
While some friction may be desirable, a dildo that is not lubricated enough can cause extreme irritation and possibly even pain. Start out with a small amount and work your way up, adding a little more lube until you find the desired amount.
Be sure to consult with the instruction manual on which types of lubricants are safe to use on your toy. There are some dildos that may deteriorate and/or become less sanitary over time when in contact with certain types of lubricants.
One such combination that should be avoided is silicone lubrication on a silicone dildo. When the silicone lube touches a silicone dildo, the dildo will begin to break down.
6. Do Some Preliminary Exploration
Whether you want to try out your new toy on your own or unpackage it with your partner, take some time to get to know what it's all about. If the dildo is flexible, mess around with the angle and curvature of your dildo to see what tickles your fancy.
If the dildo has two different sized heads, now is the time for you and your partner (if any) to decide which head suits you best. You may each find that you like opposite ends, or you may choose to take turns with one over the other.
7. Toy With the Rhythm Settings
Vibrating double-ended dildos can come in any number of vibration settings. Spend some time trying out each setting. You may only be able to change the speed, or you might be able to change the intermittent vibrations.
8. Follow Proper Cleaning Instructions
To ensure your toy lasts a long time and remains safe for use, follow the proper cleaning procedures after every time it gets used. Referring back to the instruction manual once again, double-check whether or not your toy is waterproof. You may also want to research the material before adding any additional sanitation products.
9. Charge Completely Before Storing
Nothing is worse than being in the mood and ready to go just to find your dildo's batteries are dead. After you've followed any instructions for drying your recently washed toy, go ahead and plug it in. Allow it to get a full charge before tucking it away.
10. Store Safely and Discreetly
Where you choose to store your dildo is completely up to you. However, if you wish to keep it discreetly hidden from any prying roommates, partners, or children, be sure to find a hidden location.
Before you stash your dildo away in the bottom of your drawer or closet, make sure you wrap it up. If you leave your dildo out in the open to mix around in your nightstand's drawer, it's bound to pick up bacteria. Use the package it came in, or set it inside a large freezer bag or grocery bag.
Who Uses a Double-Ended Dildo?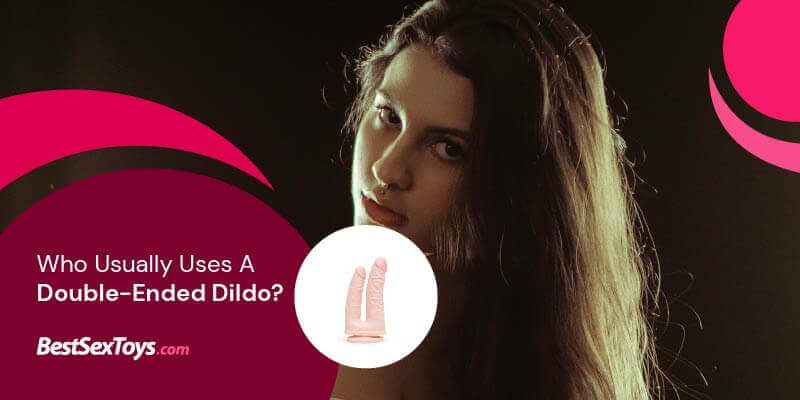 Double-ended dildos can be enjoyed by anyone, either solo or with a partner, and by people of all sexual orientations.
Solo Play
Even if you live alone or are shy about sharing your toy with others, you can still enjoy play-time with a double-ended dildo. Your best bet is to opt for a toy designed for double penetration and/or a flexible double-ended dildo. An adjustable double penetration dildo will allow you to penetrate both your vagina and your anus at the same time.
Heterosexual Partners
Heterosexual partners can enjoy double-ended dildos in a wide variety of ways. A male can use a double "U" dildo or a straight double to stimulate his female partner manually or by inserting one end in her vagina and the other in his anus. Conversely, a female can use the dildo to stimulate the male's anus or wear a strap-on manually.
Same-Sex Partners
Partners of all sexual orientations can enjoy double-ended dildos. The wide variety of styles, sizes, and shapes make this toy ideal in almost any sexual activity. Many double-ended dildos also come with different sizes for each separate dildo ensuring maximum satisfaction for all participants and for all orifices.
Depending on the exact product, these toys can be used for vagina to vagina or anus to anus play.
Where to Buy Double-Ended Dildos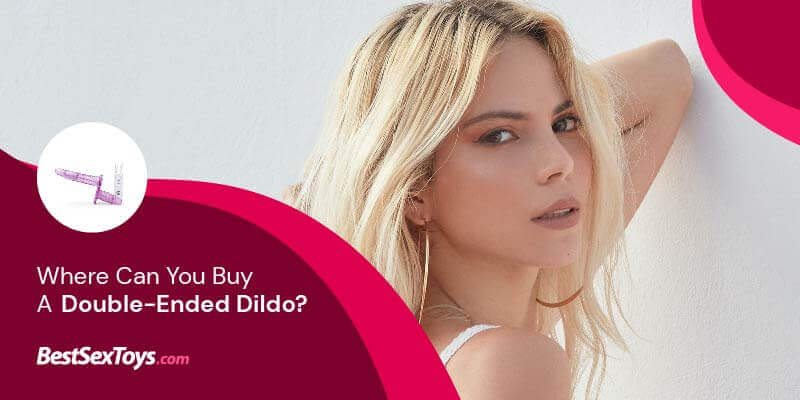 Commonly seen in many porn movies, double-ended dildos may be surprisingly difficult to find.
The most obvious source for this type of sex toy is an adult toy store that comes with its fair share of advantages and disadvantages. While purchasing a sex toy directly from the sex store lacks any discretion, the salesperson may offer valuable information when picking out the perfect toy. Sex toys bought from a toy store are generally priced much higher than toys bought from other sources.
Some drug stores occasionally carry various sex toys, but it's rare. The choices found in a pharmacy may also be somewhat limited. If you get lucky and find what you're looking for, you will still have to face the cashier or stock person.
If you're looking for discretion, selection, and good prices, then ordering online is the way to go. The assortments of double-ended dildos available online are impressive. If you can imagine a shape or style of dildo, then you can probably find it online. Quick comparison articles offer the best of the best, graded on attributes such as cost-effectiveness, materials used, and running time.
How Much Does a Double-Ended Dildo Cost?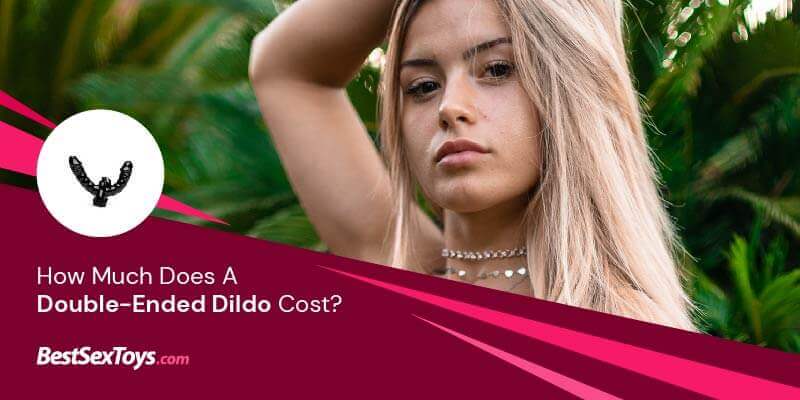 Dildo prices are as varied as the styles are. Features such as material and function go a long way in determining price. A basic PVC double-penetration dildo might only cost close to $20, while a stainless-steel specially shaped double dildo could run close to $150. The price is going to depend entirely on the user's preference and plans for use.
Types of Double-Ended Dildos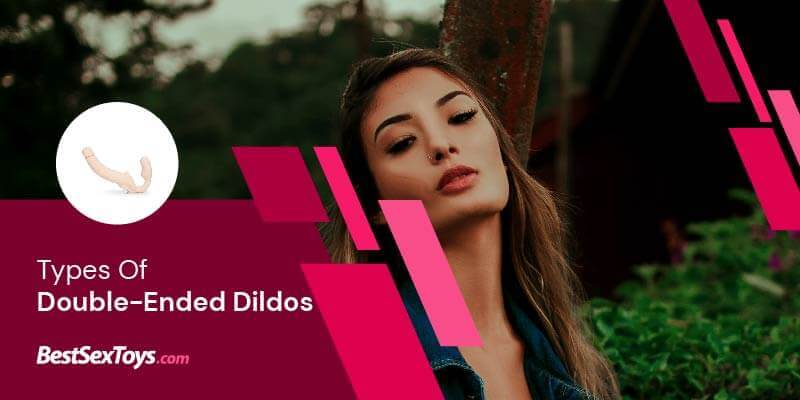 There are many different types of double-ended dildos on the market. It may help to know a few of the differences.
Strap-On
Strap-on dildos can either be worn by one partner or strapped to a base (such as furniture). If one of the partners chooses to wear the toy, they would insert their end of the dildo and then tighten the strap as tight as they desire.
Wearing a strap-on greatly reduces movement, so both partners may prefer to attach the dildo to a chair or other piece of adult furniture. If this is a method you think you might enjoy, then be sure to investigate the product before purchase to make sure it is designed for such use.
The strap-on can come in both vibrating or non-vibrating models.
Double Penetration Dildo
The double penetration dildo allows a woman to stimulate both her vagina and anus at the same time. These types of dildos come in many different sizes and shapes.
This toy's most common design includes a larger, flexible, penis-shaped dildo situated right next to a smaller anal dildo. The anal dildo may have ribs or balls along the shaft. You can find these dildos with a variety of vibration settings.
Non-Flexible Straight Double-Ended
Many people would rate the non-flexible straight double-ended dildo as one of the sturdiest and easiest to use designs. The firm structure means it is less likely to slip out and cause discomfort or pain.
A solid dildo is always much easier to handle than a flexible one. If opting for a non-vibrating variation, this is one of the cheaper designs.
Flexible Double-Ended
A flexible double-ended dildo without a strap may just be for the more advanced double-dildo users or solo users. This type of dildo's flexibility means it can be used to stimulate only the vagina or anus, or it can be flexed into a "U" shape and used for double penetration.
Keep in mind that it is best to start out slow with this design and slowly increase speed when you are sure it won't fall out.
Stainless Steel Double Wands
Wands are generally designed to be used on one partner at a time. These dildos are often engineered with the intention of hitting the G-spot upon insertion. Double-ended wands will generally have differently sized and/or differently angled curved ends.
Wand dildos come in various materials and designs, but the most desired types are the stainless steel varieties. Stainless steel dildos have the added benefits of being super durable while also being waterproof and used with any kind of lubrication.
Double-Ended Dildo Materials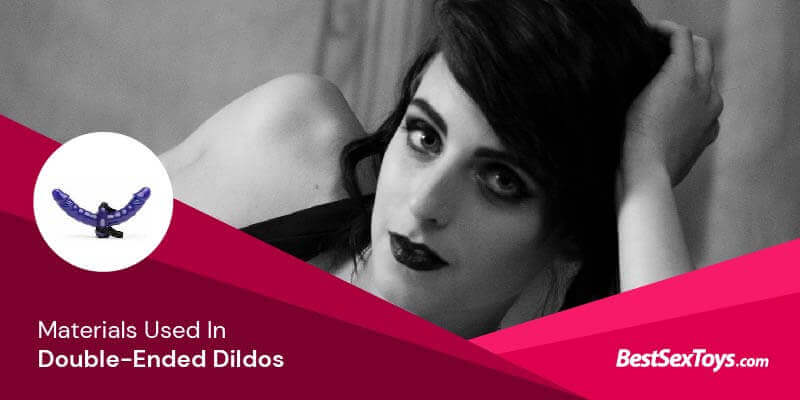 With all the different materials available, it's easy for someone to feel overwhelmed when deciding. Here's a basic break-down of the most commonly used materials in Double-Ended Dildos:
Silicone
Silicone is a non-porous material and may either be made to feel hard or soft to the touch. It generally lasts a long time and can withstand some quite rigorous activity. Remember that a dildo made of this type of material cannot be used with a silicone-based lubricant.
PVC
PVC may be the most commonly used material in dildos due to how inexpensive it is to manufacture. This material may either be flexible or hard, but it is almost always non-porous. Dildos made of PVC can be used as any type of lubricant. An added benefit of PVC dildos is that the hard plastic tends to extremely well pick up the vibrations.
Jelly Rubber
Dildos made out of a material called "Jelly rubber" are generally the cheapest in the market. As the name implies, this material is very soft and squishy when squeezed. The rubber is extremely porous, and bacteria can sink in no time. Health sources highly recommend that you apply a condom before using a Jelly rubber dildo.
All the sex toys for



Subscribe to our Newsletter
Newest Deals
Discounted Prices
Free Products
Giveaways
Promo Codes
Check the
Best 10 Double Ended Dildos
Find the best 10 Double Ended Dildos we've gathered after reviewing dozens!
Check Now