Table of Contents
How To Use a Cock Ring
Cock rings, otherwise known as Penis rings, C-rings, or pleasure rings are rings worn around testicles and at the base of the penis to make erections bigger, harder and long-lasting. Simply put, cock rings are underrated heroes of most sexual escapades. It's one of the main toys for men.
When worn, cock rings squeeze the balls, so in other words, the primary function of a cock ring is to maintain a hard erection. If you have never tried a cock ring, you may consider it painful and think to yourself why someone would try to squeeze their balls.
This squeezing of balls is highly enjoyable for some people considering that it makes the erection harder. The dilation of the arteries and constriction of the veins in the penis causes erection by restricting the blood flow in the penis, thus the penis becomes bigger than usual.
Using a cock ring on an erected penis adds another layer of constriction, and you can expect to feel intense hard-ons. Perhaps you have never tried a cock ring before, or you have been putting it wrongly. Not to worry, you are about to learn how to use a cock ring. 
1. If you are a newbie, start with a cock ring made of silicone.
Silicone cock rings are perfect for beginners, considering that they are easy to remove, flexible, and easy to clean. There are some cock rings in the market made of metal and stainless steel, but those are recommended for advanced people. You will find tons of simple cock rings that are easily adjustable in the market. With silicon cock rings, you have control over the tightness of the ring on your penis.
2. Lubricate.
Sex enthusiasts advise rubbing a lubricant on your penis before using sex toys, and that includes cock rings. Before you use a cock ring, apply a few drops of lubricant on your penis or inside the cock ring to allow the ring to slide down your penis easily. You can try to Sustain Natural's water-based lube or Liquid Silk water-based lube. If you are using a silicone cock ring, do not apply a silicone lube or otherwise, the lube will destroy the toy. You might want to stay away from silicone lube if you don't want to buy a new cock ring anytime soon.
When considering lubricants for sex toys, make sure you go for the one that's compatible with the make of your sex toy. The best lube option is water-based lubes since they are compatible with cock rings and condoms. Water-based lubes are long-lasting, so there is no reason to keep re-applying.
3. Get the right fit.
You have just purchased a cock ring, and you are eager to use it to wow your partner. Before you use your cock ring to enhance your erection. It is advised that you try the cock ring for size first. Ideally, one of the functions of a cock ring is blood flow restriction, which pronounces veins, gives your shaft a red blush, and enlarges your penis slightly.
Penis rings or cock rings should fit perfectly in other to restrict blood flow. While your cock ring is expected to fit perfectly, it shouldn't be too tight. Metal cock rings should be slipped down to the base of the penis before the penis stands fully erect.
On the other hand, stretchy or adjustable cock rings can be worn over the penis when the penis is erect or hard. Some health experts advise against wearing a cock ring on an erect penis because it might be too difficult and uncomfortable. Placing the ring on your penis and sliding it down to the base will be easier on a semi-erect or flaccid penis. You can always experiment to find what works for you.
The important question to answer is where to position the cock ring. Should it be at the base of your penis? Or just surround your shaft and balls? If you are a beginner, start by positioning a cock ring at the base of your penis as that's the easiest way to wear the ring and also reduce the risk of injury to your sensitive testicles.
If you would prefer to position a cock ring over your shaft and balls, do so gently. Once your cock ring is down at the base of your shaft, stretch it gently and then put your testicles in the ring, one at a time. For this type of positioning, go for adjustable cock rings as they are suitable for this placement. Adjustable cock rings can be stretched as much as possible to accommodate your balls.
As stated earlier, the cock ring should fit perfectly but not too tight. Look out for numbness, pain, or color changes on the skin as they indicate tightness. In the event where your penis appear darker than usual, or you experience discomfort, discontinue use immediately. It is generally advised to remove cock rings after thirty minutes to release blood flow. If you observe the narrowing of the penis at the base of the penis where the cock ring sits, or a blueish or red color, it is an indication that the ring is too tight and should be removed immediately. If a cock ring is too tight for you, opt for an adjustable cock ring or a larger one. You'd agree that your penis isn't what you should give up for the team.
Encourage your partner to be honest with you should the ring feel too tight so it can be removed immediately. If you experience discomfort at any point, take it off.
4. Remove the cock ring at intervals.
Sex experts advise against using a cock ring for more than 30 minutes. While blood flow restriction doesn't hurt if it goes on for a short while, it becomes extremely painful when it happens for a prolonged period. A quick question, what happens when you wear a tight rubber band on your finger for an extended period?
That's much like what happens when you wear a cock ring for a prolonged period. In research conducted by the International Society for Sexual Medicine, it was found that restricting blood flow to the penis for an extended period contributes to tissue damage. A cock ring isn't harmful as long as you listen to your body and follow instructions.
When removing a cock ring from your penis, gentleness is crucial. If necessary, apply a lubricant to allow easy removal. It's okay to be focused on satisfaction, but you should also make safety your priority. Since you wore the cock ring yourself, you should also remove it yourself. Pay attention to how your body feels, and have fun as much as you can as you figure out how cock rings can improve your sex life.
5. Wearing a cock and ball ring.
A cock and ball ring can come as a single or double ring that covers the shaft and the testicles. Wearing a cock and ball is easier on a flaccid penis, and you will need to put your testicles in the ring first before the shaft.
Start by placing your testicles one at a time, positioning the ring to sit around the scrotum. Now, fold the shaft through the ring. You may need to rub some lubricant inside the cock ring on your penis and testicles to make wearing easier and more comfortable.
6. Finally, try some of the erotic cock ring sex positions.
If you are considering using a cock ring to enjoy sex with your partner, having her on top is a great way for both of you to benefit from the vibrations that come with cock rings. With your partner on top, you have easy access to her clitoris, and that allows the in-built vibrator to perform clitoral stimulation.
The missionary sex position is one of the erotic positions to try with a cock ring. Since the woman is on top, the vibrating part of the cock ring has direct contact with the clitoris. Once you have placed your cock ring and in position, start grinding your partner. With cock rings, grinding is more pleasurable than thrusting. This is because grinding helps the vagina maintain contact with the vibrator.
Different cock ring sex positions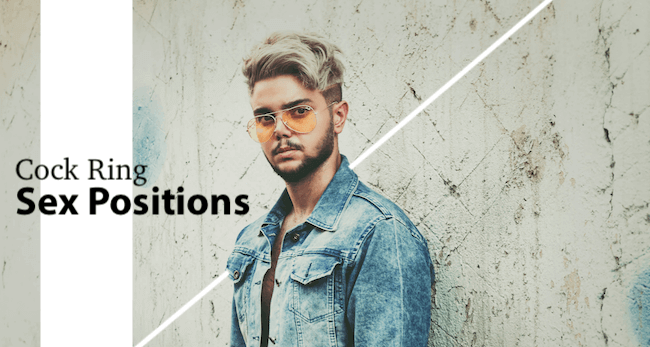 The ringside seat
Have your partner sit at the edge of a table. With your cock ring placed on your penis, penetrate and start grinding her. While at it, run your fingers through her hair and have her play with your balls.
Make It Ring Ring Ring
In this position, a vibrating cock ring allows you to enjoy a fully erected penis while getting the sexual stimulation you want. The cock ring vibrates against the woman's clitoris, and that sets her in the mood for explosive orgasms.
Doggy sex position
Try doggy sex position so your partner can watch as you thrust in and out. If the enlarged dick isn't enough to make the woman reach climax, she can rub her clitoris with her hand.