Table of Contents
6 Reasons Why Sex Toys Are Beneficial In a Relationship
The popularity of adult sex toys has increased over the years. For many couples, whether married or in a long term relationship, the use of toys to enhance and give additional spice to a sexual experience is no longer a taboo. As a matter of fact, sex toys are everywhere. You can see it being sold in adult toy stores and on the internet, and seeing them does not make you feel awkward anymore.
Adult sex toys have become part of our culture. Relationship therapists suggest its use to bring back bedroom spark. Also, Influencers, celebrities, counselors, and doctors are no longer afraid to discuss it and suggest its uses. You can even easily read about recommended brands and toy styles on the internet, and they are indeed helpful. Indeed, there is always something meant to fit your taste.
If you are thinking of including the use of sex toys to spice up your otherwise dull relationship, you can freely talk to your partner about it and discuss some of the positive benefits.
Discussing the Topic With your partner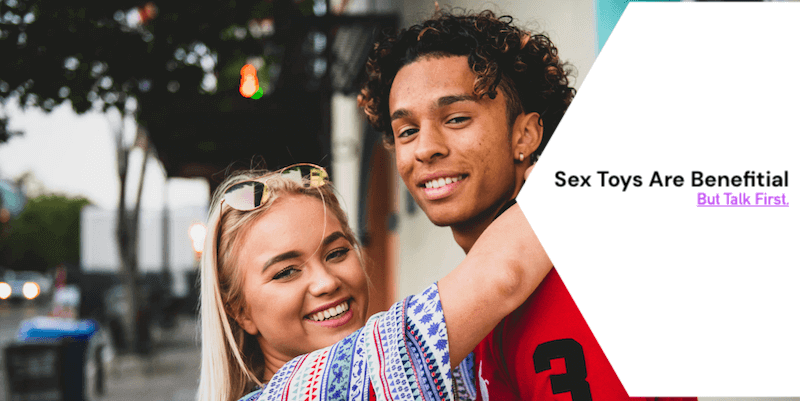 The belief that using sex toys during sex means your partner cannot fully satisfy you is a common misconception people have about sex toys. While more and more couples are becoming open to using couples toys, there are still some who are hesitant for many reasons. Things like: "Are these toys normal to use in bed?" , "Can these toys replace what I can do in bed?" and "Will we become dependent on using these toys?" often come to mind.
These are normal, especially to those who are not open to experimenting or bringing something more to enhance their sexual life. But the thing is, you have to start looking at sex toys as a pleasure enhancement and not a replacement to what your partner can do.
How then can you persuade your partner to try it out if they are not ready? Have an open and honest discussion. Below are some ways to help you and your partner include sex toys to enhance your sexual experience.
Research together.
If you do not have any idea about sex toys, to begin with, the best thing to do at first is research. If you are not comfortable going immediately to an adult toy store, try to check out some reputable adult online shops together. Check the items that caught your attention and read about their functions. Look for various models — vibrators, stimulators, vaginal, and the like and discuss it freely with each other.
Discuss intimacy issues.
If you are up to using sex toys and your partner is having second thoughts, it would not hurt to discuss intimacy issues. Surprisingly, women are more welcoming of the idea than men. Most men think that sex toys emasculate them in a way, but this is no longer the thing. Always remind your partner that couples who explore ways to spice things up in the bedroom tend to fare better in terms of maintaining the burning passion with each other.
Assure each other of your connection.
If you are looking for ways to keep the passion alive (in the bedroom or not), then you must genuinely value your relationship with your partner. People choose to experiment because one, you feel that something is lacking and two, you think that there is so much more you can do step things up. Either way, you choose to improve it and not look for other bad alternatives such as cheating. Always assure your partner that you value your connection. Remind them that you are not looking for a replacement but merely something fresh and erotic to look forward to during your private moments together.
Note each other's opinions.
When deciding on what to try and buy, make sure you and your partner are in it together. Ask for opinions in the selection process. Look for various models, check for functionality and talk about what you might like to experience together. Are you open to trying new things in the bedroom? Will this particular toy help you out? Consider each other's preferences and make sure to decide on something you both will appreciate.
Shop sex toys together.
If you have done enough research and you think you are ready, then, by all means, go and buy those toys. To truly enjoy the experience, shop together and explore together. You can do it either online or at the store. But it is much better to go to an actual store to see the product personally and check if its something you can use and enjoy. You can also ask the staff about their expert opinion. Nobody knows those toys best than them.
Benefits of Sex Toys in Your Relationship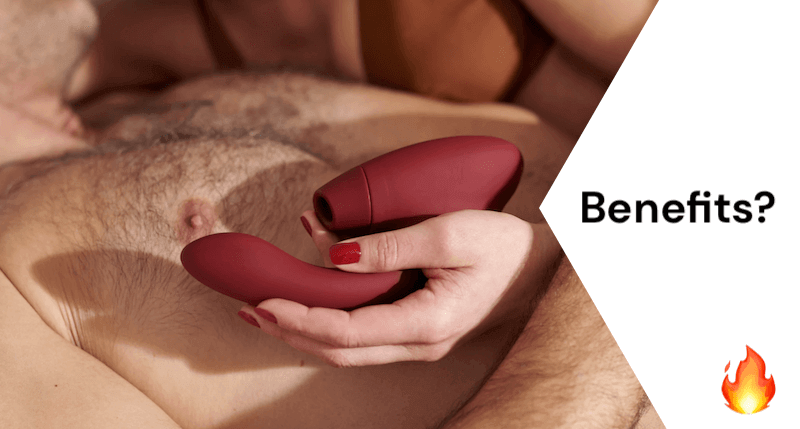 Since sex toys and erotic sexual experience have been romanticized in 50 Shades of Gray, the famous romantic/erotic novel-turned-movie, they have become so mainstream that people, both in a relationship or not, are becoming interested in using them. But you don't have to channel your inner Mr. Gray to use them. Remember, sex toys bring in a lot of benefits in a faithful relationship. Check below some.
1. Relieve stress.
The use of sex toys can stimulate orgasm that leads to further stimulation of endorphins and dopamine on our brain, making us worry less. It can even give you a good night sleep after sex. And with better sleep means better health, right? This proves that sex toys are not only satisfying physically but mentally as well.
2. Strengthen the connection.
Through experimentation with sex toys, you both get an idea of the things that can further enhance your relationship. What excites you more in the bedroom? What discoveries have you noticed when using sex toys? What can you give more to your partner? What fantasies do your partner have that you are willing to fulfill? What are the things that have been working good so far? These are just some of the things you will ask that in turn, will give you and your partner a more intimate connection.
3. Take the pressure off you and your partner.
Your partner may feel somewhat replaced when the thought of using sex toys in the bedroom enters a conversation. This is completely normal, and this is the reason why you need to take it slow. Couples Sex toys can help significantly, making you and your partner orgasm, and it is meant to enhance the experience so if you are suffering from performance anxiety, these toys (with proper guidance) can take the pressure of you and your partner, giving you more confidence in the bedroom.
4. More open communication.
When you discuss the idea of bringing in sex toys in the bedroom, you get to talk more intimate things with your partner, things you want to happen in the bedroom to heighten the pleasure, and to have a more satisfying experience. You always have to look at it positively. Open communication means valuing your partner's opinion, which will, in turn, straighten your relationship even more.
5. New and open perspective in having sex.
Again, the use of sex toys is no longer a taboo. They are widely used and discussed by people all over the world. If you are open to using it, you are opening your horizon by having a new and open perspective. This will straighten your sexual knowledge as well and will make you realize that sex is not enough. You need to keep on experimenting to keep your relationship more exciting.
6. Better sex.
The use of sex toys leads to better sex if you are open to experiment. This is not just from a physical point of view. This is from an emotional and mental point of view as well because the toys are enhancing the sexual experience all the more. And with better sex always comes better relationship.
Conclusion
Sex toys, without a doubt, bring more benefits than disadvantages in a relationship. For a lot of people, especially those committed in their relationship, sex sometimes becomes an obligation or a routine. Discussing ways to enhance the experience or bring more fun in the bedroom is sometimes avoided so as not to hurt others' feelings.
The topic is indeed sensitive, and your partner can take it the wrong way. But if you want to work things out, you should learn how to experiment and look for ways to make things brand new again. Sex toys can make this happen. They can bring fun and excitement to what seems like a sex routine.
If you are still hesitant, continue to do your research and discuss all possibilities. It's going to be worth it.