Table of Contents
What to Know Before Buying a Vibrator
Have you been formally introduced to the sex toy world? If you haven't, then, hello, and welcome! The sex toy world is delighted to meet you! If you are already a previous member, then welcome back! We knew you would return!
For any Vibrator beginners or any sex toy, it can be both exciting and intimidating. With such a variety of vibrators and sex toys, what should you look for? Where should you start? 
Like any other luxury self-care product, it should be well thought out. When you are investing in sex toys, you are also investing in your own personal pleasure. Self -pleasure is self -care at its absolute finest! So, with that said, before you begin shopping, think about what you want from your new toy.
You want to be sure it will live up to its hype, and your own personal needs. Will you approach your purchase in-store, or online? How much do you want to spend? Which material do you prefer?
There's a lot to consider, but be not afraid! You're not alone. Here's what to consider when buying a vibrator.
1. Buy In-Store or Online
One of the perks of buying in-store is that you can go directly to the pros! You can get actual pro tips from those in the know! There is nothing wrong with discussing your sex life wants, needs, and preferences with another human being, especially a pro in a sex shop.
However, if you are shy, or prefer to be more discreet, and not discuss with another human being what fun item you are looking for to stick inside yourself for pleasure, (which is also perfectly acceptable), you can do your research and buy your vibrator online.
What's the best part of buying sex toys online? You can do it in the comfort of your own home, in your pajamas with a bag of chips on your lap, and nobody, I mean quite literally nobody needs to know! Your vibrator shopping experience will literally be all that and a bag of chips!
However, if you are looking for the best of both worlds, and you don't want to be caught rushing down the street with a giant vibrator box, window shop in stores, and make your purchase online.
2. Set Your Vibrator Budget
The price tag on many sex toys, vibrators included, can be intimidating for a lot of first- time buyers who are unsure what to expect.  Many of the high-end vibrators can run as much as $100, or perhaps even as much as $200.  But you should remember exactly where you will be putting your new vibrator! Your private lady parts, and of course your sex life, as a whole, deserve only the very best! 
It stands to reason that some vibrators might be cheaper for a multitude of reasons. The material might be cheaper, and could have toxic materials, or the less expensive vibrator might be only battery-operated as opposed to having a rechargeable battery, which could potentially cost you less upfront and more in the long run, especially if you use it very frequently!
More expensive vibrator options might have a technological component, like an app, in which the sensation can be controlled. Or, your partner can control the sensations while you're away from one another, something that is spectacular and fun for people in long-distance relationships.
The old cliché "You get what you pay for" most times will ring true. But when deciding which vibrator to buy, you don't have to break the bank. Set a safe and comfortable budget, and search for a vibrator within your price range. There's no need to deplete your savings, or take out a second mortgage on your home to invest in sex toys!
Ok, so after deciding where to buy your vibrator, and how much you want to spend, next is to visit the more exciting variables to consider. Let's visit those variables below.
3. Vibrator Materials
When it comes to vibrators, silicone is the most commonly used material, being that it is non-toxic and super easy to clean. One catch! Make sure you don't use silicone lube on it or it will cause a breakdown of the materials.
It's also important to decide if you'll get a vibrator that's submergible. A water-proof vibrator, is easier to clean, and, sex toy hygiene is super important. Jelly vibrators, which may be appealing to your price point, have phthalates, which can prove to be toxic.
Women should be mindful of vibrators made of more porous materials, because bacterial can get trapped there very easily, which ultimately can defeat the purpose and can possibly cause painful infections instead of pleasure.
There are also glass and steel vibrators, which can be safe, but they tend to be a lot more expensive. Vibrators made out of ABS plastic are often good choices, since they aren't made with latex or BPAs. Unfortunately, the sex toy industry is unregulated, so there can be a considerable amount of toxic materials in the lower end products. Safety is again, super important, and a mentioned, you can get a high-quality vibrator without breaking the bank!
4. Vibrator Sensations
So, this is a little more personal. What kind of stimulation do you prefer? Do you prefer clitoral stimulation? Or does your preference lie with the big G-Spot O? Most women experience orgasm by clitoral stimulation, so you have to determine which stimulation you like and don't like, and what personally works for you.
 It is important to "explore" your body's responses to different sensations before deciding what to buy. You will then be able to find a vibrator that specializes in what you like, and where your preferences lie. You can also double your pleasure, for example, with a rabbit style vibrator, that gives you double the stimulation. Then, there is the couple's vibrator should you and your partner want to indulge in vibrator pleasure together.
If it is your first vibrator purchase, it is recommended to go with a lighter sensation to begin. Heavy sensations are not bad, by any means, but it is best to work your way up. Nerve endings can become a little numb if you use it very frequently, which is only temporary, so a vibrator with varied settings is good to have.
5. Picking the Right Vibrator Size
In the case of vibrators, yes ladies and gentlemen, size does matter, as well as how you use it! If you are a first-timer, with so many options including large wand-like vibrators, and smaller, more discreet ones that fit in the palm of your hand out there, it can be tough to anticipate which size is going to bring you the most pleasure.
This is where that exploration comes in. Consider what you enjoy most when you masturbate, and when you have sex. A large or penis realistic-looking vibrator might pack a bit too much punch, or stimulate too many areas of your lady parts at once, if while pleasuring yourself, one finger does the trick. On the flip side, if the strap on you use during sex isn't lacking in size, and your partner is well-endowed, bigger may just be better!
If the urge to O tends to come over you suddenly, you may just prefer to opt for a tiny-but-mighty vibrator you can disguise as a piece of jewelry, and whip out in a bathroom for a quick afternoon personal delight. Hey, who's judging? You know I'm not!
6. Vibrator Features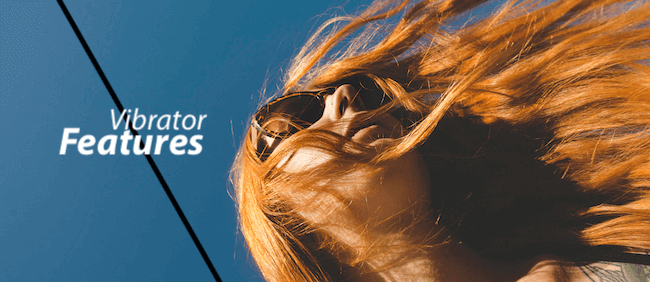 Based on your preference of sensation, there are 5 types that people tend to choose from. Those are:
Since the creative minds behind the vibrators know pleasure comes in many ways, so they have created tons of sex toys uniquely shaped to adapt to just about anything you desire. Based on whatever it may be that makes your body shiver and quake, seek out vibrators that will address and satisfy your sexual needs. If you need to keep it simple and direct, do just that. Internal massagers are versatile, fruitful and effective when used for external stimulation.
If your body desires more, then I'm talking about curved, dual action vibrators that speak to both penetration and the clitoris, or ones meant to pleasure just the anus, and of course those that are all about the pleasure of vaginal penetration!
7. Vibrator Loudness Levels
Last but not least, the really good stuff! Listening to that actual vibration! Most vibrators have tons of settings that allow you to manipulate speed, vibration patterns and intensity so you can ramp it up or slow down, however you may desire.
Figuring out which vibrations and patterns get you going are part of exploration. The more you use your vibrator, the better you'll get at deciphering your body's responses and sensing what really does it for you. So, have at it girl!